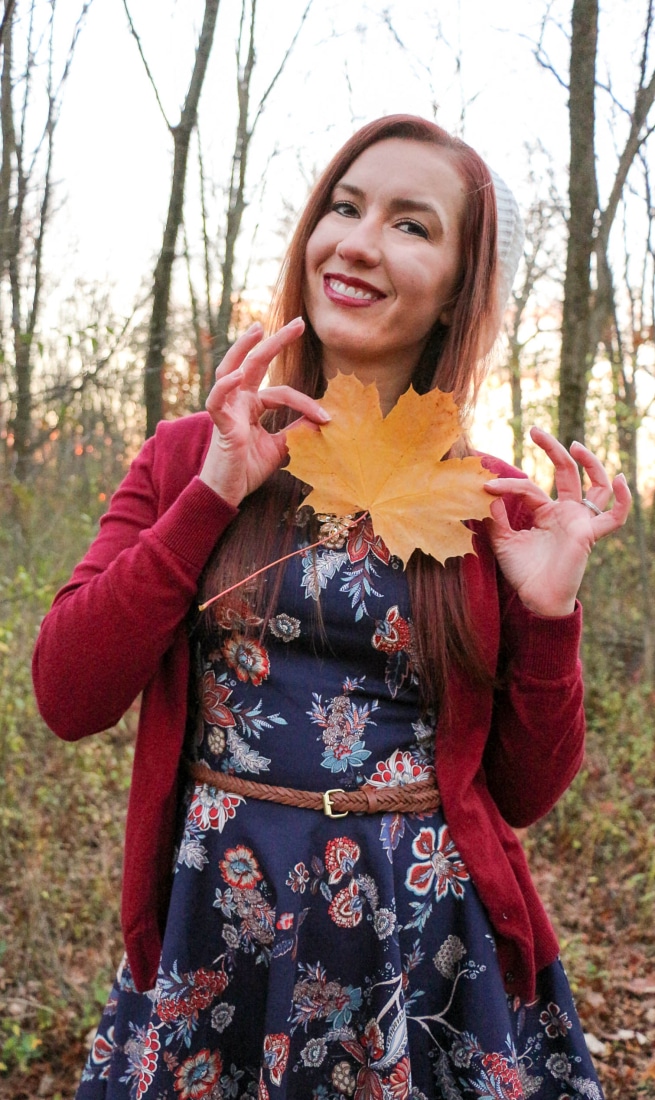 Shop the look:

I had entirely too much fun taking these photos. Haha. There is nothing better than a twirly dress and privacy! This running trail is wonderfully quiet, and it's the perfect spot for me to twirl around like a maniac by myself. However, every time I come to this wooded area to take photos, I always cause at least one dog to run away from its owner, so it can come and say hi to me…which I absolutely love. (I want a pet dog so bad! They must be able to sense how puppy deprived I am.) I'm bringing dog treats with me next time I shoot here. Haha.
But anywho, before I get too off track, let's talk about this outfit for a second! This Closet skater dress is one of my absolute favorites. I love, love, love Closet's skater dresses (a.k.a "Luck Be a Lady Dresses" at ModCloth). I own three and would own one in every single color and pattern if I could. The fit is so flattering, and I can twirl in them! I don't know why, but I never thought this one would look good with tights. But I'm certainly glad I gave it a try with my new favorite wine colored ones! It was so nice to break this dress out again in the cooler weather.
And I live in this hat and boot cuffs in the winter. I've had them for years and they are always my go-to. I even have a matching scarf (which I'll save for another day).
I took these outfit photos in New Jersey, last week I think? Anyways, the sunset was so beautiful on my walk back to my car! I just had to share.
I hope all my American readers have a wonderful time celebrating Thanksgiving with your family tomorrow! I just finished making Mona's pumpkin pie cupcakes for my husband's family's Thanksgiving. They're so good! (Click here for her recipe.)
What are your plans for Thanksgiving? And has anyone else tried Closet's skater dresses (or as ModCloth calls them, Lucky Be a Lady dresses)? What did you think? Let me know in the comments!
Where to find it:
Dress: Old (Similar here)
Cardigan: Old (Similar here)
Tights: ModCloth (Similar)
Boots: Payless (Old. Similar here.)
Boot Cuffs: JFeathersDesigns
Belt: H&M (similar)
Hat: Target
Necklace: c/o* Rocksbox (Use code "haveclotheswilltravelxoxo" for a free month subscription!)