Rachel of "McKinney Wares"
I am very excited to introduce you all to Rachel Mc Kinney of "McKinney Wares!" She's this month's Featured Fashionista and an incredibly talented jewelry designer and creator. She's also one of the first supporters of Have Clothes, Will Travel – for which, I will forever be grateful.
Rachel and I "met" via her Instagram. (Instagram can be an amazing place!) She and I have similar taste in clothing, and when she started designing for her Etsy shop – I couldn't have been more excited! (Let's just say her designs are also very much my style!) Not only is her jewelry beautiful, well-made and original…many of her pieces are an ode to some of my favorite books.
And, she has also recently moved from the US to Ireland! How exciting is that? Rachel explains this all and more in her Q&A, below. She's even sharing some great Christmas gift ideas! After you give it a read, be sure to check out her Etsy store and give her Instagram a follow. (You'll love her creations!)
Q&A With Rachel of McKinney Wares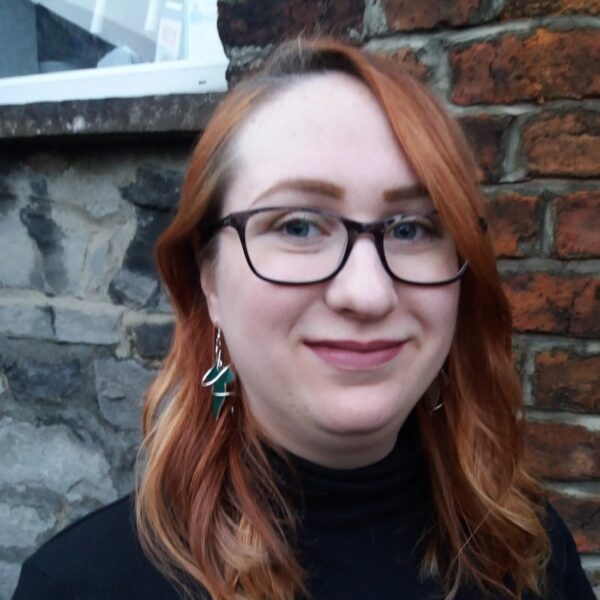 Tell me a little about yourself.
Rachel: Goodness, well it all started on a sunny March morning in 1992… haha just kidding! I'm 26 years old, originally from Davison, Michigan, a small suburb of Flint, Michigan. My grandpa was a retired art teacher and was a major influence on me and my love of art as a child and through my adulthood. I've been playing trumpet since I was 10, and music has always been a huge part of my life as well. I even tried a year of college as a music ed major before I realized I preferred keeping it as a hobby. I also love reading, especially Harry Potter, and anything by Oscar Wilde or F. Scott Fitzgerald. I love fantasy, historical fiction, and I'll admit to having a weak spot for a well-written chick-lit novel, especially Eleanor Oliphant is Completely Fine. Four years ago I married the man of my dreams, and after living in Flint for the first few years of our marriage, we made the big decision to move back closer to his home in Limerick, Ireland. Lucky for me, this gave me the huge opportunity to go back to college, and I've done a lower-level course in fashion design followed by an art course this year at Limerick College of Further Education. I'm hoping to attend the local art college, Limerick School of Art and Design, for my full degree in Fashion in the next few years.
What inspired you to start McKinney Wares?
Rachel: My love for crafting really inspired me to start my business. Well, that and my need to get all of these extra crafts out of my living room.

How has McKinney Wares changed over the years?
Rachel: McKinney Wares has honestly been a wild ride for me. When it first started, I opened my shop under the name Rachel Home Wares, making all sorts of little items for around the house. I would pick up blank tea cups, mugs, lampshades, you name it from thrift stores and hand-decorate them. Eventually, I started adding things like scarves and t-shirts to my shop as well and re-named my shop McKinney Wares to reflect a wider range of items. Of course, things were still slow for me. I started adding pieces of jewelry which got great views on Instagram, Facebook, and Etsy so I knew I was on to something. One day my friend had me make a pair of earrings and necklace inspired by Harry Potter, and I loved them so much I made a few extras to list, and slowly the business started rolling in. So I started taking aspects of my favourite books and mixing them into my own original designs, and it's been growing ever since. I never thought I would see my own work reaching over 30 countries across the globe!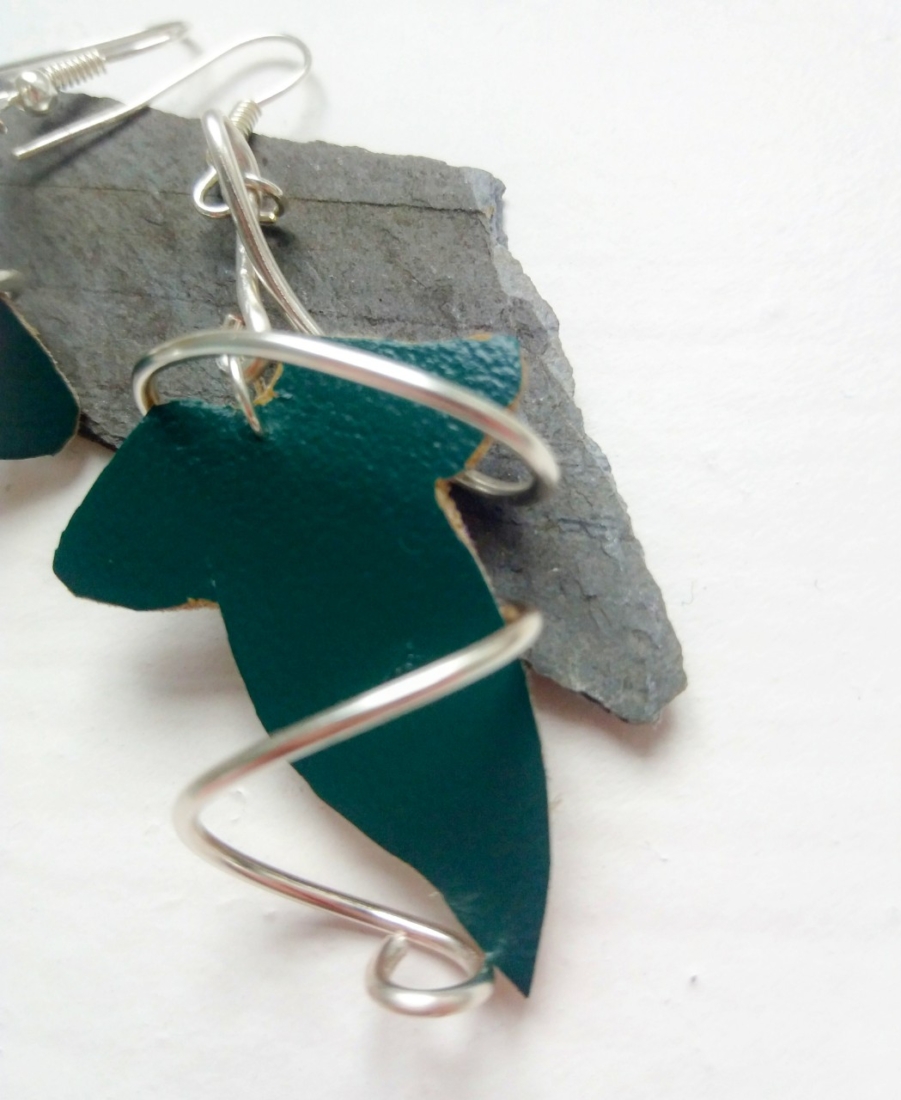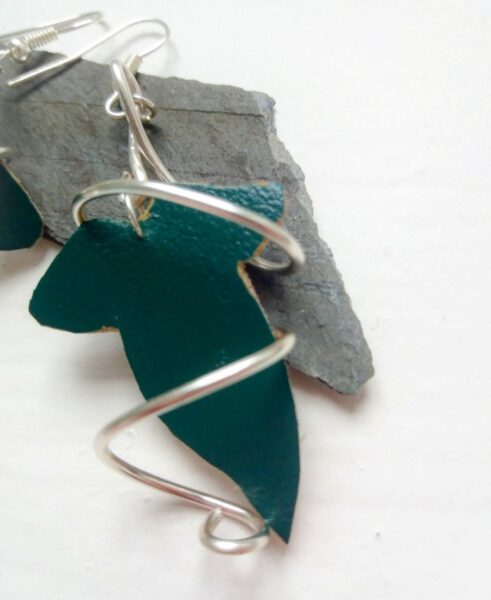 What is your favorite design listed on McKinney Wares right now, and how would you recommend styling it?
Rachel: My favourite design tends to change on a regular basis. Last spring it was my leather dragon-scale necklace. Then over the summer, it was my ring and spike lariat necklace. At the moment, though, it's probably the leather Elvish Leaves earrings. I love how versatile they are. I wear them with dresses, turtlenecks, t-shirts, blouses and jumpers. My favourite way to wear them no matter what outfit I have on is with simple makeup, red lips, and curly hair! (Pictured at the top of the post!)
What 3 items listed on McKinney Wares would you recommend for Christmas gifts this year?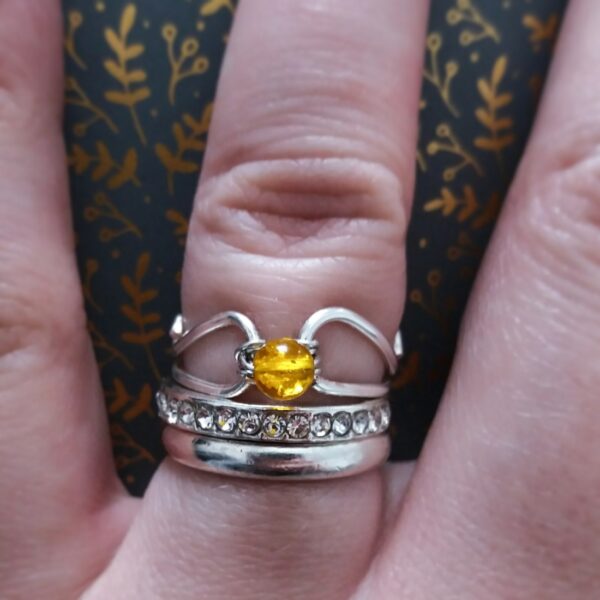 Rachel: My 'Golden Flying Ball' ring has been a best seller since the day I listed it. It's great for fans of fantasy novels or just someone who likes citrine stones. The wire is sterling silver plated and copper filled, so it's great for anyone with skin allergies.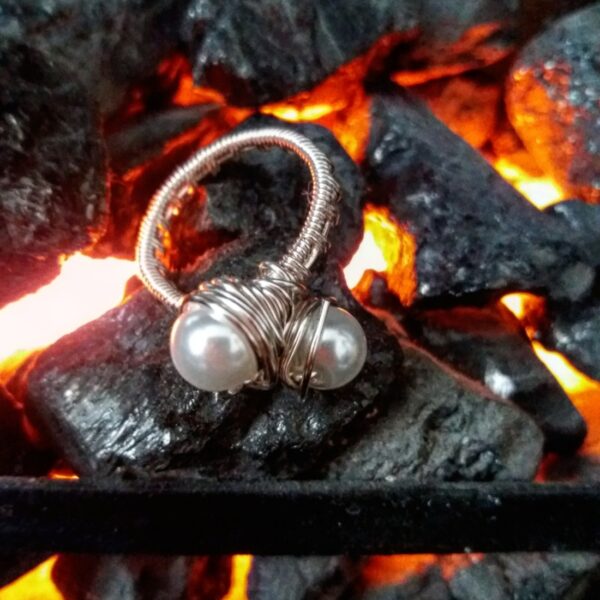 Another great ring for fantasy fans is my double pearl ring. Once again, it's hypoallergenic, and can be personalized with several different colour choices. The white pearls are freshwater pearls, the rest of the colours are high-quality glass pearls for now.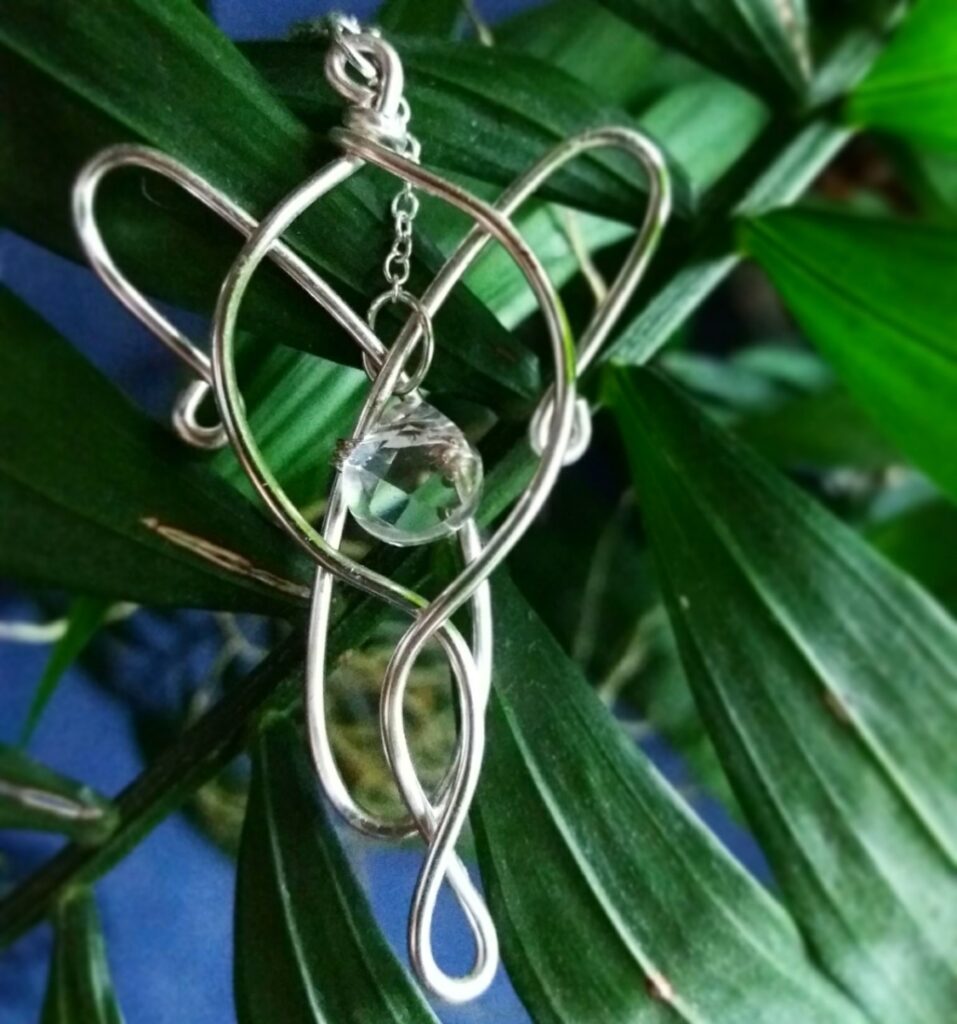 But for someone who absolutely loves something elegant and sparkly, my Celtic Wire Wrapped Elvish Necklace is a perfect gift. It's sterling silver plated with clear quartz in the middle, and its fit for a queen!
How long does it typically take you to make a piece of jewelry for McKinney Wares?
Rachel: Each piece is different. Some of my simpler designs only take me about 15 minutes, others can take a couple of hours. The entire process for my resin rings usually takes about three days in total. I try to get each item made as quickly as possible after the order is placed and packaged with care and a personal thank you note.

When did your interest in jewelry making start?
Rachel: When I was a kid I used to love making braided and beaded bracelets and necklaces, with big ugly plastic pony beads and embroidery threads. I even sold them to other students in my fifth-grade class' simulated economy "Box City", where my 'storefront' was made out of a refrigerator box. I lost interest when I got older because pony beads aren't cool when you're over the age of 12. Haha. Luckily my mom talked me into taking a beading class with her while I was working at Michaels Crafts Stores, and I realized not all handmade jewelry had to be made with plastic and thread, and it could be much more elegant than that. I started to research into all sorts of different types of jewelry making, from beading to wire working to chainmail, and I'm always researching new ways to do it.

What do you hope the future holds for McKinney Wares?
Rachel: I'm honestly not sure. Part of me wants McKinney Wares to be the next Tiffany's. Part of me wants to just keep it as my side-gig, something to do that I enjoy that makes me a bit of extra spending money. I have at least thought about eventually adding a fashion or knitwear shop as well if I ever have the space for my own studio.
Changing gears a bit here, but you also made a big move to Ireland! How are you liking it?
Rachel: I want to say I love it, but that would be the understatement of the century! The lifestyle here suits me perfectly, everyone has been so nice, and I love being surrounded with so much history.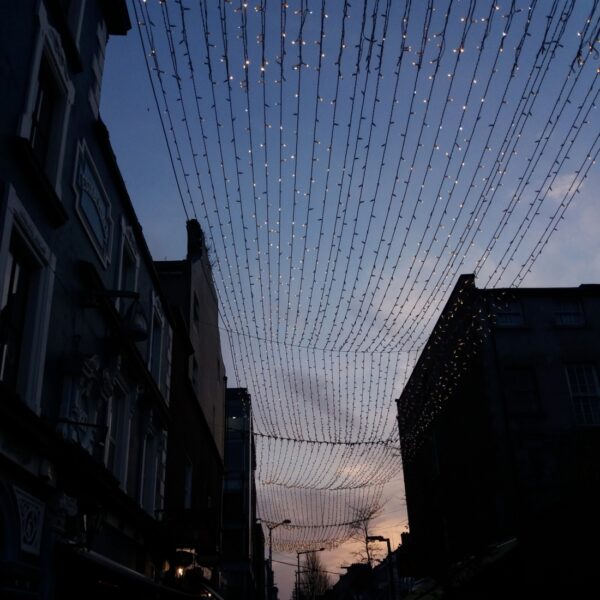 What has been your favorite aspect of living in Ireland, so far?
Rachel: It's so hard for me to choose! I would have to say it's a tie between all of the historical buildings, and how amazing this country is at Christmas. One day I went to class, and when I came home I walked 10 minutes across town to spend my afternoon at King John's Castle. If that's not cool, I don't know what is. But I can't ignore how magical everything is at Christmas. It's all about everyone coming together to make the season beautiful. We just had our city's lighting ceremony, and I won't lie, I definitely shed a few tears when the whole street lit up and the fireworks started.
What would you say the hardest part of being an expat has been for you?
Rachel: The little things I think are the hardest part. After living abroad for a while, you get so used to missing your family and being homesick that you eventually stop noticing that you miss your family and are homesick. You end up struggling more with little everyday inconveniences that you didn't notice at home. For me, it's not being able to have Michigan Apple Cider during the fall. Or the fact that it's completely normal to not have a tumble dryer here, so I have to air dry my clothes even though it rains five days a week. Or PICKLES! I would give anything for a Vlasic pickle. I can always pick up a phone and call my grandparents, but I can't go to the store and buy decent pickles.
Any tips you would like to share for someone looking to visit Ireland?
Rachel: Definitely to make sure to try as much of the food as possible! It's all so delicious and you could practically tour the country on your stomach. If you're ever going to Westport in Mayo, be prepared for lots of walking uphill. They aren't joking when they talk about having mountains, something I definitely wasn't prepared for. Galway is a city that needs at least three days to properly visit it, and definitely try not to miss seeing Limerick City (ok, maybe I'm a bit partial because I love this city!)
Also, tips from my friends I've made here: please do not greet the locals with "Top of the Morning!" unless you want to be made fun of behind your back.
Last but not least, where can my readers find you?
Rachel: My Etsy shop is a great place to find all of my jewelry creations, and I have a Facebook page for it as well, but if you're interested in just getting to know me and my life from my jewelry to my art to my life abroad, I'm very active on my Instagram page @wareisrachel.