Richa of "Fancier's World"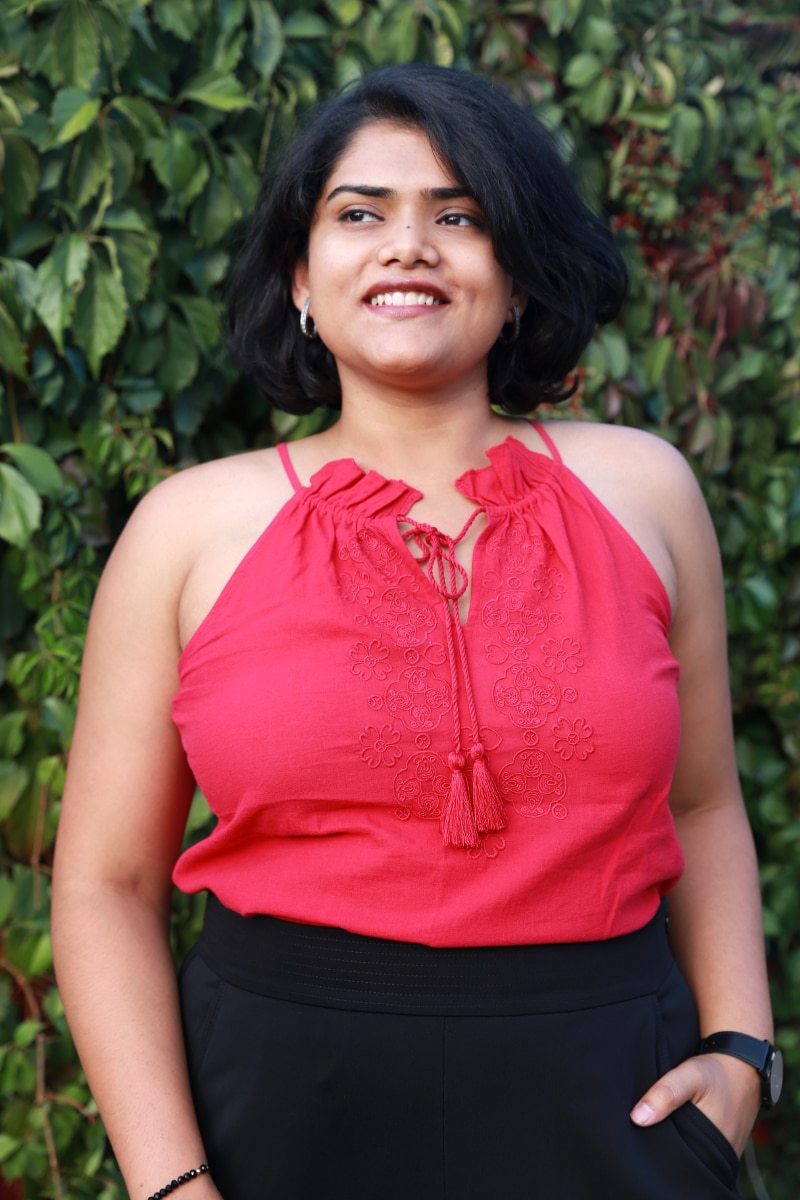 Richa of "Fancier's World" is this month's Featured Fashionista! "Fancier's World" is a delightful blog created by Richa and her husband Vinay where they give us glimpses into their quirky and fun life through a variety of posts!
I can't help but smile every time I read Richa's posts – they always bring me so much joy. It's clear from Richa's adorable photos and words that she really enjoys creating all the amazing content for Fancier's World. And with posts ranging from style tips to DIY to travel – there's certainly something for everyone on Fancier's World!
However, Richa isn't the only one behind the scenes of Fancier's World – her husband Vinay also helps to make this fabulous blog the success it is today! Check out Richa's Q&A below to learn even more about this darling fashionista and how she and her husband work together in the blogging world.
Q&A with Richa
Tell me a little about yourself.
Richa: Hi! I am Richa, a software developer by the day, a mom to an adorable daughter, a wife to a loving husband and a blogger in between.
I would say I am a happy-go-lucky person who chuckles a lot. I am always ready for an adventure and to try exploring new things. I love to travel and make new friends. It started with our parents taking us out for yearly trips. Food is like life to me. I love trying new cuisines and recipes. I love my carbs and hence I keep changing clothing size. Baking is therapy to me. I love dressing up (as you can see on my blog).
I cannot lie (you can see it on my face). I am your most loyal friend and will never abandon you. I never give up (well almost…). I do not believe in planning my day (not much). Spontaneity breeds serendipity. Ha ha… my husband gets crazy sometimes with my chaotic unplanned schedule. I am an absent-minded professor when it comes to remembering things. I might have placed the phone right in front of me, but I will be animatedly looking for it. I think (a lot) and sing aloud. I am a loud talker and laugher.
I guess this was a lot about me. But this is pretty much me. 🙂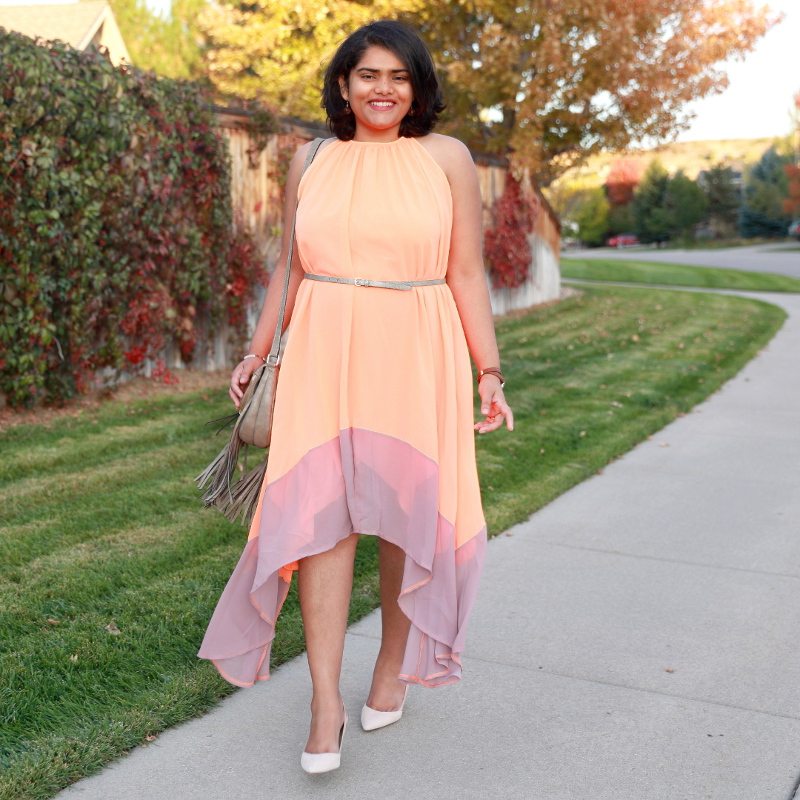 How would you describe your blog, "Fancier's World?"
Richa: Fancier's World is our way to capture and share some of our daily life and little adventures. It is a place where we to want share our personal style, travel escapades, favorite recipes and some DIY. It started as a lifestyle blog but has become our way of living too. We are now constantly looking for ideas that will inspire us. But at the same time, we are trying not to let it drive our lives too much (blogging is hard work!).
What inspired you to create, Fancier's World? And how did you decide on the beautiful name?
Richa: I remember it was Akira's first birthday and we were planning way too many things – all the recipes, baking and DIY decorations. And I thought to myself that we need to write about it.
… Maybe it was the parenthood effect
… Maybe it was our new home
… Maybe the Facebook timeline was not enough to capture the life events
… Maybe it was Pinterest that got me excited about blogging (It's addictively awesome!)
… Maybe it was just an itch to write.
Whatever the reasons, I am really glad that we got started.
Why Fancier's World? Well, it took us a lot of time to come up with it. I did not want it to be a generic one to start with my name. I was looking for names which would encompass all our varying interests – all the things we enjoy and like to explore. Did you know that "fancier" is a synonym for an enthusiast? So there came the idea as we like to indulge in a lot of activities and excited to try new. Trying to make our world fancier!
What do you hope the future holds for Fancier's World?
Richa: I have already learned so much about blogging in about a year and a half now. I would definitely want Fancier's World to grow further and reach out to more people and connect with them. We plan to work on some exciting collaborations with brands that we would love to share with you. Also, I want to start writing more of travel posts and recipes. So you will soon see that happening.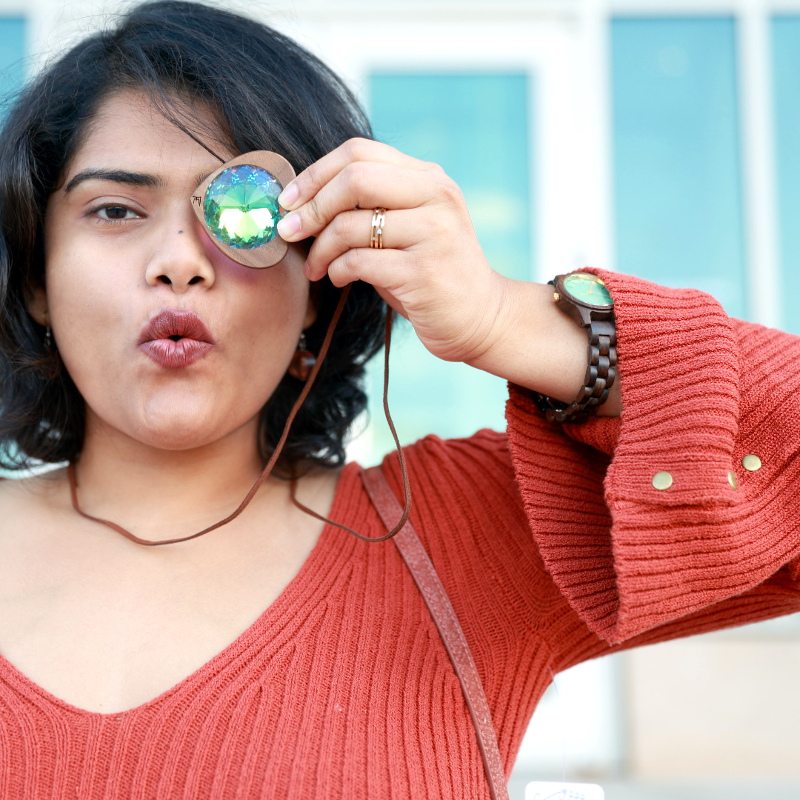 Fancier's World is a joint effort between you and your husband, Vinay. Could you explain how that works?
Richa: He is the man behind the blog and the Instagram husband! Ha ha… sometimes forcefully. He always supports my crazy and not-so-crazy ideas and helps me carry them out. He is the official photographer for the blog and helps me bring alive my ideas. Do not know how I can do without him. He is also the inspiration and motivation behind a lot of activities. He also reviews my posts from time to time. He is mostly in the background, but I would love him to write a post too. He has actually won the President's medal for his work with Volunteers of Colorado, and I really want him to share all his experience and suggestions on it. Also, he is my grill master. Any outdoor party and he is the one behind the grill. Hope this post will urge him to write a recipe or outdoors post soon. 🙂
If you had to pick, what would you say is your favorite post on Fancier's World?
Richa: Can I pick two? Ha… I guess not. My favorite one is actually "Mission I'm Possible: First 14er – Mt Bierstadt". Why? Well, I think because it is a travel post which I am always excited about and I got to write a lot in the post. He he… but seriously I think I captured our hike really well. I am not the best hiker, but to complete my first 14er definitely felt like an achievement. So some great memories for sure.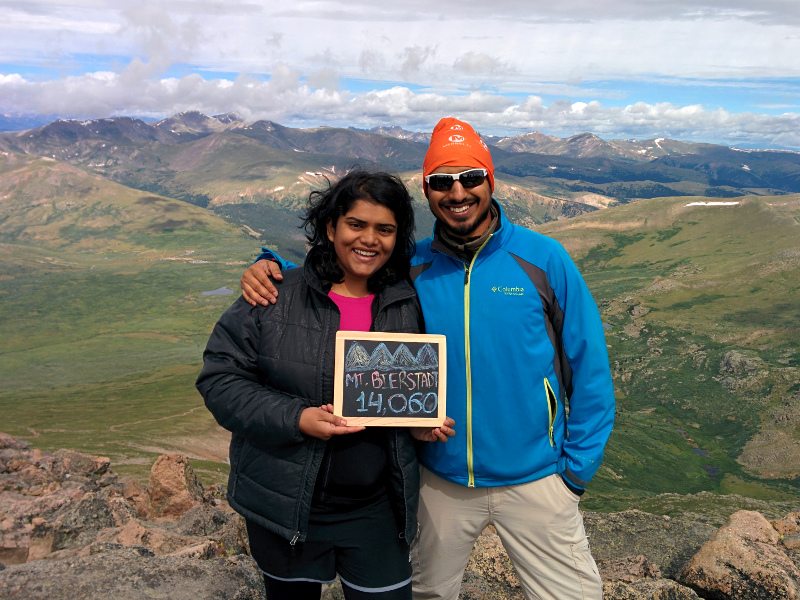 How would you describe your personal style?
Richa: My style is like my way of living, somewhat free-spirited. It keeps switching between – boho, classic, edgy, casual, vintage, but not really tied to one. Mostly it is minimalistic yet playful. I do not wear too many accessories but I like to play around with colors, textures and layering. I want to dress up so that I feel good and confident, be it any size I am in (I change a lot…). If I had to choose one style to describe me I would say sporty chic (always have been a tomboy).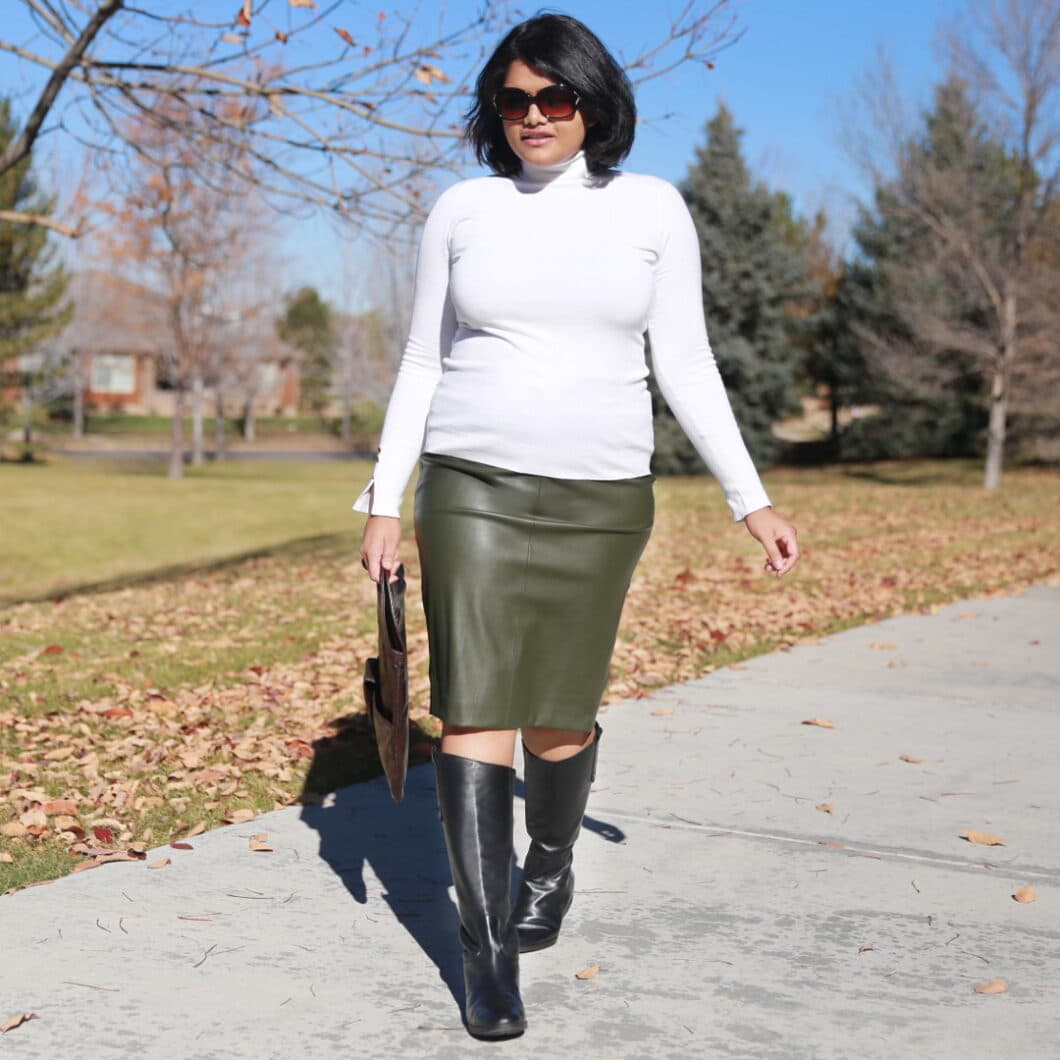 What is your go-to clothing store?
Richa: For this one, I really cannot stick to a single one. ASOS and Zara are my go-to clothing stores for most of the things. But I really love Free People. They have such unique and trend-setting clothes and shoes. Also, I am a skirt hoarder and most of them come from Loft and Ann Taylor.
In addition to your awesome outfit posts, you also include some exciting travel posts. What is your favorite place you have visited so far?
Richa: Yes and I would love to do more of the travel posts as I had mentioned earlier. We travel a lot, but most of it never makes it to the blog. Probably because of my insane expectation to make it a complete travel and experience guide. (Work in progress…)
My favorite place that I have visited has to be Maldives. This little island of heaven is where we spent our honeymoon. It was like a dream staying there on the water villas (there are only few of them!). The beautiful turquoise waters of Indian Ocean plus our grand resort surely won me over. This is where I did my first diving and snorkeling, so it was pretty special.
You've also lived in many incredible spots! Could you tell us a little more about some of the cities and countries you've lived in?
Richa: Yes! I have lived in 8 states and 2 countries. I am an Indian girl, with roots in Bengal, born in Patna and brought up in Korba. Studies brought me to Indore, then work brought me to Chandigarh where I met Vinay for the first time. Then after job relocation to Hyderabad and 3 years of long distance relationship, we finally tied the knot in 2010, which is when I moved to the Mile High city Denver and the US chapter began. I have been in Denver ever since and our little angel Akira was also born here.
And you also include DIY posts and recipes! You have so many talents! Have you always been so crafty?
Richa: Ha ha… I do not know if I am talented enough. To be honest, I have never done much of art/crafts activities in my childhood, as I was more of a sports kid back then. But now maybe I want to make up for it, and love taking up small DIY projects.
And I never really did any cooking until I got married (mom spoiled us!). I was just happy trying mom's food and reviewing all the possible restaurants. Vinay was the one who actually got me started with cooking.
I think I am just an amateur but would love to be an expert in the process of it.
I also remember reading you are a software developer – that's amazing! What does a typical day at the office look like for you?
Richa: Yes, I am! It is like a 9-5 job but I find it amazing that bits of code can create such powerful applications. Most of my mornings start with meetings, design discussions and catching up, a bit of coding and then it slows down by the end of the day. The workload increases a lot during a project release (happens a lot) and then it eases out.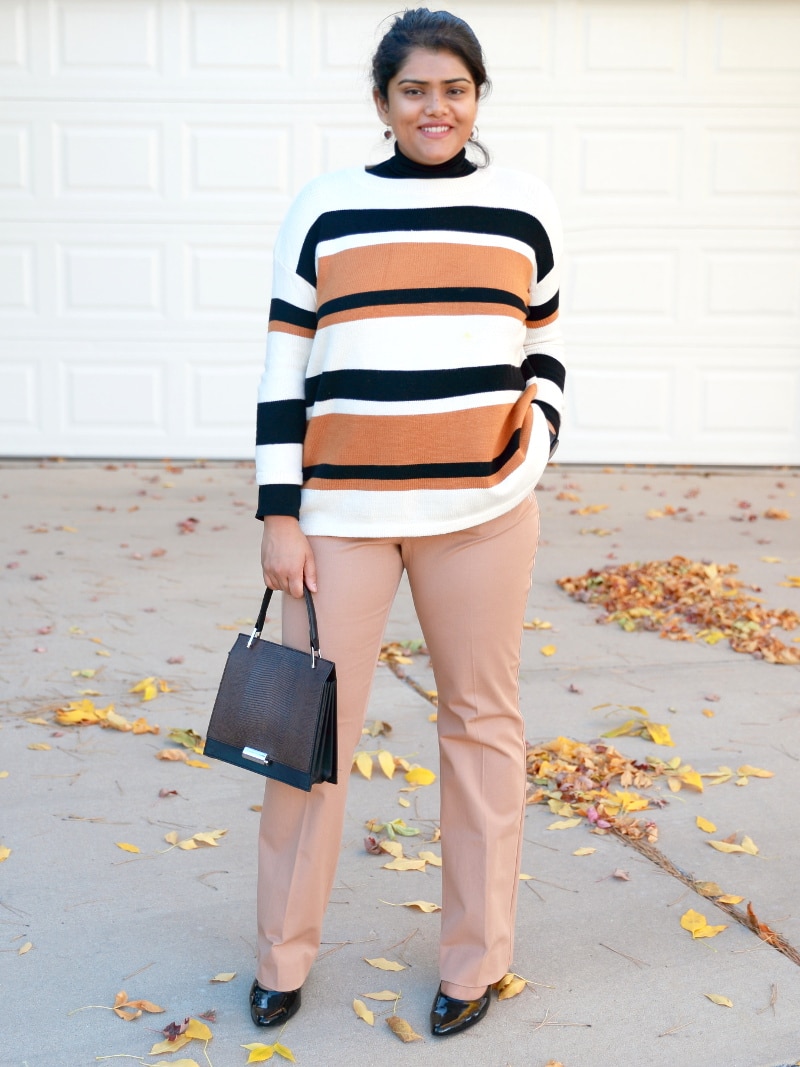 Do you have any advice you would like to share for someone looking to start their own blog?
Richa: Blogging is like a full-time job. I do not mean to scare them away but it definitely requires a lot of effort. But at the same time I find it very rewarding. I have learned so much and grown so much with my one and half years of blogging. I love all the connections I have made and the collaborations I have done. You get to know so many amazing bloggers (like you). And, mostly I love writing. So here are my 2 cents for those who are looking to start their own blog:
Start slow, if you are not sure about how it will be or whether you want to continue or not.

You do not need to hire a web developer to build your site right away unless you have a clear vision. Though not trivial, but getting a basic blog setup has become a lot easier and there a lot of tutorials out there to start a blog on your own.

Get a relevant domain name instead of using wordpress.com or blogspot domain, as it gives you lot of flexibility. Helps if you plan to continue.

Create social media handles using domain name. This is very important as social media promotion and branding is half of the work if you want it to grow or monetize it. But do not let the social media following stats drive you. Let your work speak!

Also, I would suggest getting into the habit of writing a bit every day as regular posts are the key to get real followers and traffic. This is where I have a hard time, as being a working mom it gets difficult for me to give enough time to the blog.
And most importantly stay true to yourself. Sure we draw inspiration from each other, but provide your own point of view. That is what will make you unique and stand out in the already saturated market of bloggers. To me, blogging should be enjoyable, even if you are thinking about monetizing the blog and making it a business. At times when I feel overwhelmed by it, I take a break.
Any final thoughts you would like to add?
Richa: The main reason I blog is to connect with people so that we can inspire each other and learn new things. I would love you to join our reading community on www.fanciersworld.com/subscribe and hear your thoughts. Also, I am quite active on Instagram and Facebook. But you can find me elsewhere too using the social media handle @fanciersworld, namely – Pinterest, Twitter, Bloglovin', Snapchat and Google+.