The Ruins of Pompeii & Mount Vesuvius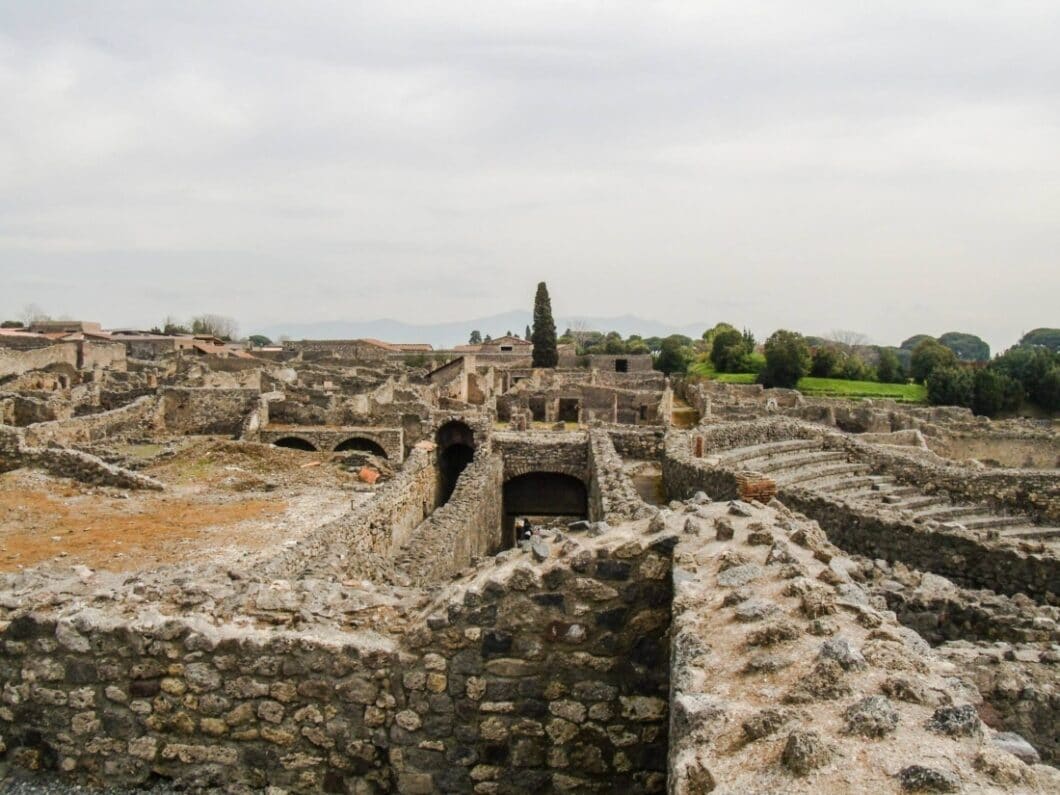 An ancient city complete with fast food restaurants, taverns, brothels, mansions, running water, a market, an amphitheater and a port… doesn't really sound ancient at all. However, the city of Pompeii is nearly 2,000 years old. It is hard to adequately describe how incredible it is to walk the streets of this wonderfully preserved city. Don't worry, though, I have plenty of pictures.
Just in case you need a history refresher, Pompeii is near the Italian city of Naples. It was destroyed and buried under nearly 20 feet of ash when Mount Vesuvius erupted in 79 AD. When the city was found nearly 1,500 years after the eruption, it was largely unchanged. This is because the ash covering the city kept air and moisture from reaching the objects below. It has been a widely popular tourist destination for nearly 250 years.
My husband and I visited Pompeii when we were staying in Rome. We booked a full day tour through Viator. We left Rome bright and early in the morning on a coach bus of about 25 other tourists. We had two very animated tour guides to keep us entertained on the bus ride and guide us as we hiked to the top of Mount Vesuvius. For Pompeii, we had a tour guide from Naples come in to show us through the ancient city. He was also wonderful to listen to, and gave us plenty of great information.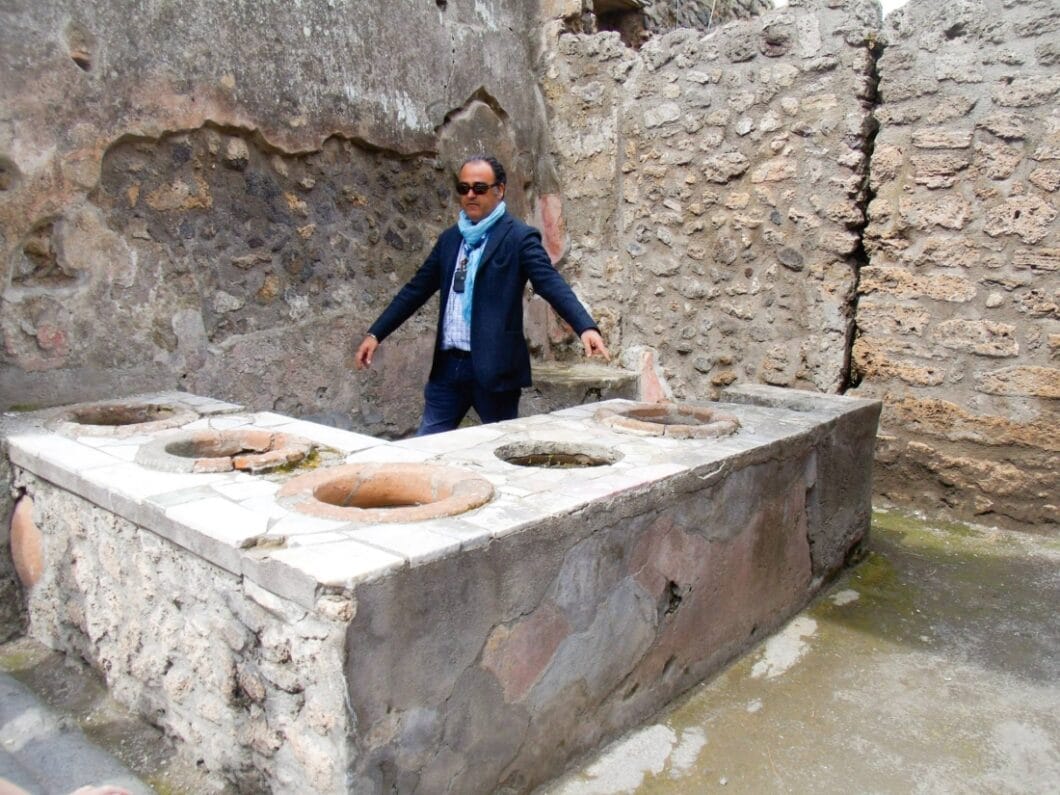 My only regret about this tour of Pompeii was we didn't get very much time to wander the city on our own…I think we only had about 10 minutes, actually. It was rather rushed, to make sure we were not holding up other tours and to make sure we still had time to hike Mount Vesuvius and get back to Rome at a decent time. I understand why the tour guide had to keep us moving, but it made it a bit harder to really take in just how incredible it is that we are standing inside of a 2,000-year-old city. That being said, we never would have noticed half of the things our tour guide pointed out to us if we had tried to wander the city on our own (such as, the picture below).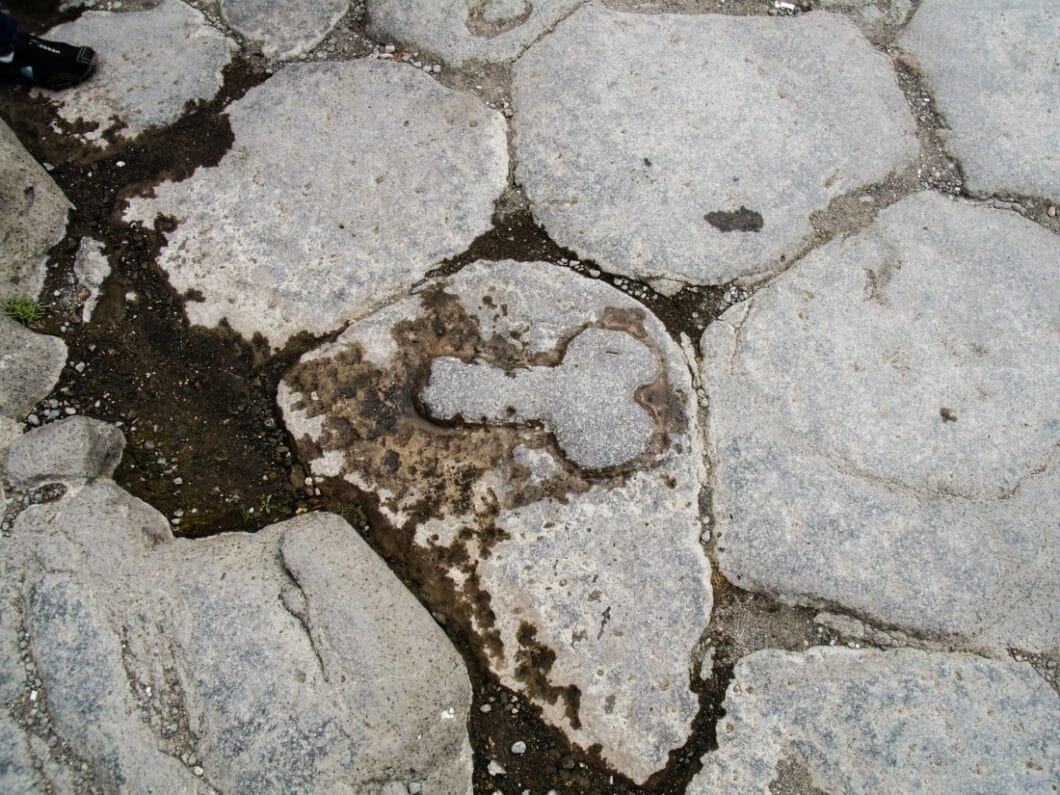 One of the stops on our tour was an ancient brothel. It was complete with a "menu" of what patrons could order. Pompeii was a port city and had many visitors who did not speak the same language. Therefore, paintings inside the brothel showed what the visitors could ask for, and there was some male anatomy pointing you in the correct direction of the brothel. I also thought it was interesting that this brothel had stone beds. This is because the ladies did not want their customers to get too comfortable and fall asleep after they stumbled in from the local tavern. Below are pictures of this brothel, and obviously, there are some sexual ones. So, you've been warned, haha.
Pompeii's Brothel Photo Gallery

Our tour of Pompeii also took us to a wealthy resident's home, which had many rooms and beautiful paintings. The most interesting part of this home, though, in my opinion, is the home that was found underneath it. Archaeologists discovered an even older home that the residents of Pompeii had built over. Below is a picture gallery of this site.
Wealthy Home Photo Gallery
When many people think of Pompeii, the first things to come to mind are usually the plaster casts of the bodies of Pompeii's residents. Below are some of the photos I took of these casts.
The Plaster Casts of Pompeii
This last photo gallery is a little bit of everything from Pompeii…such as overlooking the city, to the gladiators' barracks, to the plumbing that Pompeii had. Interestingly enough, the pipes they had were lead and the people of Pompeii were aware of the adverse health effects lead had on them…but they continued to use them anyways. I had no idea they had running water 2,000 years ago until I took this tour!
Mount Vesuvius
The final leg of our tour took us to the very top of Mount Vesuvius. We drove up a good portion of it. However, there is a point where vehicles are no longer allowed, after that it's all on foot. It was about a 20 minute walk to the top. I like to think I am in good shape, but I was quite winded by the time we made it to the top. Walking up a steep, active volcano is hard work (and going down that steep incline was rather difficult too)! There were some spectacular views of Naples and the inside of the crater once we made it to the top, though. It was pretty awesome to see the gases coming out of the volcano, and a little unnerving to know that it's due to erupt one of these days.
Mount Vesuvius Photo Gallery

Pompeii and Mount Vesuvius were an incredible day trip to take from Rome. If you have the time while you're in Italy, Pompeii is a must stop. Also, Naples is known for its amazing pizza and it would be a shame to miss out on that too (Naples pizza was my favorite pizza. Yum!). Click here for more info on the tour we took. If anyone has any questions about Pompeii, let me know in the comments. Happy traveling!
If you liked it, Pin it!