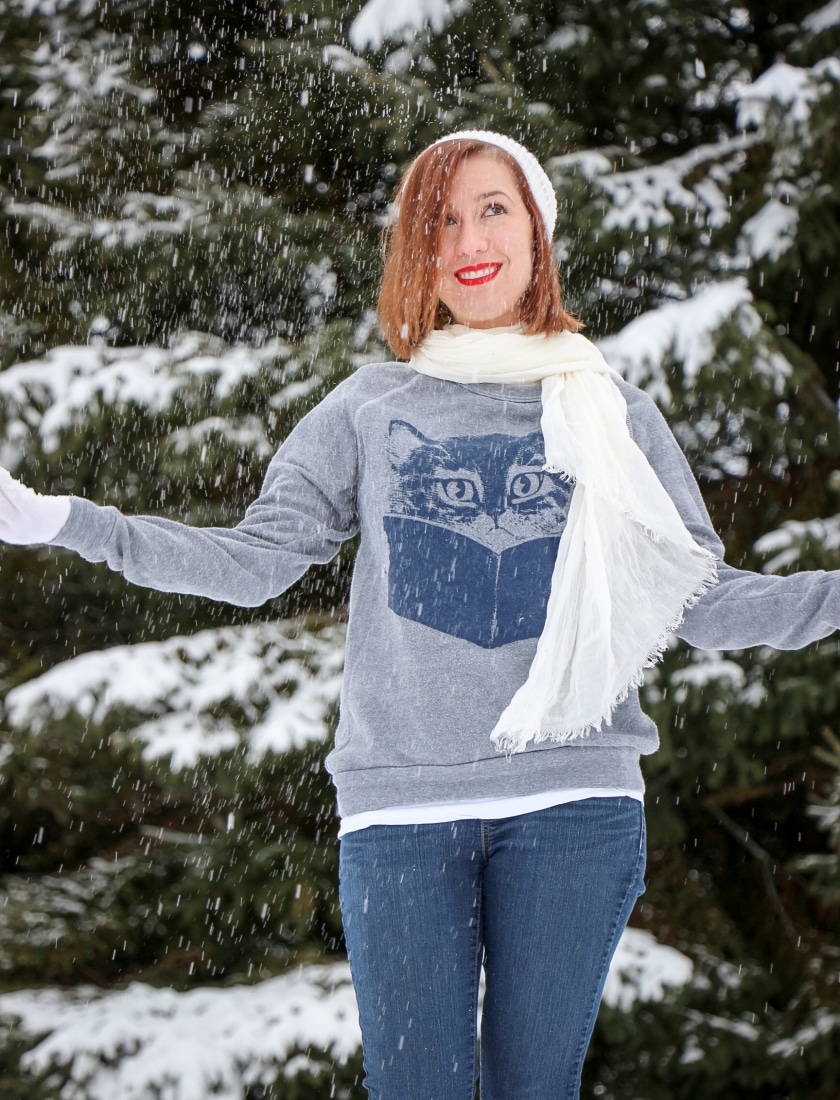 Shop the look:

We had a little snowstorm here in Northeast Wisconsin. It was nothing comparable to Winter Storm Jonas…but we did get about 5 inches of snow on top of however many inches we already had. It was enough to make driving a pain…but also make the world look beauuuutiful.
I decided to take full advantage of this winter wonderland yesterday.. and had a little fun playing out in the snow for this outfit post. I know I won't be winning any awards for dressiest outfit post with this one…but when it's cold and snowy, this sweatshirt from ModCloth of a kitty reading a book and a pair of jeans is my go-to outfit! I mean, you really can't beat a sweatshirt with a cat reading a book on it. It's also incredibly soft and just all around cozy. A while ago I had talked about my love for my Great Gatsby sweatshirt..this cat sweatshirt is exactly the same, except it has a cat on it instead of the Great Gatsby book cover. (And I wear them both entirely too often.)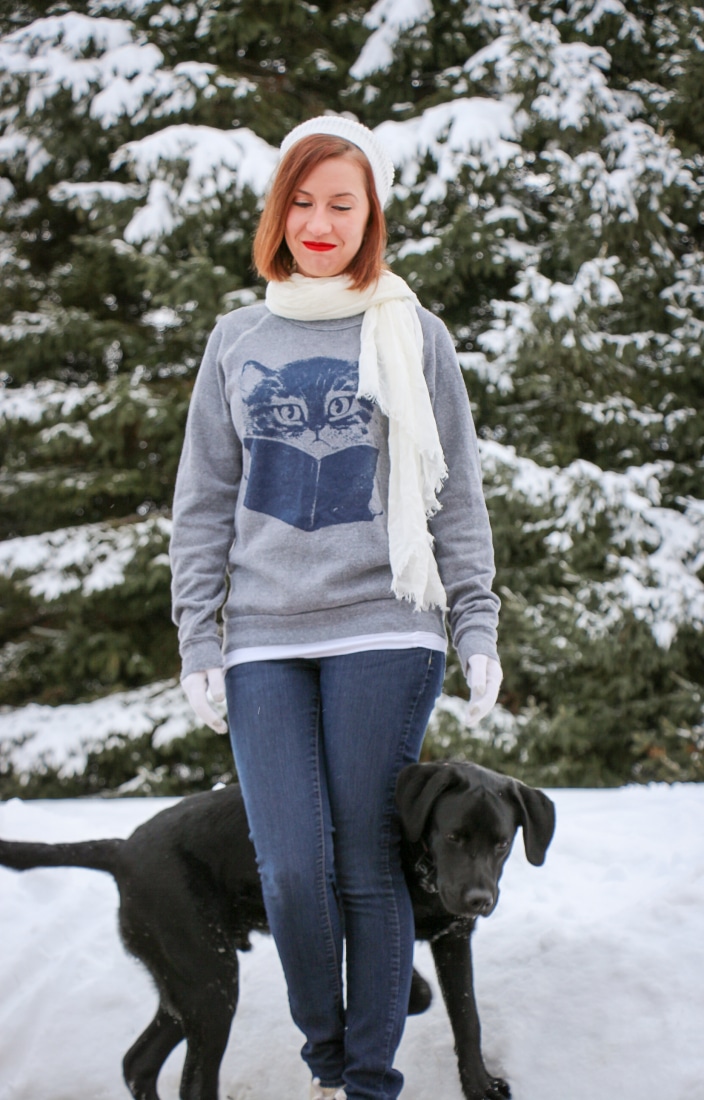 I also had a photo bomber while I was trying to take photos…Buck thinks I need to invest in a sweatshirt with a dog on it, instead of a cat. Haha. He's my parent's puppy. We are currently staying with my parents (thanks again, guys!) until we figure out where we are moving to next. This was supposed to be figured out shortly after the New Year. However, it's almost February and we are STILL waiting. Needless to say, my husband and I are starting to get a little anxious about the whole ordeal. (OK, little is an understatement…we are starting to lose our marbles!) But fingers crossed we get some news within the next week or two! Until then, expect some more snow photos from the lovely land of Wisconsin. 🙂
Did you get a lot of snow in your area this past week? And what's your favorite snow day outfit? Let me know in the comments!
Where to find it:
Sweatshirt: ModCloth
Shoes: ModCloth (Sold out. Similar here.)
Jeans: Target (similar)
Hat: Target
Gloves: Target
Scarf: Old (similar here.)
Have you entered my latest giveaway, yet? If not, you can below! And if you missed my post on this giveaway, click here!