The Greatest Gatsby Sweatshirt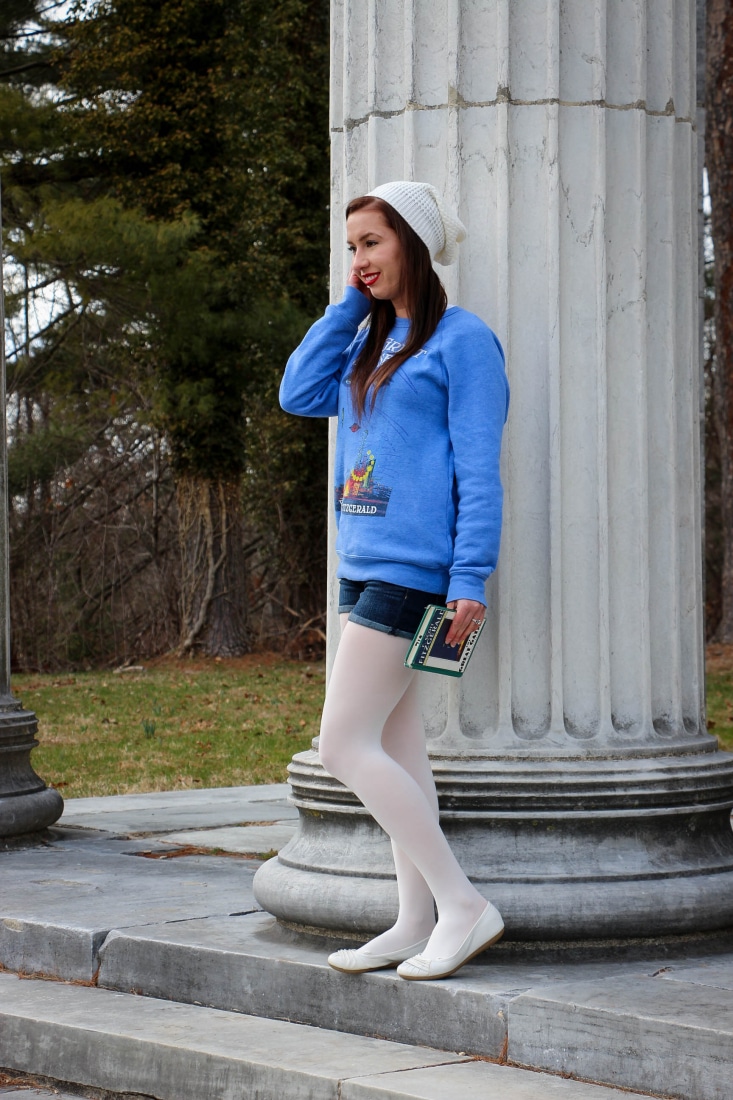 Shop the look:

"Whenever you feel like criticizing anyone," he told me, "just remember that all the people in this world haven't had the advantages that you've had." -Nick Carraway, The Great Gatsby
The Great Gatsby is a book I've loved ever since I read it in high school. It's one of those books I keep rereading, year after year, and I still get lost in Gatsby's lonely world of glitz and glamour. This will always be one of my favorite stories, and this sweatshirt is my absolute favorite piece of clothing that I own.
This sweatshirt is like a security blanket for me. It makes me feel happy and relaxed when I put it on. I actually wore this sweatshirt every single day this last week, haha (I've at least been changing the shirt under it!). It's been nice a comfy for unpacking and running errands. I have also worn it at least once a week since I bought it two years ago (don't worry I wash it on regular basis). It is SO soft. I just love it. And considering the amount of wear it gets, it's holding up remarkably well.
As for the rest of my attire, let me just say that I hate wearing shorts so much. It's a necessary evil that happens a couple times a year when it actually gets unbearably warm in whatever region I happen to be living in. However, pairing them with these really comfy, soft tights has made me like them a just a bit more…and I can almost trick myself into thinking it's warm outside (even if it's barely above freezing). I also couldn't bring myself to wear jeans again, so, this was me changing things up a bit.
These pictures are my first outfit photos taken in my new home base of Princeton. The columns I'm sitting next to are actually overlooking The Princeton Battlefield (which was a victory for George Washington's Revolutionary forces over the British). These columns were actually not originally built here, they were part of a home from Philadelphia. (You can read more about that story by clicking here.) Behind the columns is a gravesite for the soldiers killed in the battle. There's an incredible amount of history in this area that I am looking forward to exploring more of in the warmer months ahead.
*Now, I'm curious which book covers would you proudly wear out in public? Let me know in the comments!
Where to find it:
Great Gatsby Sweatshirt: Out of Print Clothing from Amazon or ModCloth
Shorts: American Eagle
Tights: ModCloth
Hat: Target
Flats: Payless (They come in wide! Yay!)
The Great Gatsby Book: Borrowed from my brother-in-law (All of my books are now in Kindle form, with all of the moving and such I have to do! I know it's sad.)