Stepping Out of My Comfort Zone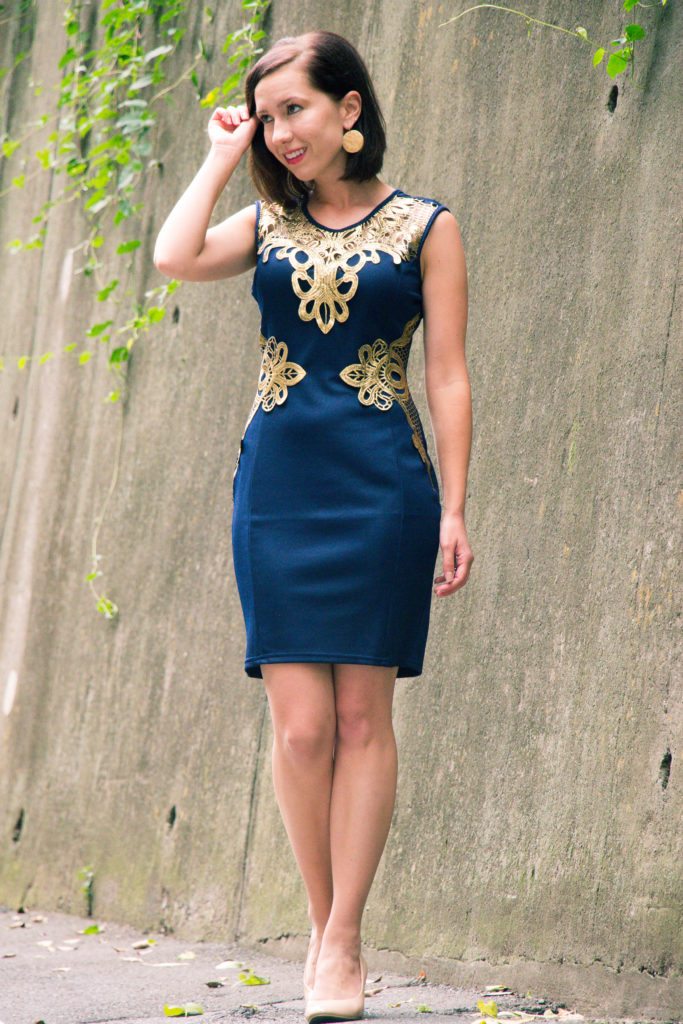 "Curve-hugging" and "mini dress" are usually two descriptions that send me running for safety when I'm clothes shopping! I am just not comfortable wearing that type of dress…and I am not really a fan of having every, ah, "curve" on my body displayed. I'm not hating on my body here (or this type of dress), but fit and flare dresses are my go-to…and generally what I feel to be the most "me." However, every once in a while, I just have to step out of my comfort zone and try something a little different for a change.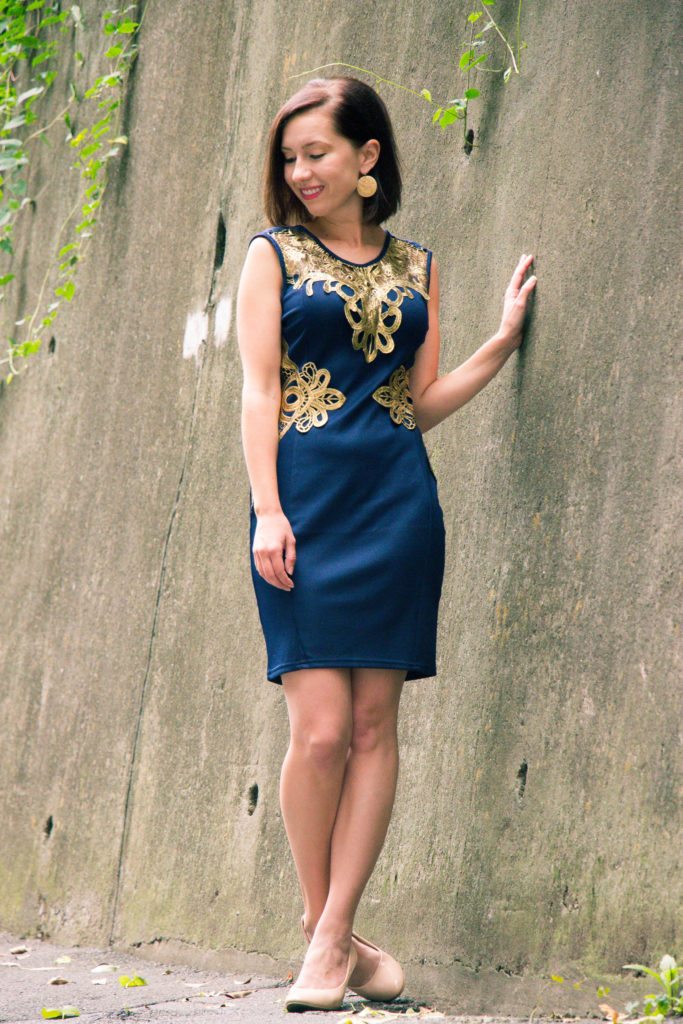 So, I present to you my curve-hugging, mini dress! Haha. The description on the website describes it as a mini dress (which made me REALLY nervous), but I felt like this dress was an appropriate length. I wasn't all that worried about wardrobe malfunctions while I wore it. It's surprisingly comfortable for a tight dress, too. I was pleasantly surprised by that! I had worn this dress for a nice dinner with my husband, and the restaurant we were going to was about a 10-15 minute walk from where we live. This dress and my pumps were both comfortable enough for that journey. I also liked how the back of the dress was open, but I was still able to wear a normal bra with it.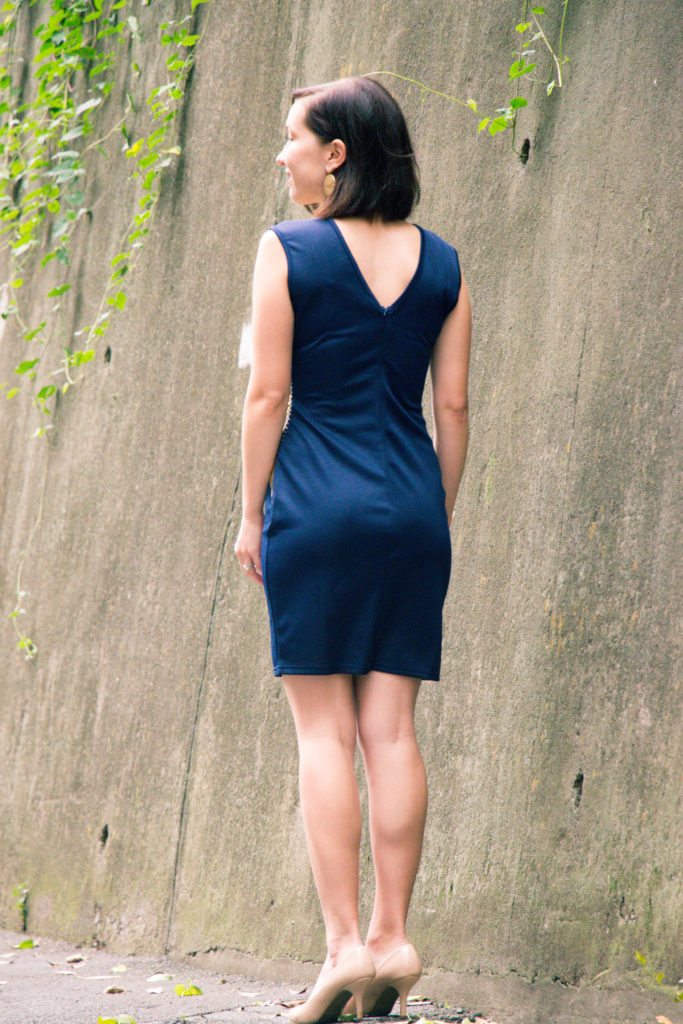 My only complaint about this dress was that the gold pattern wasn't completely attached to the dress. (Which was a bit odd looking.) I tried to iron it down, but it didn't do much..and it still was sticking out at times. (You can kind of see it in the photo where I have a derpy look on my face, but I'm turned sideways, below.) And this is also a bit minor compared to my past product photo snafu, but still worth noting…the gold portion of the dress doesn't look exactly like the product photo in person. It's a bit shinier and more gold looking. Just an FYI.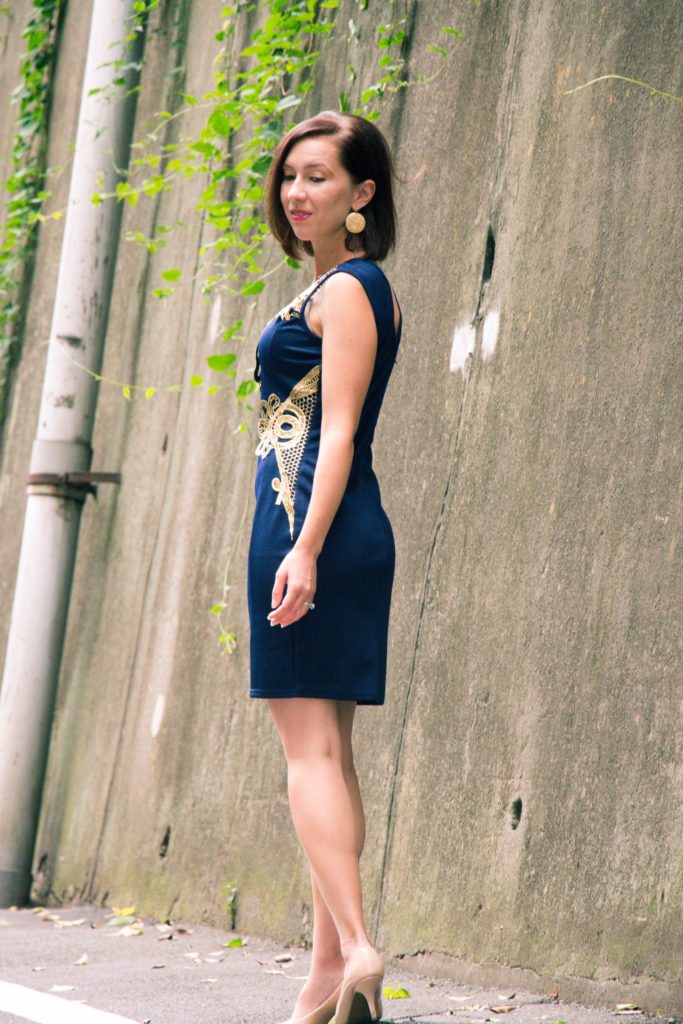 This outfit was also worn for some serious Pokémon Go hunting on my way home from the restaurant, haha. We FINALLY have Pokémon Go, and my husband and I are having so much fun! It makes me so happy to be wandering and see other people, of all ages, smiling to themselves or high-fiving their friends as they catch Pokémon. I also loved seeing girls (like myself) dressed for a night out, in high heels and dresses, catching Pokémon as they walked to their restaurant/club/bar/wherever. It's a magical thing this Pokémon Go, haha. (As long as you don't Pokémon Go and drive for goodness sakes!!)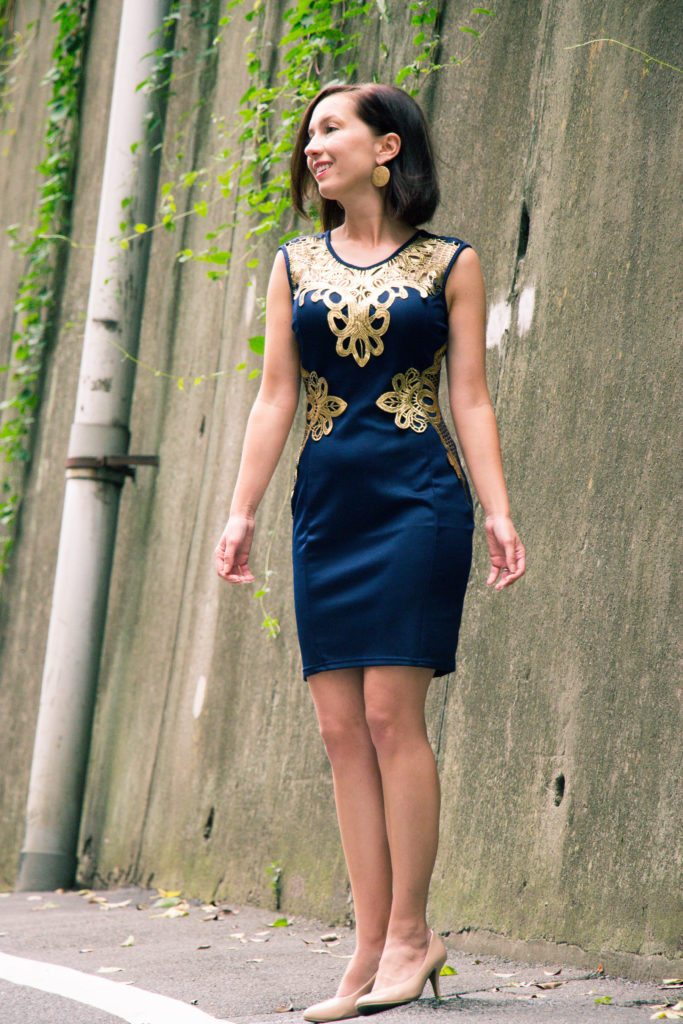 It's fun to try new styles now and again! And I really liked wearing this dress…but I don't think I'll be making a habit of wearing this fit on a daily basis. 🙂 I just like my vintage-inspired, midi-length, fit and flare stuff too much. 🙂 What kind of outfit would be stepping out of your comfort zone? Let me know in the comments!
Where to find it:
Dress: c/o* Devil Plus (Similar here, here, here & here)
Pumps: ModCloth (Old. Similar here.)
Earrings: Old (Similar here.)
*Disclosure: some of these links are affiliate links. Meaning, if you click a link and make a purchase, Have Clothes, Will Travel gets a very small commission at no extra cost to you. Thank you for supporting the brands that make this blog possible! I am also a participant in the Amazon Services LLC Associates Program, an affiliate advertising program designed to provide a means for us to earn fees by linking to Amazon.com and affiliated sites.
*c/o = courtesy of, meaning the company gave me the product to be used on my blog, and I did not pay for it. All opinions are my own, and I am not being compensated for a positive review.