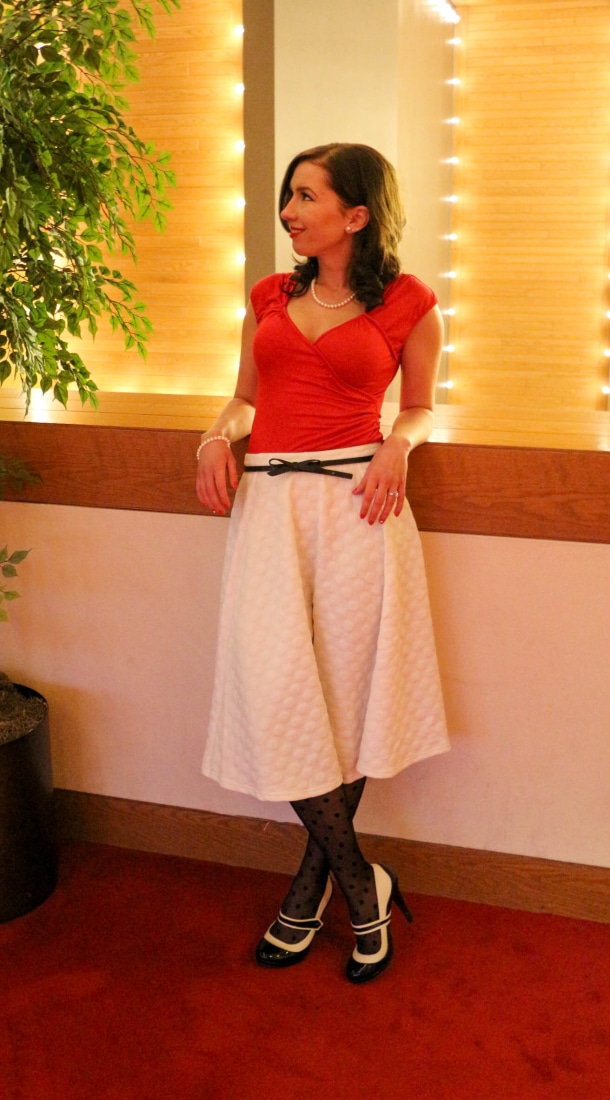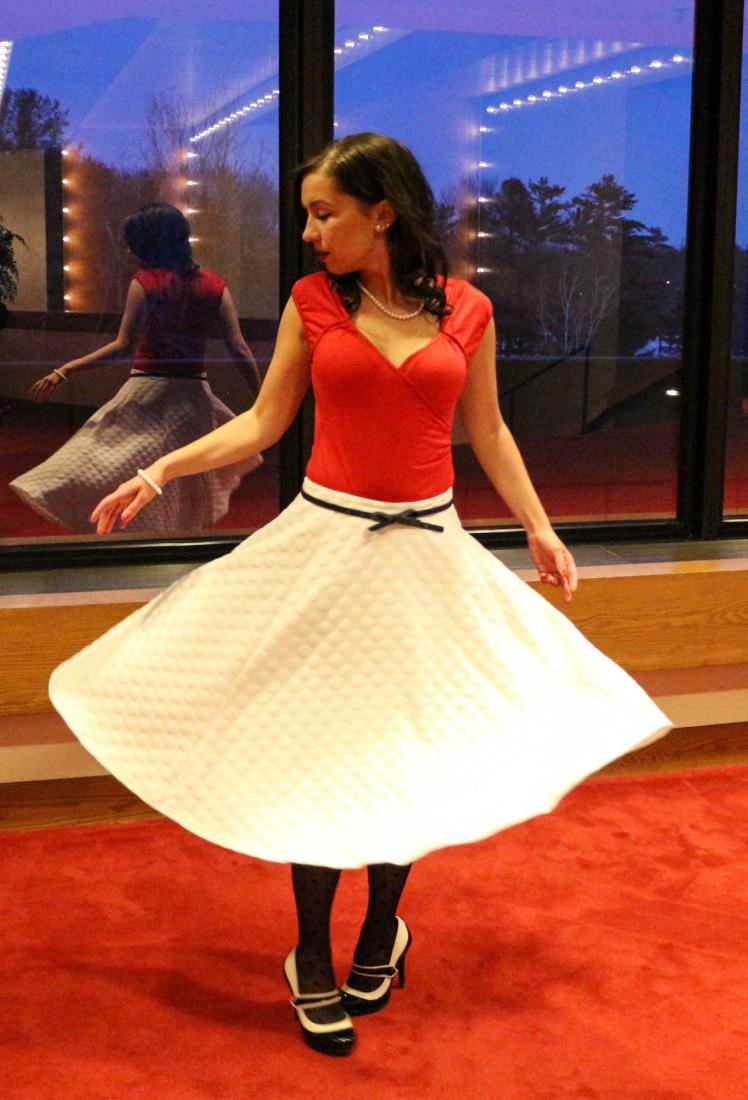 Skirt (Similar here & here) | Top (Similar here & here) | Heels | Tights | Belt
I hope everyone had a wonderful Valentine's Day! This year was actually the first year since my husband and I started dating that we went out and did something. We usually order a pizza and binge watch Netflix (say what you will, but that is our ideal evening).
We dressed up fancy and went out for a nice meal this year because our days in Wisconsin are numbered. Therefore, we wanted to get out and enjoy as much of this area as we can before we head on to the next place. (I will be letting you guys in on where that is soon. So, stayed tuned. We still have to get a couple details worked out.) I will also probably not be posting quite as much over the next few weeks while we transition to the next place. Just a warning!
But anyways! I should talk about my Valentine's outfit a little bit. This red top is not a top I would normally wear, at least not without a tank top. However, I figured I would try to be a little sexy for Valentine's Day (and what better way, than with a low cut red top?). I was a bit nervous about buying this top originally because the quality didn't seem that great when I looked at it online. But I have been looking high and low for the perfect red top (and that top is constantly sold out on ModCloth!), so, I went with this one…and it is actually a really nice shirt! It's very soft and comfortable and lays really nicely. However, the next time I wear it will probably be with a tank top.
My skirt and shoes were actually gifts from my husband. How awesome is that? This skirt is so warm and cozy. And there is no way any wind will get through it! It's such a high-quality skirt. I don't think ModCloth carries it anymore, but it is very similar to a skirt I have from Tatyana Boutique. This was my first attempt at twirling for a picture with a skirt on. So, please excuse the extra picture..I was having such a hard time choosing from all the twirling pictures because I thought they all looked so cool. Haha.
I usually never paint my nails or get manicures because I am too lazy to keep them up. That paint will be chipping off for months because I forget to repaint them or just remove it (sad, I know). However, I kept seeing such cute heart nails on my Instagram feed the past couple weeks, that I couldn't resist getting in the Valentine's nail spirit!
I would love to hear what everyone else did for Valentine's Day! (The clean versions! Haha!) Let me know in the comments.
Where to find it:
Top: ModCloth (Similar here & here)
Skirt: ModCloth (No longer available. Similar here & here)
Tights: Amazon (similar)
Heels: Old (Similar here)
Belt: Old (Similar here)
Ring: Etsy
Pearls: Gift from my husband

*Disclosure: some of these links are affiliate links. Meaning, if you click a link and make a purchase, Have Clothes, Will Travel gets a very small commission at no extra cost to you. Thank you for supporting the brands that make this blog possible! I am also a participant in the Amazon Services LLC Associates Program, an affiliate advertising program designed to provide a means for us to earn fees by linking to Amazon.com and affiliated sites.