The Complement to Panda Flats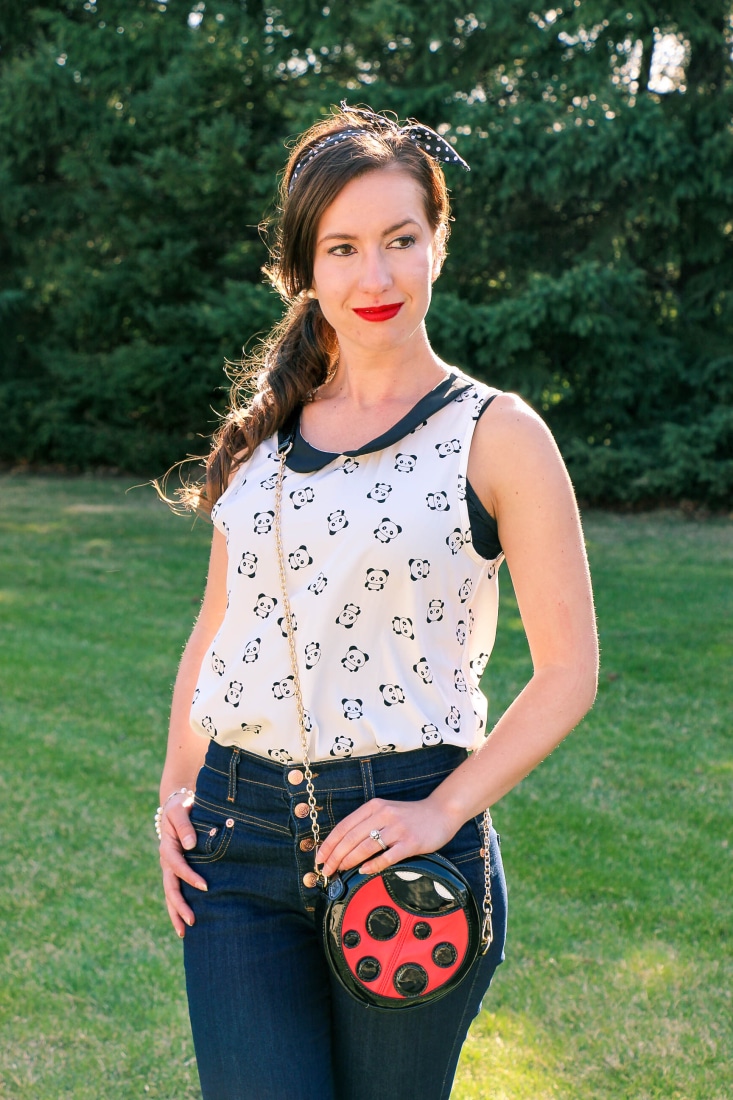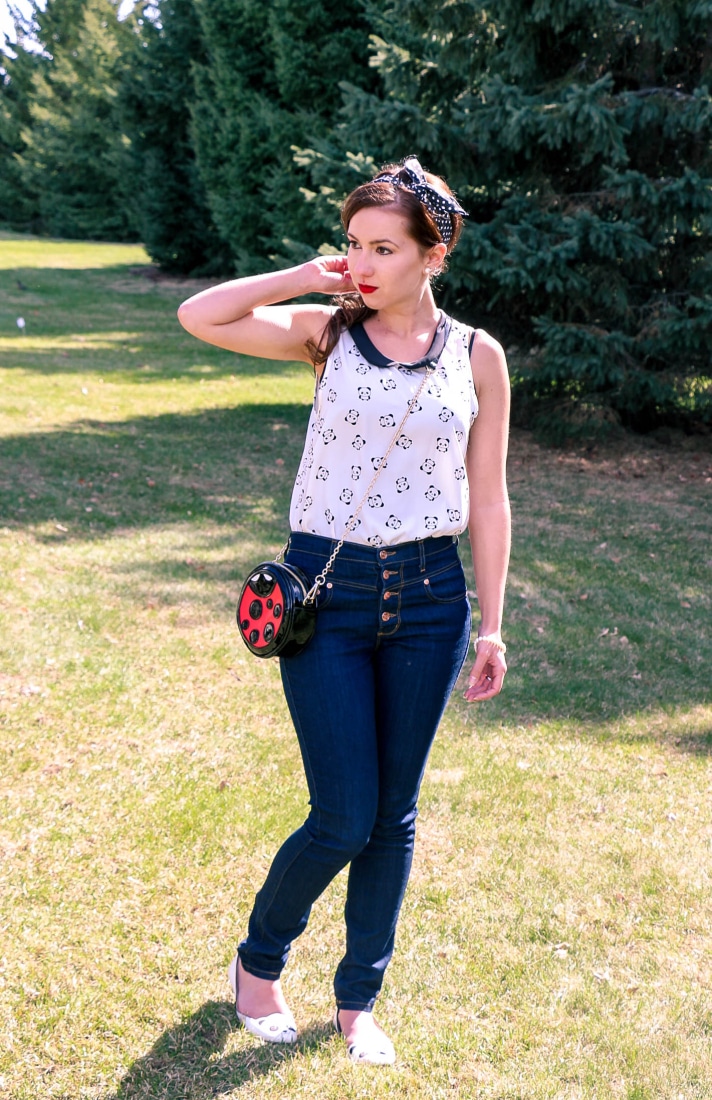 Have you ever had a pair of panda shoes, and just couldn't decide what to pair them with? Ok, that may just be a problem that I have…but I do really like the way all of my panda attire came together with this little ladybug purse.
My panda shoes were a Christmas gift from my mom that I absolutely adore. I've been wearing them all winter long with black pants or black leggings and various sweaters. However, I wasn't too sure what I was going to wear them with when the weather finally warmed up. But thanks to this new panda top from ModCloth, I didn't have to worry too long!
I'm pretty sure this top was made specifically to be worn with these flats. I couldn't believe how well they went together. And let's be honest, who doesn't love pandas?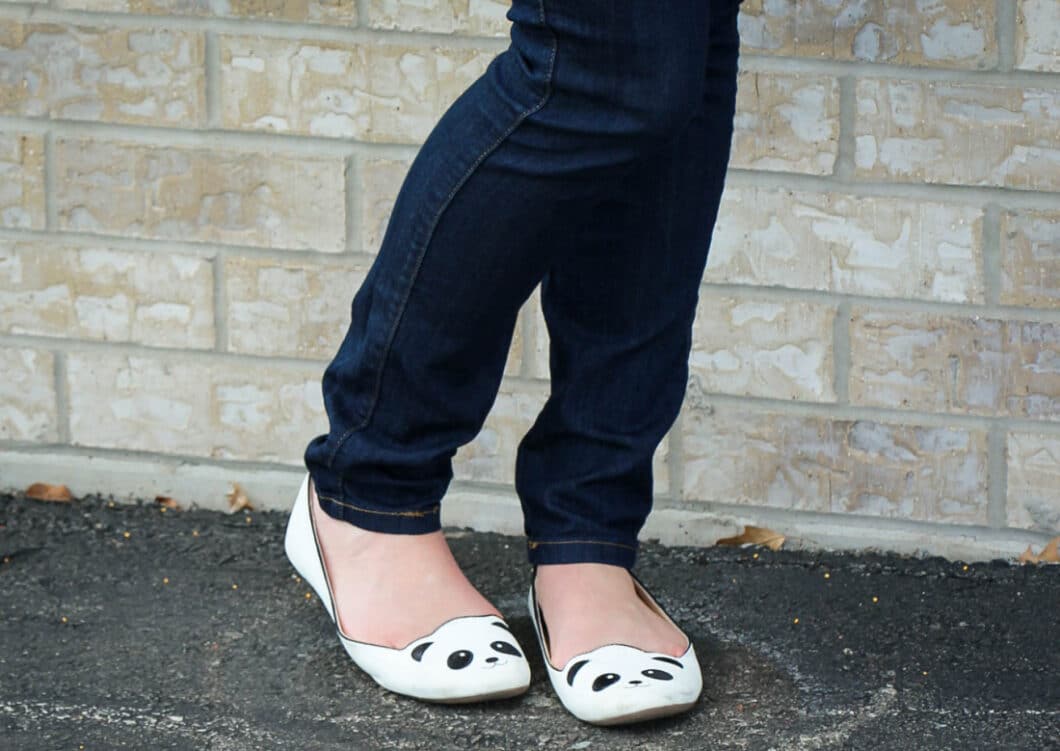 If you do decide to order either of these panda items for yourself, though, I want to point out a couple of sizing issues I noticed.
First, these shoes are a slightly narrow fit. I have pretty wide feet and need to be careful about shoes that do not come in wide. However, my mom ordered these a half size bigger than I normally wear…and they fit me just fine!
Also, I wore these shoes for my flight home last weekend, and it was the first time I didn't have socks or tights on with them. While all the TSA officers enjoyed them, I did find out that when I wear them barefoot for long periods of time (thanks to a 6 hour layover in Detroit!), they dig into the backs of my heels. Whoops! These will be needing some heel inserts from Target, too!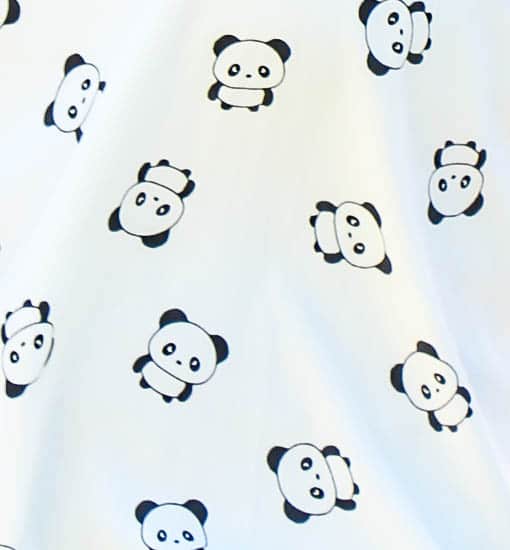 The print on this top is just too cute. Every time I look at it makes me smile. I also love the collar and how silky it feels. As far as sizing goes, though, I probably could have gone a size down in this top. I'm usually a medium in ModCloth tops, but this top is really baggy on me when it's not tucked in. The arm holes on it are also very large, which makes me think I probably could have squeezed into a small. However, I was far too impatient to exchange this top for a different size. So, I put a black tank top under it and tucked it into my new favorite pair of jeans, and called it good! Haha.
My little purse, was just too cute to pass up. I have been using it constantly since it arrived in the mail, and I absolutely adore it. I'm also the proud owner of a cute Jump From Paper bag, which holds my ID, credit card and a chapstick. Haha. So, in comparison to the size of my Jump From Paper bag, I can fit a lot of stuff in this little ladybug purse! I've found that this purse goes with many different outfits in my closet, from casual to dressy…so, it's going to be in many future outfit posts! (And it's on sale right now!!)
I'm curious what are some novelty clothing items that you love? Let me know in the comments!
Where to find it:
Panda Flats: ModCloth
Panda Top: ModCloth
Ladybug Purse: ModCloth (On sale right now!!)
Jeans: ModCloth
Headband: ModCloth
Wow. After linking to all these items, I realized I am literally dressed from head to toe in ModCloth. Haha. I may have an addiction!