The Perfect Floral Swing Dress for Summer Soirees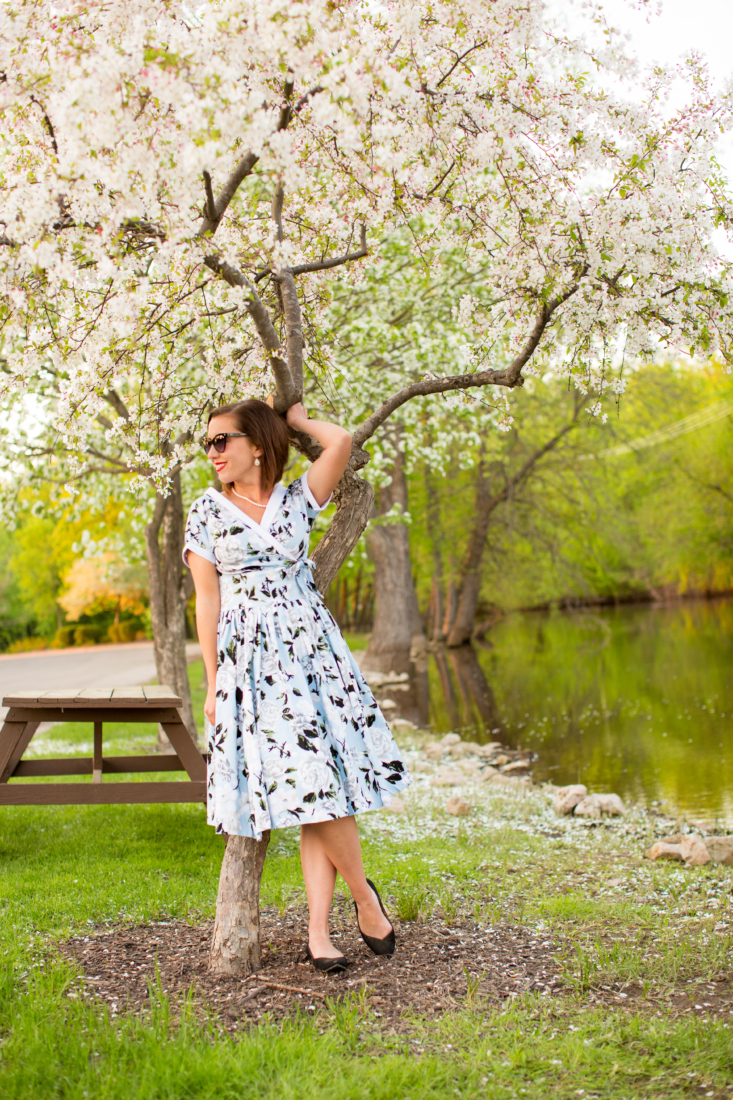 Dress c/o* (on sale!!) | Flats | Bag (similar) | Sunglasses c/o*
Look at that! Everything is green, the flowers are blooming and summer is in the air. It sort of feels like we went straight from the middle of winter right into summer. The weather has been AMAZING lately and everything looks so beautiful right now.
I had been waiting for the trees to bloom before I broke out this amazing, floral, swing dress. I had all kinds of ideas for how I wanted to photograph it, but to be honest, photos don't do this dress justice. It's one of those pieces that's so much more impressive in person. It's beautifully constructed and has such a flattering shape. Plus, I'm a sucker for gorgeous floral prints AND summer dresses! Oh, and did I mention? It's on sale-which means it won't be around much longer!
The day I wore this dress was just to get these photos, but I'm thinking the next time I wear it will be for a wedding I have in a few weeks. It's just such a classy dress that I think would be great for a summer wedding or soiree!
The next time I wear this dresstoo, I think I'll be pairing it with a more vintage-inspired pair of black and white heels. The pair that I have in mind that I have is currently sitting buried in a box in storage at the moment. I've been working with a rather limited wardrobe until we get a place to live! The house hunt is feeling a bit more promising, though, this week. We found another house we absolutely love and are getting ready to make an offer on today. Fingers crossed it gets accepted and no one else swoops in and outbids us this time!!
What kind of event would you wear this dress to? Do you think it could work for a summer wedding? Let me know in the comments!
Where to find it:
Dress: c/o* Unique Vintage (on sale!!)
Flats: Chinese Laundry
Bag: Kate Spade (similar)
Sunglasses: c/o* Polette

*Disclosure: some of these links are affiliate links. Meaning, if you click a link and make a purchase, Have Clothes, Will Travel gets a very small commission at no extra cost to you. Thank you for supporting the brands that make this blog possible! I am also a participant in the Amazon Services LLC Associates Program, an affiliate advertising program designed to provide a means for us to earn fees by linking to Amazon.com and affiliated sites.
*c/o = courtesy of, meaning the company gave me the product to be used on my blog, and I did not pay for it. All opinions are my own, and I am not being compensated for a positive review.