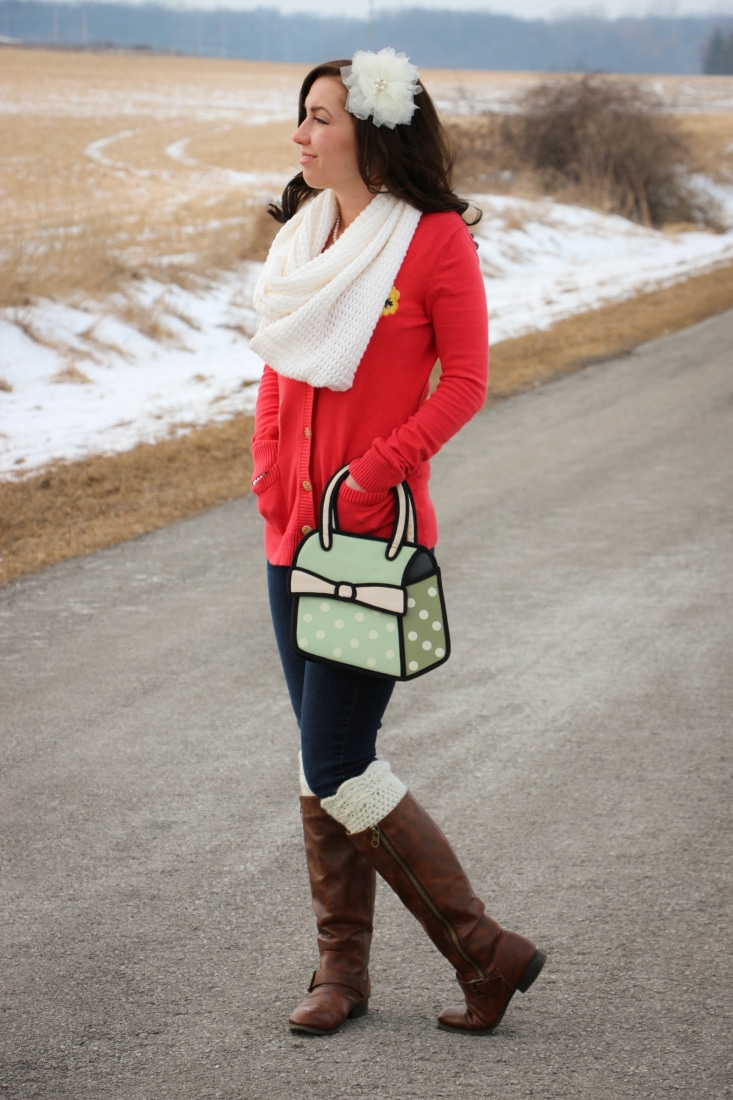 Shop the look:

It's that time of year where dreams of flowers and warmer weather are dancing in our heads. However, there's still snow on the ground, and there's no end to the chilly temperatures in sight. This outfit is my attempt to brighten up my cold weather blues but still be warm and cozy.
I love the embroidered peonies on this sweater and the bright reddish pink color. It's a nice cardigan for spring, but it's still warm enough to be worn in these chilly February temperatures. I also like wearing this sweater to work. I feel as though it just screams "teacher attire" (but in a good way!). This sweater was also in one of the first outfit posts I ever did on the blog, in some much nicer temperatures (click here to see that post).
My headband I've had since high school, when I worked at Claire's and was quite the accessory queen. Haha. I just found this headband tucked away in a drawer over the weekend. I was SO excited when I found it…it was like Christmas! It goes with a ton of my outfits, and as you may have noticed I am on a bit of a hair accessory kick lately. So, get ready…this headband is going to be in a lot of future posts.
My Jump From Paper purse is also going to be a wardrobe staple going forward. It just brightens up my outfits and makes me smile when I see it. It's also a great conversation piece. I have people stopping me all the time, asking if they can see it and how it works.
Where to find it:
Cardigan: ModCloth (Not currently available. This one from ModCloth, and this one from Forever 21 are similar.)
Flower Hair Accessory: Icing (similar)
Scarf: Target (similar)
Boot Cuffs: Etsy JFeathersDesigns
Boots: Target (similar)
Jeans: Target
Earrings: Icing
Purse: Jump From Paper