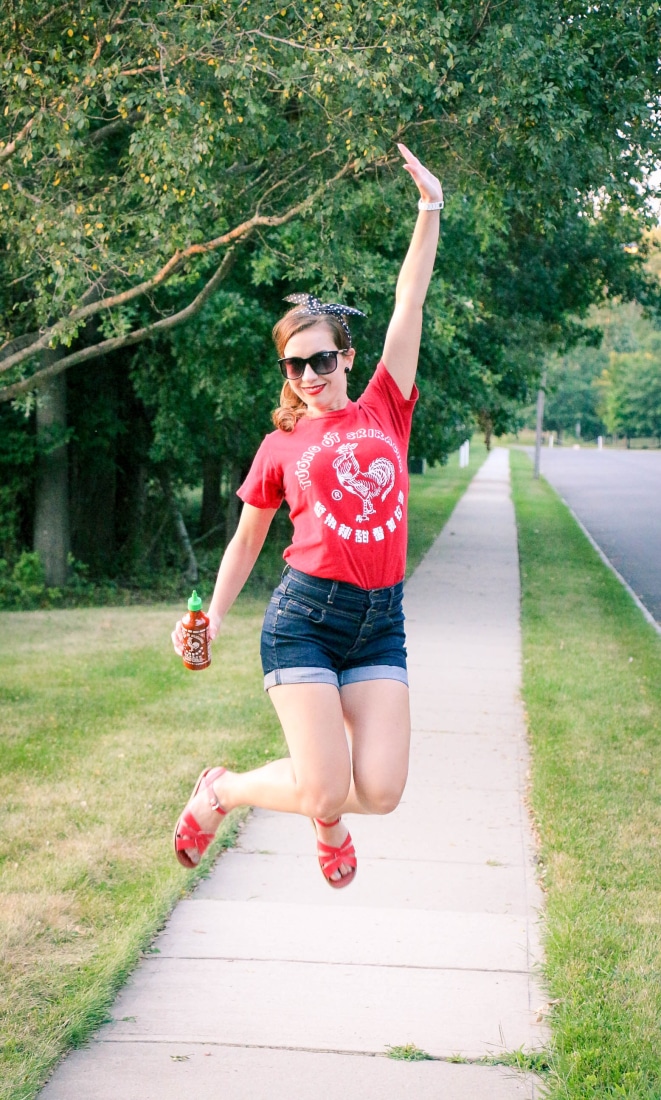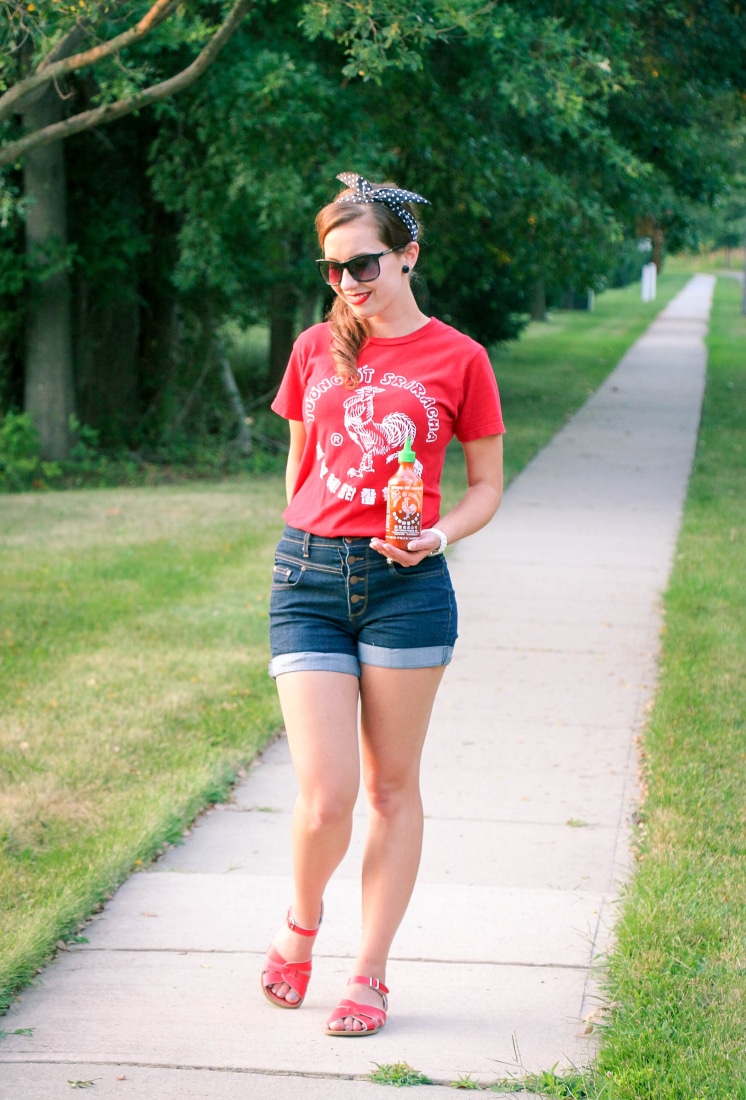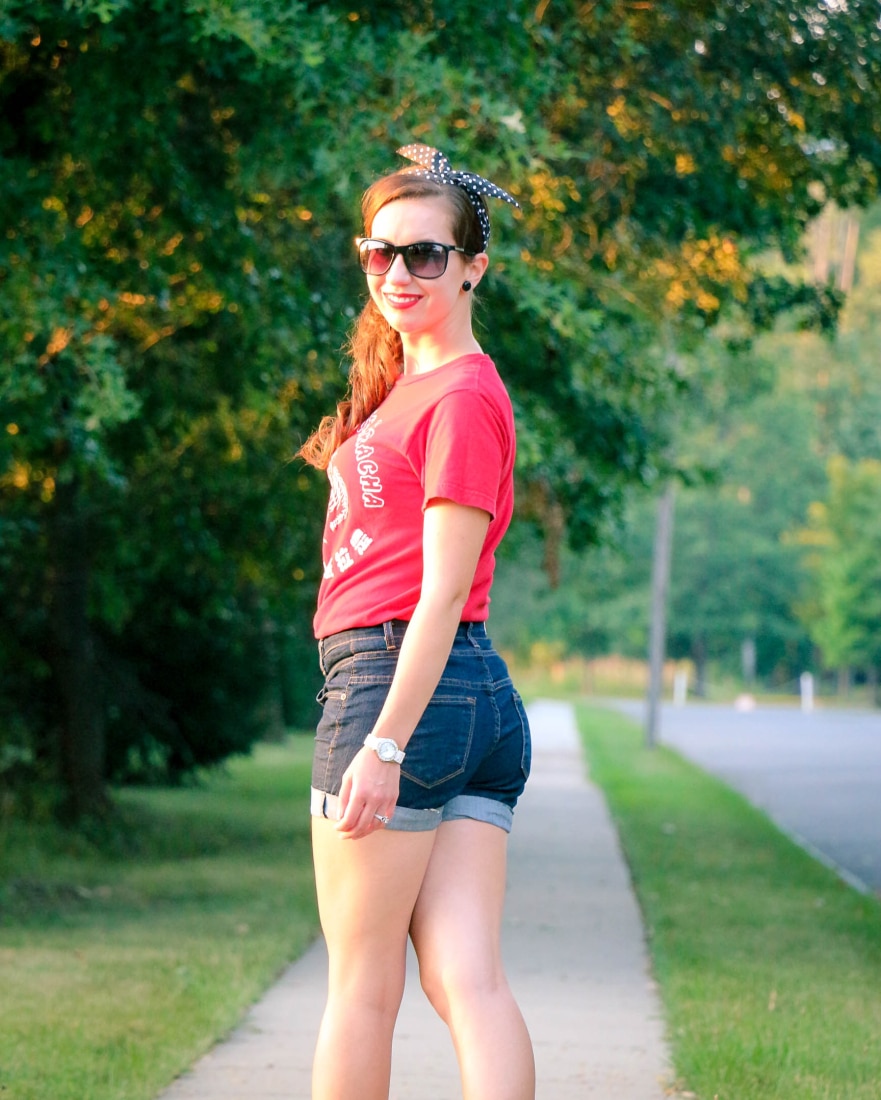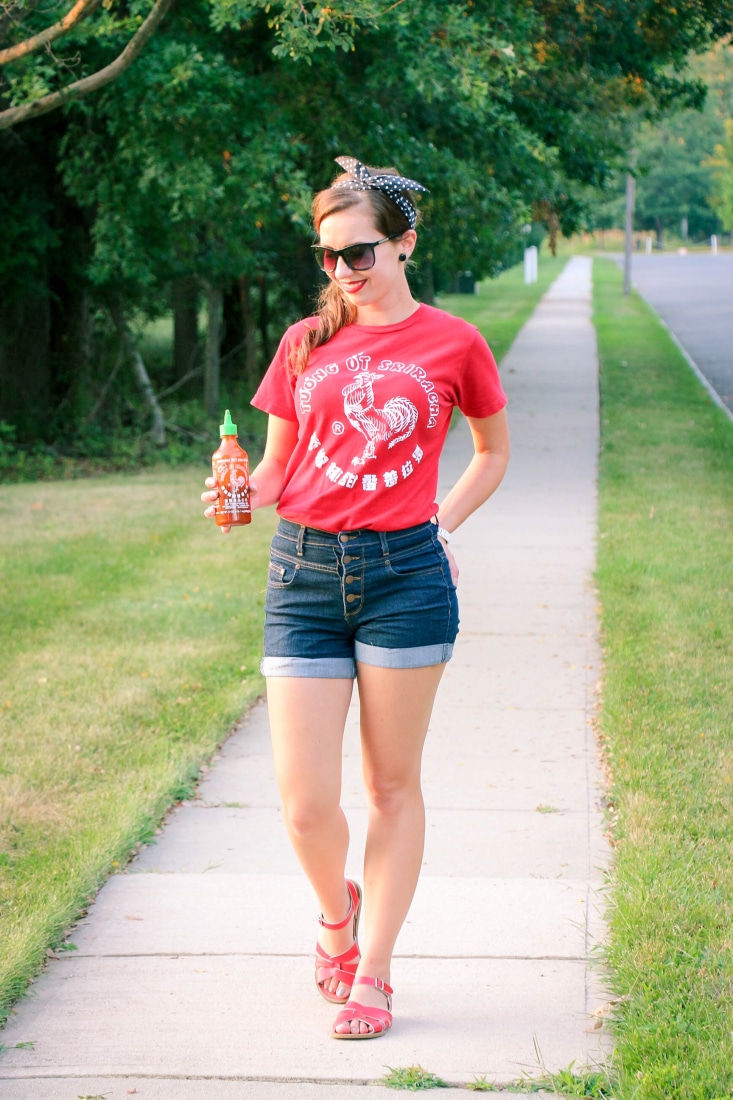 Shop the look:

Let me start off by clarifying this title – I do not think I am "too hot to handle" by any means. Haha. It is in reference to my shirt (and a funny comment made about it), and my odd obsession with putting Sriracha on everything I eat.
I wear this shirt a lot. This shirt is the warm weather equivalent of my Great Gatsby sweatshirt. It's comfortable, it's soft, it's quirky and people are always making comments when I wear it. For example, I wore this on my last flight..and as I was coming through the body scanner the lady TSA agent says, "Mmm, mmm look at this girl. She thinks she's too hot to handle!" Bahaha. I had no idea how to react to that, other than to laugh. And there have been far too many wonderful comments before that one.
I haven't always been the world's greatest cook, so drowning any negative flavors out of my entrees with a hot sauce – works for me! I also really enjoy spicy food. So, Sriracha is my indeed my flavoring of choice. I love putting it on my eggs in the morning. Yum! And now that I have an actual stove again, I've found a lot of recipes dedicated to this sauce. In fact, ModCloth has an entire book dedicated to it! (Christmas ideas right here!)
I don't own this cookbook (yet), but I have found some Sriracha recipes on Pinterest that I really enjoy making. My absolute favorite is Sriracha chicken. It is so darn tasty, and not terribly crazy to make. It takes a little over an hour to get it all done, and it's a bit putsy, because you have to constantly be stirring the sauce…so it doesn't clump and stick to the bottom of the pan. But other than that, this recipe is quite easy to make and it is super tasty. It's from Creme de la Crumb, click here to see it.
Are there any other Sriracha lovers out there? Let me know in the comments! Or if not, what's your odd flavoring of choice?
P.S. In case you don't follow me on Instagram, I am on vacation in Cape Cod this week, and then Boston for the weekend. Sorry for not being responsive to comments on here or on social media – and I swear I will catch up on everyone's blog posts when I get home this weekend. I hope you are all having a great week! (I had this post prepared before I left, all my trip photos will be up next week.)
Where to find it:
Shirt: ThinkGeek (No longer available. This one here is identical.)
Shorts: ModCloth
Sandals: ModCloth
Headband: ModCloth
Cookbook: ModCloth
Sriracha chicken recipe: Creme de la Crumb