Traveling in Dubai on Less Than $25 a Day
Meet Neha Singh! She's writing this month's travel guest post all about how to travel in Dubai on a shoestring budget! She is a post graduate in Mass Communications. Traveling is very close to her heart and she loves to write. She is also an avid trekker and explorer and often takes out time from her busy schedule to indulge in mountaineering. (How awesome is that?) Check out how Neha made the most of Dubai on less than $25 a day, below!
Dubai on Less Than $25 a Day
There are some destinations that simply don't give a vibe that they belong for the backpackers or for those with a shoestring budget. Dubai, the city of gold, is certainly one of the cities on the list. Fondly called the playground of the rich, Dubai has long been tagged as a luxury vacation spot. While you can't really call Dubai a backpacker's paradise, it certainly is a destination you can visit economically.
Forget the vibe or the popular opinion, here's how you can spend an ideal vacation in Dubai for less than $25 a day.

What to See & Do:
Dubai has just too many great attractions to visit and contrary to the popular belief, most of them are very cost effective. In fact, some of the best attractions of the city are free.
The City of Malls, Dubai's most obvious attractions to visit are the gigantic malls that can make anyone a shopaholic. Even if you don't plan to get enticed by the best of the world brands, the magnificence of the malls is a must-see. The Dubai Mall, the Mall of Emirates and the Ibn Battuta Mall are some of the biggest malls in the world and are a must visit.
Visit the ground floor of the Dubai Mall to see the Dubai Aquarium – the world's largest suspended acrylic aquarium, housing over 33,000 marine creatures inside its 10 million liter water tank. Starting from the ground floor, this free attraction rises up till the 3rd floor and can keep you glued to it for hours.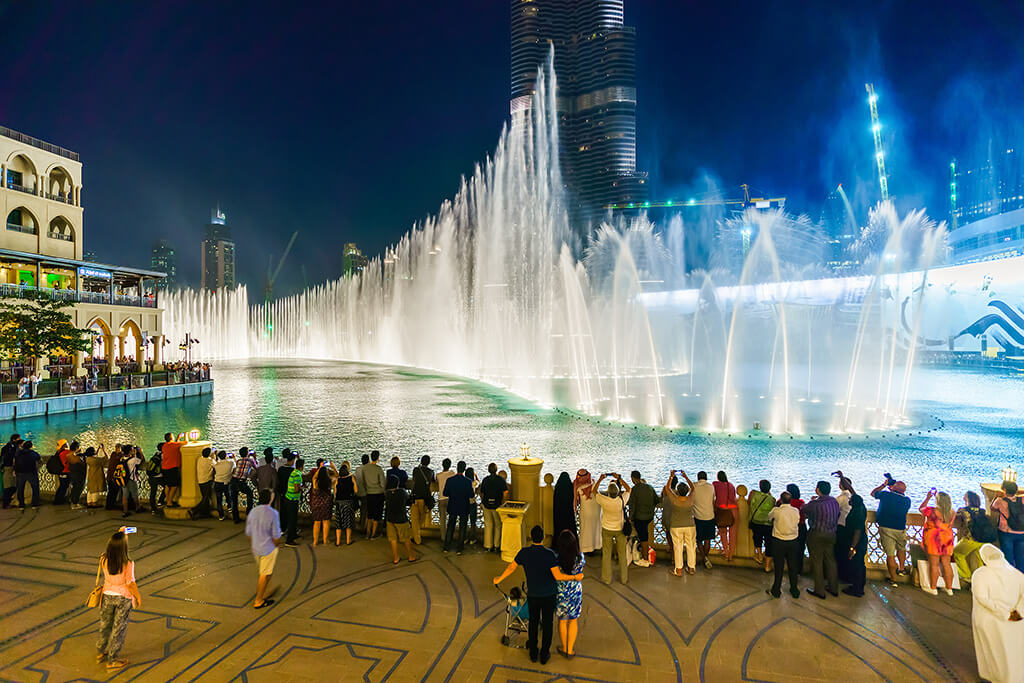 Dubai boasts some of the largest themed fountains in the world that put on a vibrant show every evening at 6pm in Downtown Dubai. Visible from Dubai Mall, the Dubai Fountain is built on the 30 acre man-made lake called the Burj Khalifa lake. Every evening the fountain gets illuminated by 6,600 LED lights, 25 color projectors and starts a mesmerizing show across its 275 meters length. The fountain shoots water up to a height of 500 feet. (Roughly the height of a 50 story building) and plays like a mermaid to the sounds of Arabic and world music.
Even if you do not plan to visit the 124th-floor observatory deck of Burj Khalifa (highly recommended for a view of a lifetime), soaking in the grandeur of the world's largest man-made building in the world is in itself one heck of an experience. Stand for as long as you want and admire one of the man's best creation till date.
While in Dubai a visit to its traditional souqs (a term used for a market in Arabic) is a must. Even after the heavy commercialization, the traditional souqs of Dubai still offer the old-age vibe of Arabian trading. An excellent opportunity for people watchers, the souqs of Dubai offer an infectious vibrancy and energy. The most famous and must visit souqs are the gold souk, textile souq, spice souq and perfume souq.
They say that no trip is complete without experiencing the Dubai desert safari, and they aren't boasting. The experience of a desert safari in Dubai is distinct, mainly because of the excursions included and the exceptional hospitality. And with so many operators offering the safari tours, the rates are extremely competitive too. You can select from various services offered such as dune bashing, quad biking, Bedouin style camp with dinner, etc., based on your budget.
How to get around:
Dubai is the city where the best of the world's cars arrive for their maiden rides. Even the pizzas are delivered in a luxury car here. But don't get intimidated, Dubai has an exceptionally intelligent metro system (one of the best in the world) that can take you from one end of the city to the other in the least time and is unbelievably economical for your wallet. Passengers are not allowed to use cash for traveling in the metro, they have to buy NOI cards prior to their travel. You can opt for a Red ticket card that can be used up to 10 trips or 5 daily passes and it comes for an unbelievable price of less than $1.
Taxis are available as well with a normal tariff of around $3, but for a backpacker on a shoestring budget, there's nothing better than metro trains that have a stop at almost walking distance from every big or small attraction of Dubai.
What to eat:
You are going to love Dubai if you are a foodie, and if you're not, in all probabilities, you'll become one, thanks to the incredible variety of food. The fact that Dubai is a cosmopolitan city with 85% of expats, the food scene is phenomenal. From Japanese, Thai, Chinese, European, Italian to Indian, Bangladeshi, Emirati, Pakistani, and Lebanese; there's hardly any cuisine in the world you won't find here. And what's fascinating is the fact that every cuisine is available at almost all price ranges.
Managing food within your tight budget is absolutely no problem as Dubai is full of great street food options at the Al Satwa, Deira, Al Karama, and Jumeirah road that will blow your mind and not your pocket. Not many believe that you can eat a delicious meal platter for $4 (yep, you read right)
Don't forget to visit the Afghan Kebab house in Deira for sinful Kebabs coming at $1. Emirati cuisine has its own distinct taste and is a must try. Al Machboos, Shawarma, and Hummus are some of the cheap eats in this cuisine.
Where to Stay:
Contrary to the popular belief, there are many hostels in Dubai that offer extremely cheap accommodations, provided you are ready to sacrifice your comfort, somewhat. If you are planning to use metro, you're at a liberty to select hotels even far from the main city that comes for a much lesser price.
Tips for hassle-free economical trip to Dubai:
• Talk to local people. English is a prominent language here and people are eager to help you out. The hospitality of the city of Dubai is known worldwide.
• Avoid skimpy clothes and a lot of skin showing, whether you're a man or a woman. Dubai has some conservative laws that they strictly follow.
• Keep your love for pictures under control and do not click any local Emirati's picture without his/her consent. You might land up in jail. Same goes for display of affection in public.
• The local emirates of Sharjah and Abu Dhabi are at less than an hour away from Dubai. Buses are easily available for cheap transport. Don't forget to visit these beautiful cities as a part of your trip.
Thank you so much, Neha, for teaching us so much about Dubai! I honestly had not seriously considered traveling to Dubai, as I always envisioned it being such a costly trip. (I also did not know you could potentially end up in jail for taking a local's photo!) But I will definitely be looking into it more, now. And I'm curious, what surprised you most about Neha's article, dear readers? Let me know in the comments!
If you are interested in contributing a guest travel post, click here to tell me more about your article idea! You don't have to be a blogger or professional writer – everyone's welcome! And the article can range from travel tips (such as this one) or simply recounting a travel experience you had.