Using KEH Camera to Solve My Photography Crisis
FTC Disclosure: Thank you to KEH Camera for sponsoring this blog post. All opinions are my own, and I am not being compensated for a positive review. And some links in the post are affiliate links. This means if you click a link and make a purchase, Have Clothes, Will Travel receives a very small commission at no additional cost to you. Thank you for supporting the businesses that make this blog possible!

The Crisis
This blog post took a drastic turn from what I had envisioned it being! When I first started browsing KEH Camera, I had initially thought I would invest in a new backpack for my camera gear and maybe a new lens for my trip to Peru in September. (Yes! I'm going to Peru. Details are coming soon.)
However, once I started researching different camera lenses and a gear…I. Could. Not. Stop. When my husband found me at my computer 10 hours later, I resembled a crazy Jack Nicholson in The Shining, typing furiously on my computer. After he pried the computer from my fingers, we had a discussion about my research.
The conclusion I came to was a new lens was not going to solve my lust for crisper, more professional looking images of our travels (and my outfits). See, I have a lovely beginner DSLR camera – a Canon Rebel T5i. It has been a wonderful camera for me to learn and practice with for the past several years. (And gosh, do I love its touch screen!) I would highly recommend it for beginners! However, it is a camera with a cropped sensor (instead of a full-frame sensor). I won't get too technical here, but feel free to read up on it this here article.
Basically, investing in the expensive, professional lenses I was lusting after would be a waste, as they would not perform as well on my type of camera. So, did I really want to continue sticking money into a camera that was not capable of producing the results I wanted?
After talking with my husband, we decided it was time for me to invest in full-frame camera. Boy, did that take a turn from maybe getting a new backpack and lens, haha.
This is where KEH Camera comes in. As I'm sure you all know, cameras and camera gear is EXPENSIVE. But it doesn't have to be! KEH Camera sells used gear for less than new gear and also allows you to trade in your old camera gear! I'll be going through how to do both in this post, as I ended up deciding I wasn't just going to be buying gear but also trading in my old equipment.
Buying Camera Gear on KEH
First up, I'll take you through how to buy gear on KEH.
Your first step is simply deciding what it is you are looking for and typing it in the "search" bar in the upper right-hand corner.
For this example, I'm using the Canon EOS 5D Mark III. I have not actually bought this camera yet. I am still researching and trying to make a decision (will likely be a Canon, as that's what I know, but Nikon lovers please feel free to convince me otherwise in the comments).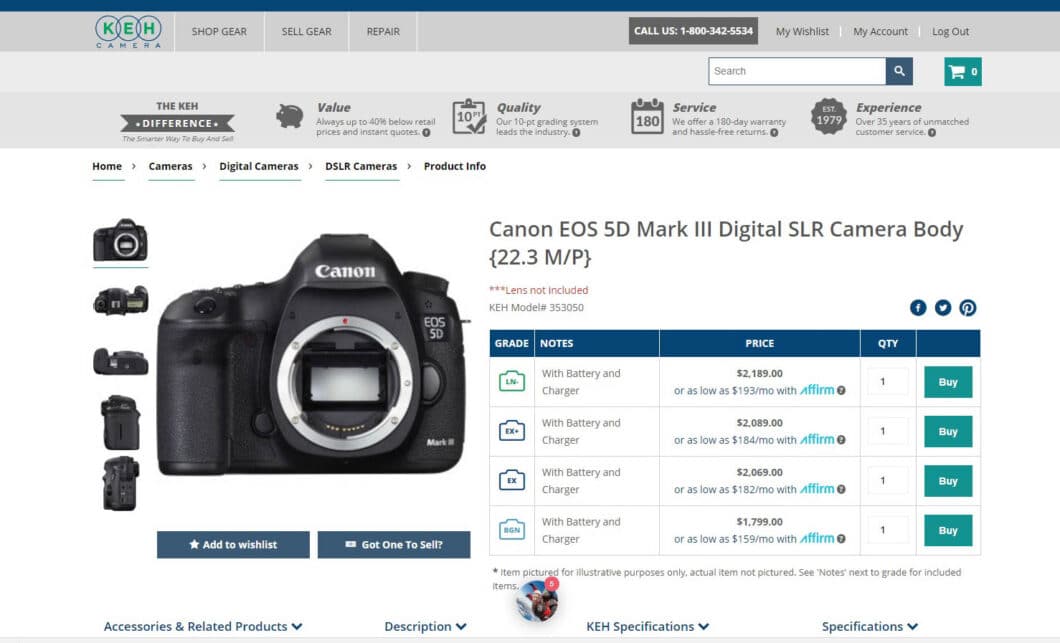 See, full frame cameras are SO expensive. Fortunately, buying used can help reduce the cost. As you can see, above, you have 4 different price points to choose from. It is dependent on the "grade."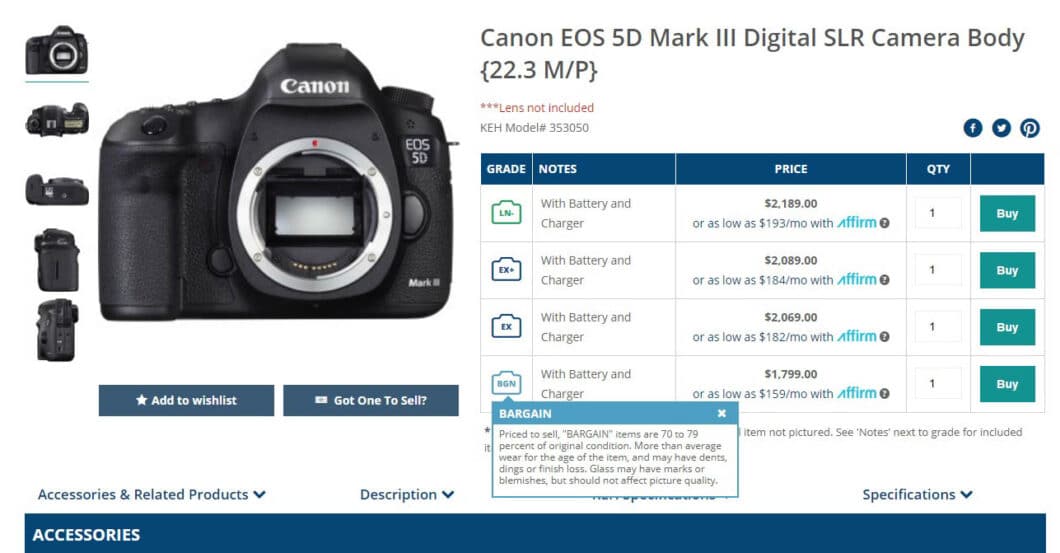 You simply click on the grade to read the description of just how "used" this camera will be when you buy it, and then decide what you are comfortable purchasing.
Then, you "check out" just as you would with any other online store.
And KEH does have a good return policy. If you are not satisfied, you can return within 14 days for a full refund or exchange. (Click here to read the details.)
Voila! Pretty simple to buy used equipment and save yourself some money!
Selling Camera Gear on KEH
Selling gear is just as easy as buying it!
While I'm hanging onto my camera until I physically have a new one in my possession. (An old camera is better than no camera!) Once, I do get a new camera, I will be trading my Canon EOS Rebel T5i in, though.
I simply typed in my camera type and it gave me a few options to choose from.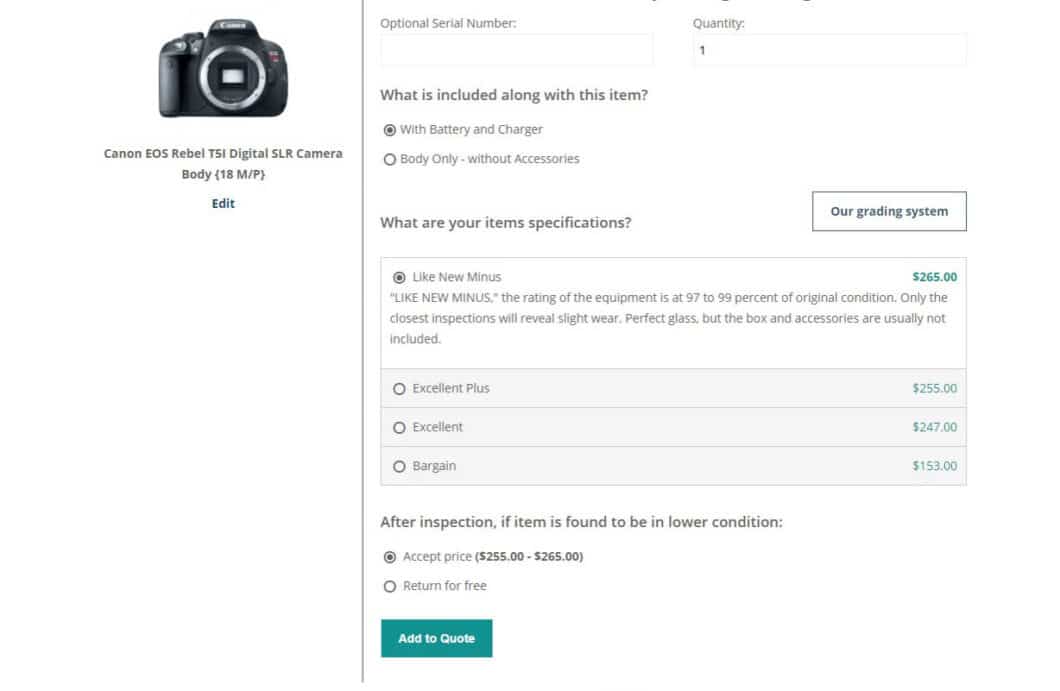 After I selected the correct camera, I filled out what condition I thought my camera is in and whether or not I would accept a lower price if the inspection found it was not quite at the level I thought it was for "newness." Or I had the option to select "return for free" if I found out they decided my camera was not "like new" and I did not want to accept a lower price.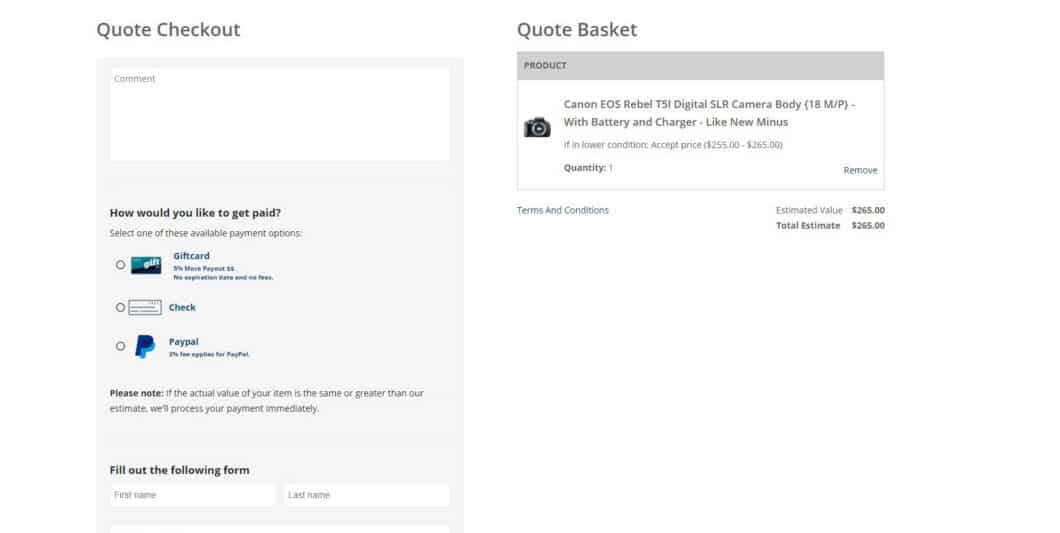 Then, I have my estimated price and fill out how I would like to be paid and my address. Once that is completed, a prepaid FedEx label will be emailed and I'll stick it on a box and send it to KEH!
Pretty darn simple if you ask me!
The Deals
AND if you use code LUCKY7 you'll get 7% off your order through the end of July! This offer is good on all of KEH's used products. (This code expires on 7/31/17)
Also, KEH offers an additional 5% bonus every day if you choose KEH Cash/Gift Card as your payment method when selling gear.
*Note: KEH Camera only ships within the United States.
Your Thoughts
So, my friends, I have a few questions I would love if you would answer in the comments below!
First up, what are your thoughts on buying used camera gear? Would you do it? And would you sell your camera gear online?
Second, if you have any recommendations on what time of full frame camera I should buy, I would love to hear your thoughts as well! Thank you!