What I Wore for "The End of the World"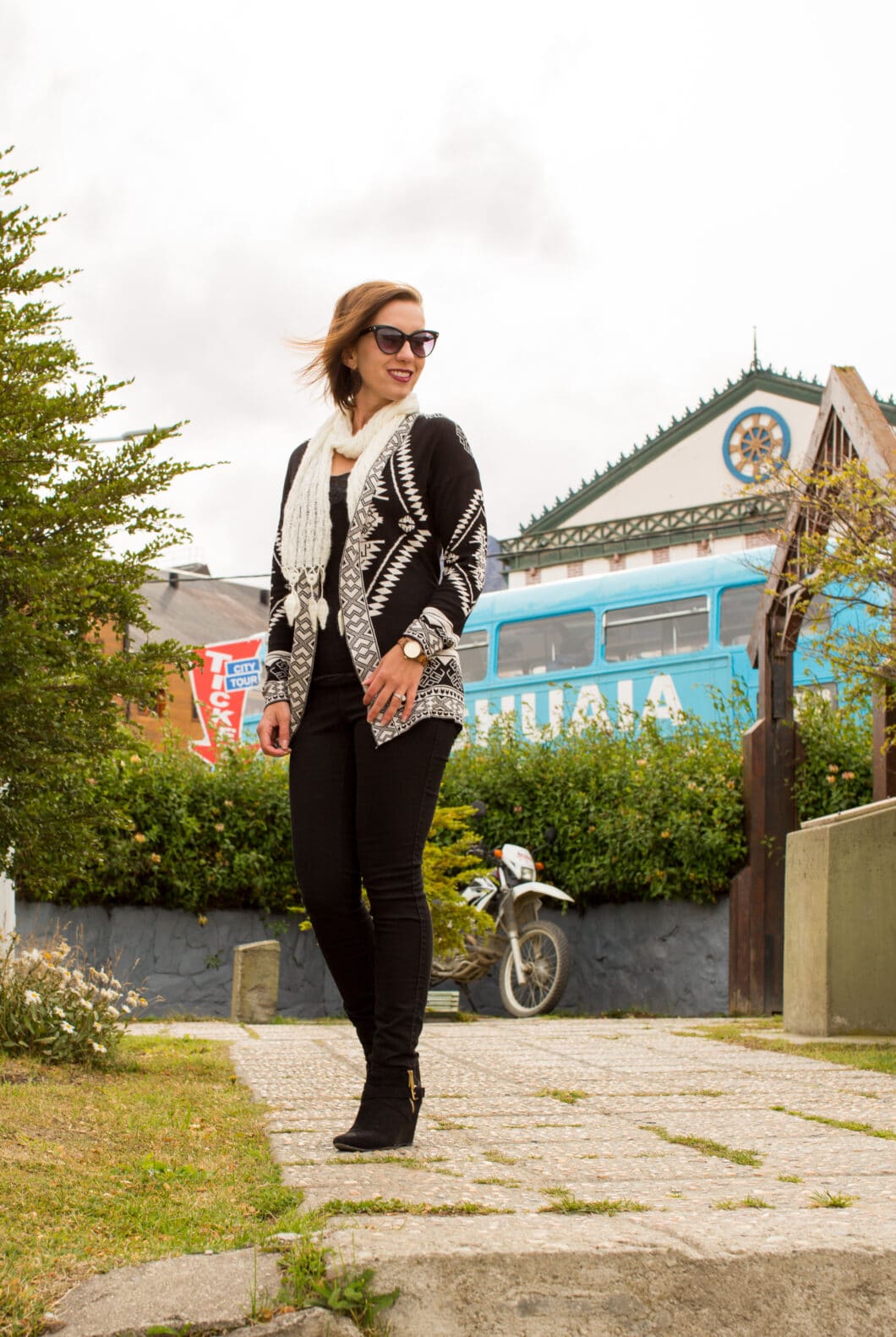 Cardigan (Similar here, here & here) | Booties (Similar) | Jeans | Scarf (Similar) | Earrings | Sunglasses c/o*
Why hello! Long time no see! I'm finally back to blogging as usual, and thank you, again, to all of my lovely guest posters for picking up the slack while I was moving/traveling.
And my travels did actually bring me to "the end of the world." Ushuaia, Argentina is dubbed "Fin del Mundo" in Spanish, which means "End of the World" in English. Not the end of the world with zombies and such, but Ushuaia is considered the southernmost city in the world. (That's because there aren't any cities on Antartica.) So, what does one wear for "The End of the World?" HIKING CLOTHES. Haha, but I got "dressy" one night when we went to dinner at Kalma Resto (which was absolutely amazing, and I'll chat more about in my travel posts).
My mom had surprised me with this cardigan for Christmas, even though we weren't supposed to get each other gifts this year. (Darn it, Mom! Haha.) It has become one of my favorite pieces – you can never go wrong with a comfy cardigan, an alpaca wool fabric scarf and booties. Although, most folks were looking at me as though I were crazy for wearing these booties…the majority of folks are wearing hiking boots and sneakers in Ushuaia.There is lots of hiking in this area, and Ushuaia is also built on the side of a mountain, basically, so you're always walking on a bit of slant. Heels of any sort are a really bad idea!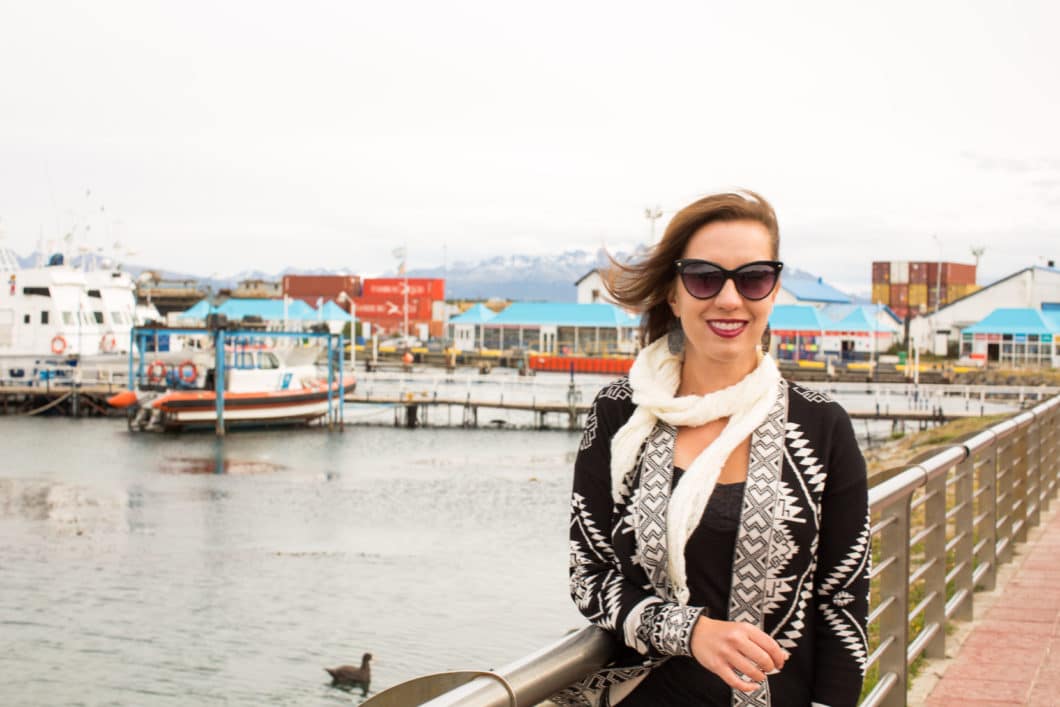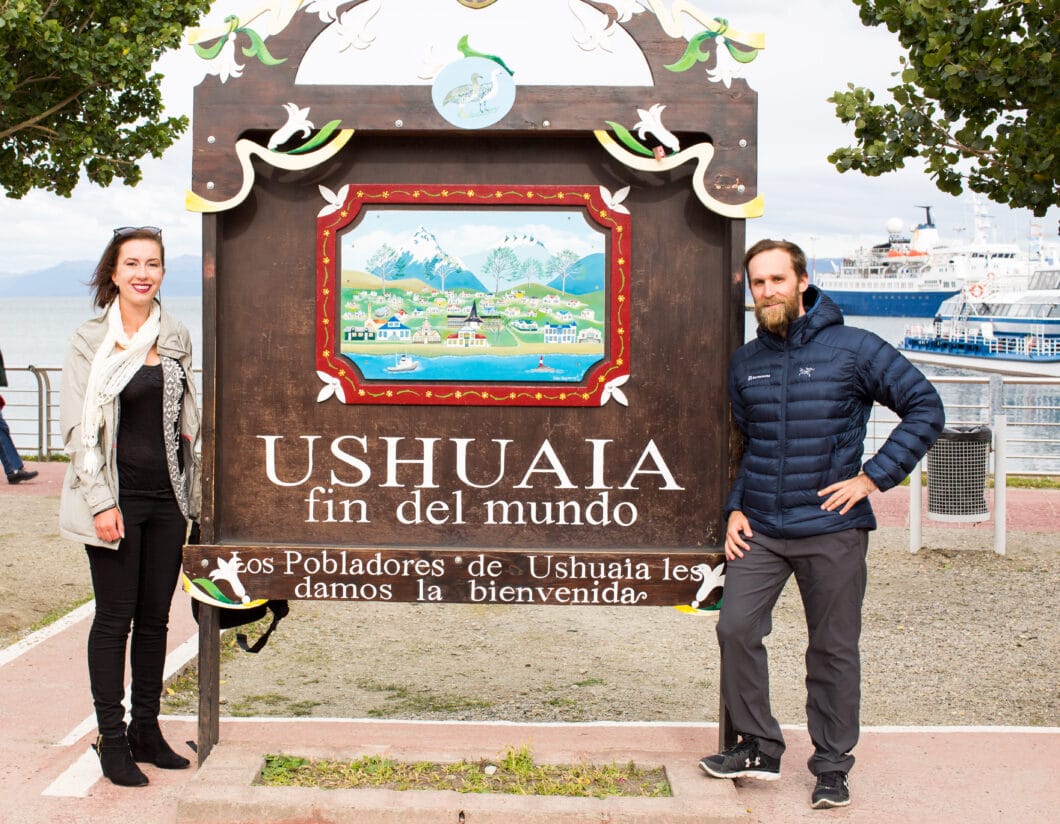 I absolutely loved Ushuaia…and El Calafate and Puerto Iguazú…our farewell tour of Argentina was really wonderful, and I can't wait to go through all of the photos of our adventure! But I honestly haven't gotten through all of my photos yet from our treehouse adventure, so stay tuned!
Oh, and we still have absolutely no idea what is going to happen next, though. See, my husband's work project in Argentina finished a lot sooner than expected…and now we're waiting to see where he gets assigned next. It honestly changes by the minute, so we're absolutely clueless as to where our next spot is going to be. (We're with family in Wisconsin at the moment.)
Ah, well! Wherever we end up, I've at least made it to "The End of the World!" Haha. Uncertainty is just part of this lifestyle!
Had you heard of Ushuaia "The End of the World" before this post? And are there any other cardigan lovers out there? Let me know in the comments!
Where to find it:
Cardigan: Gift from my mom (Similar here, here & here)
Booties: Old Similar here
Jeans: H&M
Scarf: Market in Cusco Similar here
Earrings: Maurices
Watch: c/o* JORD Wood Watches
Sunglasses: Polette

*Disclosure: some of these links are affiliate links. Meaning, if you click a link and make a purchase, Have Clothes, Will Travel gets a very small commission at no extra cost to you. Thank you for supporting the brands that make this blog possible! I am also a participant in the Amazon Services LLC Associates Program, an affiliate advertising program designed to provide a means for us to earn fees by linking to Amazon.com and affiliated sites.
*c/o = courtesy of, meaning the company gave me the product to be used on my blog, and I did not pay for it. All opinions are my own, and I am not being compensated for a positive review.
Links à la Mode, March 8th, 2018