10 Things To Know Before Visiting Machu Picchu
Machu Picchu is at the top of many bucket lists, and for a very good reason! It is most certainly not an overrated tourist trap and is every bit as magical as one would imagine.
However, being prepared and visiting at certain times of the year can make this experience that much better. For this post, I'll be sharing 10 of my tips for visiting and of course, photos of the experience! Enjoy! (Side note, I have so many photos & things to say about Machu Picchu, that there will be 1 more post coming about it!)
Want to travel to Machu Picchu with me? I'm hosting a 10-day small-group tour to Peru in November 2022! See the details here.
10 Things To Know Before Visiting Machu Picchu
1.) Get There Early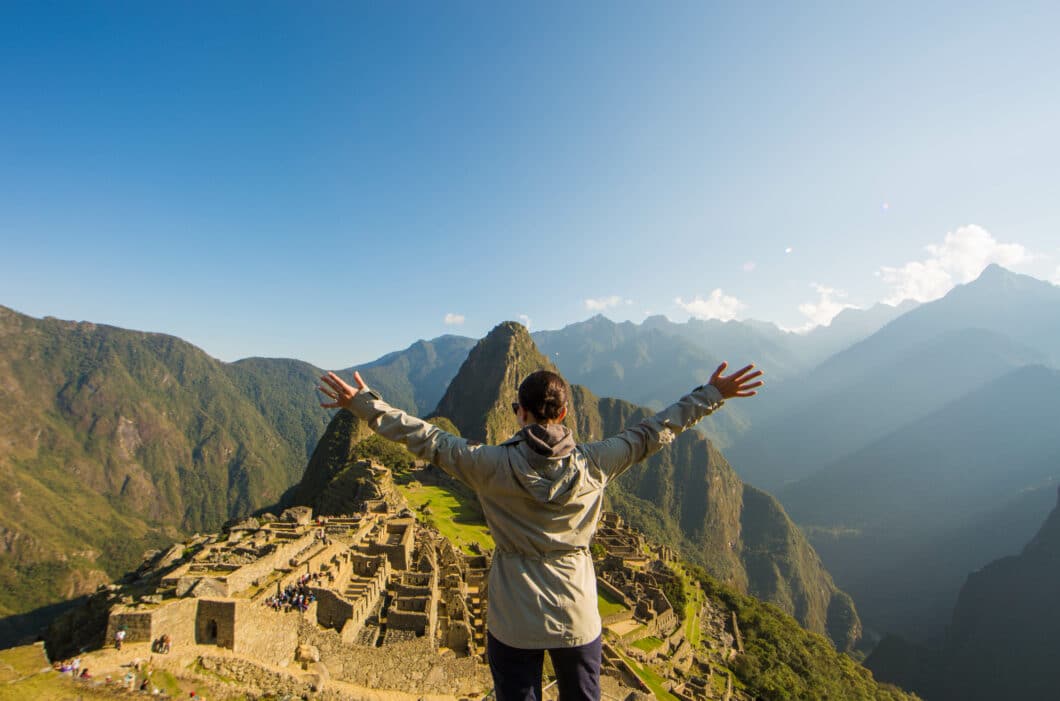 The first shuttle bus leaves Aguas Calientes (the nearest town to Macchu Picchu) at 5:30 am. We were in line waiting for these shuttles at 5 am. However, I would say getting there at 4:30 am wouldn't be a bad idea. Getting there right away in the morning means you have the chance to see Machu Picchu at sunrise and there will be fewer people! The wait for the bus is also not so bad. Many of the stores are already open at that time, and you can buy coffee/tea/snacks/etc. while you wait with fellow explorers.
*Buying bus tickets ahead of time is also a good idea! This is especially true if you are traveling during peak season. (During the month of September, when we were there, people did not have issues buying bus tickets the same day – but I wouldn't want to risk it!)
2.) Bring Soles for the Bathroom
Make sure you have small bills or coins! It costs 1 sol* (*at the time we visited – September 2017) to use the bathroom at the entrance of Machu Picchu.

3.) Be Sure to Use the Bathroom Before Entering + Pack Snacks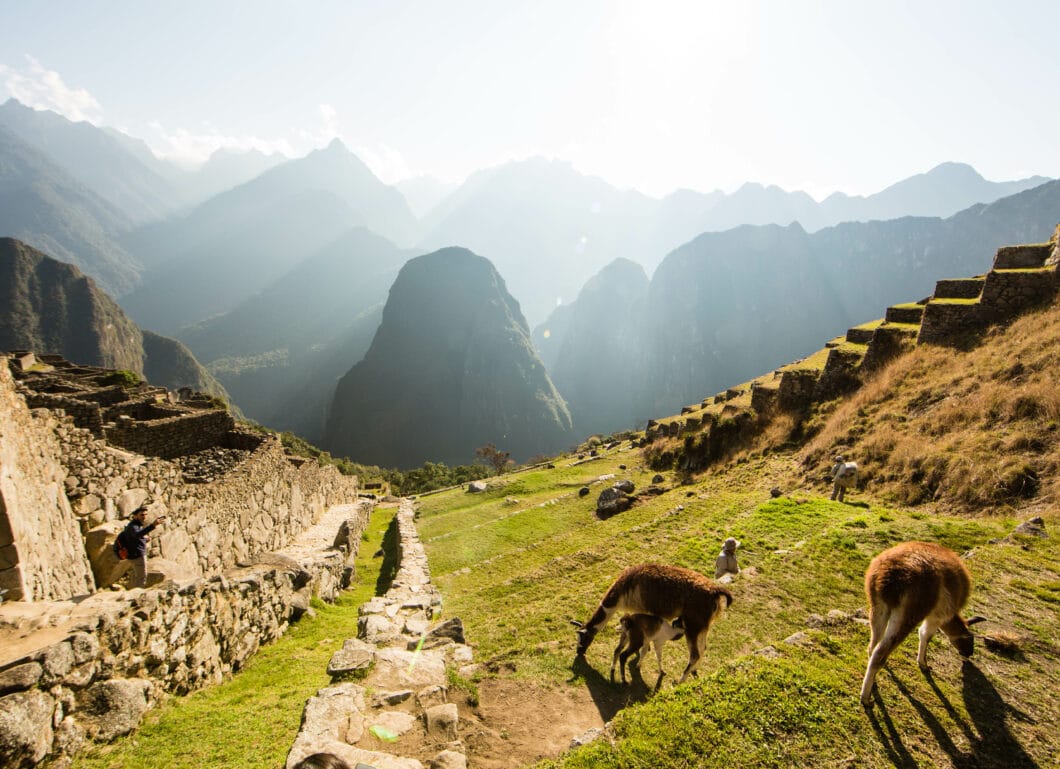 And you are most certainly going to want to use that bathroom at the entrance before you go into Machu Picchu. There are no bathrooms inside!
You'll also want to pack snacks and water before entering. There are also no vendors inside!
4.) Bring Your Passport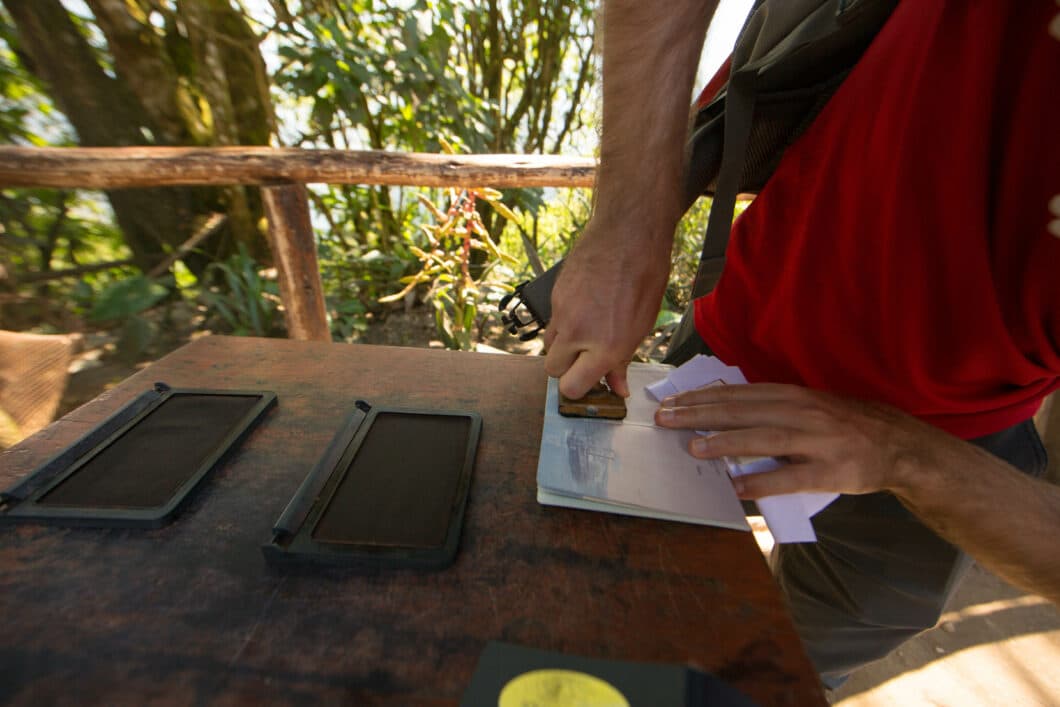 Bring your passport! You're going to need this for entering Machu Picchu anyways, and you'll also have the chance to get your passport stamped at Machu Picchu for no charge. (Which, I thought was cool!)
5 .) Be Prepared to Hike a Bit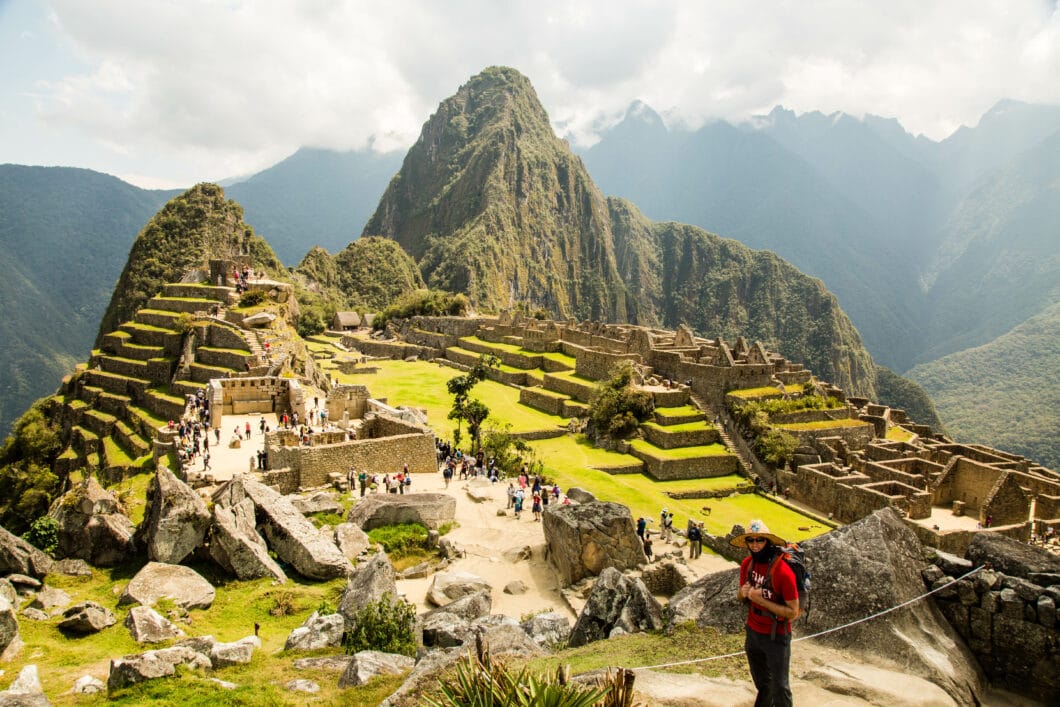 Visiting Machu Picchu requires quite a lot of walking and it can be tiring. Be sure to dress appropriately and, again, pack water. You also have to option to hike to different areas to get different views of Machu Picchu.
You can hike to:
*The Sun Gate (About a 2-hour hike, according to our guide)
*Inca Bridge (About a half hour hike, according to our guide)
*Huayna Picchu (This you need to reserve tickets for about 6 months in advance, though)
*Machu Picchu Mountain (Again, you need to reserve your spot ahead of time)
Of course, the hikes above are optional. We stayed within Machu Picchu the whole time we were there and were also happy with the views and photos.
6.) You Can Enter Machu Picchu Twice in 1 Day With Your Ticket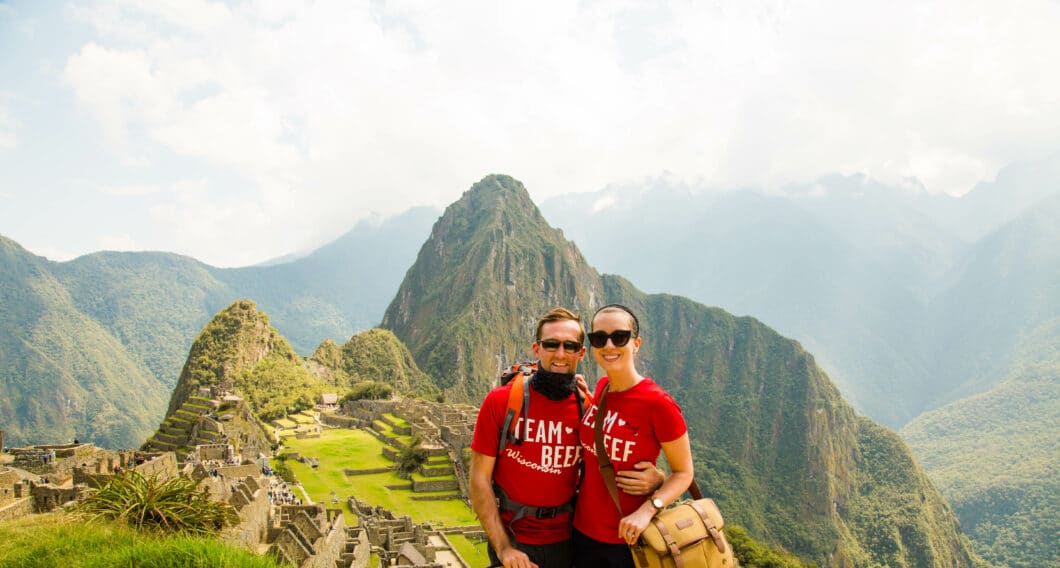 If you need to exit Machu Picchu (for the bathroom, lunch, a tour, etc.) you are able to re-enter one more time. So don't worry!
7.) Be Aware of Rainy Season/Peak Season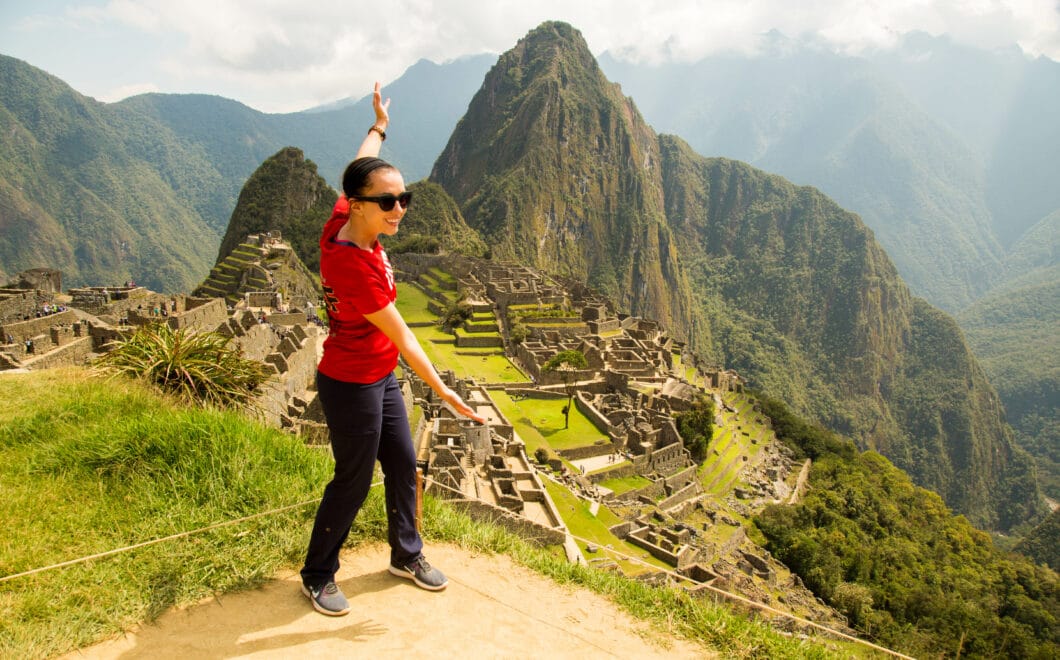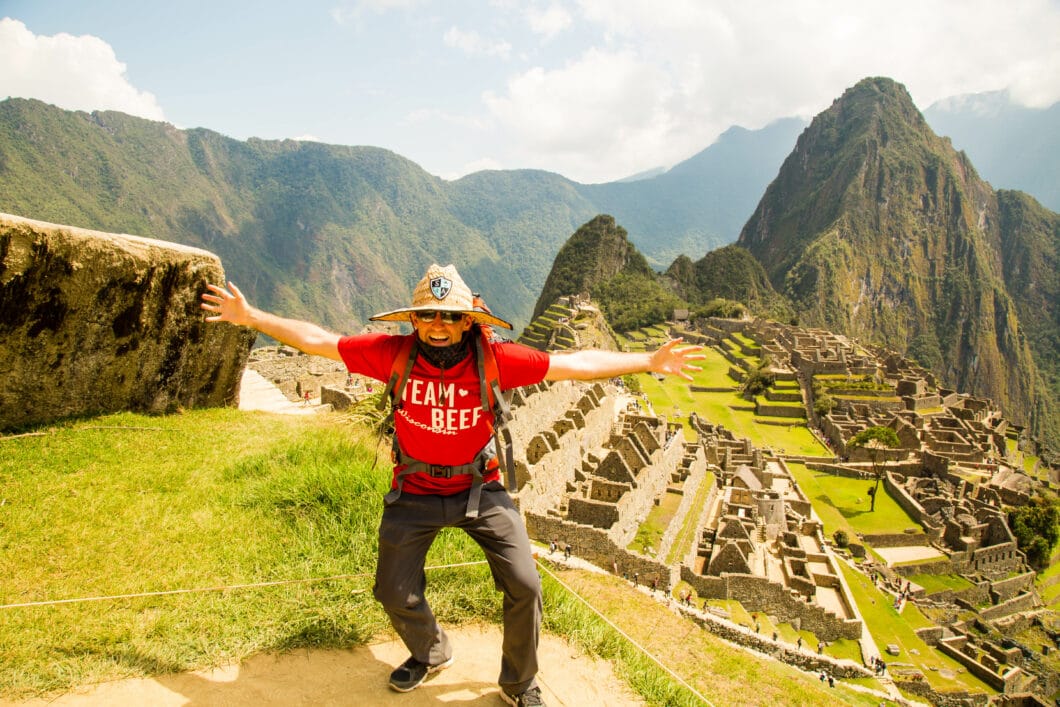 My husband and I had a blast visiting in early September. This was for two reasons 1.) Rainy season had not yet started (that's from October to April) 2.) We had missed peak tourist season (that's July & August). I was fully prepared to be bombarded with thousands and thousands of people at Machu Picchu. However, visiting in September was awesome! There really were not too many people and the weather was perfect.
8.) Pack Bug Spray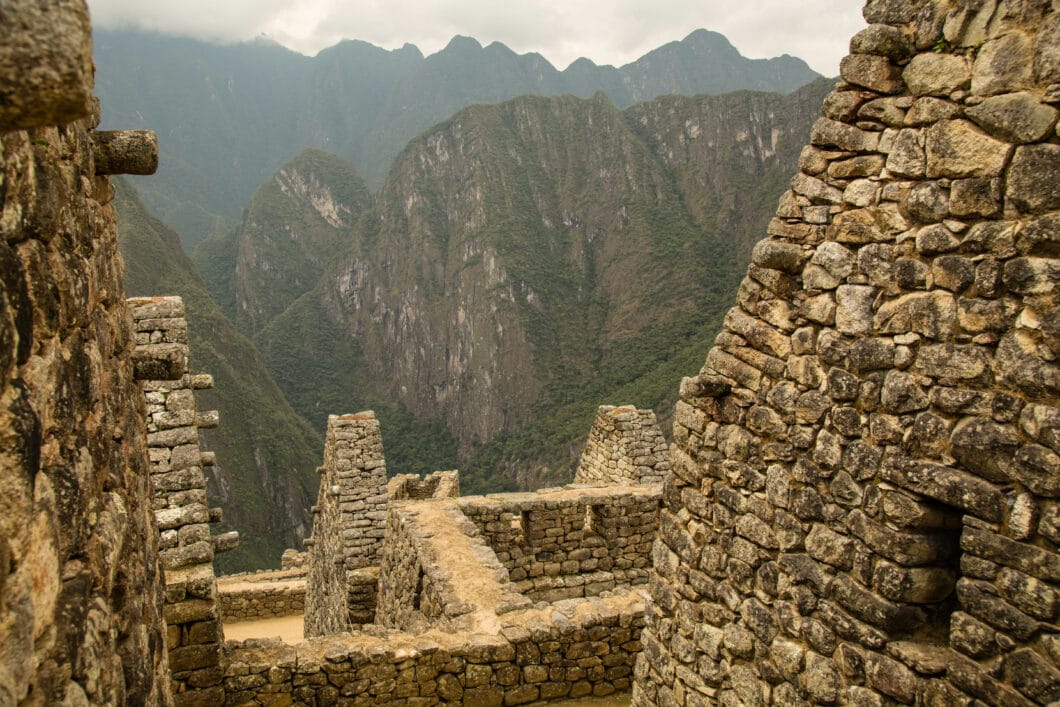 You may not even notice you're getting bit, but there are some mean little bugs at Machu Picchu! I left with quite a few welts that stuck with me for several days after Machu Picchu. You can buy bug spray at any pharmacy before coming to Machu Picchu. Also, bring sunscreen! You will get burnt to a crisp without it. (I started to get burnt already at 8 am!)
9.) The Llamas are Friendly (Sort Of)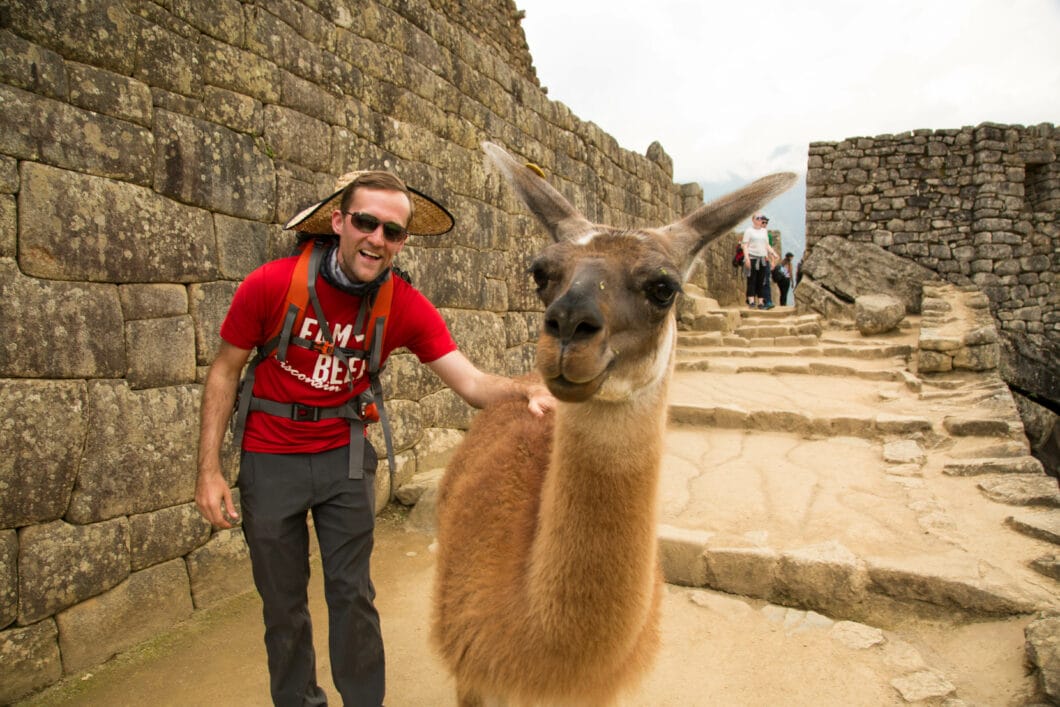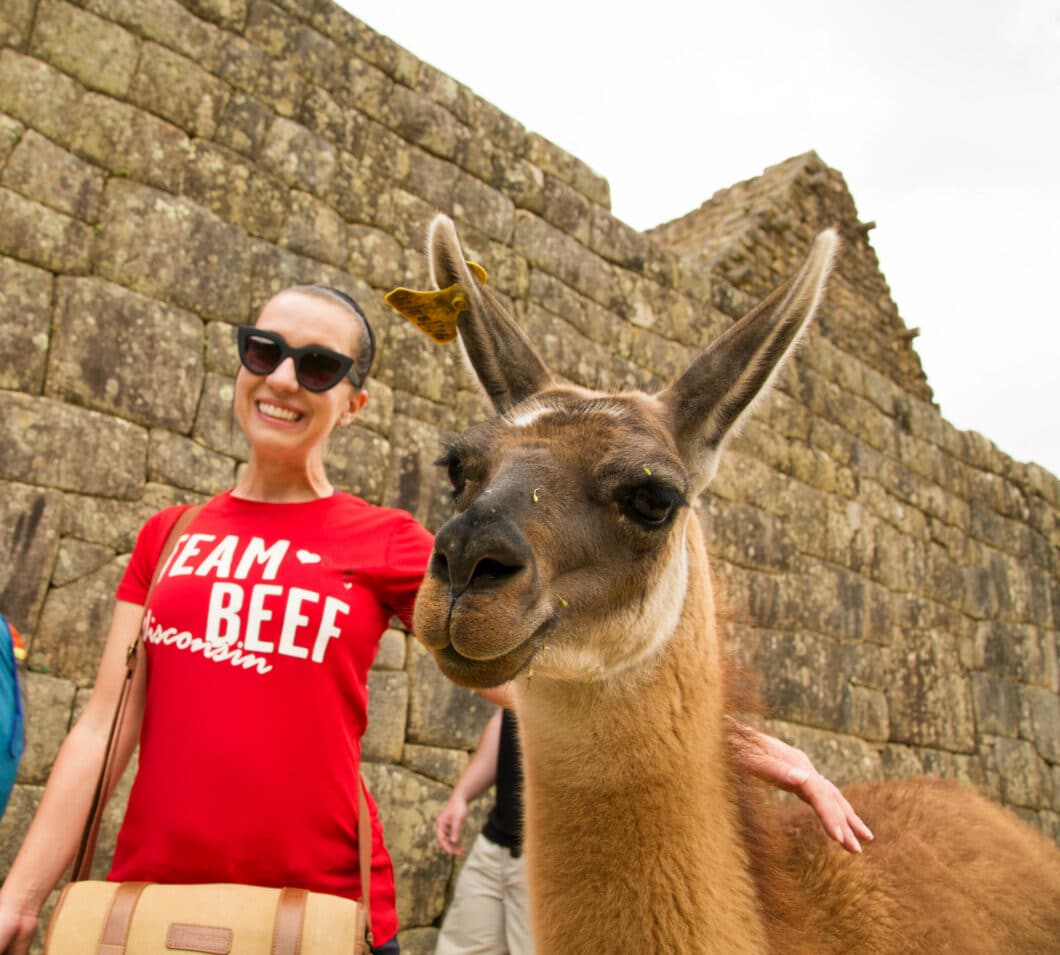 You'll see llamas walking all over Machu Picchu. They are used to people trying to touch them and are quite relaxed. (Obviously, as with all animals, move slowly and be gentle.) They do, however, spit! This llama had spit at the girls who touched him before us, haha. So, be prepared!
10.) There's More Than 1 Way to Get to Machu Picchu
The most popular way to get to Machu Picchu is to take the train from either Cusco or Ollantaytambo. There are 3 companies to choose from, depending on your budget and where you want to leave from. There's Peru Rail, Inca Rail & the luxurious Belmond Hiram Bingham train. It's a very beautiful train ride! You're also served a drink and snack (or a full-on luxurious meal if you opt for the last train service).
*Another option is to book a full day tour of Machu Picchu straight from Cusco. Click here for a private tour + train service. Click here for a luxury train + private tour service.
Your last option is to hike to Machu Picchu. This typically takes 4 days but can be longer depending on the route you take. This also requires a fair amount of training, gear, and time to acclimate to the altitude. You are required to hike with a guide as well. If I had more time I would've loved to have hiked the Inca Trail! (Maybe next time.)
Want to travel to Machu Picchu with me? I'm hosting a 10-day small-group tour to Peru in November 2022! See the details here.
Is Machu Picchu on your bucket list? I'll also be doing a follow-up post on Machu Picchu with some fun facts. Let me know if you have any questions or things you are interested in in the comments below!
Travel Insurance
It's a good idea, no matter where your adventure takes you, to have travel insurance. You never know what might happen! Whether you get sick before your trip and can't go, or you become sick or injured while on your adventure – being covered with travel insurance is a must. Some credit card companies do provide this service (check with yours), or you can get a quote from companies such as Squaremouth to find the best plan for you and your adventure. (This is the company I, personally, use. They are even recommended by Forbes!) To get a free quote, click here.
Visa Requirements
To check if your country requires a Visa for traveling to Peru, click here.
Want to Learn Spanish Before Your Trip?
Knowing some basics in Spanish can be helpful for your time in Peru. Try a free 3 day trial of Rosetta Stone (the best way to learn a foreign language) by clicking here.
If you like it, Pin it!