All About the Accessories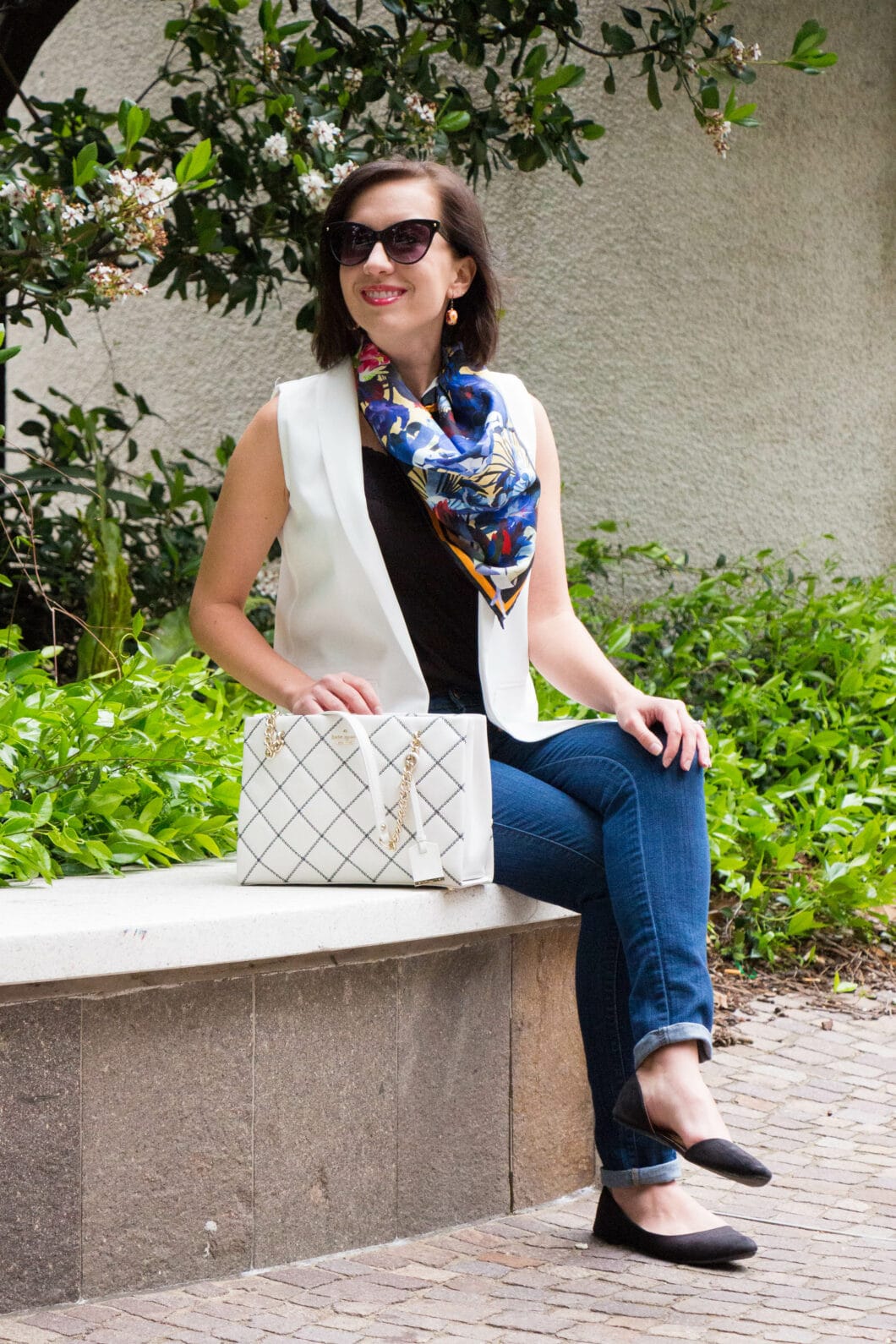 Just as we were about to leave for the day, my husband looked at me and said, "You look too expensive to be standing next to me! Should I change?" As he was wearing jeans and a t-shirt. I laughed and told him he looked great…and we went about our day.
But that made me think about this outfit a little harder. If you took the accessories out of the equation, this outfit cost just under $70. My new sleeveless blazer from Shein is about $25. These jeans I got on sale for $45 (but are usually about $60). And my flats were $8. So, overall, not an over-the-top pricey ensemble.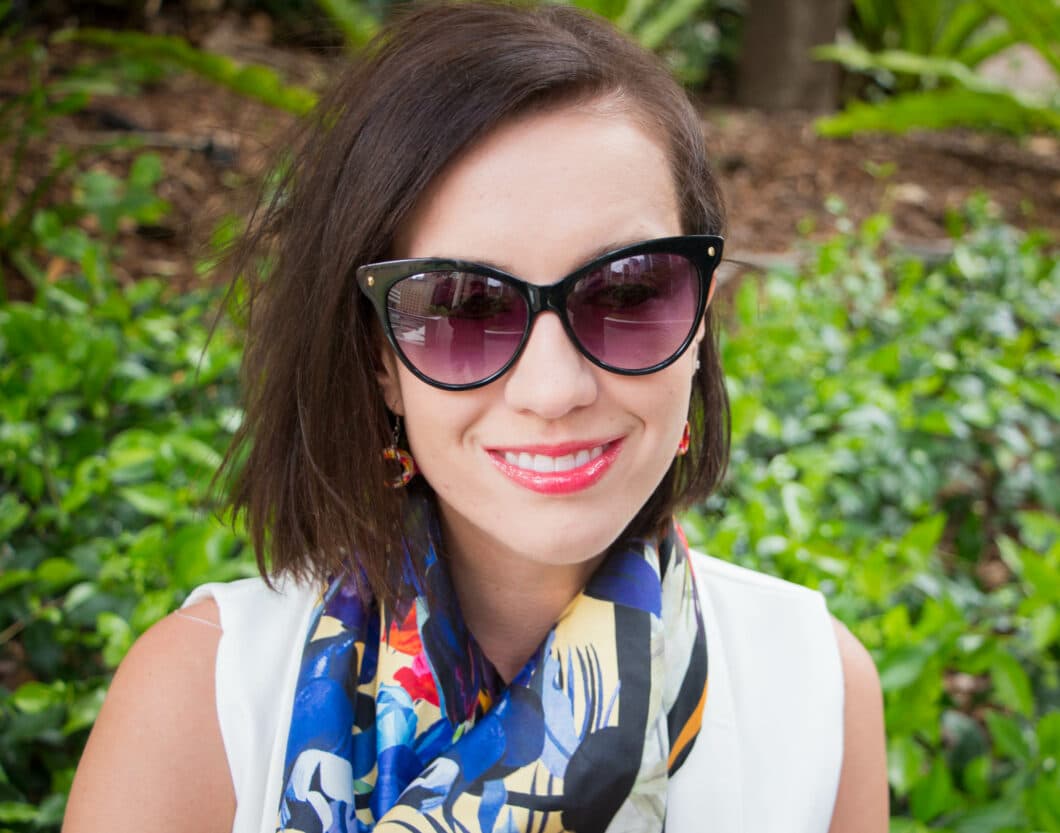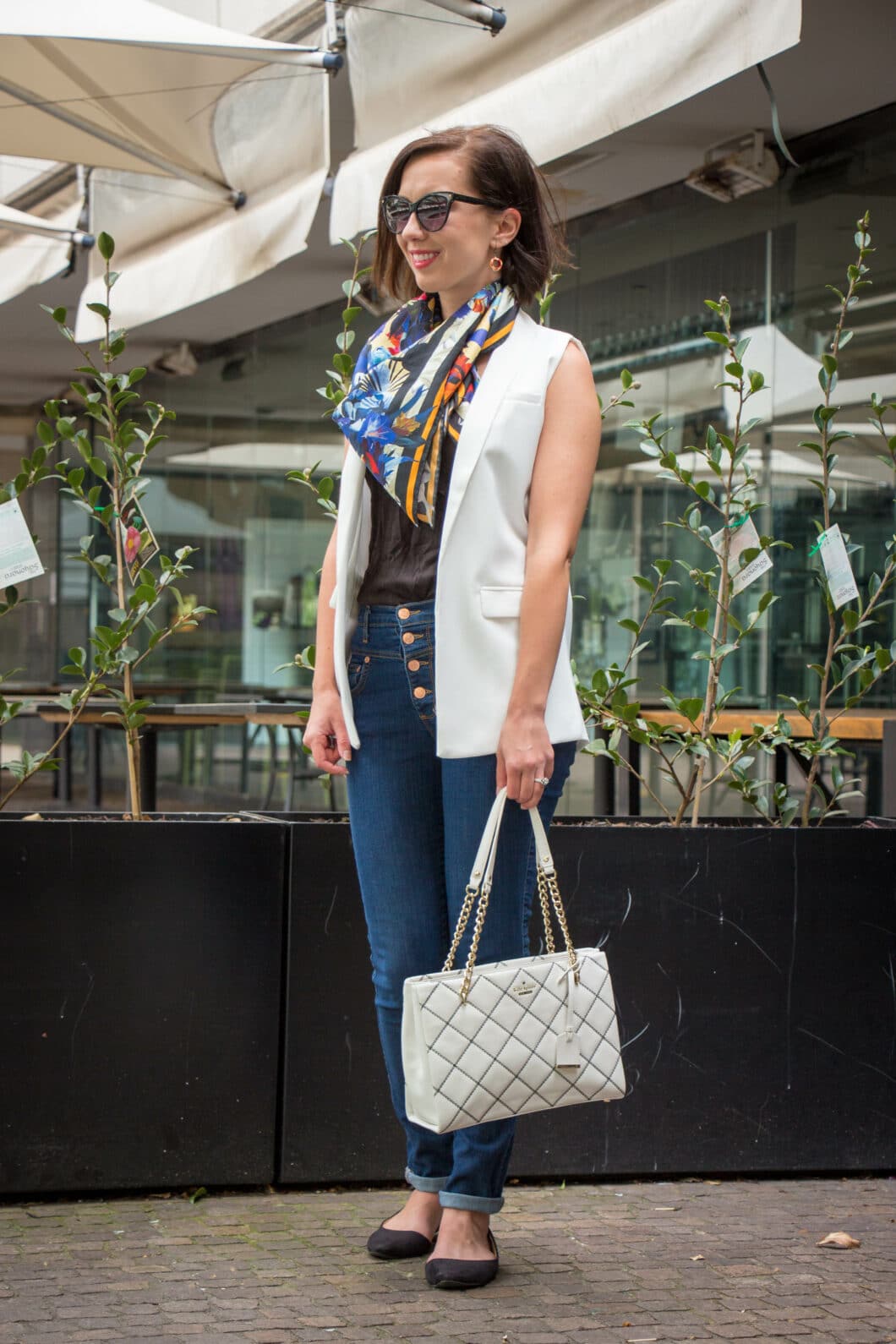 However, when you put in my shiny, new Kate Spade purse and my silk scarf (that was a gift from Australian-based designer Demon TZ)…this outfit does take on an "expensive look." Which reminded me of something I had read eons ago in some magazine…"that if you have expensive accessories, people will assume your entire outfit is expensive." Welp, I guess it just might be true!
However, I think the most exciting accessory in this outfit is my earrings! These were handmade by my husband's coworker in Japan, Kazuko. She is incredibly talented and makes earrings and rings by weaving them by hand. They are very unique, in that they are made with a Japanese style thimble, paper, silk floss and silk threads. They are so detailed – it's amazing!
Kazuko also has just about every color and pattern under the sun available. So, if you are interested in purchasing any rings or earrings like mine, please send me an email at [email protected] and I will be sure to send you more photos of earrings available or an equally beautiful ring!
What are your thoughts on accessories? Do you think they can make or break an outfit? Let me know in the comments!
Where to find it:
Sleeveless Blazer: c/o* Shein
Scarf: c/o* Demon TZ
Earrings: Made by Kazuko email me at [email protected] to purchase
Purse: Kate Spade (Also available in black.)
Sunglasses: c/o* Polette
Jeans: ModCloth
Flats: Bought in Sydney (Similar here)
Cami: Maurices
*c/o = courtesy of, meaning the company gave me the product to be used on my blog, and I did not pay for it. All opinions are my own, and I am not being compensated for a positive review.