An Awesome Weekend in Atlanta, Georgia
Atlanta is a highly underrated city, in my opinion. It's the perfect destination for a stress-free weekend getaway with a wide variety of activities for the whole family. Obviously, the Georgia Aquarium is the first thing to come to mind when thinking of Atlanta (and is not to be missed!), but that's not all Atlanta has to offer!
I'll be perfectly honest, though, by the time I reached Atlanta I was TIRED. We flew to Atlanta (for a conference for my husband's job) right after our Peru adventure. I also needed to do a bunch of random not fun or blog-worthy things (like laundry – Blusion is a great laundromat, by the way. Haha. – and catching up on sleep), so I didn't give Atlanta my all in terms of travel blogging (sorry). I do hope to return to Atlanta and give it another go, though, as I fell in love with the city and the incredibly kind people (seriously, Atlanta is giving the Midwest a run for its money in terms of friendly people).
An Awesome Weekend in Atlanta, Georgia
Georgia Aquarium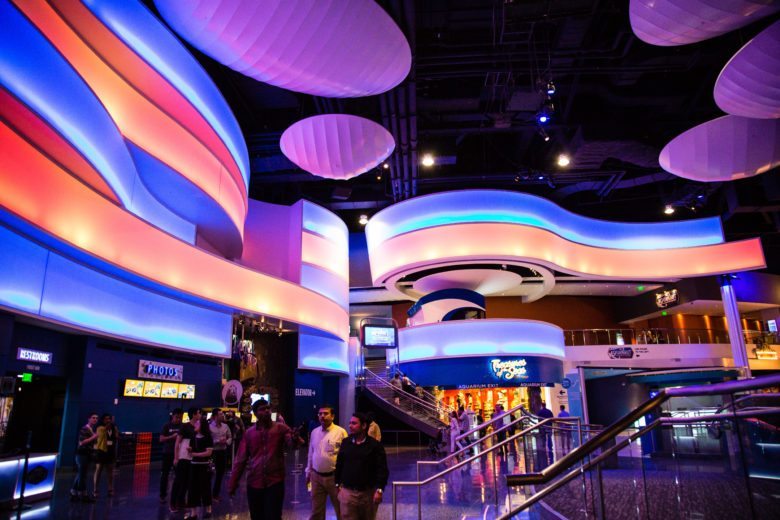 The Georgia Aquarium is home to hundreds of thousands of animals. It was the largest aquarium in the world until 2012, that's when it was surpassed by Marine Life Park in Singapore. But guys, they have whale sharks! (Which is the only place you can see them outside of Asia.) The whale sharks were rescued from Taiwan's annual fishing kill quota, which means they would have been eaten if they had not been purchased by the aquarium. They were brought to the aquarium by air, truck and boat – craziness! AND, you can actually pay to swim with them! (Click here for more on that.)
It was a blast to walk through the aquarium. We were actually there because this is where my husband's company held their annual services event. Who knew you could rent out the aquarium for events? I didn't! But if your company is looking for a spot to host its next event, this was certainly an awesome place to do so!
I was also very fascinated with the jellyfish – I could've watched this exhibit all day!
The penguin exhibit was too darn cute, too! I was wearing a dress, so I did not crawl into it, unfortunately. (Next time!)
I clearly enjoyed the Georgia Aquarium, haha! I recommend it for any age group! Click here for more info on planning your visit.
World of Coca-Cola
Right next to the aquarium is the World of Coca-Cola. Now, this wasn't the worst way to spend a few hours. I especially liked sampling the different Coca-Cola products from around the world! However, this is most certainly not a must-do in Atlanta (in my opinion). It is geared toward children, though. So, if you have young kids, this would be more fun. My biggest takeaways from it, though, were 1.) $17 for an entrance ticket is pretty steep 2.) You're getting Coca-Cola propaganda thrown in your face every 2 seconds…so why did I have to pay so much to get in here? 3.) Despite paying $17 to get in, they still want to charge you for everything possible. (Like taking a photo with the polar bear!) Ah, well! Click here for more info.
Shopping
It's always fun to do a little shopping in a new city! I spent a lovely afternoon exploring and window shopping at "The Shops Buckhead." Tons of high-end shops and lovely dining options! Also, "The Perfect Brows" did a fantastic job getting my awful eyebrows back into shape! (And was reasonably priced, in my opinion.)
The BeltLine
Sorry, I did this at night after a lovely dinner and have no photos! However, The BeltLine is a historic railway corridor turned multi-use trail and green space. It's really cool to walk around! There are folks playing pianos, lovely little alfresco dining spots – it's just a fun area to walk around and not to be missed when in Atlanta. Click here for more info.
Volunteer
There are also many wonderful opportunities to give back to the Atlanta community. (Click here to see volunteer opportunities.) I went with a couple of my husband's lovely co-workers to volunteer at "The Morning Sandwich Ministry" which provides a basic breakfast of a sandwich and a cup of coffee to those in need. They are always looking for volunteers! So, if you have a couple spare hours one morning, I highly recommend helping these lovely folks out.
I know Atlanta has SO many more amazing things to do, see and eat! I hope to return one day soon as I know I didn't do it properly. Have you been to Atlanta? And what were some of your favorite things you did while there? Let me know in the comments!
If you liked this post it is also available as a self-guided walking tour via GPSmyCITY. Click here to download it.
If you liked it, Pin it!


Links à la Mode, November 30