Awesome On-Sale Tory Burch Shoes to Buy Right Now
Tory Burch just added some awesome new shoes to their sale section! From classic leather slides to distinctive heels, this post is sharing the best on-sale Tory Burch shoes you can buy right now. Check them out, below!
Tory Burch sale details: up to 50% Off. Over 200 Styles Added! (Not just shoes!)
This post is sponsored by Shoplooks. All comments and opinions are my own. Some of these links are also affiliate links. Meaning, if you click a link and make a purchase, Have Clothes, Will Travel gets a very small commission at no extra cost to you. Thank you for supporting the brands that make this blog possible!
The Best On-Sale Tory Burch Shoes to Buy Right Now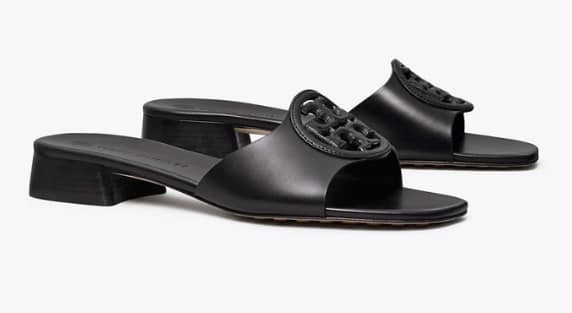 BOMBÉ MILLER SLIDE
The new Tory Burch Miller slide features a stacked wooden heel and a has a cushioned footbed that is oh-so-comfortable. These slides are a classic and will go with everything in your warm-weather wardrobe. Plus, they come in 4 other colors!
MINNIE TRAVEL BALLET FLAT, SUEDE
Another closet staple that is incredibly comfortable is Tory Burch's Minnie Travel Ballet. This flat is loved for its flexible, cushioned insole. Plus, it is designed to fold and tuck into a tote or handbag. Talk about versatility and convenience!
BANANA HEEL PUMP
I love the unique curved heel of Tory Burch's Banana Heel Pump. While the shoe itself is gorgeous, the real winner is its memory foam insole. The unspoken theme of this post is style AND comfort.
HANK SNEAKER
The Hank Sneaker features graphic stripes and curved lines, with a vintage-inspired rubber sole that runs up the heel. The heel is elevated on an EVA wedge for comfort, and the back tab is folded and blind-embossed with a Double T. Pair with jeans, shorts, or dresses – these sneakers go with everything!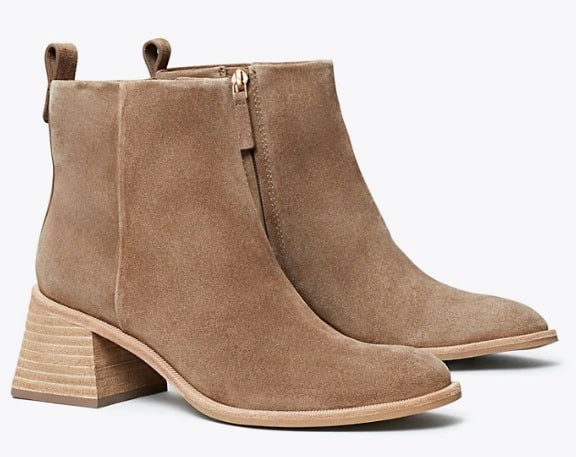 CASUAL 60MM ZIP UP BOOTIE
Last but not least, are these casual zip-up booties in suede. These are comfortable and versatile booties that will elevate your winter wardrobe this year and for years to come. But these booties are selling fast, so don't delay if you're interested in ordering.
Bonus! CARSON LUG-SOLE ANKLE BOOT
Which pair of on-sale Tory Burch shoes is your favorite? Let me know in the comments!
Read next: 5 On-Sale Tory Burch Bags to Shop Right Now