Cherry Blossom Season in Washington, D.C.
It's the most wonderful time of year…cherry blossom season! Ever since I moved to the East Coast I've been hearing nonstop how I need to visit Washington, D.C. when the cherry trees blossom. So, my husband and I figured we better make a trip when this happens!
We planned our weekend by following the "Bloom Watch" website that let us know roughly when the peak bloom will happen. The National Park Service predicted that this would be between April 11-14. We then made the drive down to D.C. this past weekend and wandered through the lovely blossoming cherry trees!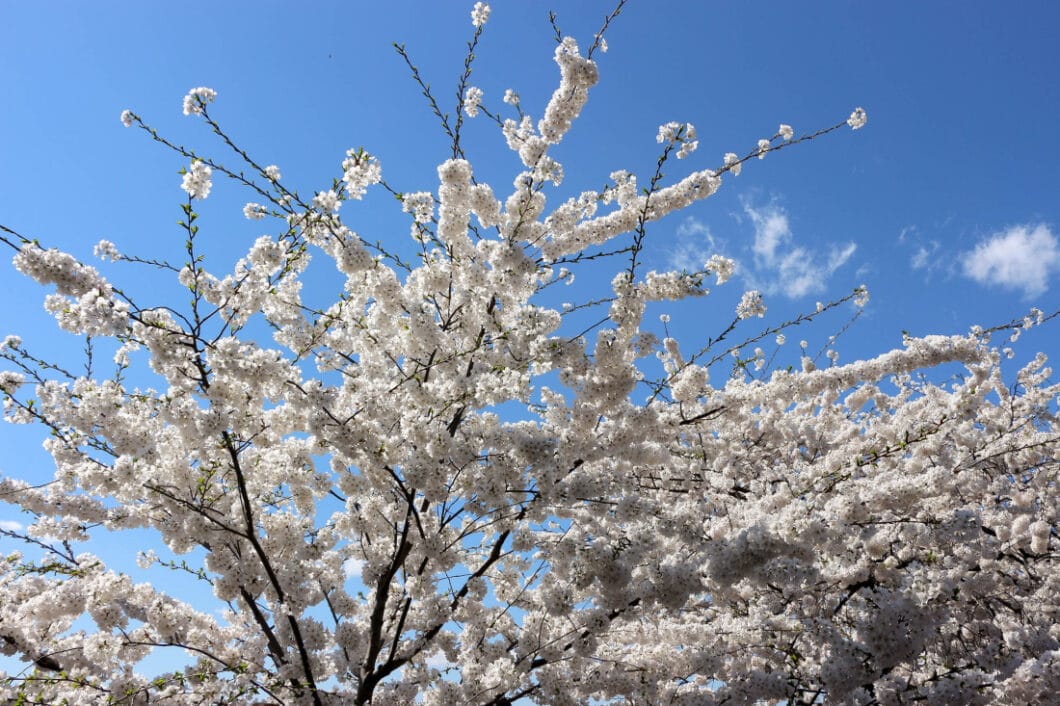 The trees were breathtaking. I couldn't get over how white and fluffy they were! I just wanted to give them a big hug (like how the little girl on "Despicable Me" hugs the unicorn and screams, "It's SO FLUFFY.") But I resisted. Haha.
I had never seen so many blossoms at one time! The only time in Wisconsin we would see anything so colorful, would be when the leaves change in the fall.
I learned too, that it isn't just the cherry trees that are blossoming, there are also magnolias blooming throughout the city. (They're the beautiful pink flowers, where as the cherry blossoms are generally white puffs.)
While the trees were all beautiful and definitely worth the visit, I feel I must warn you about the crowds of people you will encounter if you choose to visit these gorgeous trees.
The majority of the trees are located along the Tidal Basin, in between the Jefferson Memorial and the Washington Monument. This area is incredibly beautiful, but holy moly! I have never seen so many people in one spot in my entire life! It's chaotic, hectic and a bit interesting.
And there's also the Cherry Blossom Festival taking place. They have various events centered around the cherry trees…such as a 5K, a parade, various street performers (we had seen a sword fight), etc. It was a fun atmosphere, but again, I have never seen so many people in one place (and I've been to India!).
Also, if you want to eat anywhere near the monuments (other than a hot dog stand) during Cherry Blossom Season, be sure to have a reservation. Every place we went to for lunch was going to make us wait an hour and a half (even if they had open tables). Therefore, we had hot dogs and ice cream for lunch that day! Haha.
We also stayed at a Marriott (on New York ave.) that was a couple miles from the monuments, for a much, much cheaper rate! The hotel was very nice and there was a great authentic Chinese restaurant across the road we ate at for dinner. (And it was only a 15 minute wait versus a 2 hour wait everywhere downtown.)
We visited the blossoms on the weekend, which I am sure added to the craziness of the cherry blossom viewing. It was also an absolutely gorgeous weekend, weather wise
If you need a break from the crowds, though, there are cherry blossoms and magnolia blossoms throughout D.C. You don't have to stick to the Tidal Basin to see the gorgeous flowers. Click here to see a list of places that are off the beaten path. I will also be doing another post on my favorite spot in D.C. to view the blossoms! (It's not the Tidal Basin. Haha.) Stay tuned.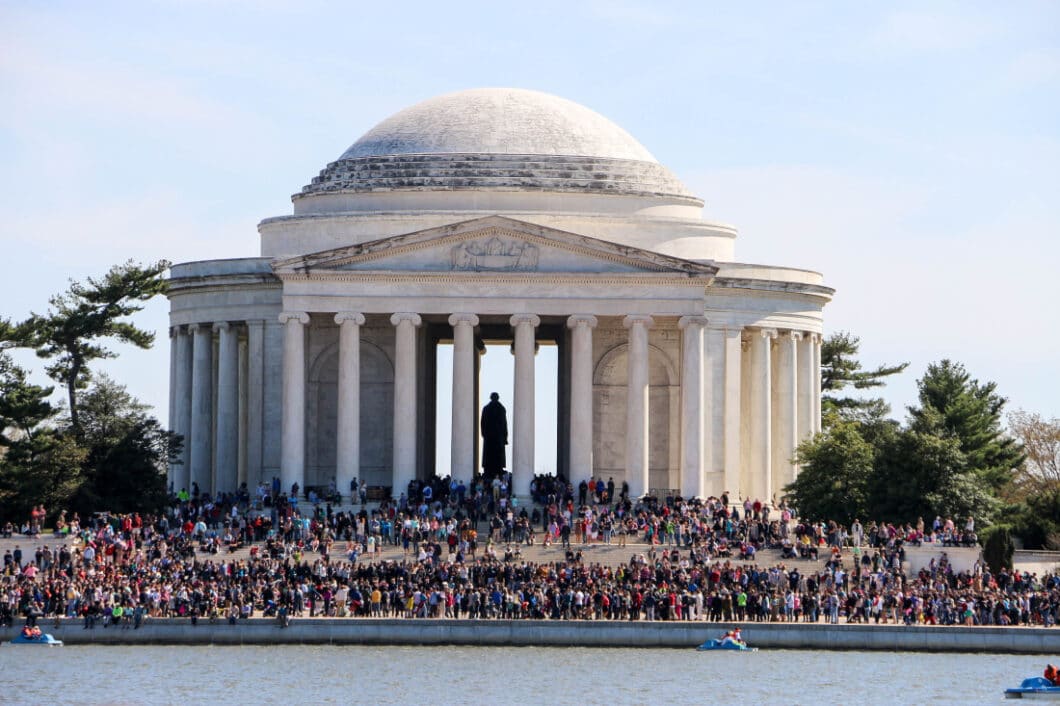 Changing gears a bit here…I've been meaning to tell you all a little story for quite a while now, but I have just never gotten around to it. My friends and I have a little travel companion that follows us on our road trips, her name is Lizzy and she is a plastic lizard. (And she has been looking a little rough after being stored in my purse for a while. Haha. Sorry, Lizzy.) Lizzy has probably been to more spots in our lovely country than most people. It's always been fun to try and photograph Lizzy in various exotic locations. Below, is my contribution to Lizzy's growing travel resume! (She wants you all to know that she prefers the magnolia blooms to the cherry blossoms.)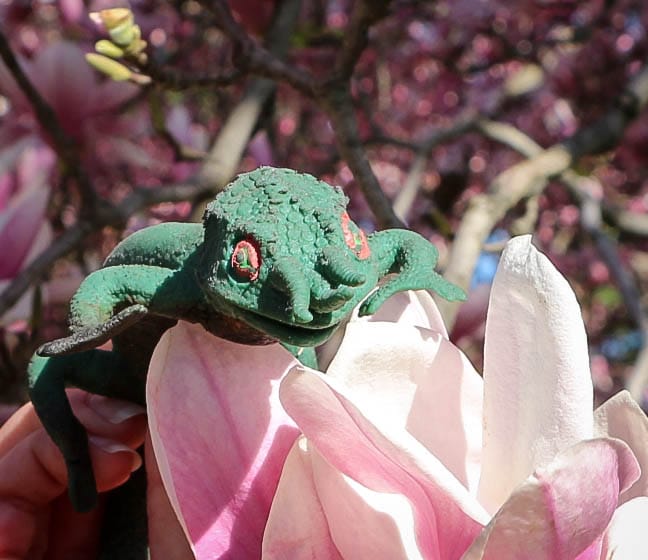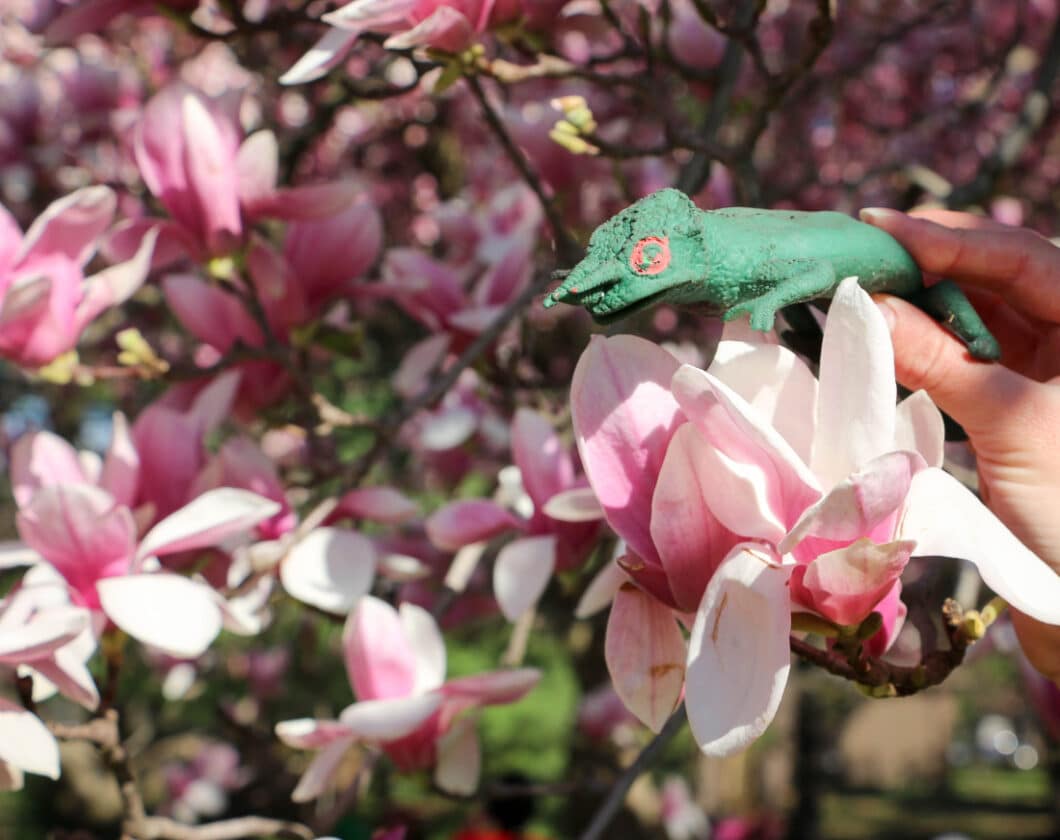 I will leave you with a few more pictures of the pretty blossoms, and if you would like to check out my outfit post for the cherry blossoms click here! And to see where my favorite spot in Washington, D.C. to view cherry blossoms is, click here.
*Has anyone else been to see the cherry blossoms during peak season? Let me know in the comments!