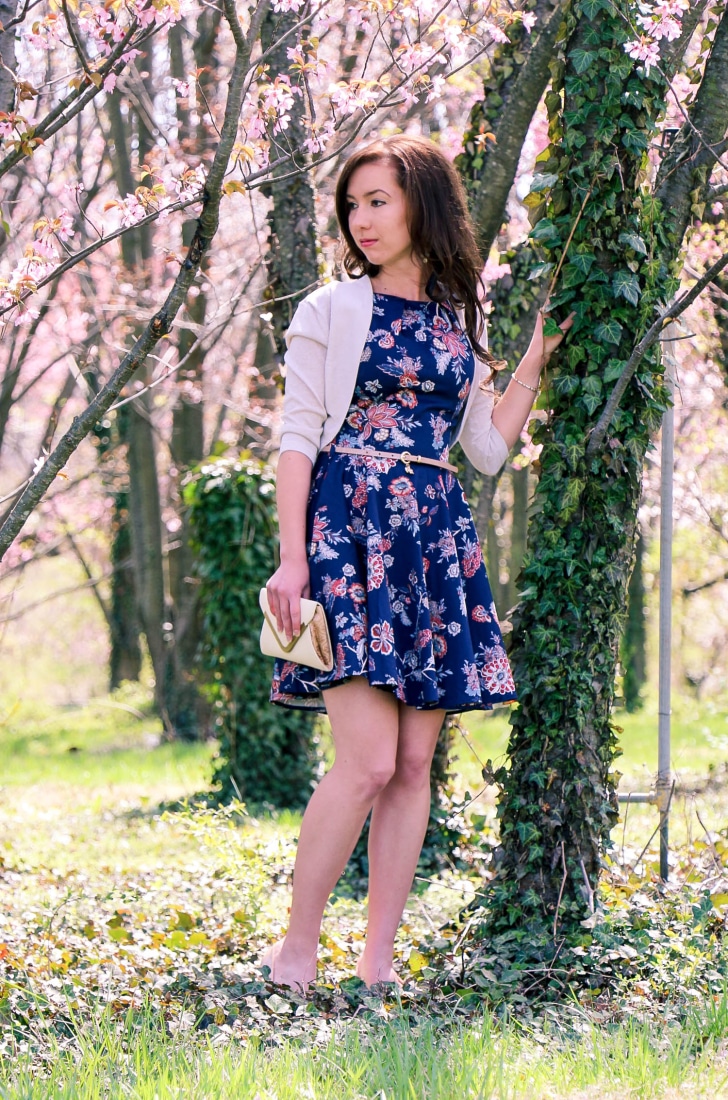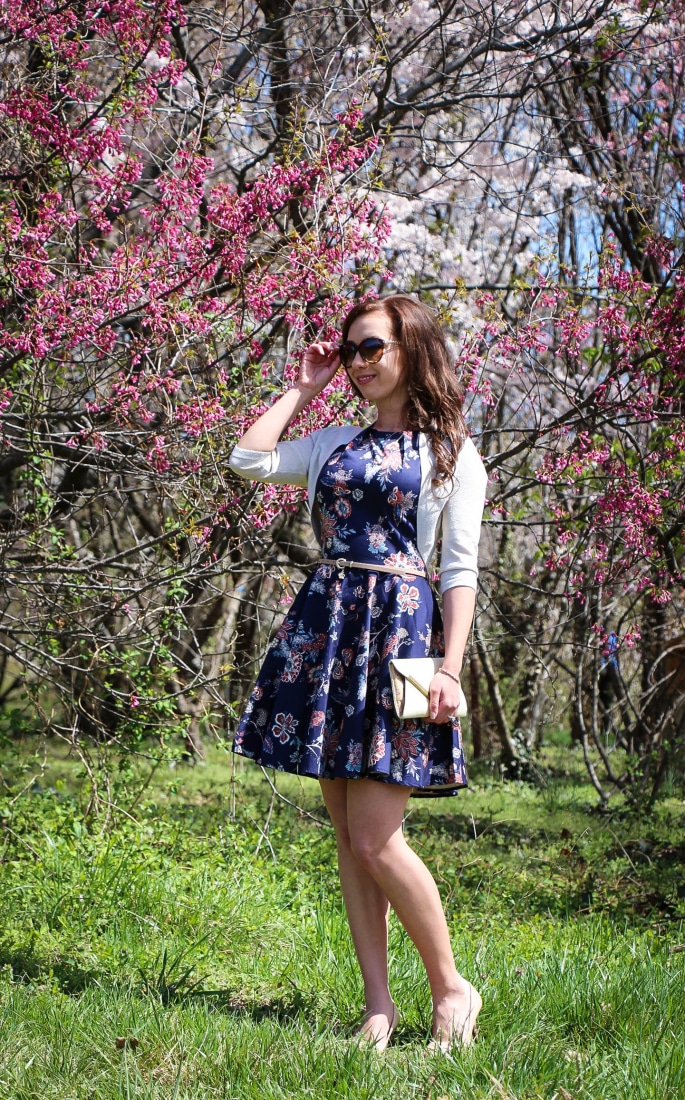 Dress (similar) | Pumps | Cardigan (similar) | Sunglasses
Have you ever had a piece of clothing you liked so much that you never wore it? I know that may sound a little crazy, but I'll explain myself.
This dress was something I knew I wanted the second I saw it on ModCloth's "New Arrivals" section. However, I tried to not be an impulse buyer, and instead put it on my Wishlist and thought about it for a few days. By the time I decided I needed this dress (and it had gone on sale!), I went to check out and found out that it was sold out! Darn it.
About a month had passed, until someone decided to return this lovely dress in my size! Wahoo! I immediately pounced on it, and when it finally arrived… it was every bit as beautiful as I had imagined. It was so pretty in fact, that I hated the idea of wearing it for just any occasion. I wanted whatever I wore it for to be as beautiful of an event as the dress.
So, I have been waiting patiently to break out this dress…and what a more beautiful setting than a ton of blossoming trees? It was also warm enough for me to wear it without tights. Every time I envisioned myself wearing this dress, I thought it would look best without tights.
The lovely place I am in these pictures is actually my new favorite place in Washington, D.C. It's the National Arboretum. When my husband and I went to D.C. to see the cherry blossoms we spent the first day wandering around by the Tidal Basin and monuments. And my goodness were the crowds insane! (Click here to see more on that.)
The next day we were hoping to avoid the crowds, and The National Arboretum was exactly what we were looking for. There were so many gorgeous flowering trees, and there were absolutely no crowds…even though the weather was beautiful! We were able to admire all of this beauty without having to push and shove our way through hordes of people. There were families picnicking beneath blossoming cherry trees, couples walking their cute dogs and people like us…just quietly wandering through the trees and snapping pictures.
I can't stress this enough…if you want to see beautiful blossoming cherry, magnolia and other trees (that I don't know the names of), visit the National Arboretum. The Marriott hotel we were staying in was actually right next door to it and we were able to drive right in and park, no problem. Everyone else was over by the Tidal Basin fighting the crowds, while we were quietly enjoying the beauty here. It was breathtaking!
Where to find it:
Dress: Closet London (similar)
Pumps: Old (Similar here)
Cardigan: Old (Similar here)
Clutch: FabIndia
Sunglasses: Target