A Colorful Coat for a Dreary Day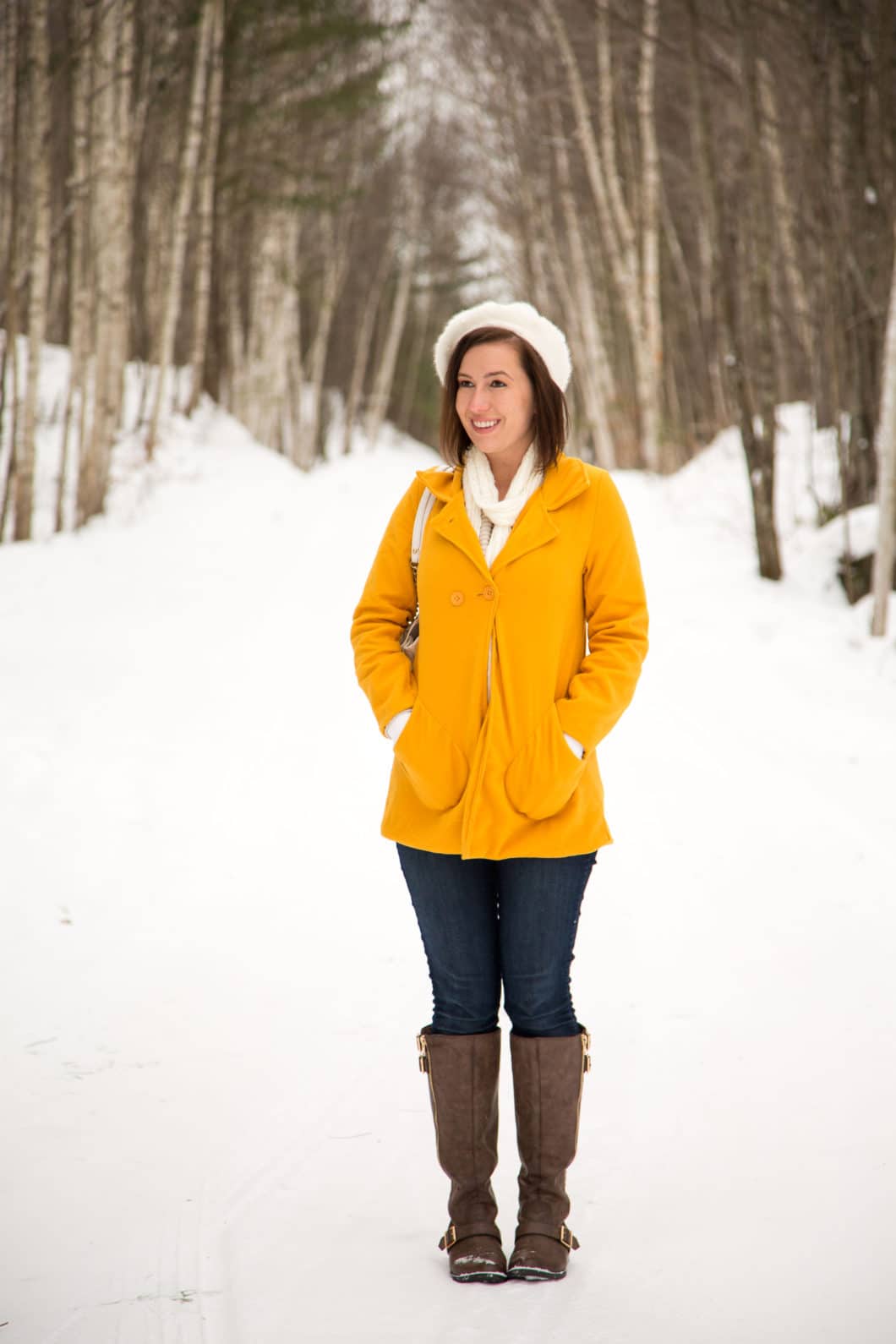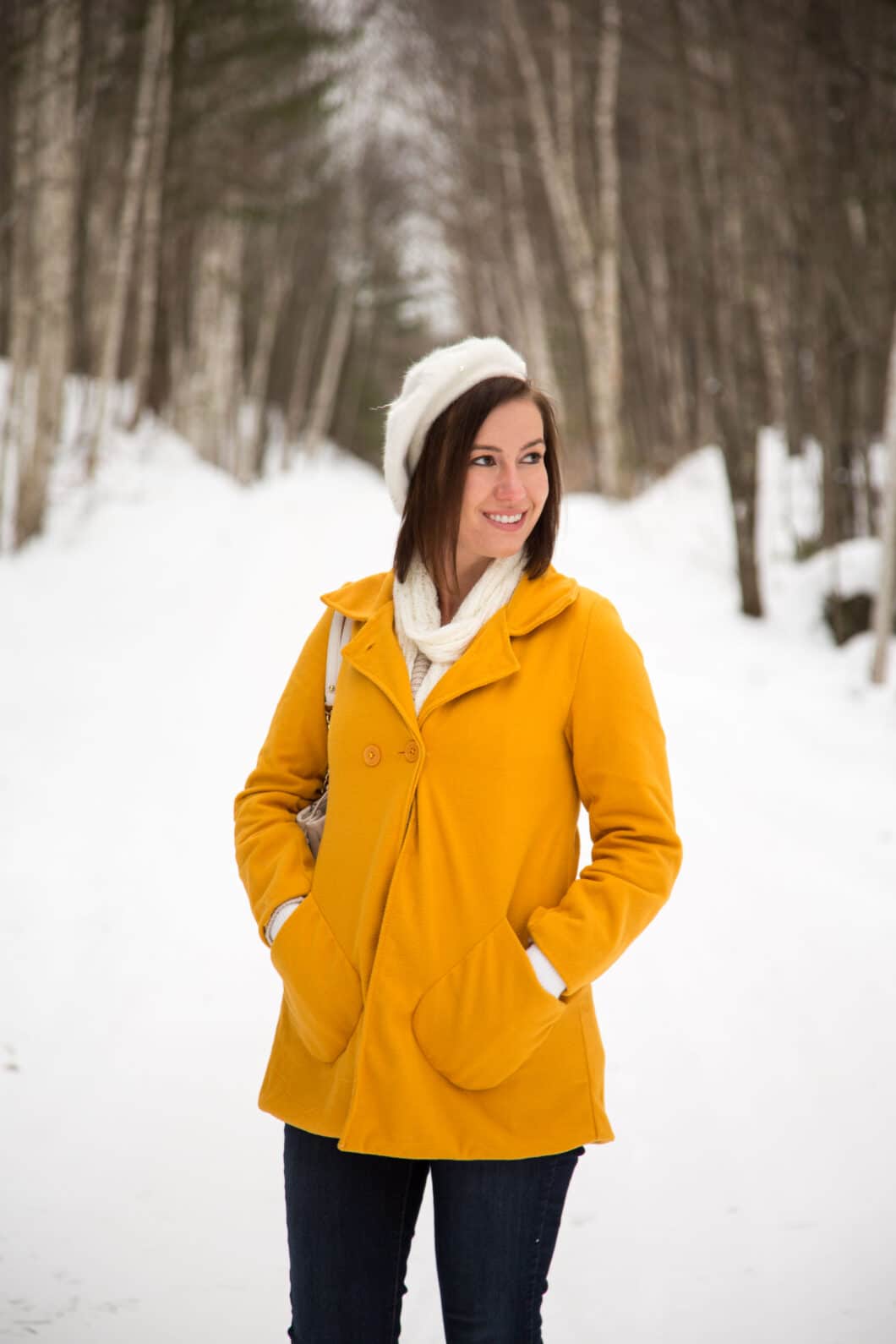 Click to Shop:
Coat c/o* | Boots | Jeans (similar) | Beret c/o* | Scarf (similar) | Bag
The weather for my trip to Wisconsin was less than amazing, shall we say. Most days were below zero degrees Fahrenheit! So, there was no way I was shooting any outfit posts unless they were featuring a coat, haha.
I loved that this coat was bright and cheery in the gloomy, cold weather. Although, my photos do make this coat look brighter than it really is. It's more on the mustard end of the color spectrum – FYI. And it's also only $24! I have to say, though, with the frigid weather we were having this coat was not quite warm enough. I was wearing a super thick sweater under it, though. So, it's roomy enough to add some serious layers if you want to wear it in winter.
A few things to note too, and I might be getting a bit nit picky here, but the sleeves are just a smidge too short for me as well. I don't usually have this problem with shirts or coats, though. And the coat does only button on the very top, not all the way down. Also, it runs big…I sized down one whole size.
This coat is from a new-to-me company – PopJulia. They have affordable options, but just be aware that the shipping can take a couple of weeks, as they are based out of Asia. And for their prices, I am happy with the quality of the coats I received from them. (I'll be featuring one more coat in an upcoming blog post – stay tuned.)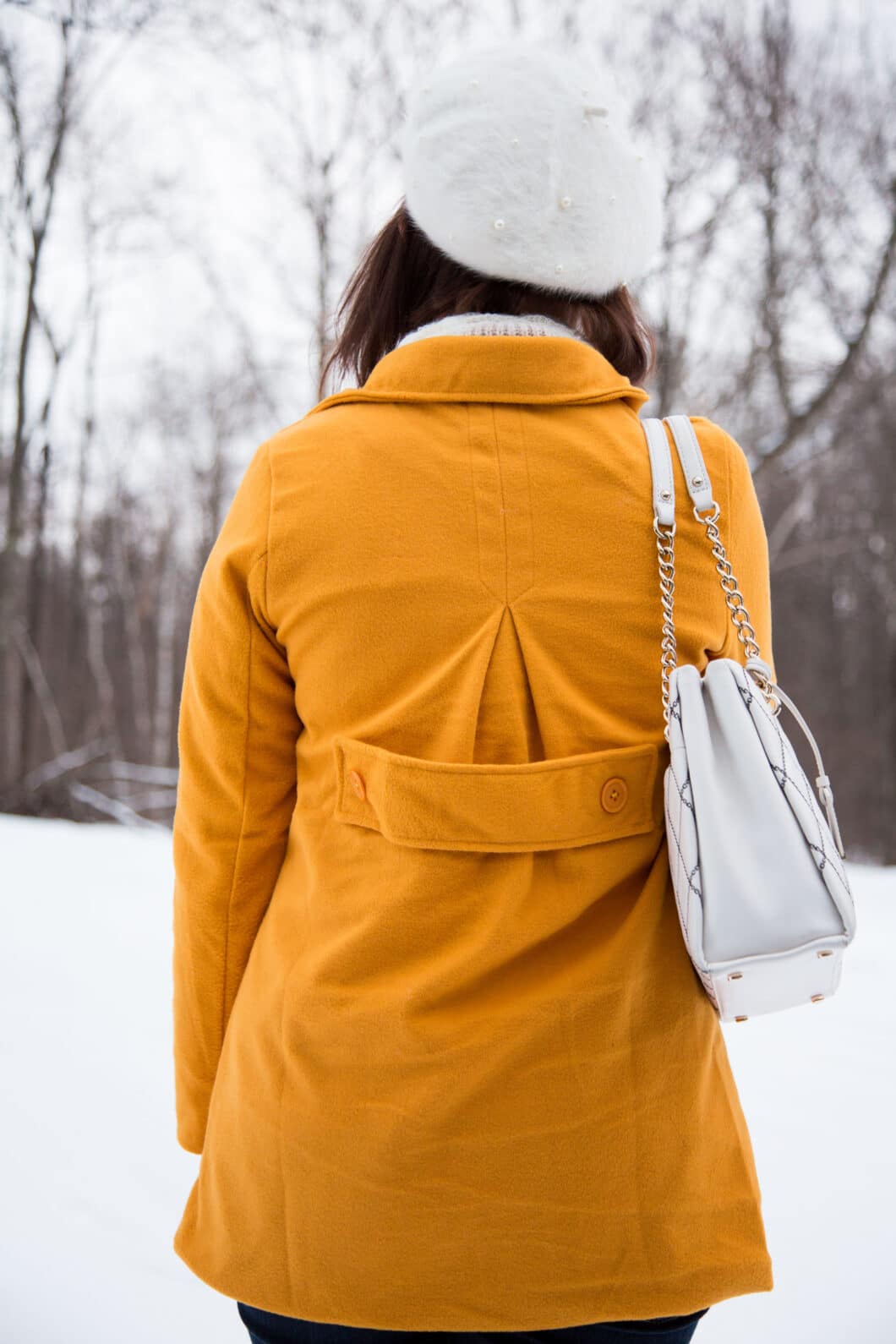 Please excuse the wrinkles in this last photo! I was driving home from Grandparent's house to my parent's house – which is a 3 hour drive, when I realized I hadn't snapped a photo of the back of the coat. Doh! So, my husband took this for me in a parking lot, haha. (And I had been sitting on this coat for awhile.)
Had to share that photo! It was from my grandparent's house too – they live in such a beautiful area!
Do you like to add a pop of color to your outfits with a fun coat? And how cold is it by you? Let me know in the comments!
Where to find it:
Coat: c/o* PopJulia
Beret: c/o* Unique Vintage
Bag: Kate Spade
Boots: Amazon
Scarf: Handmade (Similar here)
Jeans: Old (Similar here)
Links à la Mode, February 15th, 2018
*Disclosure: some of these links are affiliate links. Meaning, if you click a link and make a purchase, Have Clothes, Will Travel gets a very small commission at no extra cost to you. Thank you for supporting the brands that make this blog possible! I am also a participant in the Amazon Services LLC Associates Program, an affiliate advertising program designed to provide a means for us to earn fees by linking to Amazon.com and affiliated sites.

*c/o = courtesy of, meaning the company gave me the product to be used on my blog, and I did not pay for it. All opinions are my own, and I am not being compensated for a positive review.