A Fashionable Hooded Coat for Jedi Masters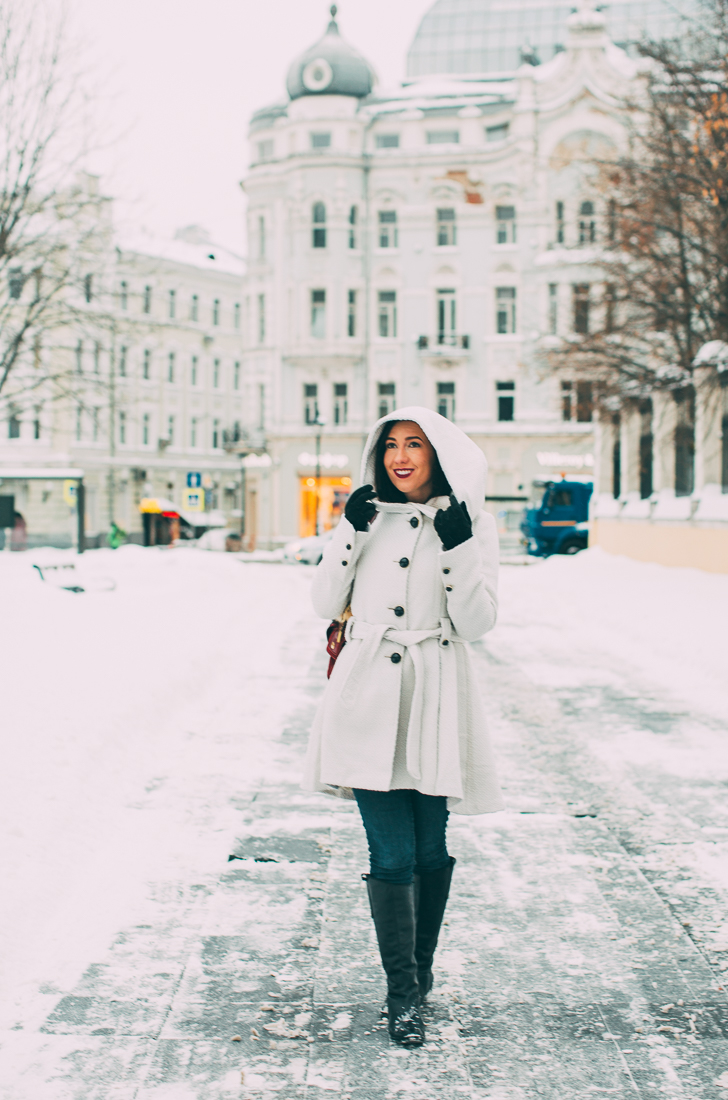 Hooded Coat | Boots | Jeans | Bag | Gloves | Scarf | Earrings | Lipstick
If this title means nothing to you, it's likely because you've never been fortunate enough to watch Star Wars. And for that, I am sorry. If you need a visual for this post, you're in luck! Because I actually have a photo of the Jedi robes I'm referring to. I put it at the end of the post! (And then go watch the original Star Wars trilogy, for heaven's sake!)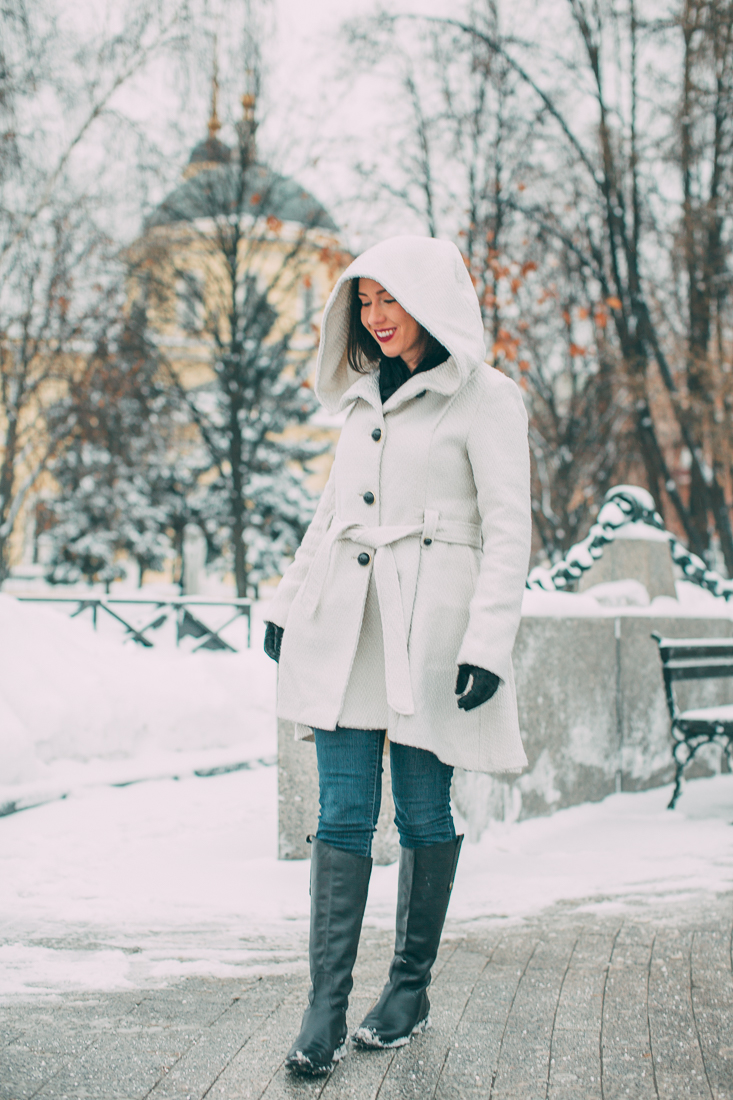 Ok, and even if you don't give a flying fig about Star Wars…I think you might still like this coat? I have been drooling over it for years! I even featured it in a wishlist post a couple years ago. The hood is just so much fun! I love how over exaggerated it is. I'm not a big fan of wearing hats. So, having a hood on my coat is a must…especially if it starts snowing.
Pro tip for this hood: Leave the top button undone if you're going to put the hood up. In my opinion, it looks better, will sit on your head better…and if it's windy, it'll stay on your head better. In the photo above I have the top button undone and the photo below they are buttoned all the way. (So, you can decide as well!) It looks equally nice, though, with the hood down.
Sizing: I read a lot of reviews that said this coat ran large and to size down – don't do that. Order your normal size. I originally ordered a small, and it was WAY too small on me. I would never have been able to layer anything under it. My size medium is a little baggier fitting, but I still think it looks nice (plus it ties at the waist, so you can always adjust it there)…but most importantly, I can fit a BIG sweater under it for the days it's really cold.
This coat is a good middle of the road coat in terms of warmth. It won't replace a parka for venturing out when it's -40 degrees Fahrenheit, but you can wear it in single digits, provided you a layer under it accordingly. (I've done it. And I survived my a 15-minute walk outside last week.) However, if you don't layer under it…it can also be a good spring and fall coat, for when it isn't so chilly.
Things to note: some reviews complained that this woven fabric is easy to get snagged. Personally, I haven't had an issue (yet), and I've been using this coat since the end of September. However, I do have an issue with the buttons. As with my other Steve Madden coat…these buttons are going to need to be sewn on again at some point in the very near future. And I already had one of the arm buttons come flying off as I was walking into a restaurant a few weeks ago. This isn't a big deal unless you happen to be like me and hate sewing (even buttons). Then this is an issue worth noting.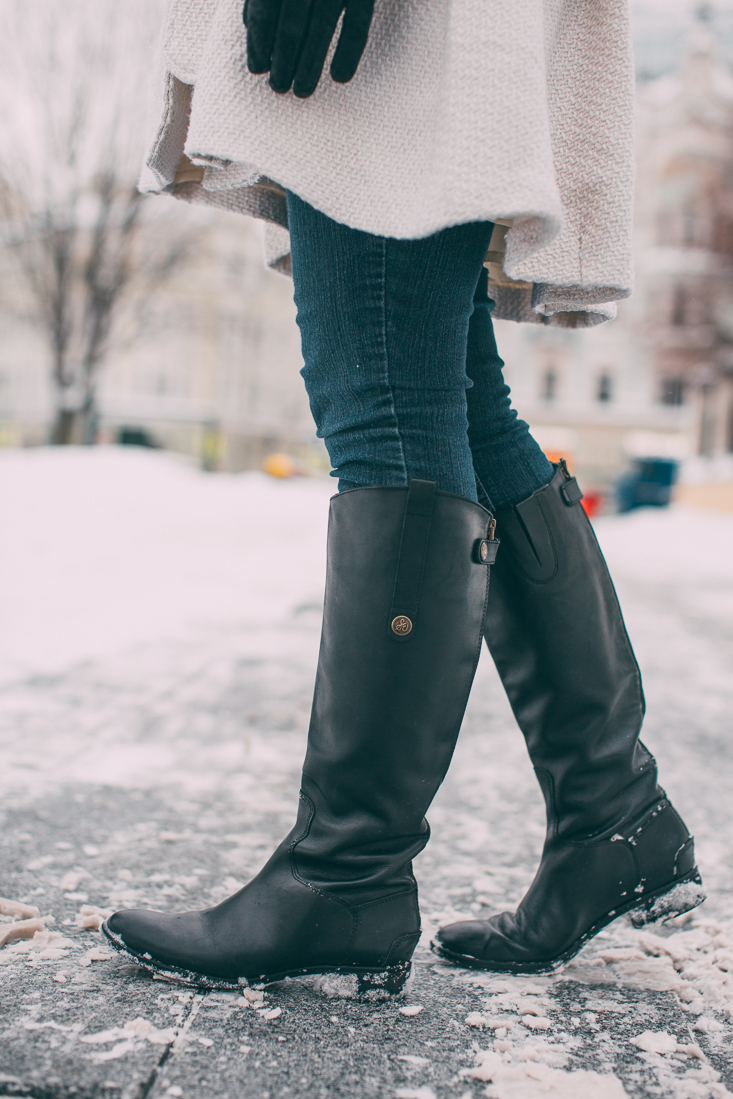 Also, these boots are new…they were my Christmas present to myself. I wanted something that would keep my feet dry and hold up against the salty/slushy sidewalks I get to walk through this winter, but still look nice and stylish. I also wanted to actually be able to WALK in them, long distances…so I didn't want any heel on them. After doing a considerable amount of research, I landed on these Sam Edelman, leather boots.
These boots are everything I was looking for….except, I made a mistake. I really should have exchanged them for a half-size larger. I have really wide feet and borderline wide calves. I think going a half-size up would've made these boots even comfier, and then I could wear a thick pair of socks with them too. So, if you have wide feet or wide calves…consider sizing up.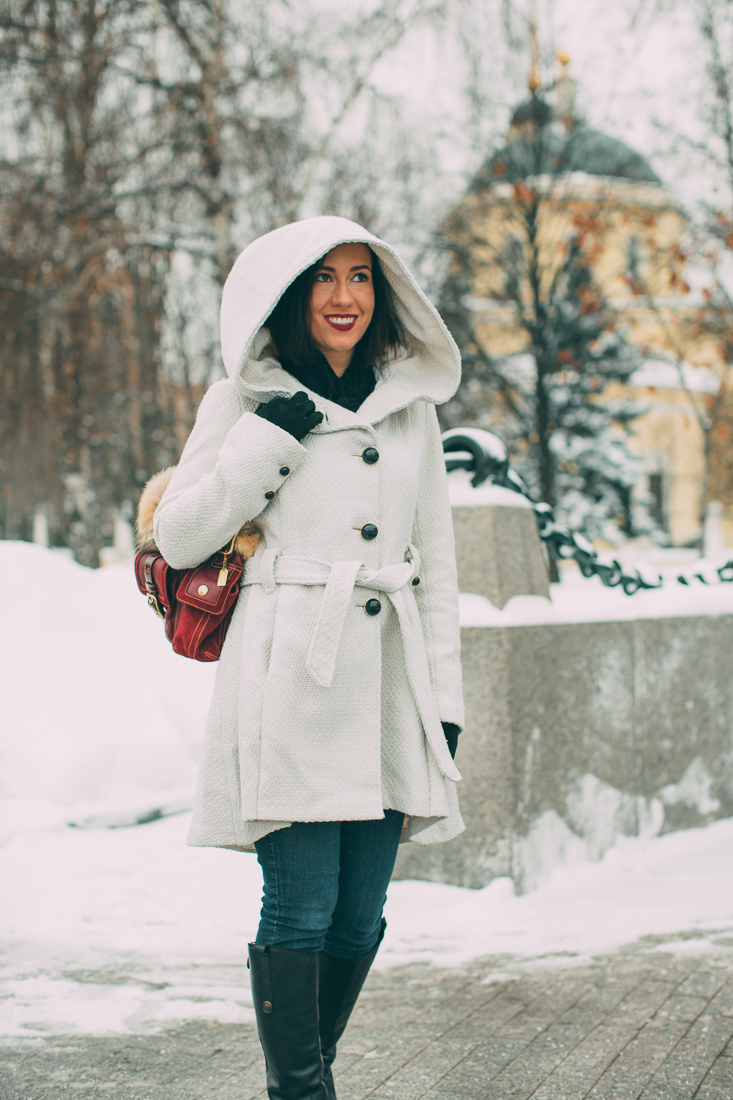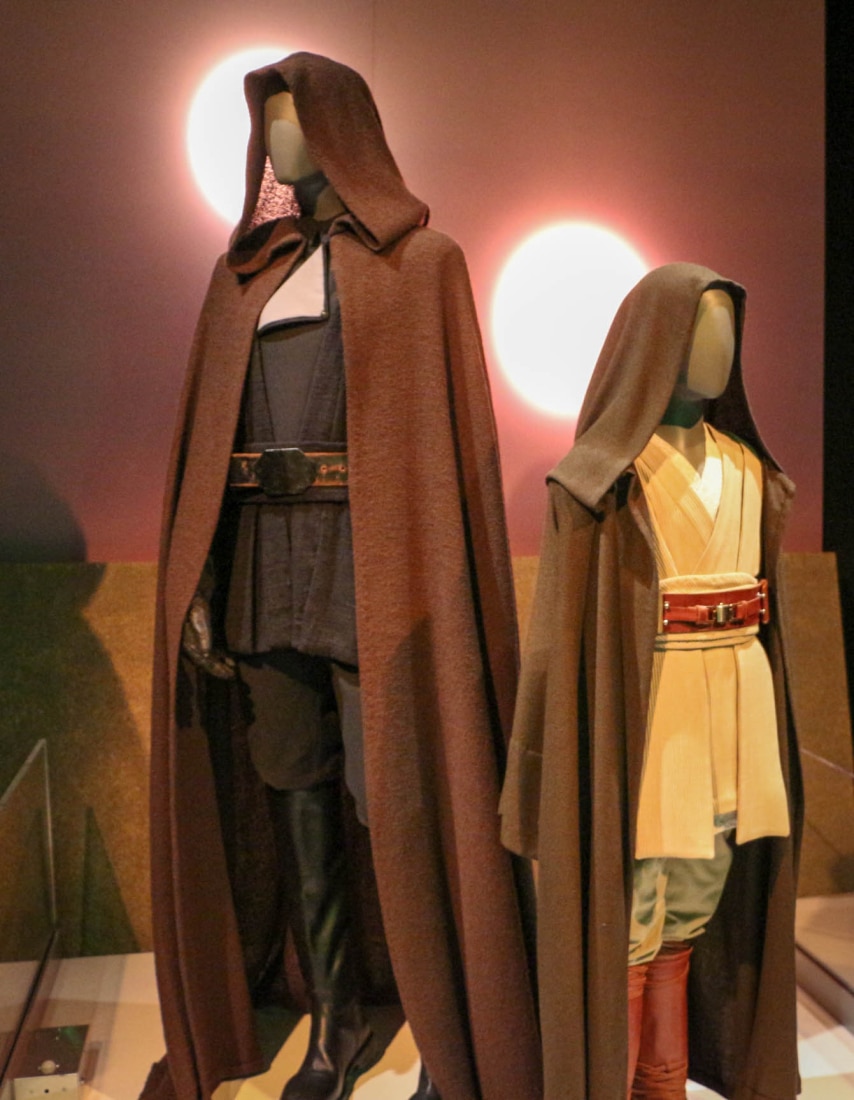 Jedi Attire: Pictured above, you'll find the inspiration for this post. I was fortunate a few years ago to stumble on the "Star Wars and the Power of Costume" exhibit in NYC. The exhibit had the ACTUAL costumes used in the filming of the movies! It was incredible! (Click here to see my post on it if you missed it.)
Are you a fan of hooded coats? How about Star Wars? Let me know in the comments!
Where to find it:
Hooded Coat: Steve Madden
Boots: Sam Edelman
Earrings: Amazon
Jeans: Old (Similar here)
Bag: Coach (Found on eBay)
Scarf: Old (Similar here)
Gloves: Old (Similar here)
Lipstick: Kat Von D Vampira (Applied VERY lightly – just a small dab spread across my lips with my finger!)

**To those of you who tried to read this post yesterday and were met with an error message – I am very sorry. I was having some issues getting my site to load properly yesterday. So, I reached out to my host provider (GoDaddy) to see if they could offer some insight into the issue. I had an unfortunate encounter with a tech support person who restored my website to 2 days ago without my permission. (Meaning, everything I had worked on the last 2 days, including this post, disappeared forever.)
This person then did something else, perhaps to try to undo what they had done? I don't know. That ended up wiping out ALL of my posts and pages. They even tried to tell me everything was fine because my site was loading – BUT THERE WAS ABSOLUTELY NO CONTENT ON THE WEBSITE. So, I ended up calling another tech support fellow for help. They were able to restore my website to what it was as of the 28th. (So, everything I had worked after that was gone…which was really unfortunate because I had put a lot of time into redoing my "about me" page yesterday as well.)
This restore took about 4 additional hours as well. So, needless to say, it was one big mess and nothing went correctly yesterday! But I think I have it all back to normal now. Given this big snafu, though…and all the time I lost this week due to this, I won't be having a new post tomorrow. Sorry for the trouble!
*Disclosure: some of these links are affiliate links. Meaning, if you click a link and make a purchase, Have Clothes, Will Travel gets a very small commission at no extra cost to you. Thank you for supporting the brands that make this blog possible! I am also a participant in the Amazon Services LLC Associates Program, an affiliate advertising program designed to provide a means for us to earn fees by linking to Amazon.com and affiliated sites.
*c/o = courtesy of, meaning the company gave me the product to be used on my blog, and I did not pay for it. All opinions are my own, and I am not being compensated for a positive review.