FTC Disclosure: Thank you to eShakti for sending me this dress to feature on my blog. All opinions are my own, and I am not being compensated for a positive review. Some links may be affiliate links.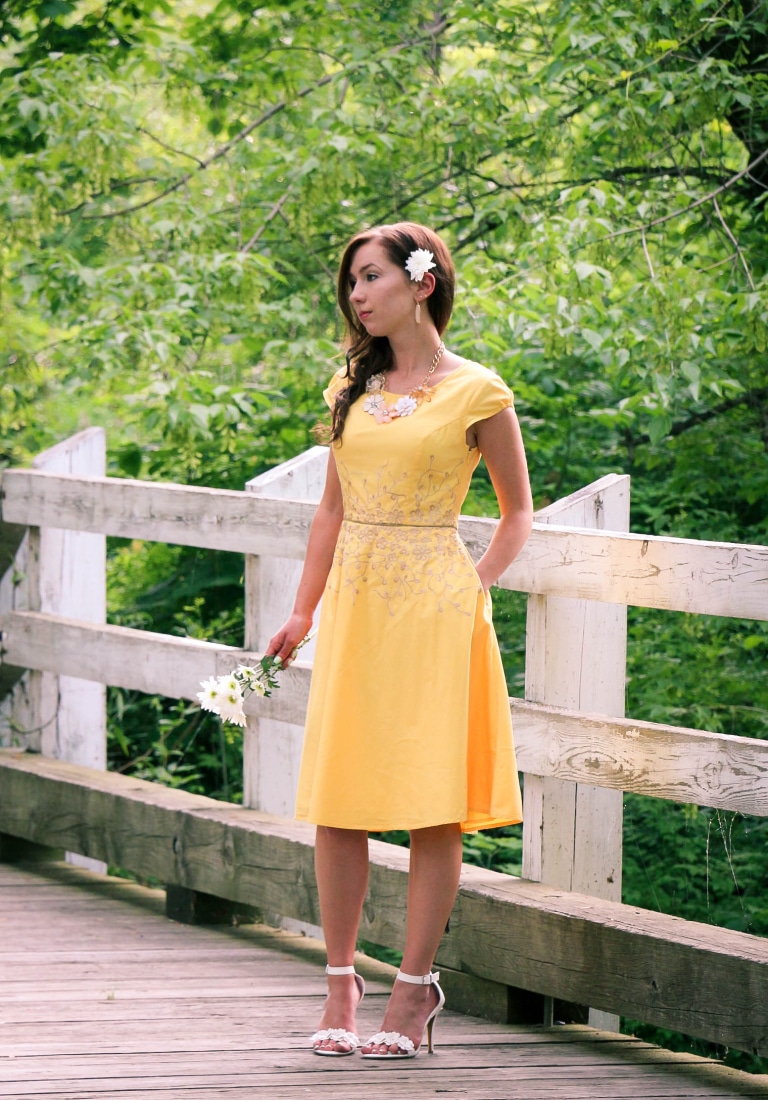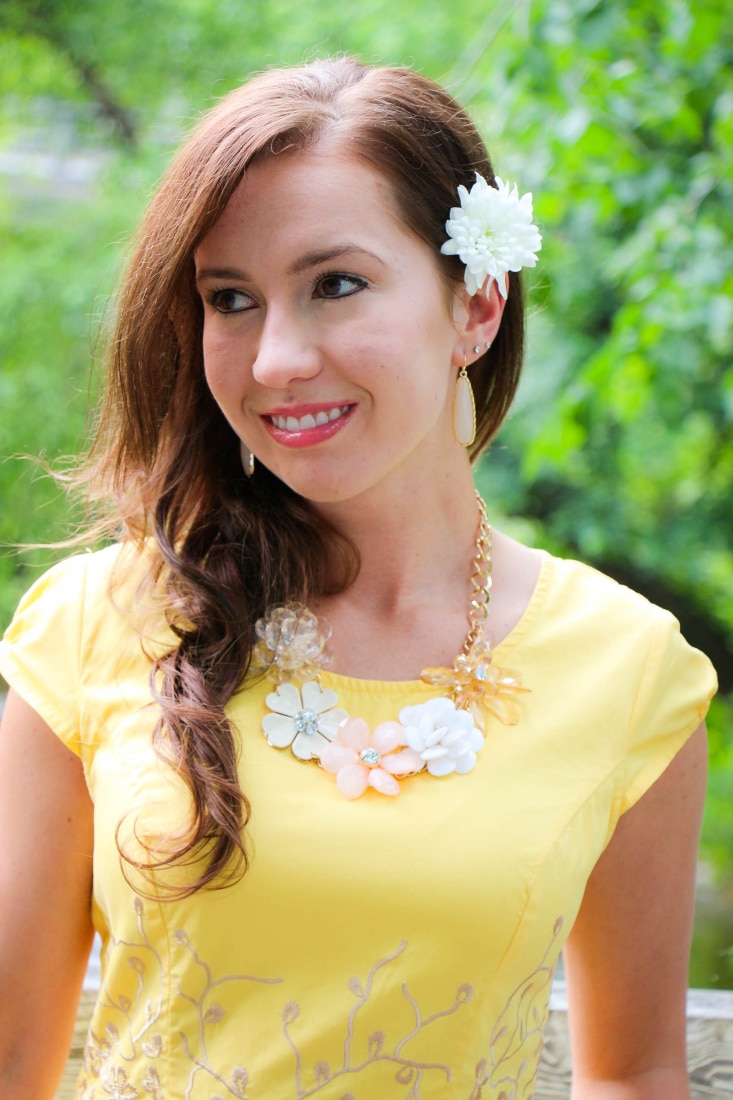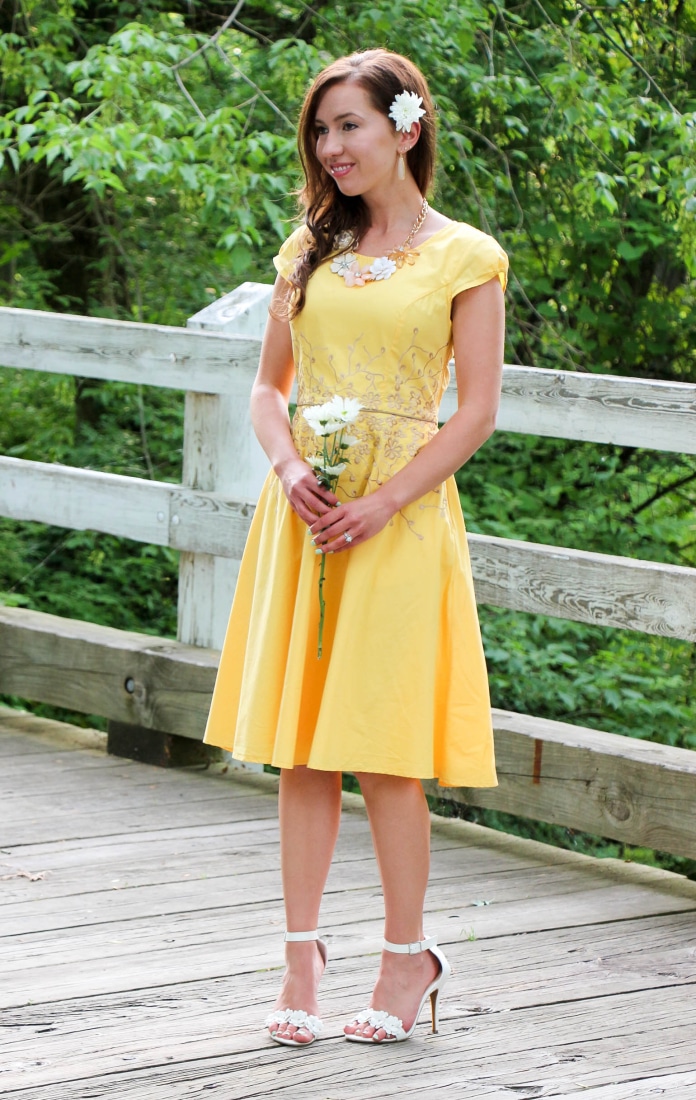 Shop the look:

Unassuming, dainty and cheerful, the daisy is not as ostentatious as a lily or fragrant as a rose. They subtlety brighten a room without commanding attention. If there was ever a flower I would want to emulate – it would be the daisy.
They have always been my favorite flower, and I can't help but smile when I see them. When eShakti first contacted me about featuring one of their dresses on my blog, my eyes immediately went to this one. With its delicate flower embroidery and cheerful color, I couldn't help but smile.
The best part of this dress, though, is that I was able to customize it to my liking. eShakti is a very unique women's clothing site because they let you customize nearly every aspect of your order! For this dress I was able to decide what kind of neckline I wanted, if I wanted sleeves and what kind, if I wanted pockets, the length of the dress, whether I wanted the flower embroidery and I also had the option to enter my exact measurements and height, so, eShakti could make it to fit me perfectly. I did not do the custom measurements, as mine were already on the standard sizing. I did, however, add the cap sleeves and entered my height, so I could be sure that the dress hit below my knees, like I wanted. And of course I wanted pockets and the embroidery (who doesn't want pockets and daisies on their dress?).
I had such a blast designing my dress. My husband even complimented my "designing" abilities. My first order from eShakti was definitely a success, and it will not be my last. I already have my eye on another dress and a cute skirt. Haha.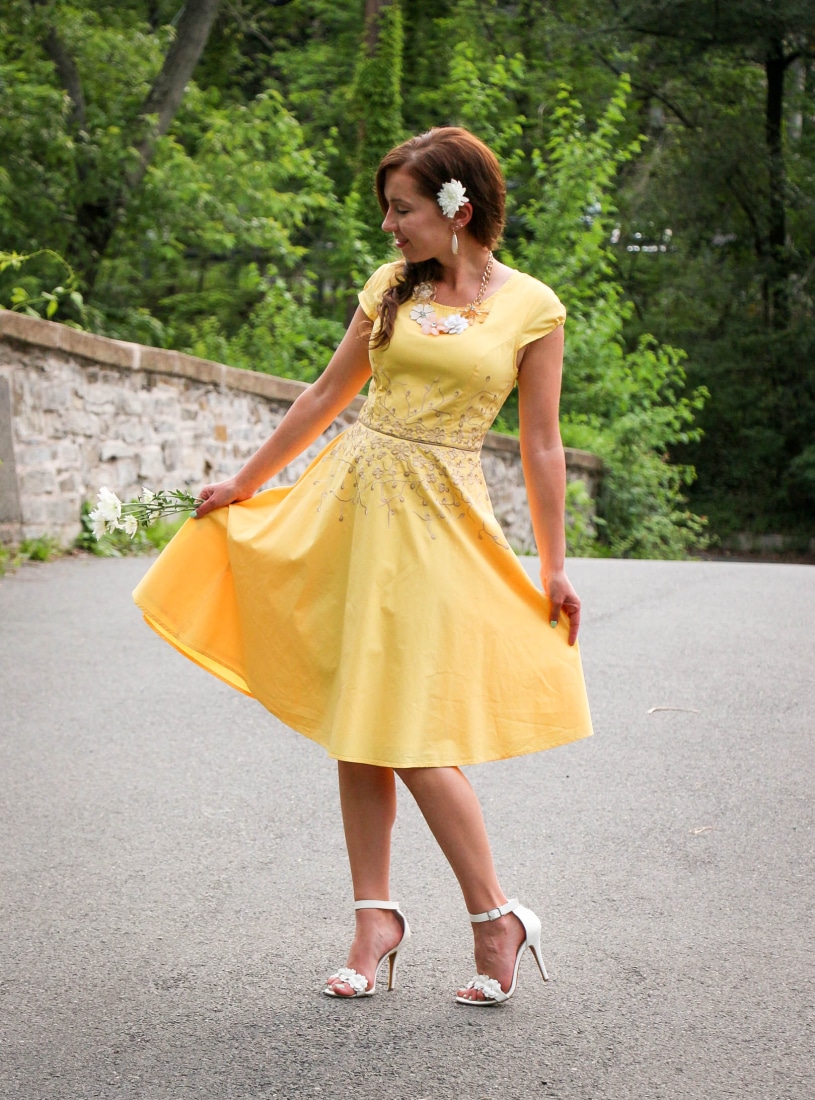 While I was going through my order for eShakti, I also thought how awesome and affordable this site would be for bridesmaid dresses. The bride could pick out the cut and color of dress and each bridesmaid could customize their size and pick out the way they would want to style it. So, each dress would be the "same" yet unique to each bridesmaid. And this would definitely be a dress they could wear again.
I also had a blast accessorizing this dress. I went a bit daisy crazy let's just say. Haha. But I wanted to make sure I had every detail in place… so, everyone could see just how awesome this eShakti dress is.
If you would like to learn even more about eShakti, click here. You can also follow them on Facebook, Pinterest, Twitter and Instagram! My readers also receive an additional 10 percent off their eShakti order when they use code "haveclotheswilltravel." (It's valid until 7/14.)
Has anyone else ever tried ordering from eShakti? How did you enjoy it? And if you haven't, would you be interested in customizing your own clothes? Let me know in the comments!
Where to find it:
Dress: c/o eShakti
Heels: ModCloth (They're 50% off right now!)
Necklace: Target (similar)
Earrings: Target
Hair flower & daisies: Fresh cut 🙂