Shop the look:

Sometimes there's no room for grey. It's either black or it's white…or in the case of this outfit, it's both. Pops of color had tried to make their way into this look, but it just wasn't as striking as the simplicity of black and white.
My dress is the result of my new found obsession with eShakti. (Click here to see my last post featuring a dress from them.) I love the idea of being able to customize a dress – which eShakti let's you do! Admittedly, this dress probably would've looked better if I wouldn't have added the sleeves. But dresses with sleeves are so hard to come by, so when I'm given the opportunity to add them to a dress…I just can't resist. Also, I was so happy that this dress is actually knee length. Usually when I order a "knee length" dress, it seems as though hits at mid-thigh (and I don't have that long of legs!). But that problem is easily solved when you enter your height into your eShakti order. Genius I tell ya! My only complaint is that this dress is wrinkle-prone…and I am not a fan of ironing! Haha.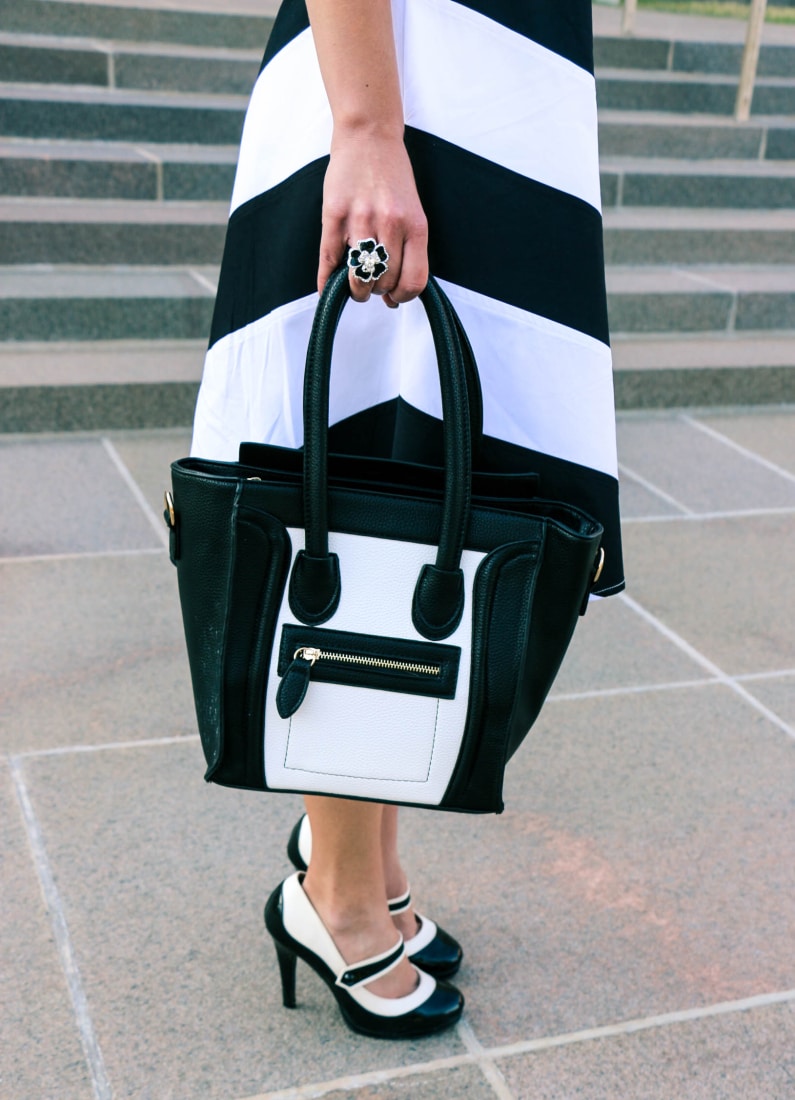 I'm also really happy with my new purse AMIClubwear was kind enough to send me. I needed a more "grown up" purse to mix in with my love of novelty bags. And this was just what I was looking for. Black and white will go with everything, and it also comes with an adjustable strap… so I can wear it as a crossbody if I want. Love that! And even for its inexpensive price – it's quality! This purse will last through daily use. (So, get ready to see it in a ton of future outfit posts. Haha.)
I'm curious, how do you feel about this all black and white look? Or do you need a pop of color in your outfits? Let me know in the comments!
Where to find it:
Dress: eShakti (similar)
Purse: c/o AMI Clubwear (50% off right now!)
Heels: Old (Similar here)
Ring: Etsy (similar here)
This is the last week to enter my Blog Anniversary GIVEAWAY! You could win a $50 ModCloth Gift Card + 2 hours of personal styling services! Click here to enter.