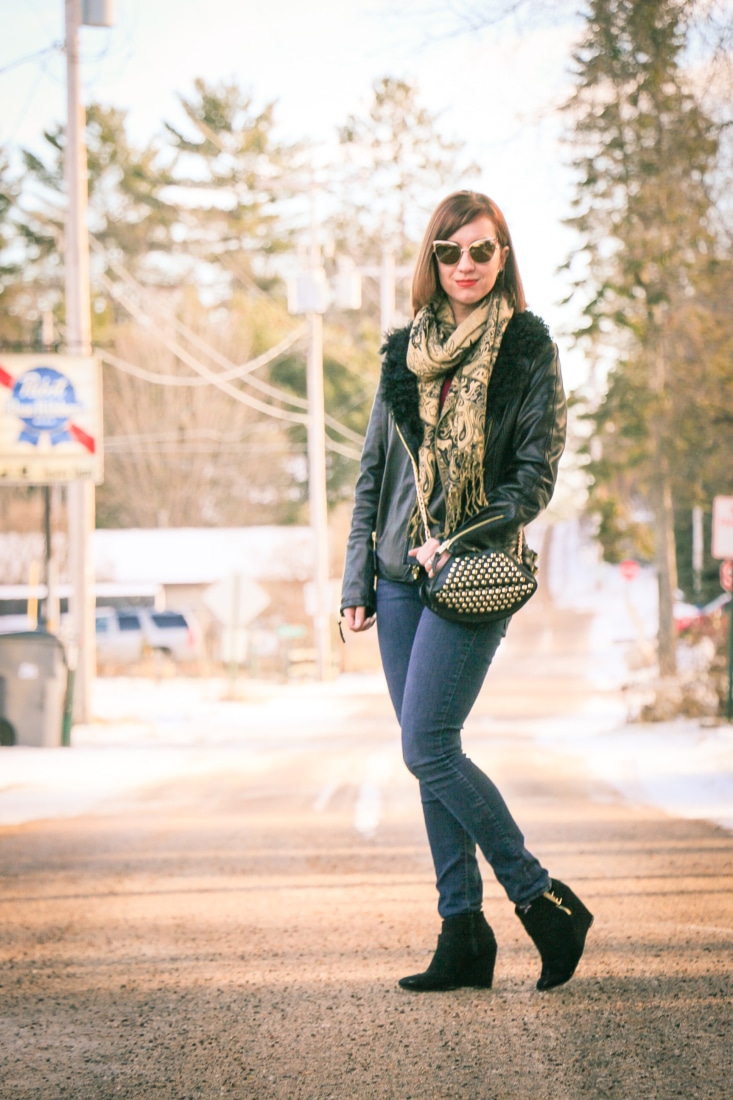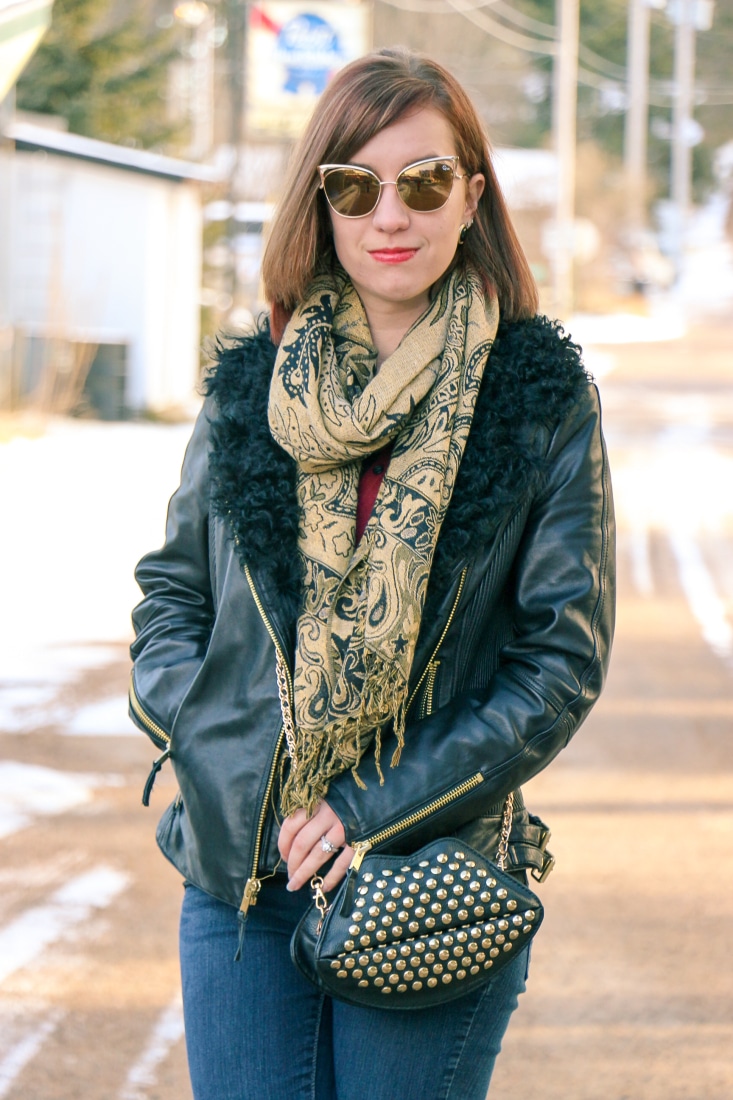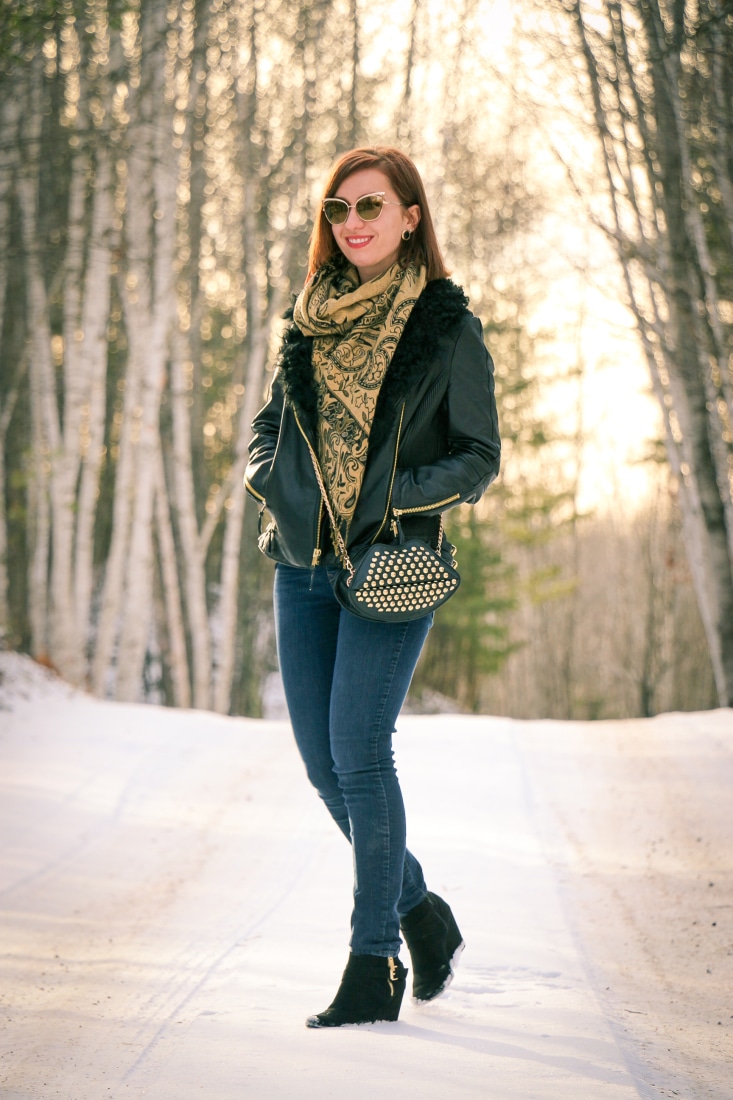 Jacket c/o* | Bag (similar) | Sunnies (similar) | Jeans | Scarf (similar) | Cardigan | Booties
Did you see it? There's actually snow on the ground in these photos! That's a big change from my last outfit post, where the grass is green and I'm sleeveless. Haha. These photos were taken in Northern Wisconsin at my Grandparent's home…where we had a lovely, early family Christmas this weekend.
I was excited that it was finally starting to look and feel like Christmas! It also gave me a chance to test out my leather jacket from Wilsons Leather in some nice cold weather. (It was only 15 degrees Fahrenheit!)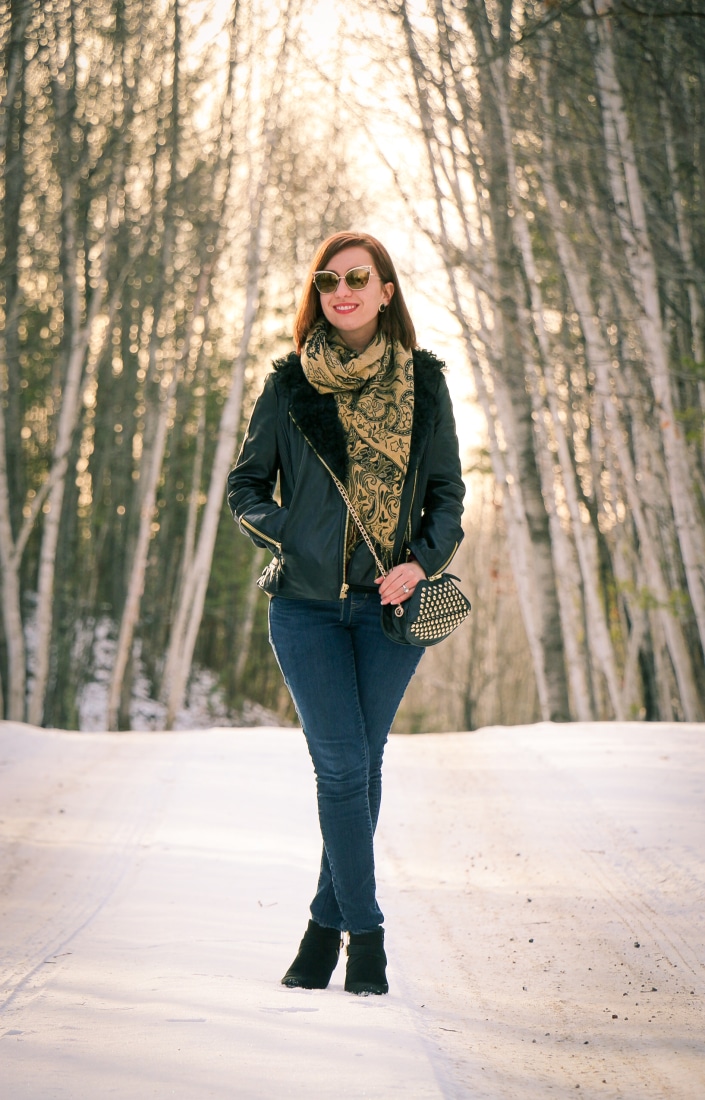 And my goodness, was I impressed! This jacket kept me nice and toasty in the chilly temperatures and didn't let any wind get through it. I was also very grateful for the large pockets to stick my hands in, because I had forgotten my gloves. Honestly, this may be the warmest piece of outerwear I own.
I have a big puffy winter jacket with a hood for really cold temps, but I'm pretty sure the only advantage that one has now is its hood. (Can you tell I'm rather excited about how warm this jacket is? Haha.)
I am also getting a lot of use out of my studded "lips" purse from DealSale. I'm on a gold and black kick right now and it matches my new favorite booties quite well too. Just a reminder, DealSale is an app that you have to download to your phone. It isn't an actual website, but it does work quite well for shopping…and you can't beat the prices!
Does anyone else have snow now, too? And how is your holiday season going so far? Let me know in the comments!
Where to find it:
Leather Jacket: *c/o Wilsons Leather
Purse: *c/o DealSale (Similar here)
Booties: Similar
Sunglasses: Quay (similar)
Scarf: Walmart (similar)
Jeans: H&M (similar)
Cardigan: ModCloth
*c/o = courtesy of, meaning the company gave me the product to be used on my blog, and I did not pay for it. All opinions are my own, and I am not being compensated for a positive review.