Trying Trends – Styling a Denim Skirt & Dress With Leggings + Boots for Winter
It's been a little bit since I've done a "Trying Trends" post…but this series is back for 2020! I'm featuring another trend I had been hesitant to try (even more hesitant than previous installments of this series). This time I'm trying out a denim skirt and denim dress with leggings and boots.
Denim skirts and denim dresses (or jean skirts and jean dresses are what I usually call them) are items I, personally, have never loved. It's similar to the story of why I never wore flannel up until recently. They are items that are a bit too popular, and I always had this "I must dress differently" mentality.
Alas, though, that is not a good enough reason to not try new styles! Plus, I can still put my own spin on these tried and true pieces. Denim skirts and dresses are usually worn in the summer – but I don't see why they wouldn't work for winter too! So, I'm giving it a go in this post and sharing my thoughts on wearing them, too.
Styling a Denim Mini Skirt With Leggings + Boots for Winter
Initial reactions to my denim mini skirt…
This paper bag style is a little different than what I typically see for denim skirts – so, I do like that! This denim material, though, is a little thinner than I expected. It'll be extra comfortable in the summer, though, I suppose!
I am glad I had a pair of leggings on with it, though, as this particular denim skirt likes to ride up every time I move. Do they all do that? Probably not, but this one was certainly doing its best to have a wardrobe malfunction…Plus, this is a shorter skirt than what I typically wear, so I was extra paranoid.
Styling this denim skirt for winter
I enjoyed trying to make this denim skirt cold-weather appropriate, as you typically only see them worn in summer. However, I'm convinced that a pair of leggings/tights, scarf and boots can make any skirt or dress winter-weather-ready! (See how I've styled summer dresses for winter, here!)
I've been on a black kick lately, so I went with all black accessories for this outfit – black boots with black leggings and black shirt and black scarf. I also thought this more monochromatic look would help the skirt be the center of this outfit, as it's rather interesting enough on its own.
One of the best parts about denim, though, is that you can pair it with just about any color, and it will look just fine together.
Verdict – Will I buy a denim skirt again?
Eh, never say never! I really didn't mind wearing this denim skirt (other than it riding up). There really isn't anything wrong with this style at all… I think if I do buy another denim skirt, though, I would get either a midi length or longer. My biggest issue with this skirt is simply that I don't like wearing mini skirts – not that I really minded it being denim.
Selecting a skirt requires a certain amount of thought and planning. You could grab the first one you see, but that isn't likely to work out well in the long run. If you want a skirt you will love and wear all the time, one choice is to select skirts for your wardrobe. Denim material suits almost any environment and sense of style. A skirt also needs to make you feel comfortable, and a denim skirt can do exactly that. You should also choose a skirt likely to work well with multiple tops and accessories. There are few fabrics better for that than denim. It can go with almost anything in your wardrobe, so you can easily mix and match outfits and create unique fashion statements.
Click to shop:
Denim skirt c/o* | Scarf | Shirt | Boots | Leggings | Earrings | Lipstick
Styling a Denim Mini Dress With Leggings + Boots for Winter
Initial reactions to my denim mini dress…
Trying two trends at once with this dress – denim dresses and the milkmaid trend. This mini milkmaid dress is far more scandalous than the dresses I normally wear! I mean, I can't even wear a bra with this one because of the way it's cut in the back (see the photo below).
That being said, this dress is just such an interesting cut, and it has a lot of unique details to it. I think this is one of those dresses too, that looks better in person. I enjoyed wearing it a lot more than I thought I would!
Styling this denim dress for winter
I followed the same formula for styling this dress as I did for the skirt just sans the scarf, as the neckline of this dress is too interesting not to show off. However, I think this dress would have looked better with ankle boots after looking at these photos again… or maybe thigh-high boots without the leggings (for an extra scandalous look!). The knee-high is just not quite the right height for this dress.
Verdict – Will I buy a denim dress again?
Hard to say on this one… I did like this dress more than I thought I would. However, I'm still not sold on denim dresses, personally. I like wearing denim bottoms and jackets, but I'm still working on warming up to the dresses. This dress also likes to ride up just as much as the skirt too… which drove me crazy! I also am a fan of wearing bras, so this particular dress had me a little out of my comfort zone on too many things I think.
Click to shop it:
Denim Dress c/o* | Boots | Leggings | Earrings | Lipstick
Two Bonus Mini Dresses Styled for Winter!
Following the exact same outfit formula for the two mini dresses below to show just how versatile a good ole pair of black boots and leggings can be!
Mini shirt dress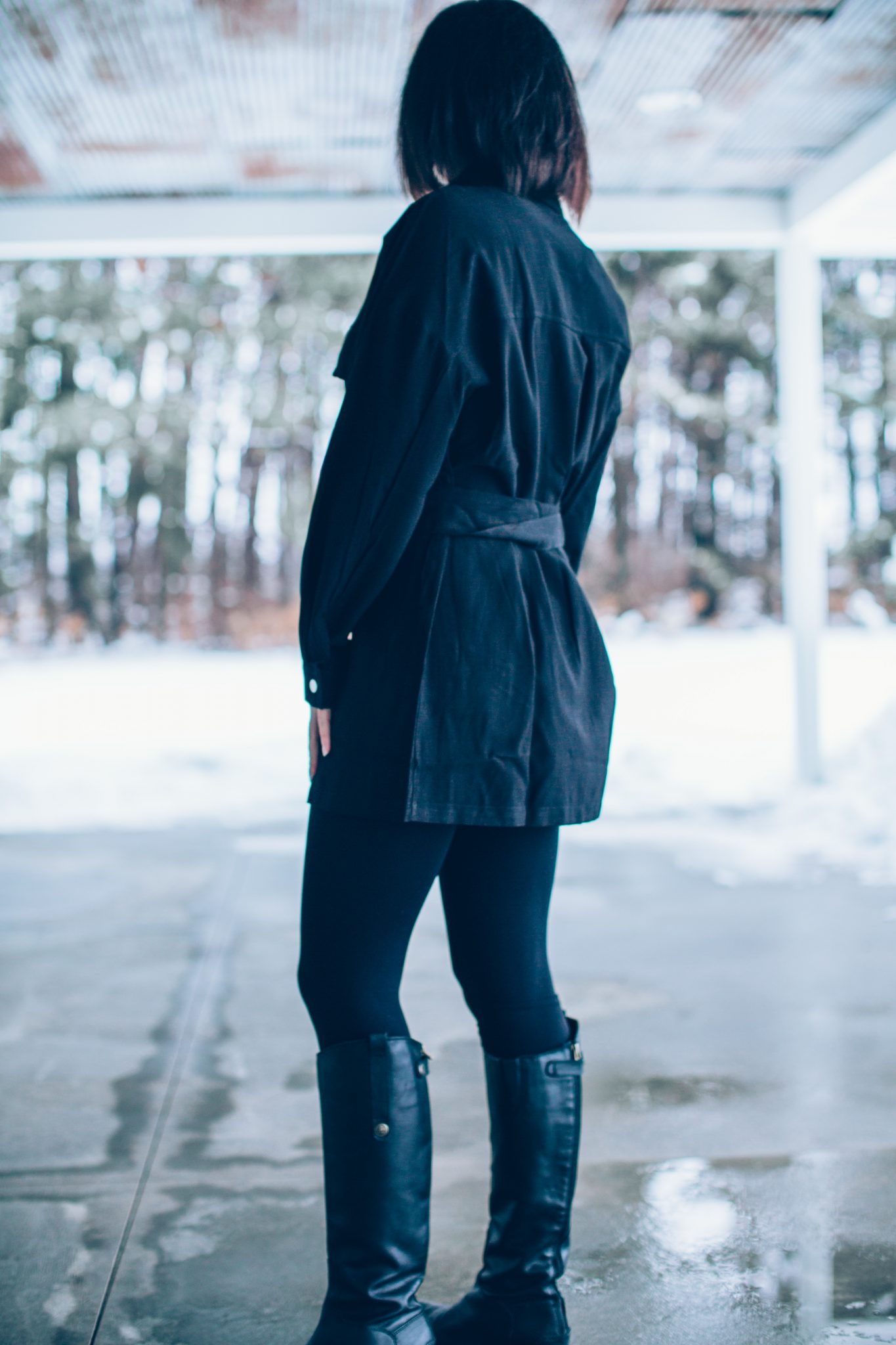 Click to shop it:
Shirt dress c/o* | Boots | Leggings | Earrings | Lipstick
Mini black dress
Click to shop it:
Mini dress c/o* | Boots | Leggings | Earrings | Lipstick
I'm curious, what are your thoughts on these trends? Are you a fan of any of them? Let me know in the comments!
*Thank you to Femme Luxe for sponsoring this post. As always, all opinions are my own and I am never compensated for a positive review.
*Disclosure: some of these links are affiliate links. Meaning, if you click a link and make a purchase, Have Clothes, Will Travel gets a very small commission at no extra cost to you. Thank you for supporting the brands that make this blog possible! I am also a participant in the Amazon Services LLC Associates Program, an affiliate advertising program designed to provide a means for us to earn fees by linking to Amazon.com and affiliated sites.