Trying Trends – Fanny Packs, Mini Purses, Mules & Flare Jeans
"Trying trends" is turning into a monthly occurrence on Have Clothes, Will Travel! This is fun for me, as it's getting me out of my style comfort zone a bit. I'm featuring a few more trends I had been hesitant to try – not as hesitant as past installments of this blog series, but nonetheless I had yet to warm up to these trends!
Today's post is taking a look at fanny packs, mini purses, mules and flare jeans. Here are my thoughts on wearing all of these (plus a bonus one-shoulder dress with a large bow detail). Enjoy!
*Disclosure: some of these links are affiliate links. Meaning, if you click a link and make a purchase, Have Clothes, Will Travel gets a very small commission at no extra cost to you. Thank you for supporting the brands that make this blog possible! I am also a participant in the Amazon Services LLC Associates Program, an affiliate advertising program designed to provide a means for us to earn fees by linking to Amazon.com and affiliated sites.
My Thoughts on Mini Purses (& Bonus One-Shoulder White Bow Dress)
Initial reaction to this mini purse
To be perfectly honest, this was a trend I was not meaning to try! I hadn't looked at the dimensions of this Kate Spade purse too closely before I ordered it. I knew it was a smaller purse (as I had seen other versions of it out and about and thought I knew roughly what the size of it was). But, when I opened the package, I was shocked by how small it was!
Now, I know you're thinking who in the world orders a Kate Spade bag and doesn't closely look at its dimensions – those bags are EXPENSIVE! However, I ordered this bag via thredUP. If you haven't heard of thredUP – it's an online thrift store where you can buy and sell high-quality secondhand clothes. (I had ordered from them a while back and loved the items I received!) And this Kate Spade bag was HEAVILY discounted + I had a coupon. Needless to say, it wasn't a big financial mistake that it was smaller than I expected.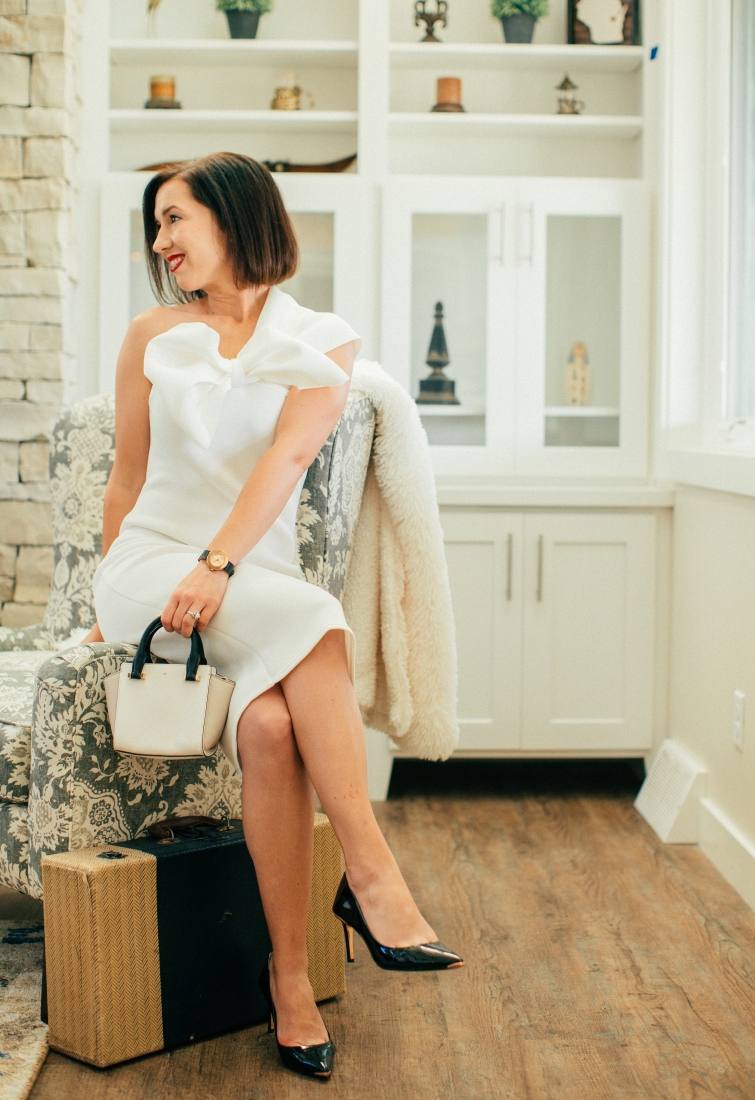 Verdict – Will I buy mini purses again?
There really isn't anything wrong with mini purses – they're not that much different in size compared to all the novelty bags and clutches I own. That being said, I just don't love mini purses. Novelty bags make me happy (because they're usually funny and good conversation pieces), and clutches are perfect for a night out to look classy but still have a place for your small essentials.
Mini purses are neither of these things for me. They're just small, impractical bags… that unless you buy them secondhand, they are still pretty darn expensive! (Kate Spade mini bags are still well over $100 if you buy them new!) This is just my personal preference, though. I know some people who love them! However, I won't ever buy one again.
Bonus: One-shoulder white bow dress
I didn't include this one-shoulder dress in the list of "trends" because I've already reviewed the one-shoulder trend in past posts. However, my friends over at Femme Luxe had sent me another one-shoulder dress. (They have SO many different ones, goodness!) And I had always been intrigued by dresses with bow details.
This dress is super fun, in my opinion! I have no idea what I'm going to wear it for, but I like the almost obnoxiously-sized bow and the length of this dress. I don't mind white dresses either – as long as they aren't sheer. (This one isn't too bad.)
Click to shop:
Dress c/o* (Currently sold out. Similar here.) | Mini purse c/o* | Pumps | Watch
My Thoughts on Fanny Packs & Mules
Initial reaction to my fanny pack
I know, there are about a million different names for these things nowadays – but for the sake of argument, let's just call them fanny packs for this post. Fanny packs come in all shapes, sizes, colors and price points now…with some of them being over $1,000!!! (The fanny pack in this post is less than $15, though.) They've made quite the comeback!
I remember using one when I was in elementary school, and I loved it! But I felt ridiculous when I tried this fanny pack on now, haha.
Verdict – Will I buy fanny packs again?
Absolutely not! I'm sorry, but I just can't get behind this trend. I know the argument is that they're comfortable and also a good theft deterrent. However, there is nothing that this fanny pack has that some of my favorite crossbody purses don't also do. Crossbody purses can be comfortable, handsfree and good theft deterrents. So… no, I see no need for a fanny pack. (Note – there's nothing wrong with this particular fanny pack, and it's quite affordable – I just don't personally love this trend.)
Initial thoughts on my mules
These I mules I had also found on thredUP for a fraction of the price that they would be new. Now, I've never really had anything against mules… I love the way they look, I just wasn't sure how comfortable they would be (especially for walking a lot in).
But I LOVE the way they look. Unlike the fanny pack – mules make me feel like a "cool kid" in my trendy new shoes (even though they're secondhand)!
Verdict – Will I buy mules again?
Yes! I love the way mules look and they're quite comfortable. Now, I don't think I would be able to wear them for an entire day of nonstop walking (such as when I'm traveling)… but, for a day of moderate walking and standing, they're more than fine. (I wore this outfit out for the night sans fanny pack – and my feet were fine by the end of the night.)
Click to shop:
Fanny pack c/o* | Top c/o* | Jeans | Mules c/o*
My Thoughts on Flare Jeans
A lot of fashion articles are saying that "flare jeans are having a moment this fall." However, if I'm being perfectly honest – I've never stopped wearing flare jeans, even when skinny jeans were the only "cool" thing to wear.
I've always liked the way flare jeans look on my body, and they're quite comfortable. Plus, you can wear just about any type of shoe with them.
So, I'm not really reviewing this trend… as I've always been a fan and own multiple pairs of flare jeans that I've been wearing for years and years.
This particular pair, though, is a new pair from Femme Luxe. I love that they're high-waisted and the button details look similar to one of my favorite pairs of jeans from ModCloth. They're quite comfortable and stretchy. For the price tag, I don't mind the quality. However, they're easily some of the lowest quality jeans in my closet… being rather thin and the seams and buttons look just "meh." But, again, they're quite affordable.
Click to shop:
Jeans c/o* | Top c/o* | Mini purse c/o* | Mules c/o* | Sunglasses
I'm glad I'm getting out of my comfort zone more with my style! I now know that mules are fantastic… and I'm still not a fan of fanny packs.

And I'm curious, what are your thoughts on these trends? Are you a fan of any of them? Let me know in the comments!
*Thank you to Femme Luxe for sponsoring this post. As always, all opinions are my own and I am never compensated for a positive review.