Trying Out Femme Luxe Clothing (Again)
This isn't the first time I've tried the online clothing store "Femme Luxe." My first round with them featured 1 dress, 1 shirt, 1 jacket and 1 sweater dress. Some items were so NOT my personal style (but ended up being fun additions to my wardrobe), others weren't the greatest quality and some were perfectly fine quality. It was a big "hit and miss" experience. (Click here if you missed that post.)
Now, Femme Luxe was kind enough to let me try out 4 more pieces to see how my experience would be with them this time around. There were a couple items on their website that I was quite excited about – and others I thought there was no way in hell I would ever wear…but secretly wanted to try them anyways. So, I'll break down each piece again with complete honesty.
Femme Luxe Jumpsuit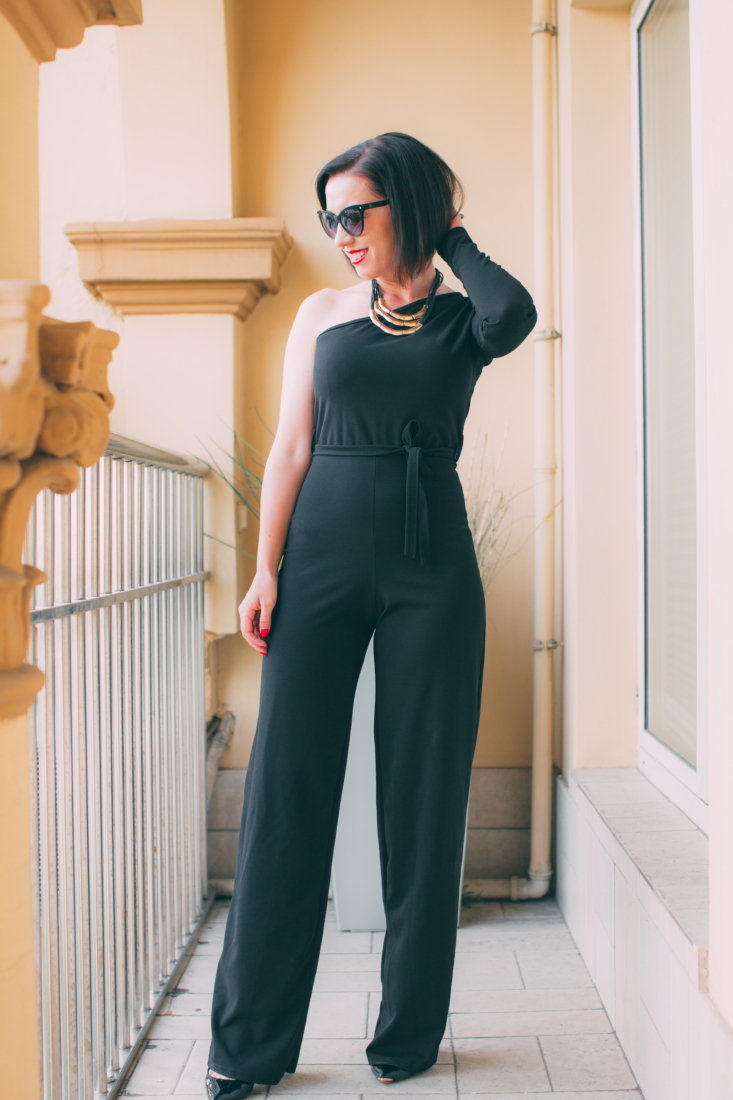 I have never worn a jumpsuit until this one. I've always been secretly intrigued but also terrified of them. I mean, I drink a lot of coffee and water throughout the day…how in the world do you go to the bathroom in these things? Answer: you strip down to your skivvies! (So, not a fan of that.) However, I always LOVE the way they look on everyone who wears them. They make your legs look a mile long, in my opinion. They're also very stylish and chic.
This particular jumpsuit is actually really good quality for the price, in my opinion. I was surprised how nice it looked on. The website made it look a little too scandalous for my taste…but I think it can be pretty classy with the right accessories. It also stays up really well, despite having the one exposed shoulder. I didn't have to fix the top part of it at all while I wore it.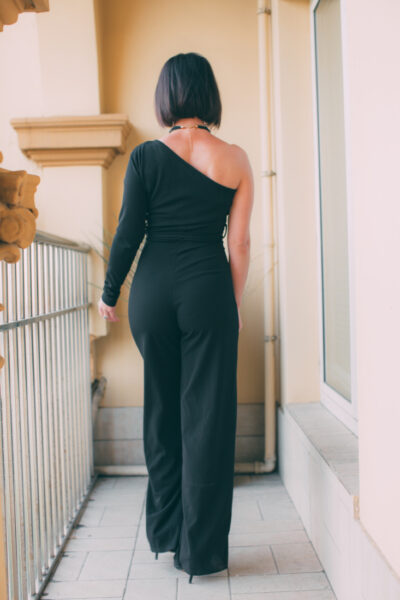 That being said, I don't think I'll ever wear this jumpsuit again – I mean, look at that grundy?! Why would I want to wear something that is constantly riding up my bum (and other spots, eh em)? Or wear something that makes going to the bathroom a difficult experience? This isn't a knock on Femme Luxe by any means…I think they made a mighty fine jumpsuit here. I just don't think jumpsuits, in general, are ever going to be for me!
Where to find it:
Jumpsuit c/o* | Pumps | Necklace
Verdict: Good quality for the price. Fits true to size (but sizes are in UK sizes – FYI!). Still not sold on jumpsuits, though.
Oversized Long-sleeved shirt dress
Now, this shirt dress is a little out there (see, what I did there – good lord, my puns are bad), but I honestly really like it! It's super comfy, and I'm all for weird space-themed clothing. This was one of those items I put on immediately with a pair of skinny jeans to go run errands in. I think it would look best with some fun leggings or leather pants, though. (Something I don't have.)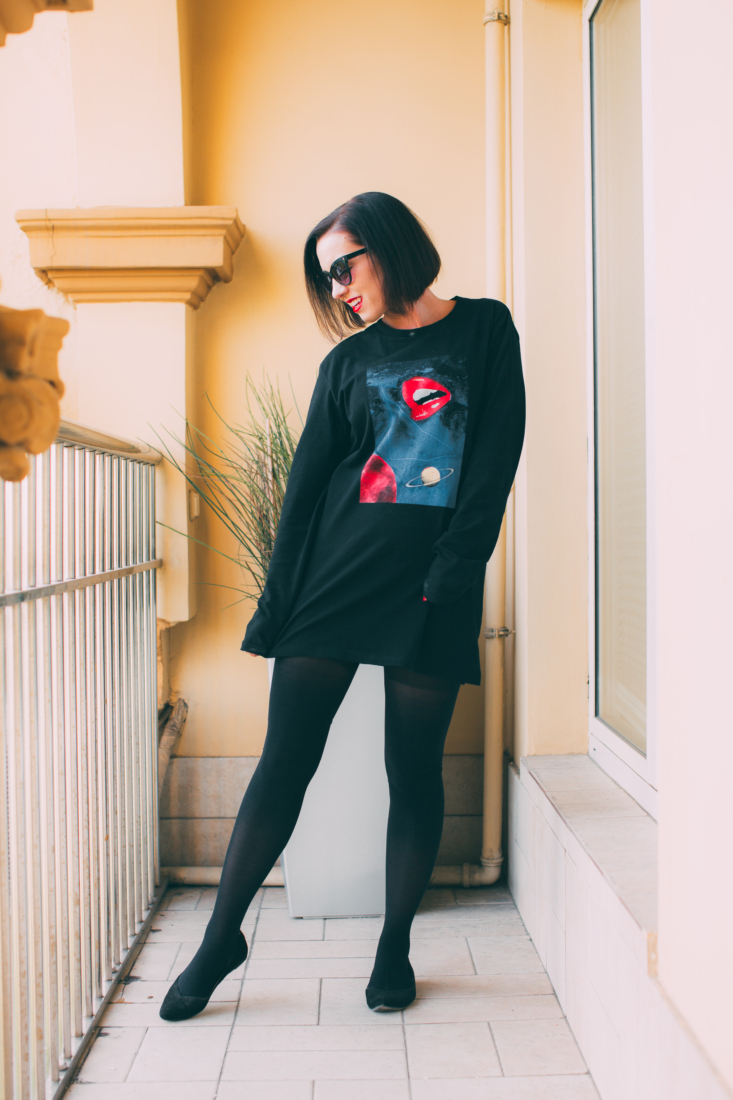 Things to note, though, this shirt dress is actually different than what it looks like on the website. The website has it looking more like a sweatshirt with a fitted bottom and fitted in the sleeves. Mine is quite loose on the bottom and it has slits on each side. The sleeves are also loose and VERY long. So, the product is not quite the same as what you're seeing on the website.
Where to find it:
Shirt dress c/o* | Flats | Tights | Sunglasses
Verdict: I like it! The quality is fine, but the website image is not the same as what I got!
Femme Luxe One Shoulder Midi Dress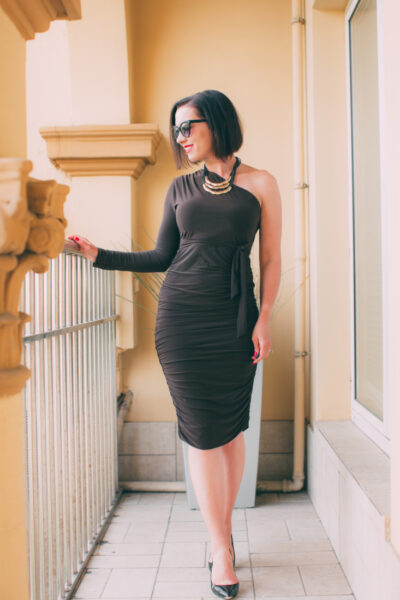 This midi dress is a very similar look and feel to the jumpsuit from Femme Luxe. However, it is a nice length and isn't constantly riding up places it shouldn't be! I also though the top part stayed up remarkably well considering it only has the one sleeve.
I really don't have anything negative to say about the dress itself, it's just not my style. I don't usually wear such fitted dresses or ones that require me to wear a strapless bra.
Where to find:
Dress c/o* | Pumps | Necklace | Sunglasses
Verdict: Not my style, but the dress is perfectly fine. It's also true to size.
Fitted T-shirt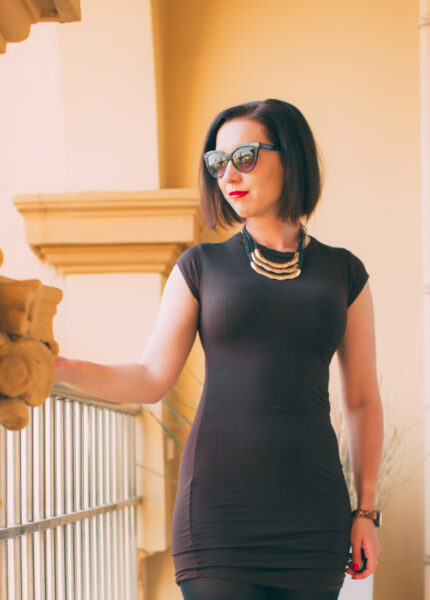 Ok, so, I actually ordered this exact shirt from Femme Luxe last time…However, it was super tight on me. So, I thought maybe if I ordered up a size it would be a little comfier…but, no dice. This shirt is still REALLY fitted. It is a smidge longer, though. Ah, well, it'll be a good layering piece in the winter!
Where to find it:
Shirt | Necklace | Sunglasses
Verdict: Not a fan. It's really tight, transparent and not the best quality.
Overall, I don't really have strong feelings one way or the other regarding this site. The quality is fine for the price, it's not the best quality clothing I've ever come across, but it is also quite inexpensive (so, you get what you pay for). It reminds me of clothing from "The Deb" – anyone remember that store? That's the best comparison I can come up with! And if you missed my last post featuring Femme Luxe, click here for even more info.
*Thank you to Femme Luxe for sponsoring this post. As always, all opinions are my own, and I am never compensated for a positive review.
*Disclosure: some of these links are affiliate links. Meaning, if you click a link and make a purchase, Have Clothes, Will Travel gets a very small commission at no extra cost to you. Thank you for supporting the brands that make this blog possible! I am also a participant in the Amazon Services LLC Associates Program, an affiliate advertising program designed to provide a means for us to earn fees by linking to Amazon.com and affiliated sites.
*c/o = courtesy of, meaning the company gave me the product to be used on my blog, and I did not pay for it. All opinions are my own, and I am not being compensated for a positive review.