Bedsure Review: Featuring Bedsure Duvet Cover + Cotton Blanket
This post is reviewing a Bedsure duvet cover and a Bedsure Cotton Blanket.
Bedsure is an online shop that specializes in affordable home linens. Their Amazon store has thousands and thousands of positive reviews, making it one of the most popular bedding brands to shop on Amazon.
While bed sheets, duvet covers, and blankets are Bedsure's best sellers, their dog beds and blankets are really becoming popular as well! (I, personally, like the sounds of the waterproof dog blankets and their Calming Beds for both dogs and cats.)
Today's post will be focusing on 2 of their top products – the Bedsure duvet cover and Bedsure cotton blanket – and whether or not I think they're worth ordering.
Products Featured in My Bedsure Review Post
Have Clothes, Will Travel uses affiliate links. Meaning, if you click a link and make a purchase, Have Clothes, Will Travel gets a very small commission at no extra cost to you. Bedsure also sent me the products in this blog post for the purpose of this review. I am never compensated for a positive review. Thank you for supporting the brands that make this blog possible!
My Bedsure Review
Bedsure Packaging
Packaging is not something I typically spend time reviewing. However, I was impressed with Bedsure's packaging and wanted to call it out! Both my duvet cover and the blanket came packaged very nicely.
The duvet cover was in its own reusable fabric tote bag, and the blanket had a ribbon tied around… making both of these fantastic gift options. (Mother's Day is just around the corner after all!)
Washing my Bedsure Products
I know the description says they are prewashed, but I wash everything before I use it…especially my bedding and blankets.
Because the Duvet cover and the blanket are almost the same color, I washed them together in cold water and dried them on low heat.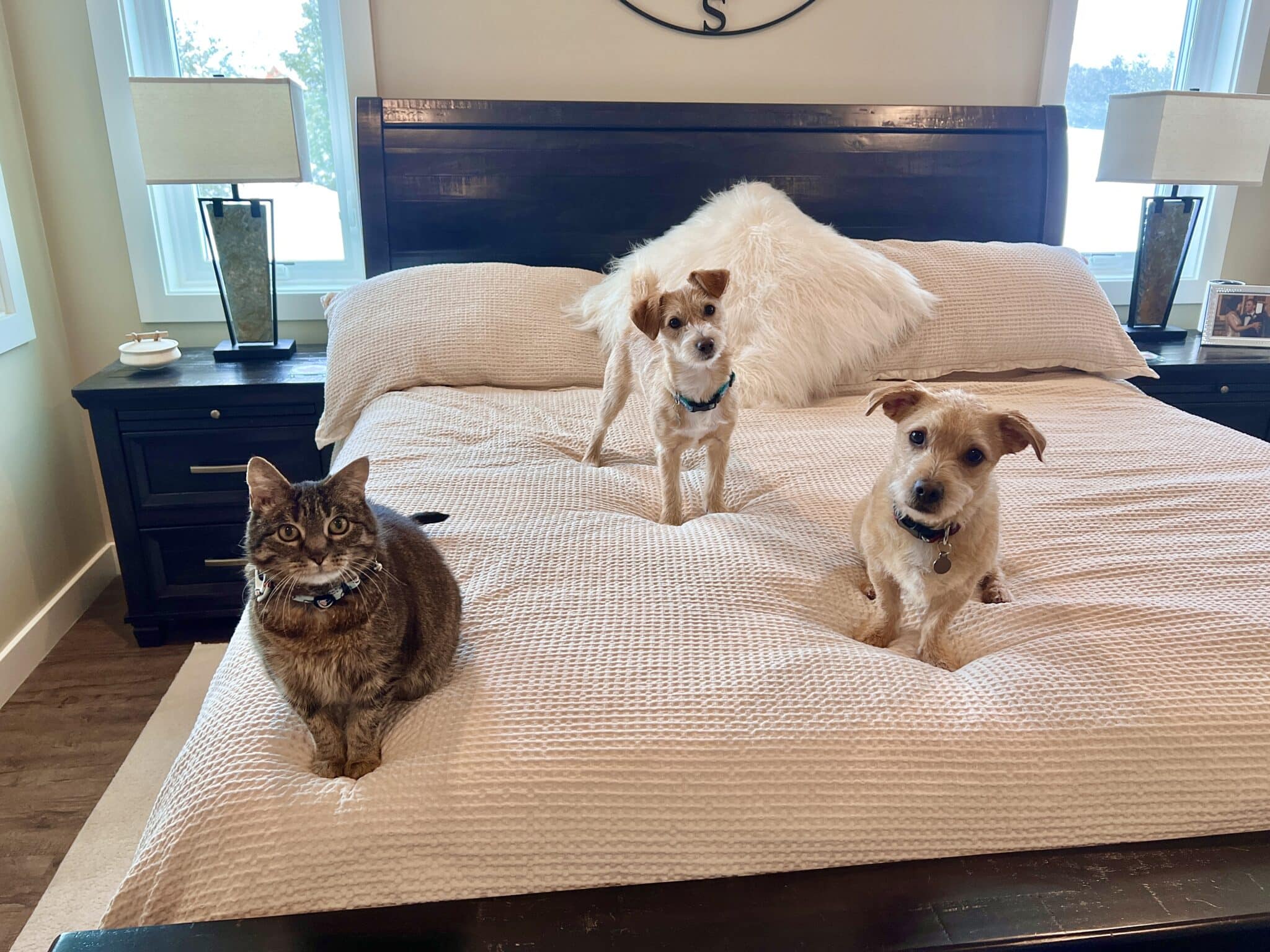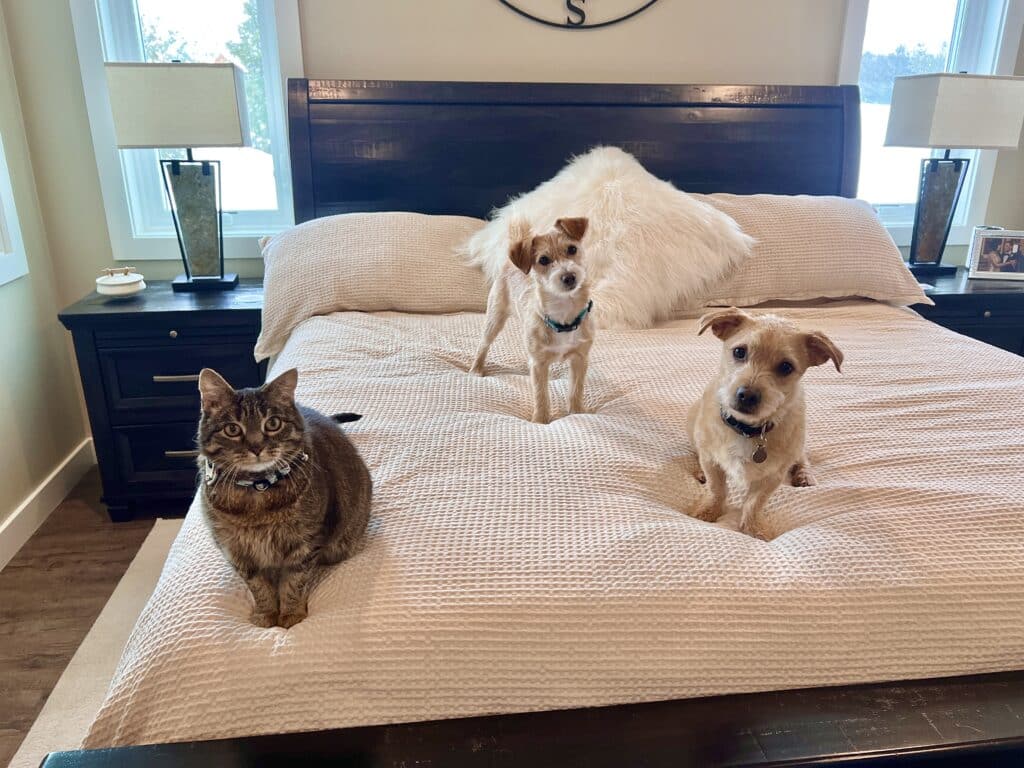 Everything came out of the drier looking nice and feeling soft. (I thought I had lost a button from the duvet in the washing machine, but this turned out to be a spare button to have just in case.)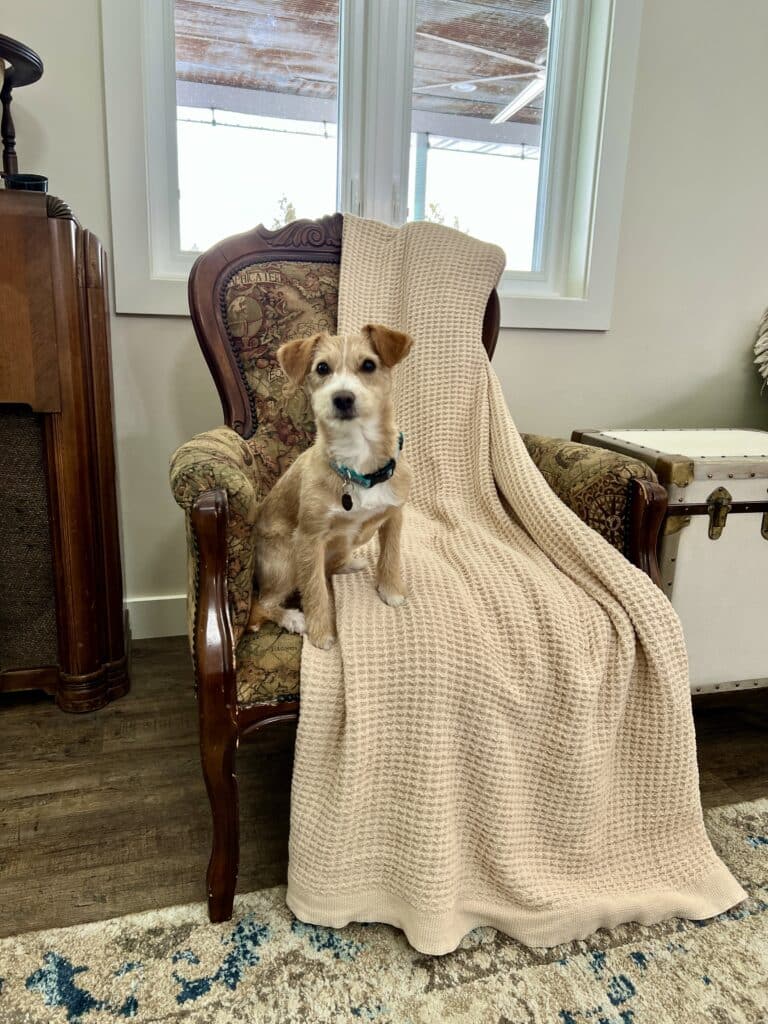 However, I do want to mention, that I had to change my lint filter halfway through drying them, as it was completely stuffed full of lint! I'm not sure if it was the duvet cover, the blanket, or both… but wowzers did these have a lot of lint the first time I washed them. (Fellow Amazon shoppers are pointing to the blanket likely being the culprit.) Be sure to keep an eye on your dryer when you wash them the first couple of times!
Because I did not use them before I washed and dried them, I am not sure if they shrank at all.
Initial Thoughts on Bedsure Blanket
Quick product overview:
Bedsure Cotton Blanket
Made from 100% cotton. The anti-static fabric offers exceptional breathability and moisture absorption for a cozy and dry night's sleep all year round.
Note: I have only been using this blanket for a couple of weeks and can't attest to its lasting ability yet.
However, as far as first impressions go, this is a very nice blanket, especially for the price point!
I was happy that it had zero odor when I pulled it out of its packaging. I always hate when new bedding has a chemical odor to it.
Overall, this is a nice mid-weight, breathable blanket… so, you can curl up with it on a summer night and not sweat to death. I am someone who is almost always warm.. and I sleep VERY warmly. I like sleeping with a blanket like this, even in the middle of winter, because it won't cause me to overheat.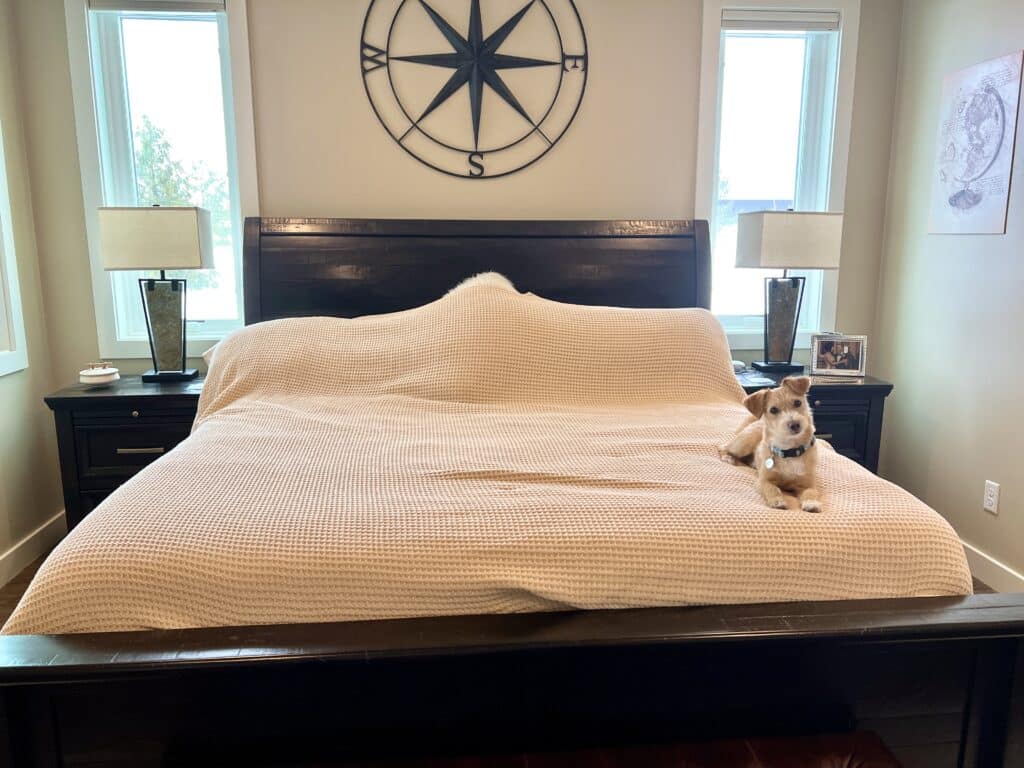 My husband's first thoughts for this blanket are "that it will make a great movie blanket." This is because it's big enough for the both of us to use while watching a movie together… and we won't have to fight over who gets "the nice blanket." Haha. (As you can see above, it is also big enough to cover our king-size bed.)
While I love the look of the waffle weave, I must admit, though, it's not the most pet-friendly blanket I could have ordered. The weave looks like it will be easy for my pet's nails to get snagged in it (especially my cat, who enjoys "kneading" the bedding before she goes to sleep at night). I have a feeling their nails are really going to do a number on this blanket, unfortunately. But so far, there haven't been any snags!
Initial Thoughts on Bedsure Duvet Cover and Cotton Pillow Covers
Quick product overview:
Bedsure Duvet Cover + Pillow Covers
Made of 100% natural cotton. This set comes with 1 duvet cover (104″x 90″) and 2 pillow shams (20″ x 36″)
Note: Again, I have only had this duvet cover for a couple of weeks, and can't attest to its durability yet.
Putting a duvet cover over a comforter is not always an easy task. I do appreciate that this duvet cover has ties in the corners, to make the job a little easier, and to keep the cover in place when I'm tossing and turning while I sleep. (My previous duvet cover did not have this, and the comforter was always getting bunched up inside the cover!)
The duvet cover is actually softer than the blanket. For some reason, I was expecting this duvet cover to be a little rougher, but that is not the case. It's very comfortable to use!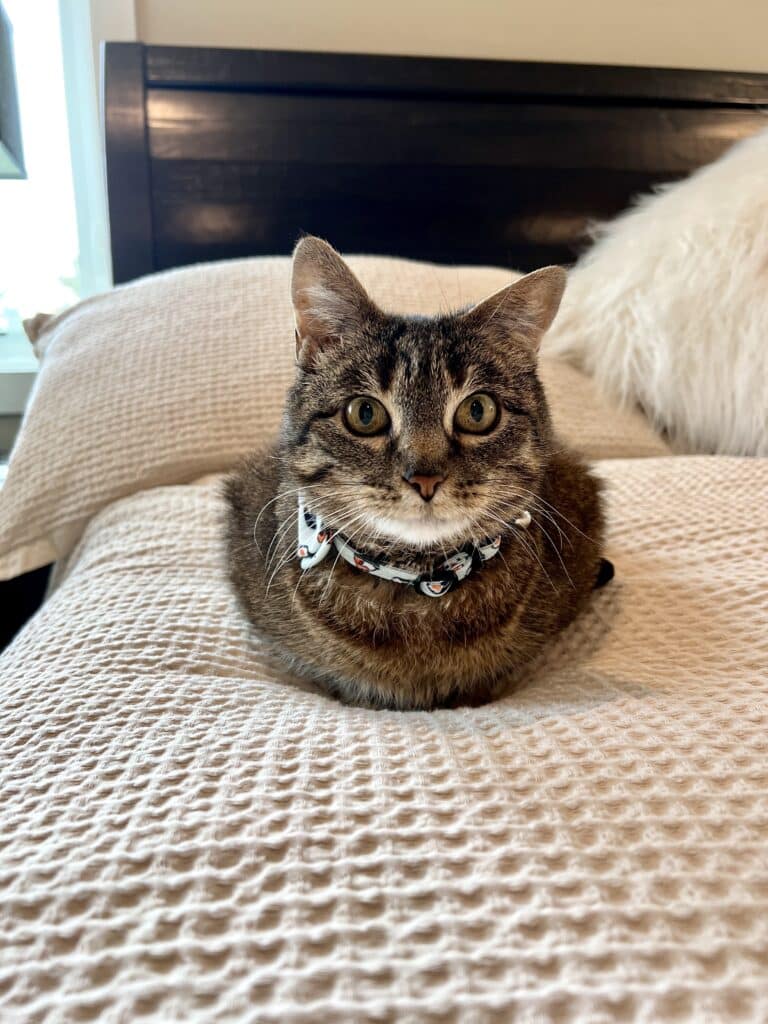 This duvet cover is also a great price, for being of seemingly good quality and also being king size. I really appreciate quality and affordability when it comes to my bedding, as my pets tend to do a number on it…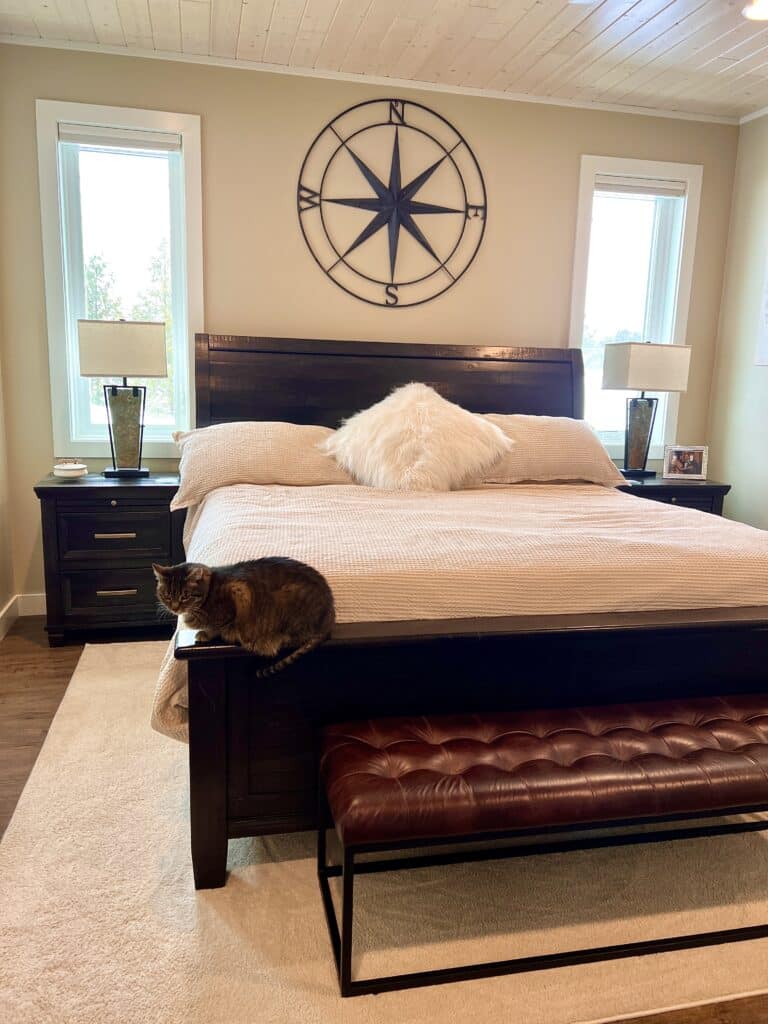 Final Thoughts On Bedsure
As far as first impressions go, I am impressed with Bedsure and would be interested in ordering from them again in the future. The blanket and duvet cover both seem to be of great quality and they look really nice! As always, I will continue to update this review as I use and wash the items more.