Backyard Living: 5 Steps for Creating a Cozy Outdoor Living Space
With not being able to travel this summer, my husband and I have been doing a lot of backyard living to escape our home offices. Our outdoor living space really came a long way since we moved in! (I'll post a "before" photo at the end of the post.) I've been working on making this a more inviting space all summer long and thought I could share the process and a few tips to create your own comfortable patio area.
Backyard Living: 5 Steps for Creating a Cozy Outdoor Living Space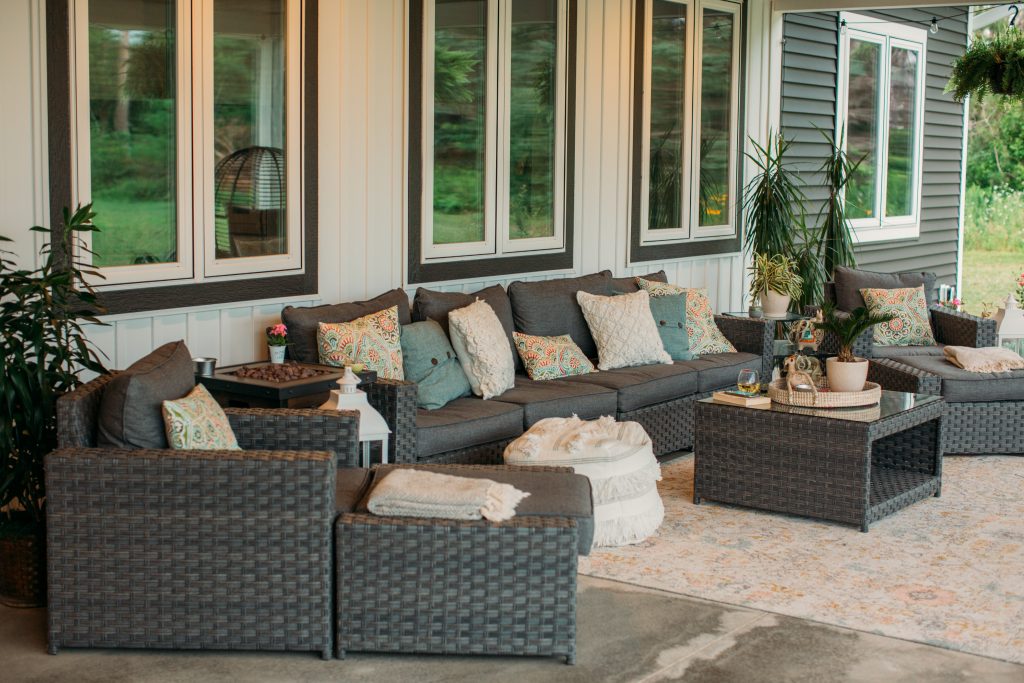 1.) Find Comfortable Seating
Of course, the most important part of creating a comfortable outdoor living area is to find some comfortable outdoor seating. There are so many options on Wayfair it's almost overwhelming. Whether you have a small outdoor space, or it's going to be your second living room… I'm confident you'll find something on Wayfair! (And don't worry they're not sponsoring this post or anything – I just really like that site!)
I had started shopping for our furniture in early May – which is the worst time of year to do so (especially THIS year). Everything I wanted was sold out! I ended up finding this 9 piece set on Wayfair for a very fair price, given its quality and how comfortable it is. I waited until it came back in stock in mid-June and hit that order button so hard!
Initially, I was a little nervous about ordering furniture online… I order everything else online, but furniture is one of those things that's a little hard to take back if you don't end up liking it! But given the options, I was seeing in the stores by us (and the prices – yikes!), I went for it… and I am so glad I did. This set is fantastic and about $1,000 less than everything I was seeing in stores by us!
Pro tip: if you order furniture from Wayfair be sure to also purchase their protection plan. My mom has been ordering furniture from Wayfair for years and using her plan. She has told me repeatedly it's worth the money.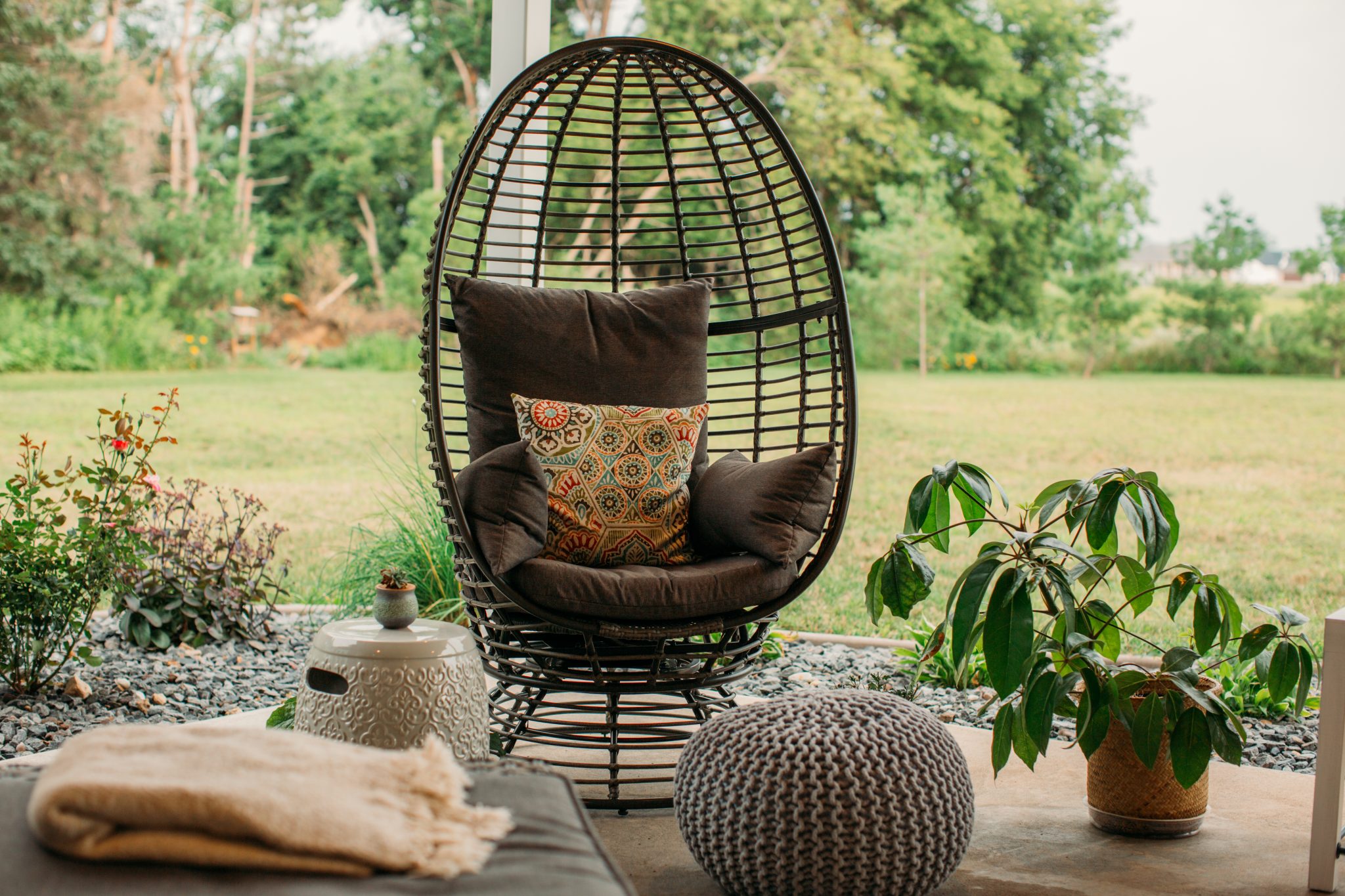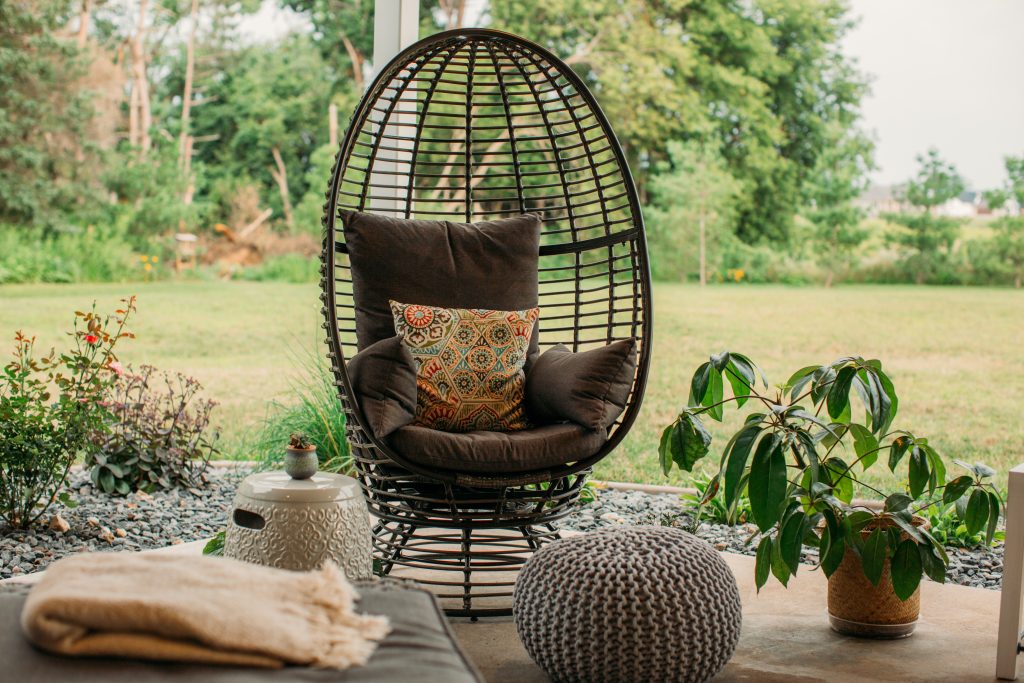 This egg chair I also found at the At Home store near where I live – this is it, but it's currently out of stock by me. (There is a similar chair back in stock on Wayfair.) I had been looking for a swing chair at first, but I landed on this one because it was so much more comfortable than the others! I love the way swing chairs look, but I haven't found one yet that I feel totally comfortable hanging out in. And our white bench was actually made by my father-in-law, Greg – he's incredibly talented!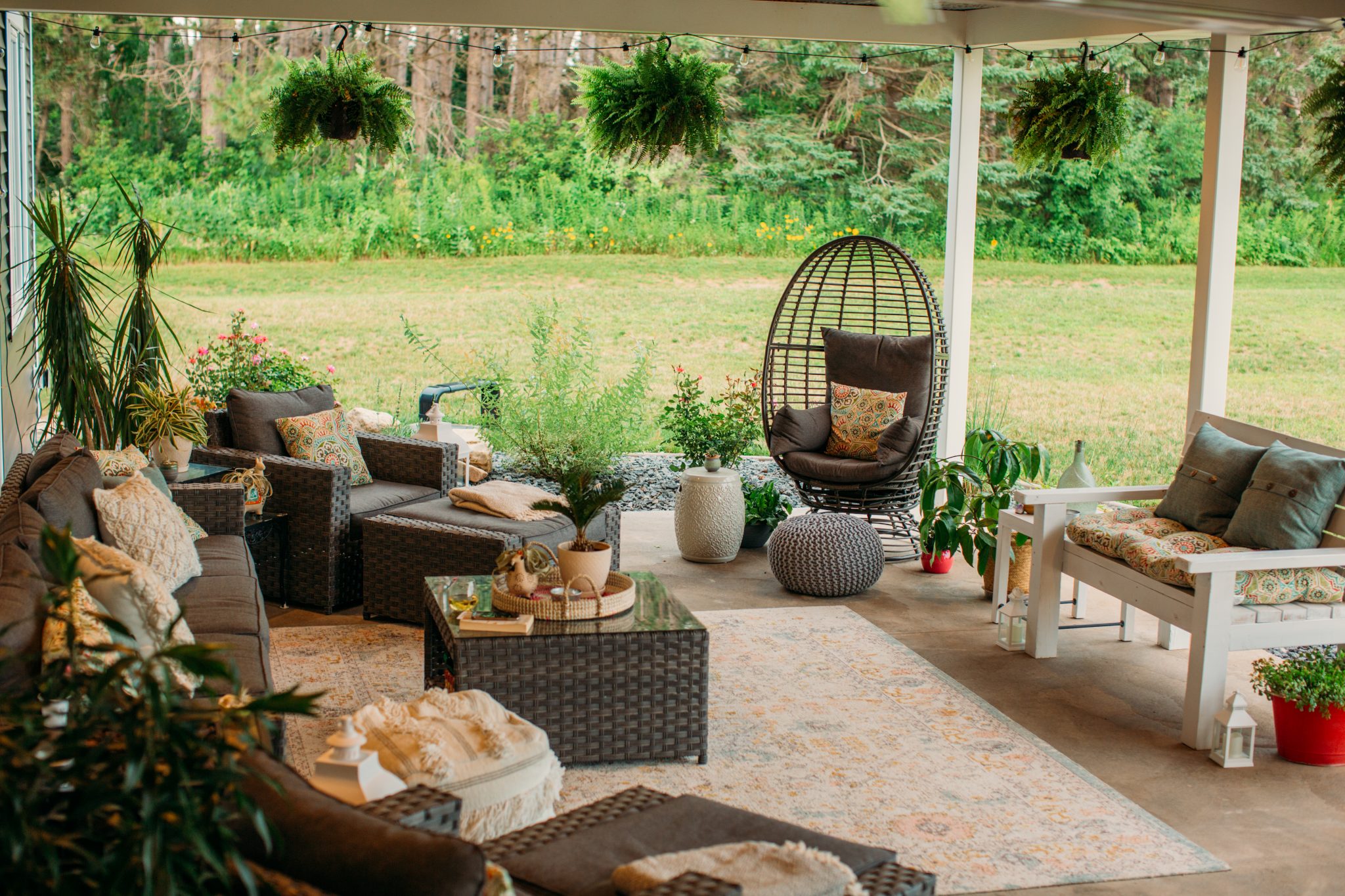 2.) Get a Few Pillows, Blankets, Rugs
Small touches, such as outdoor pillows, a couple blankets and a rug can really elevate your backyard living setup! I also went a little crazy and got a couple pouf ottomans. It makes the space feel more "homey" and inviting.
My husband thought this was all a waste of money initially (who needs pillows outside?! and those ottomans are going to get so dirty!). However, he's changed his tune on this one! He uses the pillows and blankets more than I do, and I've managed to keep my ottomans from getting dirty so far! (Heck, we've even been taking naps out here – it's great!)
All of the poufs, pillows and the rug that I have are from the At Home store near where I live. As crazy as it may sound, Amazon also has a great selection of outdoor pillows for similar prices as what I was seeing in stores. (My blankets I had ordered from Amazon too.)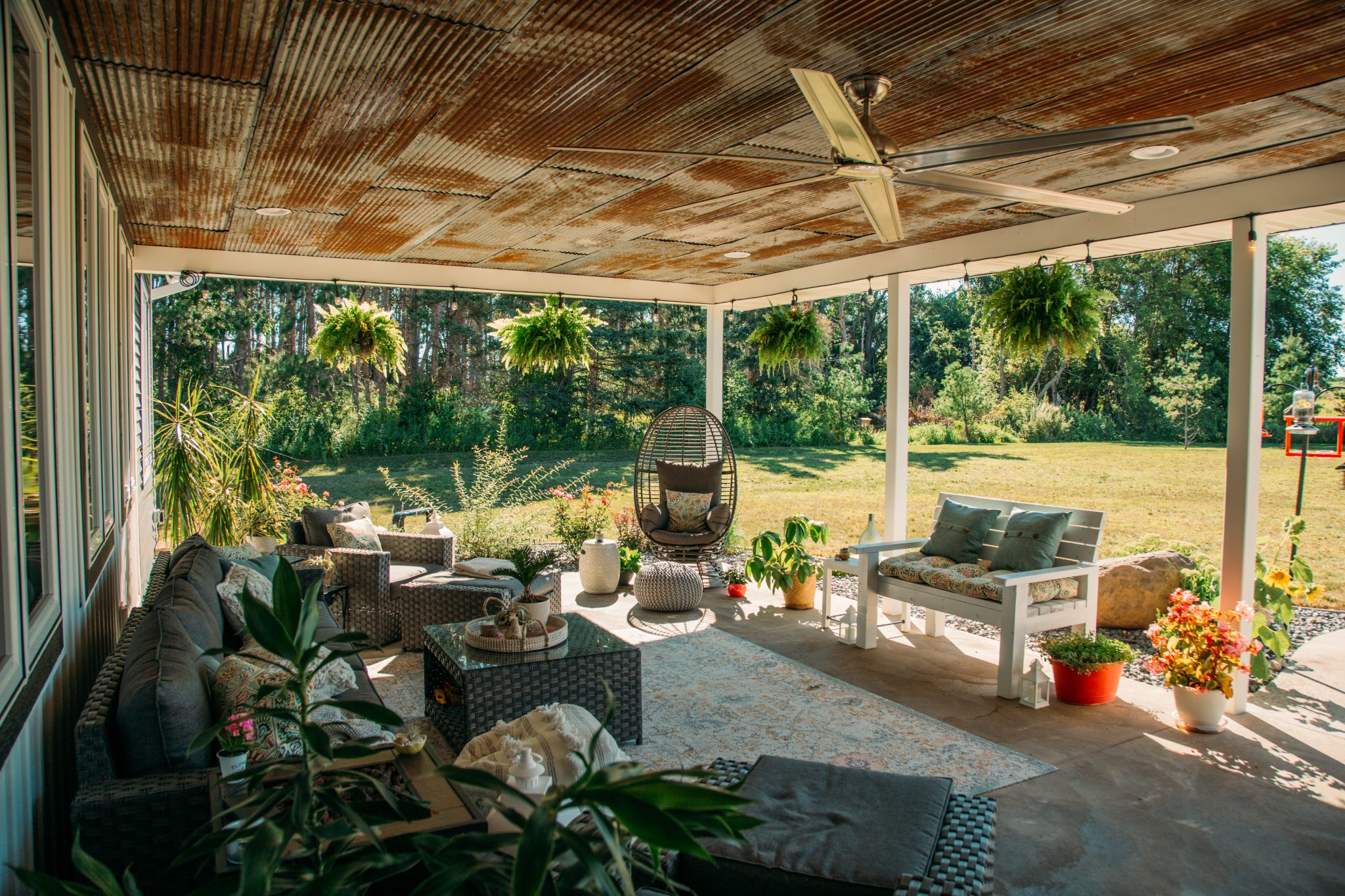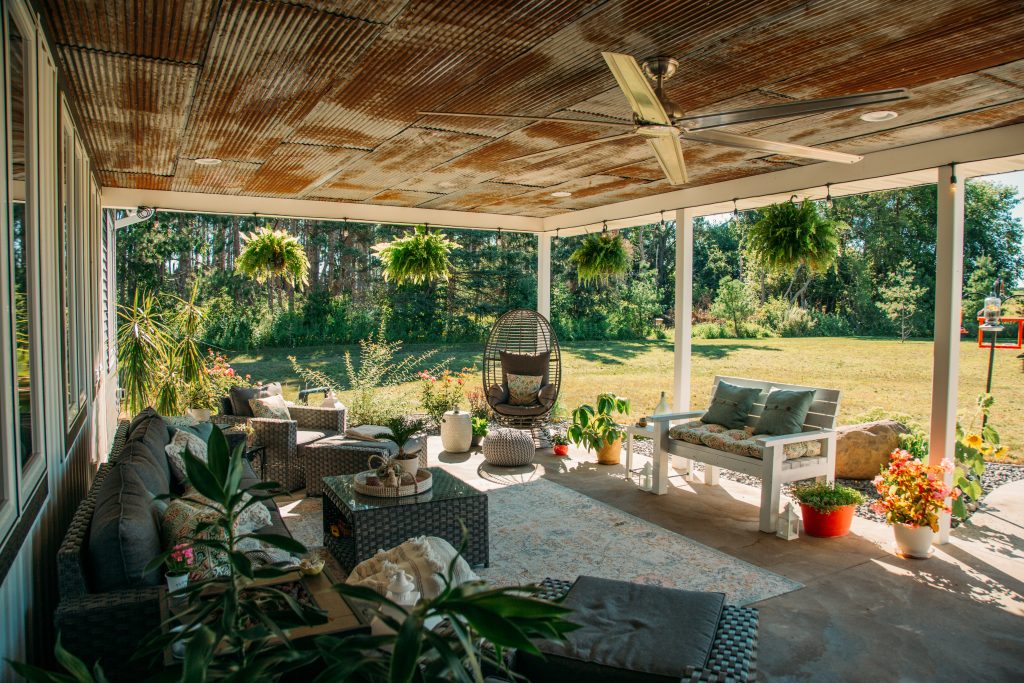 3.) PLANTS – GET ALL THE GREEN PLANTS!!!
As you can see, I have quite a few plants…and frankly, I think I need more! (I want a jungle out here!) Usually, when it comes to decor, I'm all for "less is more." However, when it comes to living plants… more is more. They add so much life and visual interest to an area. They've also been proven to reduce stress and improve your overall mood! These are things you want in your personal outdoor oasis.
Now, a lot of these plants are ones I had inside our home this winter. I just moved them outside once the weather warmed up. I did end up buying 4 Boston ferns specifically to hang out here. (I ended up ordering them online too from the Home Depot because by the time I realized I wanted them, every single store by us was sold out of them.)
I also ordered a few air plants off Amazon for far more reasonable prices than I was seeing in stores! That big Xerographica air plant was less than half the price on Amazon as it was in stores!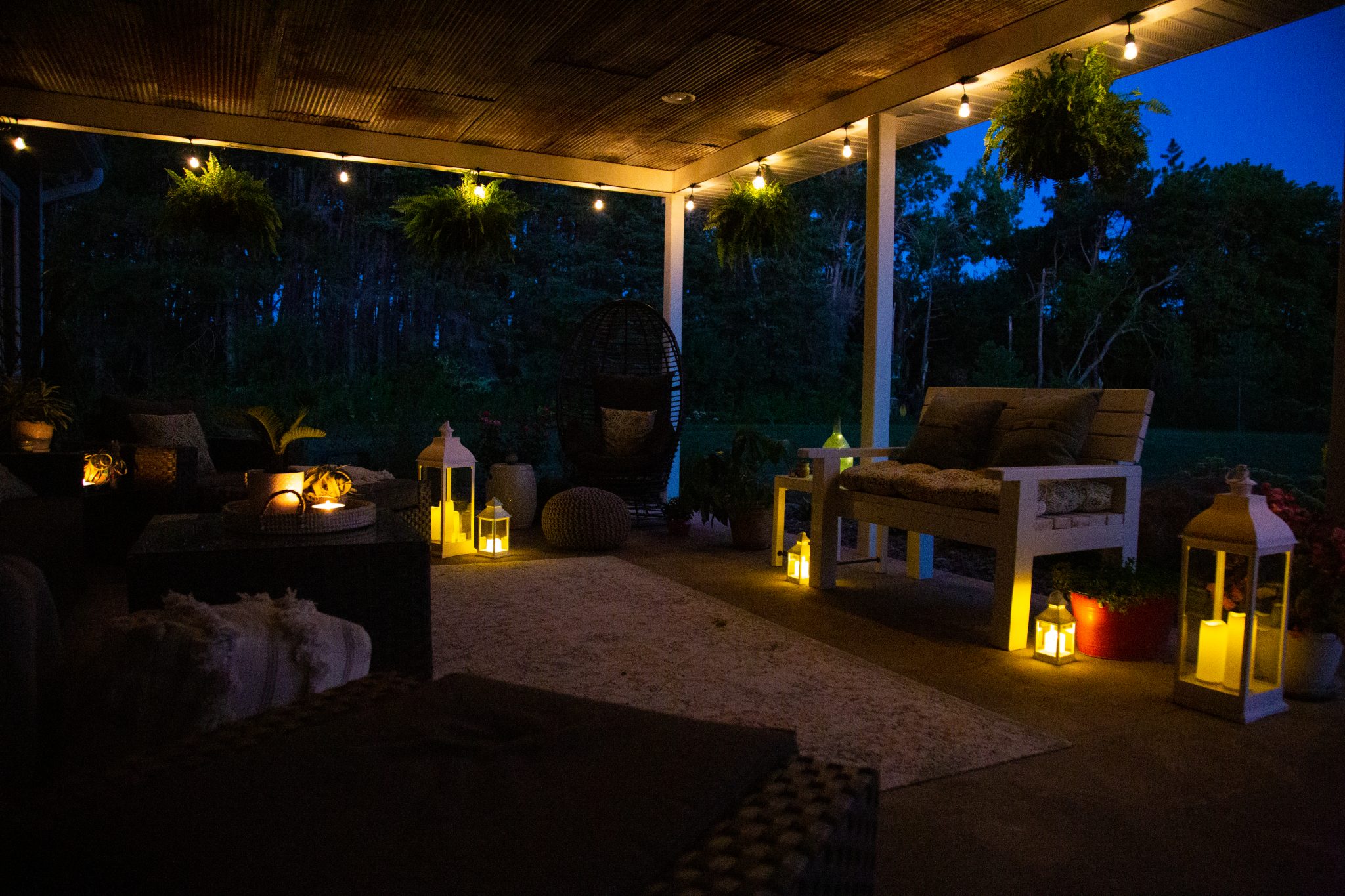 4.) Put Up Some Additional Lighting
Whether this is hanging string lights, getting outdoor decorative lanterns or ground solar lights – having lighting outside can really set the mood for your backyard living space!
This is something that I struggled with for no apparent reason. If you're especially observant, you'll notice that I don't have the same string lights in each photo. I had tried some inexpensive solar string lights from Walmart… but they didn't work at all! So, I just returned them and instead went right back to Amazon and ordered the set I have now (they are fantastic FYI, and my mom has the same ones too).
I also set out some decorative lanterns and citronella candles.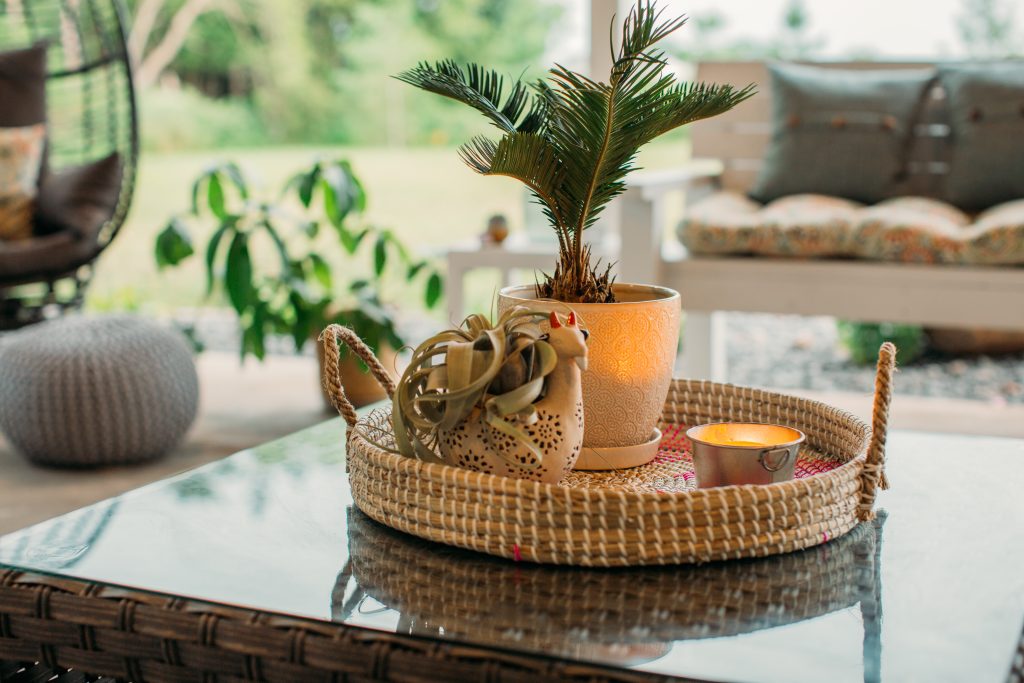 5.) Decorate With Unique Pieces of Decor That You Love
Find some fun little pieces of decor for conversation pieces around your patio. Whether it's interesting plants, rocks, knick-knacks, candles – you name it! Find something that makes you happy and can help spark a conversation when you're entertaining.
These llama planters filled with Xerographica air plants have really been a hit with everyone!
Next step: Bar Cart!
For me, the next step is putting together a bar cart to keep our drinks handy and to have something to easily bring food and snacks out. I haven't quite found what I'm looking for yet, but that will be added to this list next!
Shop my patio:
I'm happy to answer any questions anyone has in the comments section at the end of the post! And don't forget, I'm hosting a gift card giveaway to Wayfair, so you can update your home decor too. Click here to enter to win!
Before Photo of Our Patio: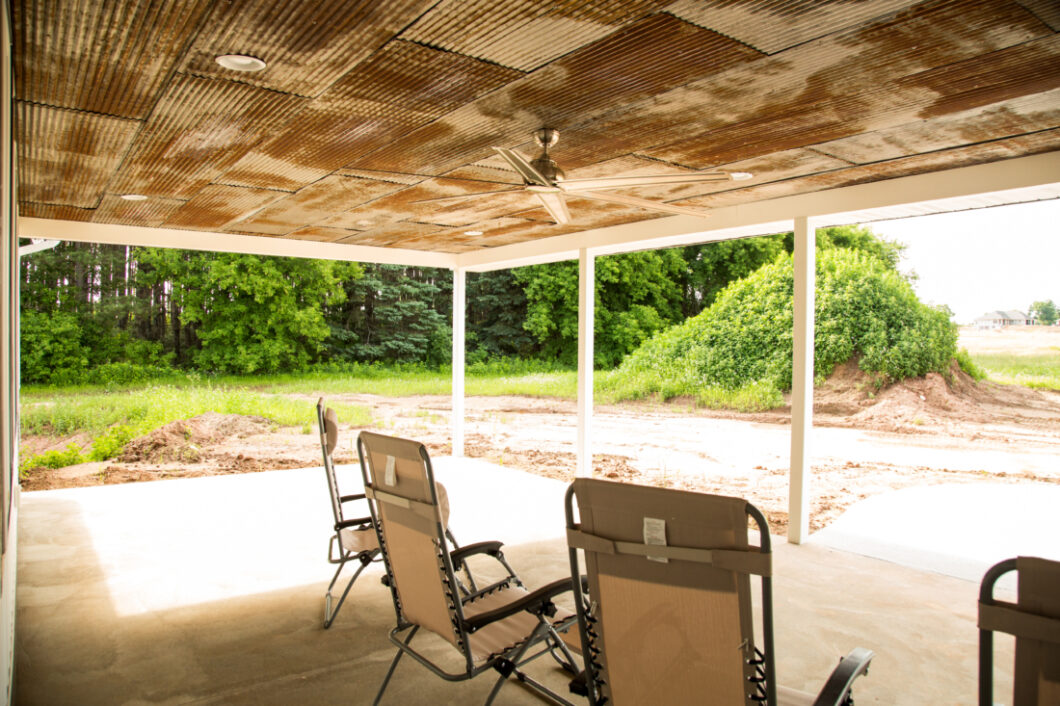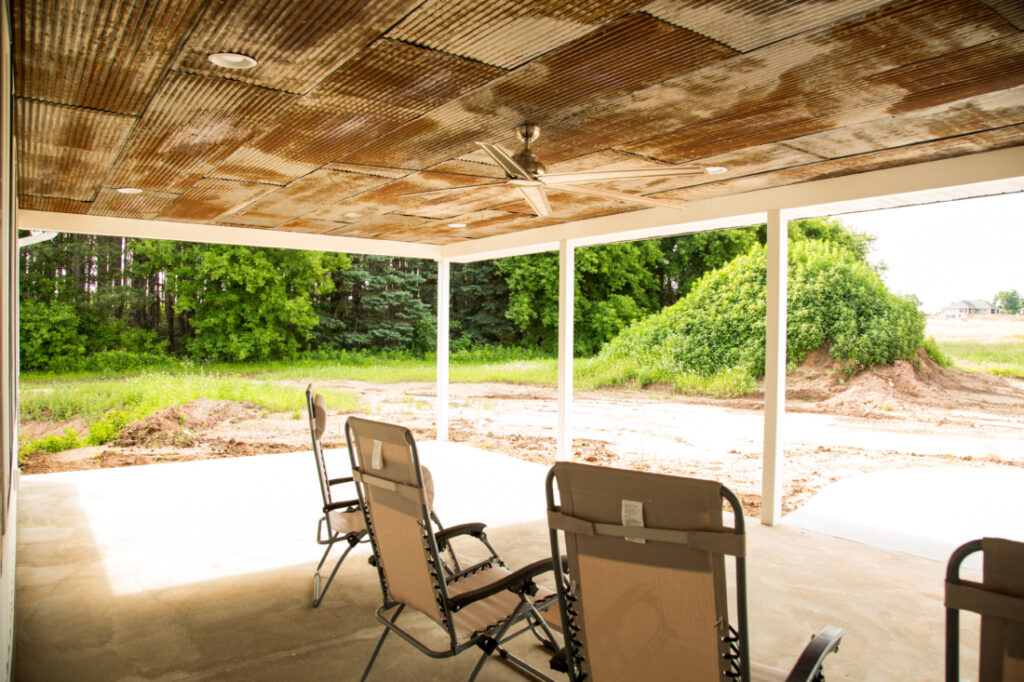 Few More Pics of the New Patio!

*Disclosure: some of these links are affiliate links. Meaning, if you click a link and make a purchase, Have Clothes, Will Travel gets a very small commission at no extra cost to you. Thank you for supporting the brands that make this blog possible!