Is Slumberland Furniture Legit? My Honest Slumberland Furniture Review
Are you wondering whether the furniture from Slumberland is legit? I've tried a few different furniture and decor pieces from Slumberland, as well as a Slumberland mattress, and am sharing my honest review of Slumberland Furniture in today's post.
Disclosure: some of the links in this post are affiliate links. Meaning, if you click a link and make a purchase, Have Clothes, Will Travel gets a very small commission at no extra cost to you. Thank you for supporting the brands that make this blog possible!
What is Slumberland?
Slumberland is a family-owned, Midwest-based furniture company. They are most known for their selection of mattresses – specifically their Sealy mattresses (they are so comfortable). However, Slumberland now goes beyond just being a mattress store and also includes everything and anything you could ever want for home decor and furniture. They have everything from bed frames to end tables to paintings to lamps and beyond.
Where is Slumberland located?
The closest Slumberland to me is in Stevens Point, Wisconsin. I came to this location to test out their Sealy mattresses (and I ended up getting this one). The staff here are fantastic, and really know their stuff when it comes to finding the perfect mattress for you. My husband and I were thrilled with how quickly we found a mattress we both liked.
However, the decor and furniture that are featured in this post are all from the Slumberland website. (I LOVE shopping online for everything.)
Other Slumberland locations include:
40 Slumberland stores in Minnesota
19 Slumberland stores in Wisconsin
11 Slumberland stores in Illinois
18 Slumberland stores in Iowa
10 Slumberland stores in South Dakota
9 Slumberland stores in Missouri
5 Slumberland stores in Nebraska
5 Slumberland stores in North Dakota
2 Slumberland stores in Kansas
2 Slumberland stores in Michigan
1 Slumberland store in Montana
1 Slumberland store in Wyoming
To find the Slumberland location closest to you, click here. And don't forget Slumberland furniture is available online!
How long does shipping take when ordering furniture online from Slumberland?
Slumberland's delivery time will vary depending on the items you ordered. For example, some items, like this sofa won't be available for 4-5 weeks. Where other items, like this recliner, are ready to go! (You can see this information right before the "add to cart" button.)
All of the Slumerbland furniture items I had ordered online had no wait time, and shipping to my nearest store (Stevens Point) only took a few days. Which, was really fast, in my opinion.
I had selected the free "Pick Up In-Store" option because my home address was just outside of the 60-mile radius for delivery to my home. Click here to see if your home is within the delivery radius.
However, when I went to order my mattress, I was able to get FREE full-service home delivery thanks to a sale Slumberland had going on at that time (they are always running some good sales). However, it took 3 weeks for the mattress to come back in stock and then be delivered to my home.
The delivery crew Slumberland sent was the most professional furniture delivery we have ever experienced. After having various delivery services from Steinhafels, Pottery Barn, Ashley Furniture, etc. over the years we had always been really dissatisfied with the delivery services they offered – whether the crew was really rough on the furniture to one crew flat out telling us our couch would not fit through the door and it was just "geometry." (Spoiler, it did fit. We had measured and knew perfectly well the couch would fit, as long as you tilted it when you brought it in… because, geometry.)
The crew from Slumberland was SO kind, they even were kind enough to move our old mattress to our basement and put the mattress encasement on that I had also ordered (as it goes all the way around the mattress, and is a beast to get on). Plus, they took all of the packaging from the mattress with them. They also kindly explained how to not void our warranty, the return process, etc.
I would shop at Slumberland again just to get that level of service again!
My Review of Slumberland Furniture Quality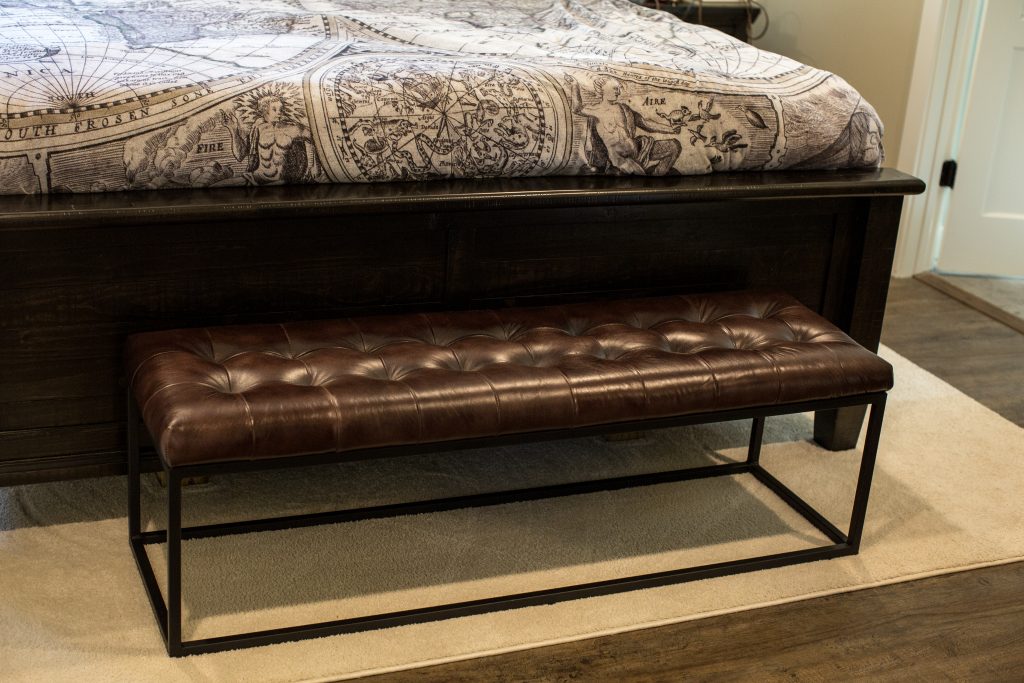 Strathmore Dark Sienna Leather Bench Review
I had ordered this bench for the foot of my bed. Partially because I like the way having a bench on the end of the bed looks, but mainly because Buddy can't jump into bed because it's too high. Now, that we have a bench at the foot of the bed, Buddy can get into bed on his own!
I had been looking for a bench for the end of our bed for YEARS…finding the right one was not an easy task. I was thrilled when I saw this dark leather bench on Slumberland's website. It looked like it would work perfectly in our bedroom.
And it looks just as good, if not better, in person! I am very impressed with the quality, especially for the price. Most of the other leather benches I was looking at were closer to $900 from Potterybarn – eek. This one from Slumberland was much more affordable and looks just as nice
Do I recommend this Slumberland bench?
YES! I love this bench and would order another for my entryway if it was just a tad smaller. This bench is also Buddy-approved! He loves that he can jump up in bed like a big dog, now.
Terracotta Botella Picuda Travertine Medium Long Neck Floor Vase Review
This terracotta vase is something I saw online and fell in love with. It's just over 4 feet tall and is a fabulous statement piece. I thought I might put it in my entryway, but after I got it home… I quickly realized it needed to be in a more visible spot of my home!
It's now front and center in my living room. It's a very pretty vase, that given its size and quality – I think is very affordable.
Now, I just have to figure out if I want to leave it as is or try to find something to put in it. What do you think? Should I leave it or try to find something to put in the vase? Let me know in the comments!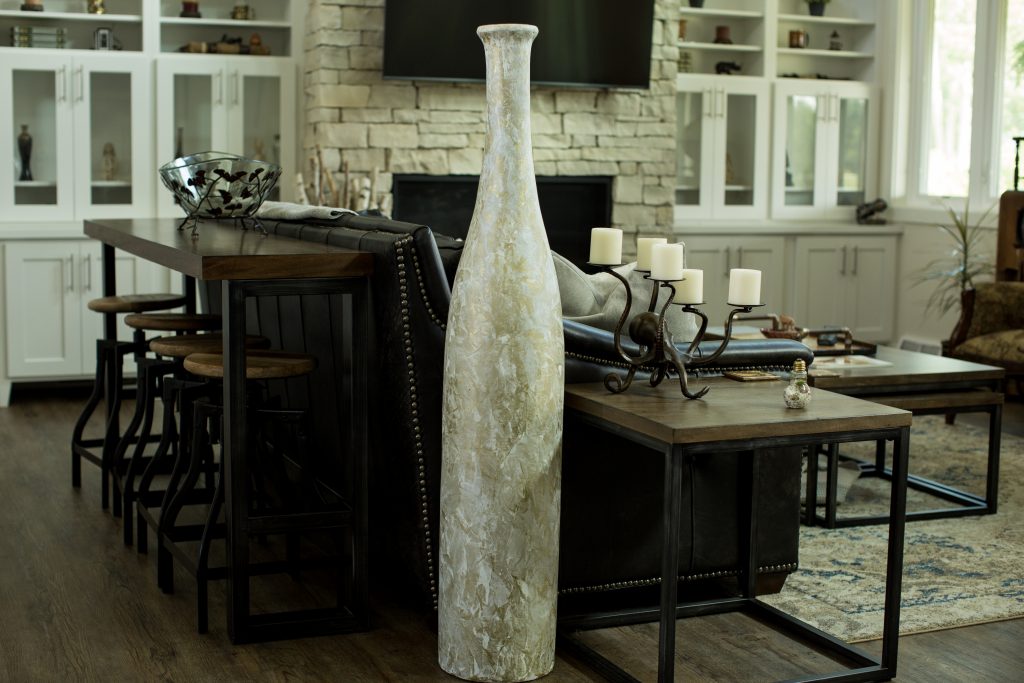 Do I recommend this Slumberland vase?
Yes! I am very happy with this vase. The photos on the website do not do it justice. It looks SO much cooler in person.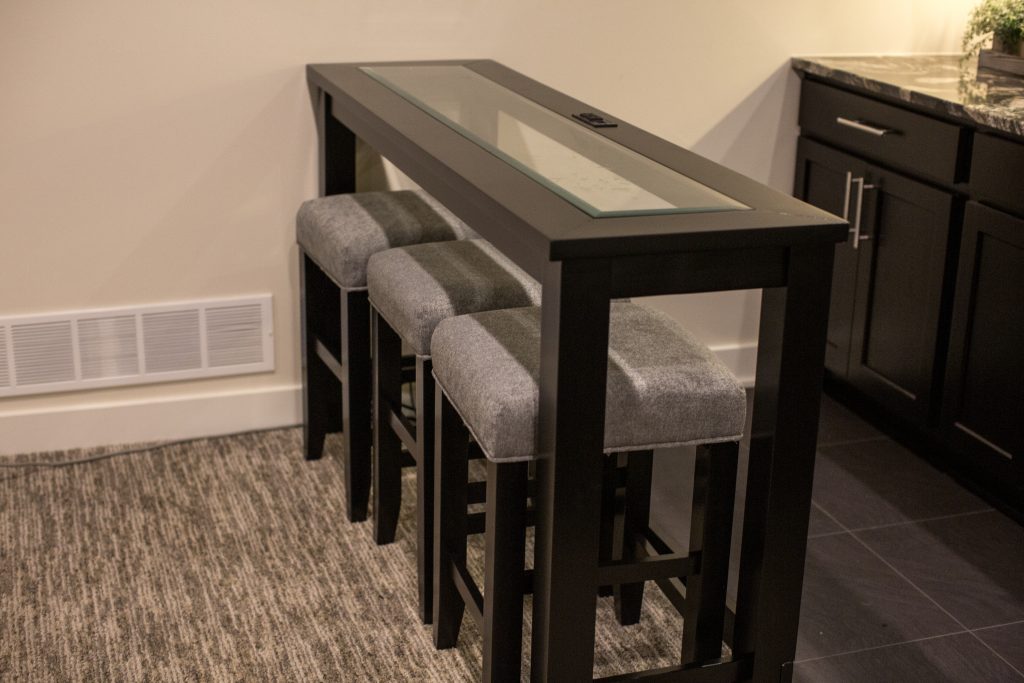 Urban Icon Black Sofa Table and 3 Stools Review
So, my husband and I have also actively been looking for YEARS for a bar for our basement. Everything has either been the wrong size or the wrong price. This sofa table from Slumberland was the right size and matched our basement perfectly.
This is table is meant to go behind a sofa, however, I do think it works fine free standing too.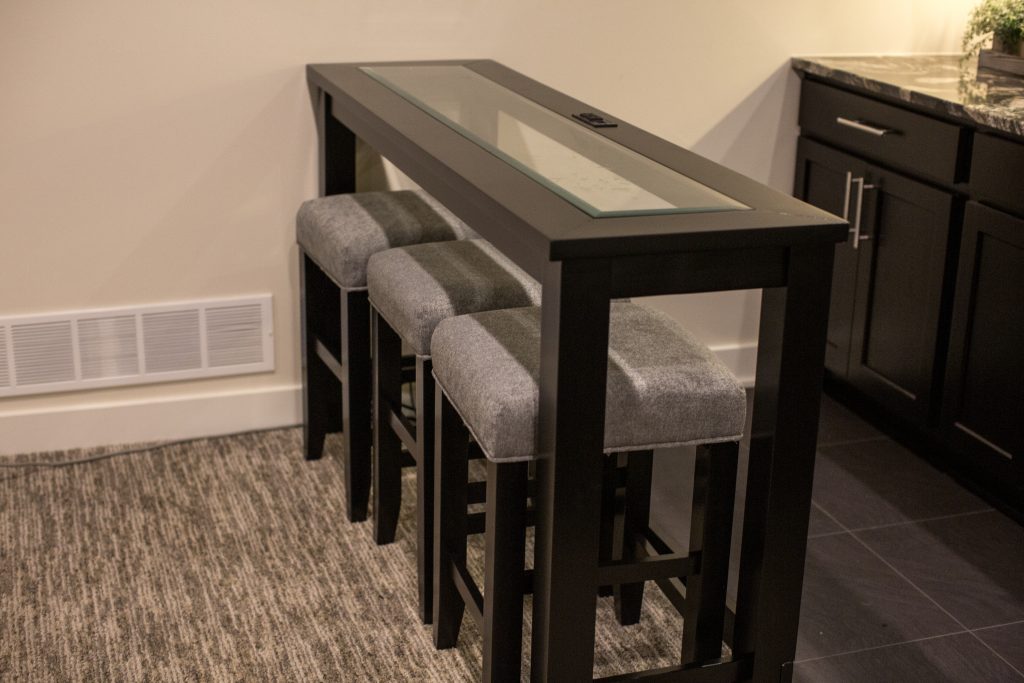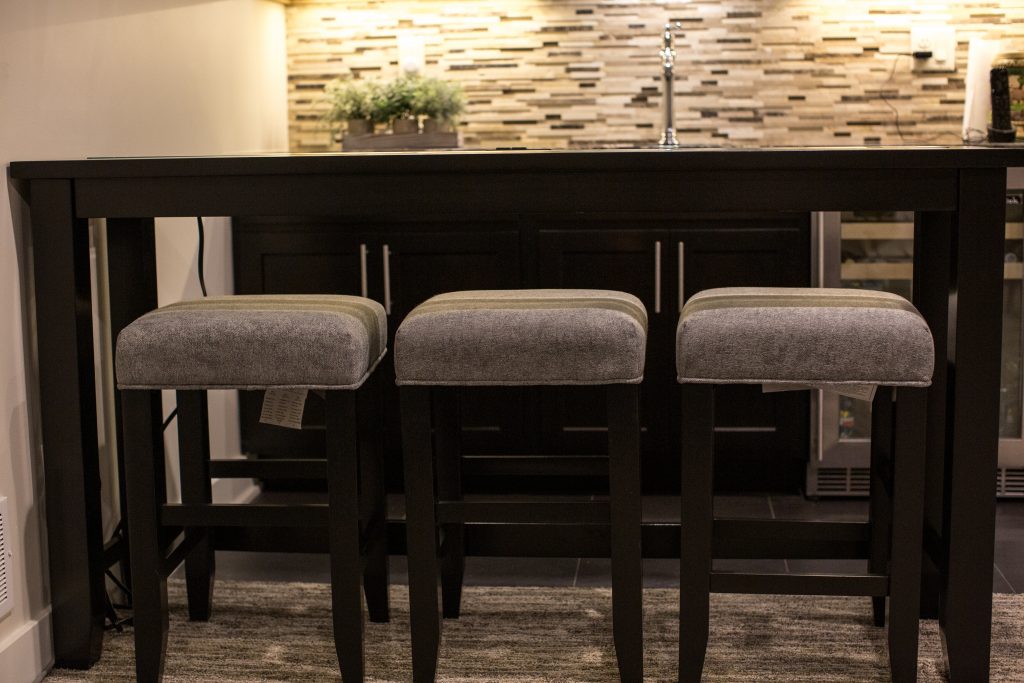 This one required some assembly too. My husband had put this table and the stools together, and he wasn't over the moon about the quality of the table as he was putting it together (he was also a little unsure of the glass part – it seems to not lay perfectly flat in the center).
Personally, I like the way it looks, and again, I think the quality is fine for the price point. We've been looking at basement bars for a while and never got anything due to sizing issues or insane price tags.
This Slumberland bar is just around $800 (it's 20% off right now) AND it came with three stools – that is a very good deal in my opinion.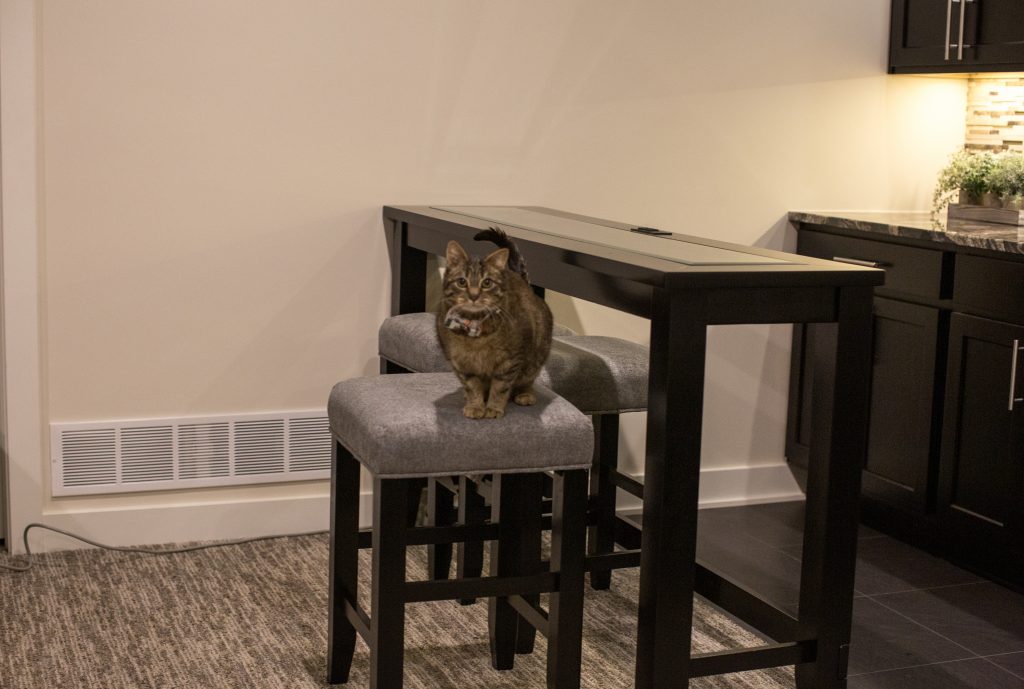 Do I recommend this sofa table with stools?
I like the way this sofa table looks, and for the price point, I think the quality is fine. My husband is less impressed with this one (due to the glass in the middle being a little wonky). The stools are also quite comfy, and I love that they are included. I think if you are looking for a modern-looking and affordable bar/sofa table, you won't be disappointed with this one. (My husband has been dreaming of having a rustic bar with crazy stonework that costs thousands of dollars… so, needless to say, our decorating ideas for the basement are a little different, haha.)
Overall, Would I Shop at Slumberland Again?
Yes, I'm actually updating this post as of November 2022, because I did end up shopping at Slumberland again for a new mattress. I ended up purchasing their Sealy Posturepedic Plus Hybrid Albany Medium King Mattress. I am adding a review of that below.
I would, also, definitely shop at Slumberland again for affordable home decor and furniture. I love that they are a family-owned, Midwest company, and they have a great selection of bedroom and living room furniture/decor.
Update: My Slumberland Sealy Mattress Review
During the last Slumberland mattress sale, I ordered my Sealy king mattress (above), Sealy king foundation, and a healthy sleep encasement (to protect the mattress).
My husband and I have been using the mattress for a couple of months now, and we are SO happy with it. We did not realize just how horrible our old box spring mattress was until we switched to this mattress. We're not waking up with any weird aches and pains anymore, and we're sleeping more soundly through the night.
So, far we are in love. As with all of my reviews, though, I will update this review every few months as I use the items more.
I also want to mention, the sales associate at Slumberland had suggested we purchase an encasement for the mattresses in order to protect it from sweat, spills, dust mites, accidents, etc. (These will all break down the foam portion of the mattress.)
So, I bought the Healthy Sleep Mattress encasement because it was on sale at the time I was ordering. I don't mind it now, but the first couple of weeks I slept on this, it felt weird. Sort of like sleeping on a plastic tarp. I almost sent it back and said to heck with it. However, after a couple of weeks, I did get used to it, and I am glad to have our new investment protected!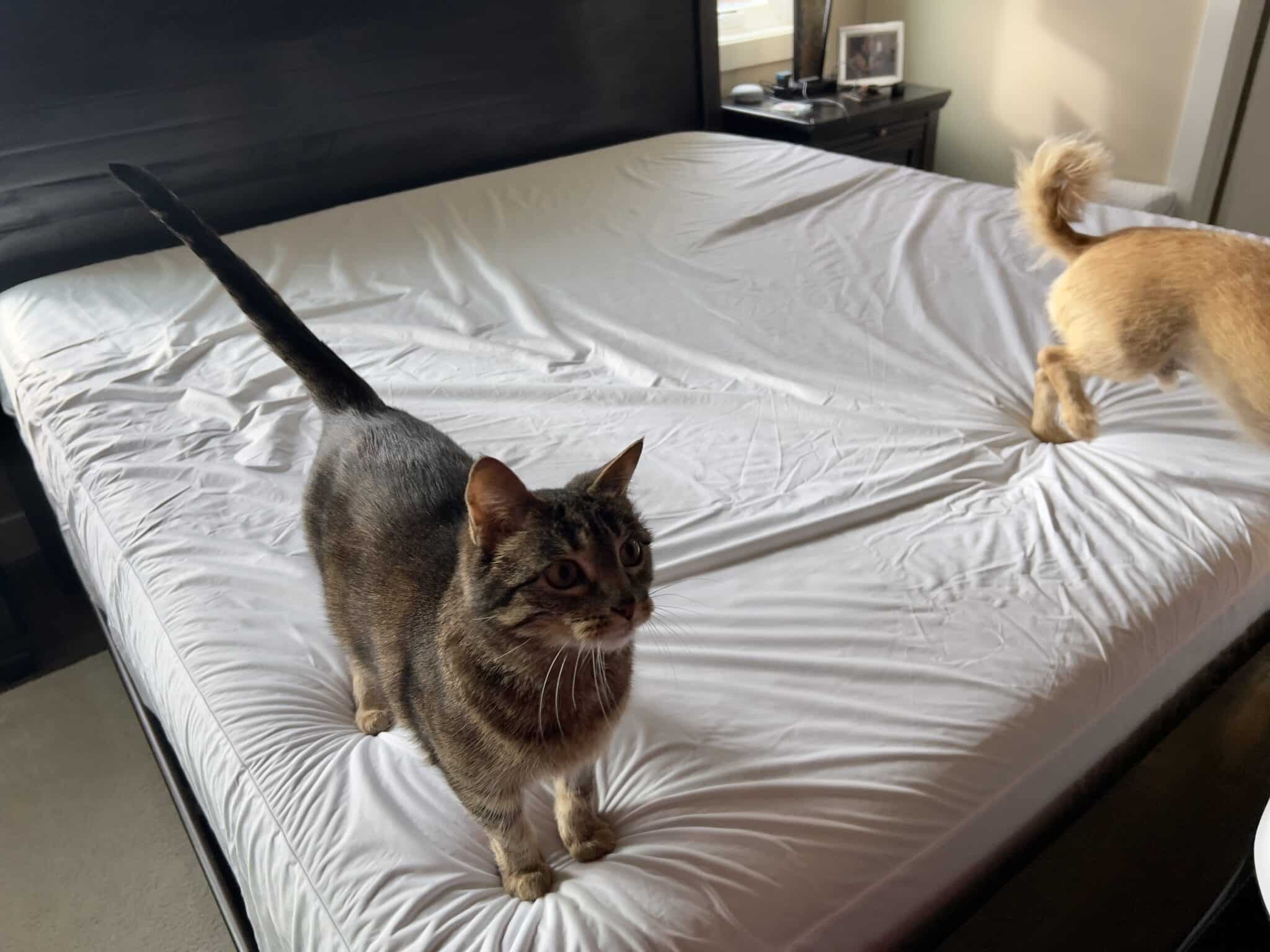 Do I recommend Sealy Mattresses from Slumberland?
YES. I am in love with this mattress! Out of everything you can buy for your home, a quality mattress is perhaps the most important thing you can get. It was so stupid that I was spending money on all of these new furniture items for our home but not upgrading our old mattress! Having a good night of rest every night and not feeling as though I got in a fight each night is a huge game-changer for my overall well-being. If you think you need a new mattress, do not hesitate to order one!