21 Awesome Cheap Egg Chairs That Won't Break the Bank
Egg chairs. They're chic, comfy, and best of all—Instagrammable! I mean, how many times have you seen my egg chair on my Instagram? Haha. The problem is, they're usually quite expensive. I found my egg chair for a little over $300, which I considered a win compared to many of the prices I was seeing when I was shopping around. (Many of them were close to $1,000 or more!!)
So, for this post, I've rounded up 21 awesome cheap egg chairs that are all available online. I realize "cheap" is a relative term, though. So, I made the cutoff for this list $500. All of the chairs in this post are going to be less than $500. Happy shopping!
*Disclosure: some of these links are affiliate links. Meaning, that if you click a link and make a purchase, Have Clothes, Will Travel gets a very small commission at no extra cost to you. Thank you for supporting the brands that make this blog possible!
20+ Affordable Egg Chairs That Are Less Than $500
Egg Chair Hammock/Hanging Swing Chair With Stand
This cheap egg chair is built with comfort and stability in mind – it would be the perfect addition to an outdoor patio or garden. Plus, it's made to be outdoors and even comes with UV-resistant cushions and a stand. (It's less than $300!)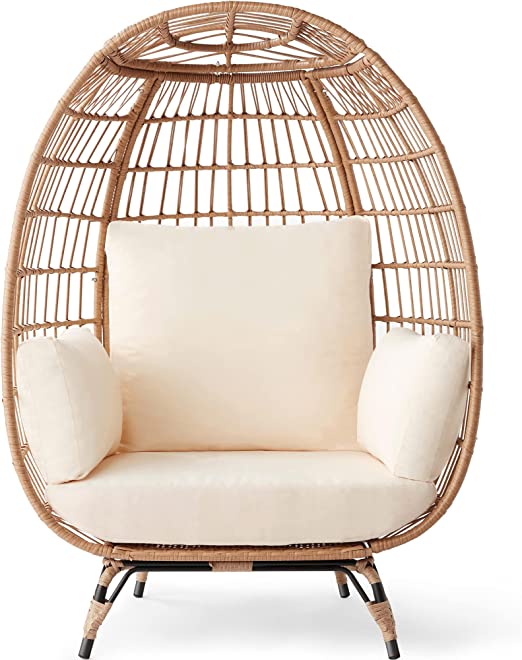 Best Choice Products Wicker Egg Chair
Best for pleasant weather and outdoor gatherings, this Best Choice Products Wicker Egg Chair adds a charming boho feel to your patio, lanai, or outdoor garden. It has attractive wicker accents, a water- and UV-resistant finish, and dyed polyester pillow cushions all styled in neutral tones to match any outdoor décor.
Foldable Wicker Hanging Egg Chair Without Stand
Stylish and versatile, this wicker hanging egg chair can function as a hammock and swing chair in the patio, deck, garden, and even the kids' room. It's foldable, lightweight, and portable enough to let you carry it anywhere (including the seat cushions and metal chains) and set it up in just minutes. It's also easy to hang from a tree, ceiling, or any sturdy overhang.
JOINHOM Hand Woven Wicker Egg Chair
JOINHOM Hand Woven Wicker Egg Chair made of rattan in unique light brown color is a lovely addition to your porch and lounge area. It's built with a durable PE wicker and sturdy iron frame for easy maintenance and has a solid but comfortable craftsmanship that lets you sit back and relax in style outdoors.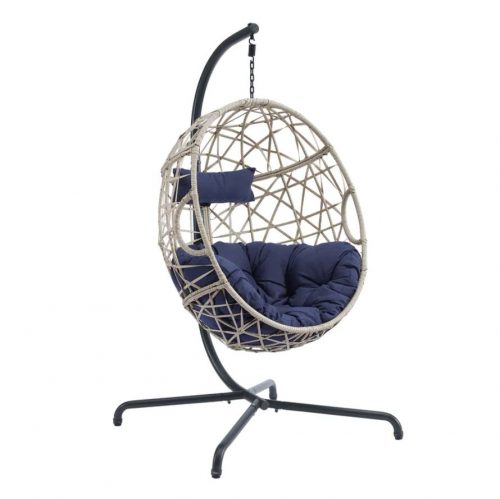 Faringham Swing Chair with Stand
This Faringham Swing Chair looks stylish, functional, and lets you sit back with ease. Its resin rattan material makes it water-resistant and free from mildew and fading, plus, the heavy-duty metal chain and spring provides ample support for up to 250 lbs. This affordable egg chair is also equipped with upholstered cushion and headrest pillow for ultimate comfort.
Tracey Boyd Chelsea Oversized Outdoor Egg Chair
Part of the exclusive collection for At Home, made by award-winning London fashion designer, Tracey Boyd, this Oversized Egg Chair is a classic investment to have at home. It's crafted from all-weather wicker, metal, comfy seat cushions—all made of high-quality materials—to last you for years.
Hamptons Outdoor Swivel Egg Chair
This is the egg chair I bought last summer! Lounge in style and comfort in this Hamptons Swivel Egg Chair featuring open-weave light-hued wicker and steel wrapped in the same material to make it weather resistant. Its classic hues and rounded lines create a calming and modern aesthetic when placed outdoors and work just as well even when placed in the sunroom indoors. (I also use it in my basement as a reading chair during the winter months!)
Ulax Furniture Swivel Papasan Egg Chair
Simple and elegant, but holding a unique aesthetic appeal, Ulax Furniture's Swivel Papasan Egg Chair is an investment piece made of high-quality wicker, powder-coated steel, and ergonomic cushions. Its unique woven pattern and classic color blend well with any home's decorative style, and its 360-degree swivel function adds extra merriment to your leisure life.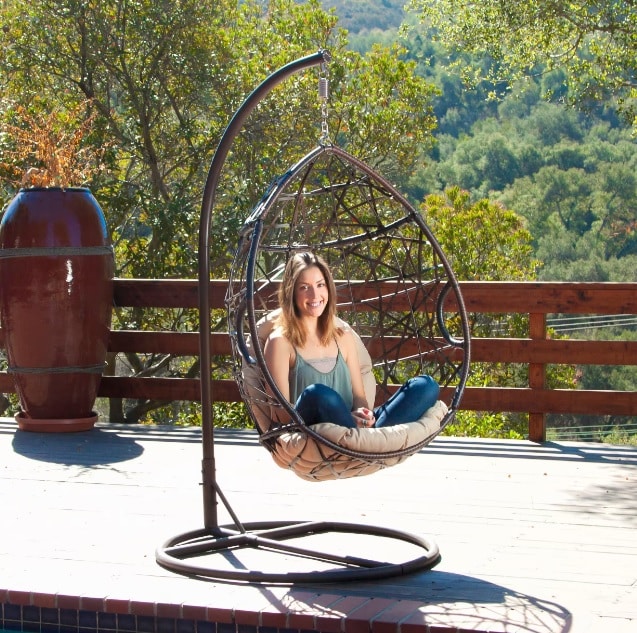 Stefanie Brown Wicker Patio Swing with Beige Cushion
Comfortable and perfect for chilling, this Stefanie Brown Wicker Hanging Egg Chair can be a stylish focal point in your personal nook indoors or outdoors. The chair features Durable PE Rattan for a weather-resistant finish and includes a cushion and backrest for comfort.
Black Wicker Outdoor Patio Egg Lounge Chair with Gray Cushions
Enjoy the great outdoors with Black Wicker Outdoor Patio Egg Chair in black. It's the chair to have when relaxing in the garden with friends and family. It has a simple yet elegant basket shape and a thick padded seat with cushions for extra comfort. Its steel frame and wicker polyethylene rattan material can withstand harsh elements. This chair is also backed by a 2-year limited frame and fabric warranty.
Southport Patio Egg Chair – Opalhouse™
Take a relaxing sit in Opalhouse's Southport Patio Egg Chair, a deep-seated egg chair that's comfortable as it is stylish. It's large (59.84 inches (H) x 45.28 inches (W) x 43.31 inches (D) in dimension) and visually appealing to stand on its own and can complement other existing home decors. Whatever the occasion, this chair with its thick and comfy side and back cushions is a safe space to sink and relax in any day.
Vidaxl Velvet Swivel Egg Chair in Light Green
While outdoor egg chairs are all the rage right now, there are also some fabulous indoor options out there too. This elegant velvet egg chair combines style and comfort and is the perfect nook to read a book, watch a movie, or relax in. Its light green velvet material adds a pop of pastel color to your living or office space and is upholstered with a thickly-padded foam and a removable seat cushion.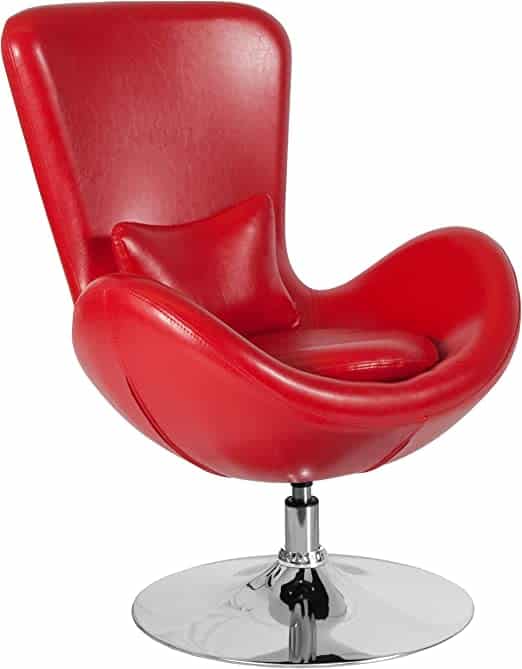 Flash Furniture Egg Series Red LeatherSoft Side
A chic and contemporary version of the standard egg chair, this modern Flash Furniture Leather Egg Chair adds a unique flair to any room, particularly in an office space or living room. It's softly padded and upholstered—made of blended leather—for maximum comfort.
Pellebant Rocking Egg Chair with Folding Canopy
A rock-able statement piece ideal for any outdoor patio, the Pellebant Rocking Egg Chair makes for endless hours of reading and meditating. Its main feature is a retractable folding canopy top to prevent sunlight exposure. It's solidly constructed in a sturdy aluminum frame and comes in a comfy thick cushion. It's also available in multiple colors.
Gavilan Indoor Wicker Teardrop Chair
A snuggle-worthy teardrop chair by Christopher Knight Home. Those working in a creative space may find this an ideal décor or a statement piece in a modern living area set up. Designed for durability, it features a weather-resistant, long-lasting woven finish, waterproof cushions, and an eye-catching abstract mesh design.
Pintan Outdoor Wicker Swivel Egg Chair
This Pintan Outdoor Wicker Swivel Egg Chair is a cocoon of comfort ideal for an indoor garden or patio. It's 28.00 inches deep, 30.50 inches wide, and 58.00 inches high in dimension and has a water-resistant cushion for casual comfort as well as a swivel function that lets you move leisurely from side to side. Available in classic grey, light brown, and beige.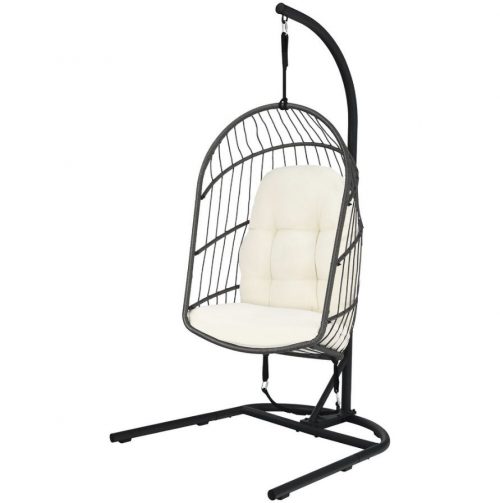 Foldable Costway Hanging Wicker Egg Chair
Create a dreamy outdoor relaxation spot with the Costway Hanging Wicker Egg Chair. It features a modern design to easily blend with your home decoration, as well as a triangular C-type base metal structure for added sturdiness. It has anti-slip foot pads to avoid damaging the floor and is foldable to save space.
PEAK HOME FURNISHINGS Egg chair
This all-weather Egg Chair is a modern boho patio dream chair. It's crafted with a powder-coated strong steel frame and is wrapped in handwoven premium PE wicker. It's a must-have to complete your outdoor oasis and can be the perfect place to chill, read, and be one with nature.
Luxury Living Furniture 2 Black Metal Frame Stationary Egg Chair
Experience unparalleled comfort with this beautiful and affordable egg-shaped chair set, crafted from the highest-quality steel and built to withstand even the harshest weather. This lightweight set is also easy to rearrange at a moment's notice.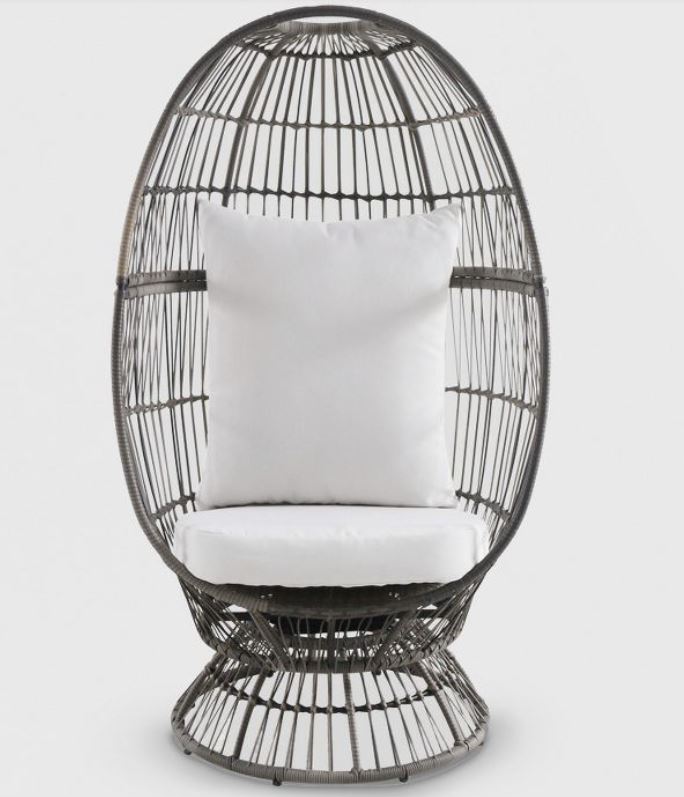 Latigo Swivel Patio Egg Chair in Brown – Opalhouse™
This Latigo Swivel Patio Egg Chair will make you want to curl up with a good book or listen to your favorite podcast. The chair's open-weave design lets in ample breeze to cool you down during summer months outdoors, while its soft, thick cushions and swivel feature allow you to relax fully at whichever angle you prefer indoors.
Indoor Outdoor Rope Weave Pet Chair
Your furry friends can join you on the patio this summer with their very own egg chair! How cute is this little pet chair from TJ Maxx?!
Now I'm curious, which of these egg chairs is your favorite? Let me know in the comments!