10 Cute Novelty Handbags (Available Online)
Searching the internet for cute novelty handbags is one of my favorite pastimes. Sometimes, just knowing that they are out there makes me happy. And, sometimes, I can't help myself and buy them allll!
If you're new to my blog, I invite you to check out my favorite "faux camera bag" post and my 2D Jump From Paper bag. I also am the proud owner of a ladybug purse, ice cream cone purse, studded lips bag, and kitty cat bag! (Some photographic proof is below.)
10 Cute Novelty Handbags (Available Online)
A couple of years ago, I did a round-up post like this one featuring some fun novelty bags I had found online – and it's still one of the most popular posts on my blog! So, I'm going to do an updated list of what I think are some of the cutest novelty handbags online right now. Enjoy! And I'd love to hear your favorites in the comments section at the end of the post.
*Disclosure: some of these links are affiliate links. Meaning, if you click a link and make a purchase, Have Clothes, Will Travel gets a very small commission at no extra cost to you. Thank you for supporting the brands that make this blog possible!
1.) Bambi Crossbody!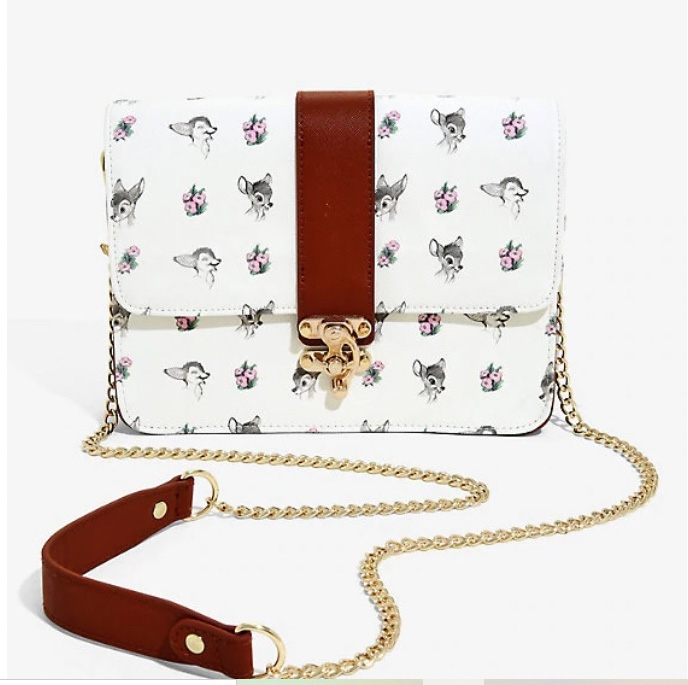 OH MY GOSH. I am a huge Bambi fan, and this crossbody is the cutest bag ever! The gold details remind me of some of the pricier Kate Spade bags I own too. Fortunately, the price tag on this bag is wayyy less, AND it's on sale right now. The brand name is Loungefly, which would be the same folks who make my Stormtrooper bag – and I've been using that one for almost 4 years now, and it's still in great shape.
However, this one is sold via the website BoxLunch, which has a ton of adorable pop culture items to pick from right now. (Including a Bambi backpack!!) And for every $10 spent on BoxLunch they will help provide a meal to a person in need through their partnership with Feeding America. Pretty awesome!
---
2.) Tiny Cabana Dot Elephant Crossbody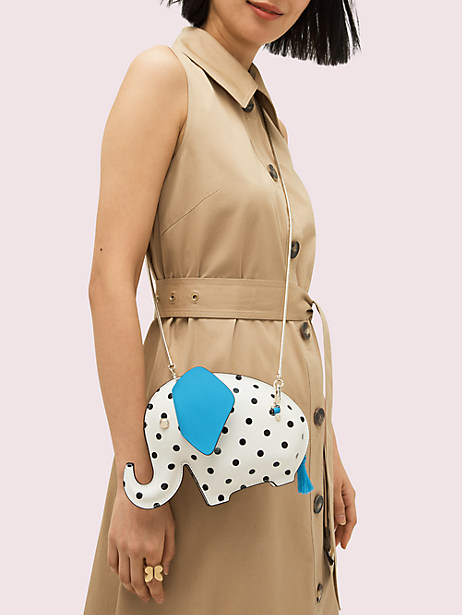 Speaking of Kate Spade, though…what's a quirky handbag list without at least one Kate Spade bag? This little elephant purse is making the list because, of course, it's cute, but mainly because they also are making a matching cardigan! How fun is that?
---
3.) Phone Bag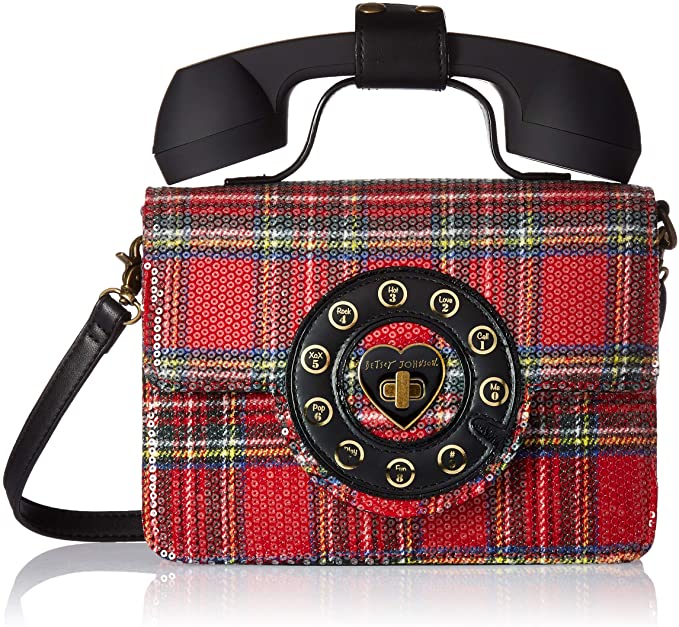 Oooh, Betsey Johnson has a new phone bag! Her phone handbags actually work. You can plug the handle into your cellphone and take calls from your purse, haha.
---
4.) Cake Bags

I spent the most time on this post trying to figure out which "fashion treat" by CukiBags to include in this post. She has so many FANTASTIC creations that look good enough to eat! Talk about a conversation starter. Could you imagine walking around with such a realistic-looking cake bag? Haha. I need one of these in my life!
---
5.) Beer Cooler Handbag
Who knew a beer cooler handbag could look so classy? It looks like you're off to the world's fanciest picnic with this handbag! Mary Frances always has the BEST and most detailed novelty handbags. I am continually blown away every time I see one. (There's also a champagne bucket bag…if beer isn't your thing.)
---
6.) Wonder Woman Handbag!
Usually, I'm team Marvel, however, I'll make an exception for Wonder Woman! She's arguably the best woman super hero out there! Even if you're not a fan of comics…I don't know how you couldn't like the Wonder Woman movie?! I love that this Wonder Woman handbag also has a detachable strap and a zipper closure. It's from Hot Topic…they carry all kinds of fun pop culture items, even if Wonder Woman isn't your jam.
---
7.) Dinosaur Handbag
I think it's a rule that every novelty handbag roundup post must include a dinosaur handbag in some form. This one is a knockoff of an old Kate Spade dinosaur bag from awhile back. But hey, it's still super cute, in my opinion! (And cheaper too!)
---
8.) Newspaper Handbag

As a former journalism student, anything newspaper-themed will always get my heart going! This newspaper bag is not only adorable, but it's also very affordable. It's less than $5!!
---
9.) Fishbowl Purse

How whimsical is this fishbowl purse? I love its circular shape – ya know, just like a fishbowl. Super duper cute!
---
10. Hot Air Balloon Bag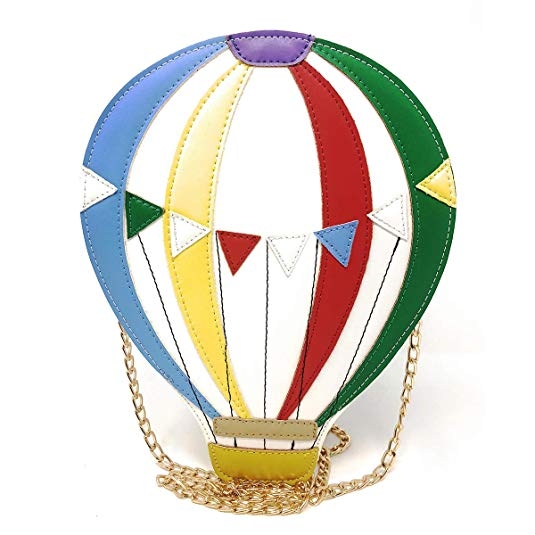 I am on a hot air balloon kick this year (Cappadocia started it all), and this handbag is pulling at my heart strings! I love it!
---
Bonus Novelty Handbag: Ramen Handbag

I couldn't help myself…I had to include one more food handbag here! Look at that ramen! It looks good enough to eat. Not sure if this falls in the "cute" category as far as novelty bags go…but it sure is interesting! Haha.
My husband is a ramen nut, and he is actually encouraging me to buy this handbag. (I think he's hoping that using it will help me crave it more often…and we'll start eating it on a daily basis. He can dream!) This bag is by Rommy de Bommy, and they have SO many crazy food-themed bags!
Now, I have to know, which handbag is your favorite? Let me know in the comments!
I am a participant in the Amazon Services LLC Associates Program, an affiliate advertising program designed to provide a means for us to earn fees by linking to Amazon.com and affiliated sites.