Trying Trends – Faux Leather Leggings & Athleisure
I am not the first to try a new trend, I usually sit back for a couple years and see what happens before I add any of the current trending pieces to my wardrobe. Faux leather leggings and athleisure are two looks that have been going strong for a while now. However, if it wasn't for my friends over at Femme Luxe sending me these pieces, I don't think I ever would have given them a shot!
So, without further ado, here are my thoughts on wearing both faux leather leggings and athleisure (not at the same time, of course)!
My Thoughts on Trying Faux Leather Leggings
Black faux leather leggings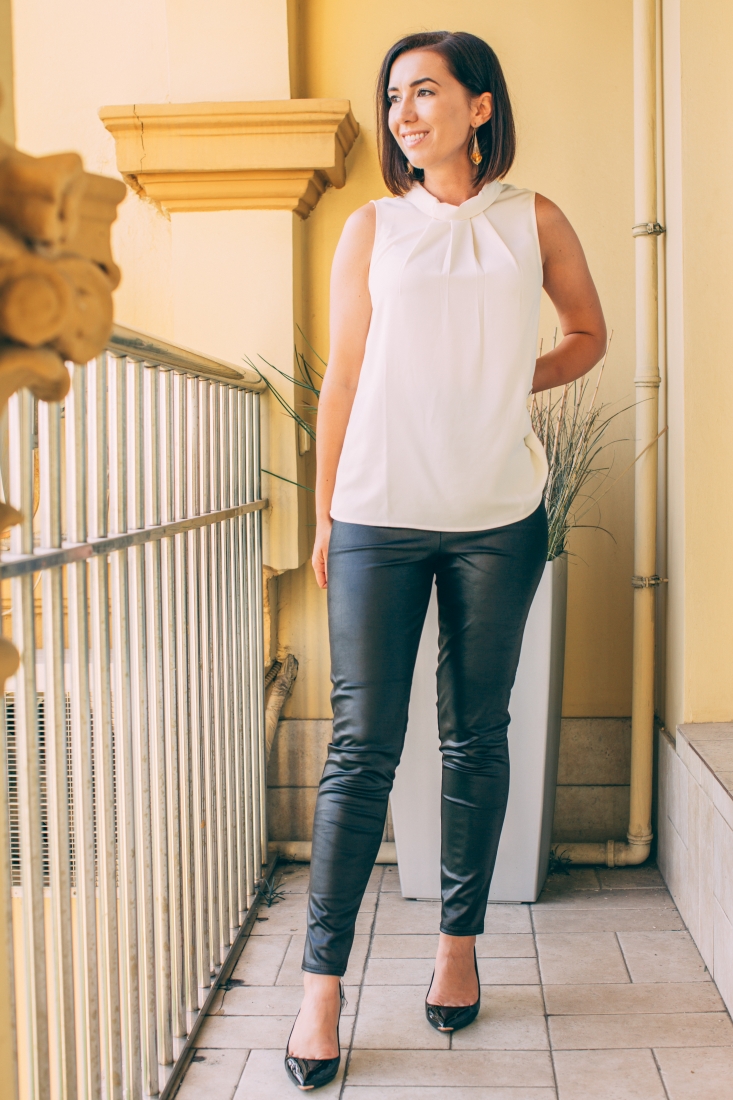 Initial reaction
So, I'm going to be honest here. When I ordered these leggings, I was picturing them to be more of a thick, pleather material…if that makes sense? Fortunately, that is not the case. I was relieved that they are made of mostly polyester and aren't too difficult to get on.
They're also mercifully not see-through and look more like pants than leggings. I can get away with not having my bum completely covered when I wear them.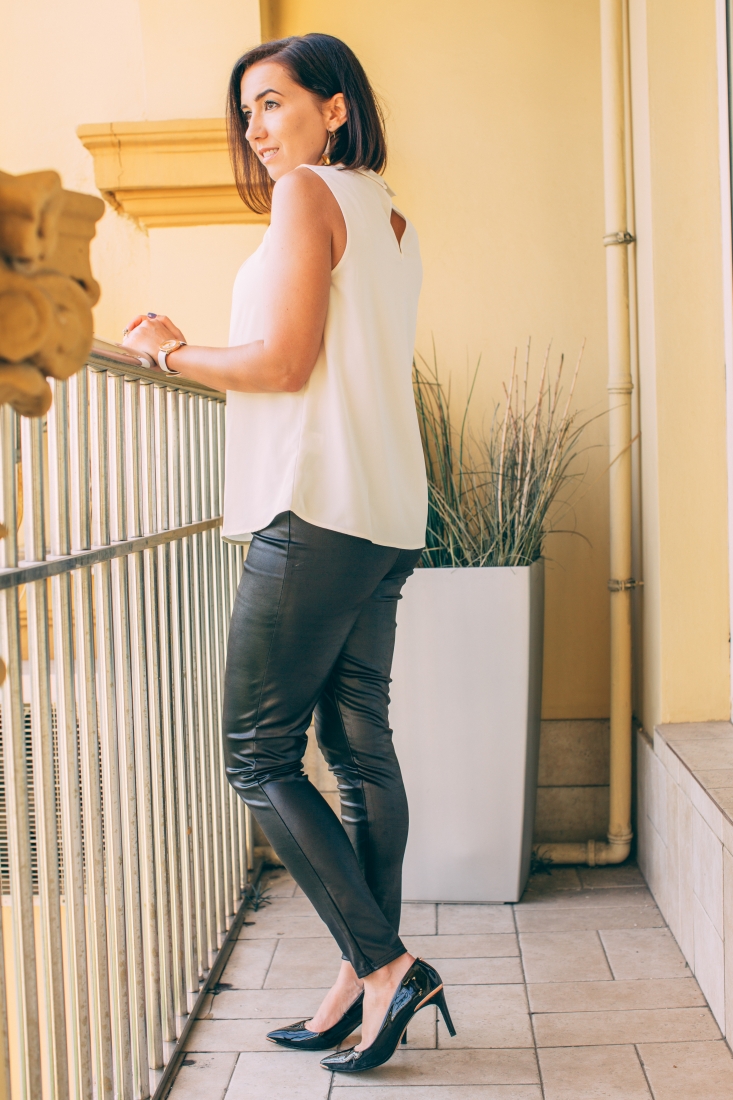 Quality
This pair from Femme Luxe won't be winning any awards for quality. There are already some threads hanging from the seams, and no one will think I paid hundreds of dollars for them.
However, these are less than $20…so, with a price tag like that, I can't really complain too much.
Verdict – Will I wear them again?
Honestly, I'm surprised by how well I like this pair of leggings. I never in a million years would have thought that I would wear leather or leather-looking leggings/pants. I like the way they look paired with a feminine top and pumps. I like the contrast it provides.
I also can see myself wearing them in the fall and winter months with a sweater and ankle booties. Or maybe a blazer and heels too? Needless to say, I don't think this will be the last time you see these black faux leather leggings.
Where to find it:
Faux leather leggings c/o* (Better pair, here) | Pumps (on sale!) | Blouse (similar) | Earrings | Watch c/o*
Green faux leather leggings
Intial Thoughts
Frankly, I forgot I had ordered this pair. So, I was more shocked to see them in my mail than anything.
They were easier and comfier to wear than the black leggings because the top part has an elastic band and feels more like a regular pair of leggings. These also are pushing the limits on not having my bum covered while wearing them, though. They're not see-through, but this color doesn't leave a whole lot to the imagination.
Quality
These are about the same quality as the black faux leather leggings. They're not terribly high-quality by any means. However, these were in better condition and didn't have any threads unraveling, etc. when I received them.
But, again, these are less than $15…so, I can't complain too much.
Verdict – Will I wear them again?
These I am not as big of a fan of. While there isn't anything technically wrong with them – this is just not a versatile enough color for me. I also don't like how revealing they are.
My husband, who usually doesn't have an opinion about my outfits, even said he wasn't sure how to feel about these leggings. Haha. He also was surprised that they weren't a leather-material, though, and had to actually touch them to believe me that they only look like leather.
I think this will be the last time I wear this pair…They're getting donated.
Where to find it:
Faux leather leggings c/o* | Pumps (similar) | Blouse (similar) | Earrings | Watch c/o* | Bag
My Thoughts on Trying Athleisure
Initial reaction
These pants are super comfy and fit me well! However, this cropped top is just not my style at all…it's also too big on me through the shoulders.
I just would not be comfortable wearing this set in public. Around my house for lounging and cleaning? Sure. But even, still…I don't find this crop top comfortable enough to wear to watch Netflix or scrub the floor in…
Quality
This set from Femme Luxe is OK quality. This isn't Under Armour, but it's not the worst. I anticipate it'll hold up through many washes and wears.
That being said, I couldn't wear this at the gym or for a run. I would be WAY too warm and uncomfortable in something like this. (This post shows my normal workout attire.)
Verdict – Will I wear them again?
This top is getting donated the second I get home! However, I will wear these pants quite a lot. They'll be great for wearing around the house and over my workout clothes in the winter (when going to and from the gym and until I get warmed up).
However, I am just not a fan of athleisure as a trend. I'm like a crabby old lady in that sense. Workout clothes are meant to be worn at the gym, and PJs are meant to be worn at home. Not that I haven't popped into the grocery store after the gym in workout clothes, or worn sweatpants to the gas station – I'm not that high and mighty!
However, I wouldn't wear athleisure as a daily outfit. It's just not for me, and this outfit has not convinced me to change my tune on that.
Where to find it:
Loungewear set c/o* | Sneakers | Watch c/o*
It's good to get out of my style comfort zone every once in a while! And heck, now I'm a fan of faux leather leggings – who would have seen that coming? However, I still can't get behind the athleisure trend…but I'm all for wearing it at home.

Now, I'm curious, are you a fan of either of these trends? Let me know in the comments!
*Thank you to Femme Luxe for sponsoring this post. As always, all opinions are my own and I am never compensated for a positive review.
*Disclosure: some of these links are affiliate links. Meaning, if you click a link and make a purchase, Have Clothes, Will Travel gets a very small commission at no extra cost to you. Thank you for supporting the brands that make this blog possible! I am also a participant in the Amazon Services LLC Associates Program, an affiliate advertising program designed to provide a means for us to earn fees by linking to Amazon.com and affiliated sites.
*c/o = courtesy of, meaning the company gave me the product to be used on my blog, and I did not pay for it. All opinions are my own, and I am not being compensated for a positive review.