First Time Traveling Abroad? Then Check Out These Money Saving Tips
Guest post by: Jeffrey Barroga
It invigorates your soul, calms your weary morale, and widens your perspective in life: travel is one of life's pleasures that seems to enrich your entire being as you do it more and more. Unfortunately, as much as there is to be gained by traveling, it's also one of life's more expensive pleasures.
But that doesn't mean that you have to limit yourself to traveling just locally. Don't get me wrong, there are so many great wonders to see and do in your own hometown, but there's very little else in the world that sparks your sense of adventure than traveling in a country that you're unfamiliar with.
When you finally decide to take that big leap and discover cultures across the pond, you have to plan it out and be smart about your expenses. After all, the lower your costs, the more places you can see or the more often you can go forth and do it again elsewhere.
Consider Alternative Accommodations
Nowadays, you don't have to stick to your regular 5, 4, or 3 star hotels, B&Bs, resorts, hostels, or motels. Add a little bit of adventure (and a whole lot of savings) by looking for alternative accommodations where you're staying. Alternatives, like couchsurfing, is a great way to meet the locals and stay for cheap or almost free. Of course, you have to be incredibly neat and you should learn a little bit about the culture before heading there to make sure that you don't inadvertently offend anyone because of cultural differences.
There's another homestay option that allows you to swap homes with another international traveler where all you have to do is take care of their home (and maybe their pets or whatever instructions they leave) during your stay and they'll do the same for your home.
Farm stays and religious housing, and academic housing are other great options for you. They may require a bit of work, but it's a great way to get a feel for the locality, meet new friends, and experience something completely new during your stay. That'll tick off a lot of the "Things to Do" in your travel list.
The best part is, since you'll be staying with locals, you can get the skinny on the best/cheapest places to eat, and authentic activities to give you a deeper appreciation and understanding of the country you're visiting.
On Airports and Airport Parking
They're wonderful, hectic, and incredibly expensive; airports and everything attached to them (like the simple act of getting there) can cost you a shiny penny if you go in unprepared. The first thing you're going to want to do is to find a secure place to park your car before you head out. This will also take care of the question on how to get there.
Remember that driving yourself to the airport will cost much less than taking a taxi or Lyft or Uber. The only trouble is that airport parking can be incredibly expensive. The good thing is that there are smart entrepreneurs who thought to provide a cheaper alternative to constant travelers. If you're flying from the Brisbane Airport, for example, you can always book a Brisbane Airport parking spot from an off-airport parking site nearby. Some of them cost as little as 7AUD per day, and most of them have shuttle services that can take you to and from the airport for free.
Another trick with saving up for when you get to the airport is BYO food. If you've never bought food in the airport before, you'll be shocked by how overpriced the simplest food and drink items can be. You'd probably end up paying twice as much for something as simple as a soft drink. As long as you know your local laws on food items that you can and can't bring to the airport, you'll save so much on snacks alone. Just remember to do a bit of research on which food will make you feel dehydrated or woozy for take off so you know which ones you shouldn't bring.
Eat Smart and Eat Street
One of the best ways to eat cheaply in any country is by trying the local street cuisine. It gives you a better feel for how the local community, amuse or even impress the locals, and you get bragging rights with some of your more daring eats. (See: balut or unfertilized duck egg popular in SouthEast Asia) You get even more bragging rights with tasting authentic food in the country it originated from.
The experience and the ability to know the differences between the fusion you have at home and a true-blue crepe from France, or pho from Vietnam, or dim sum from China are priceless.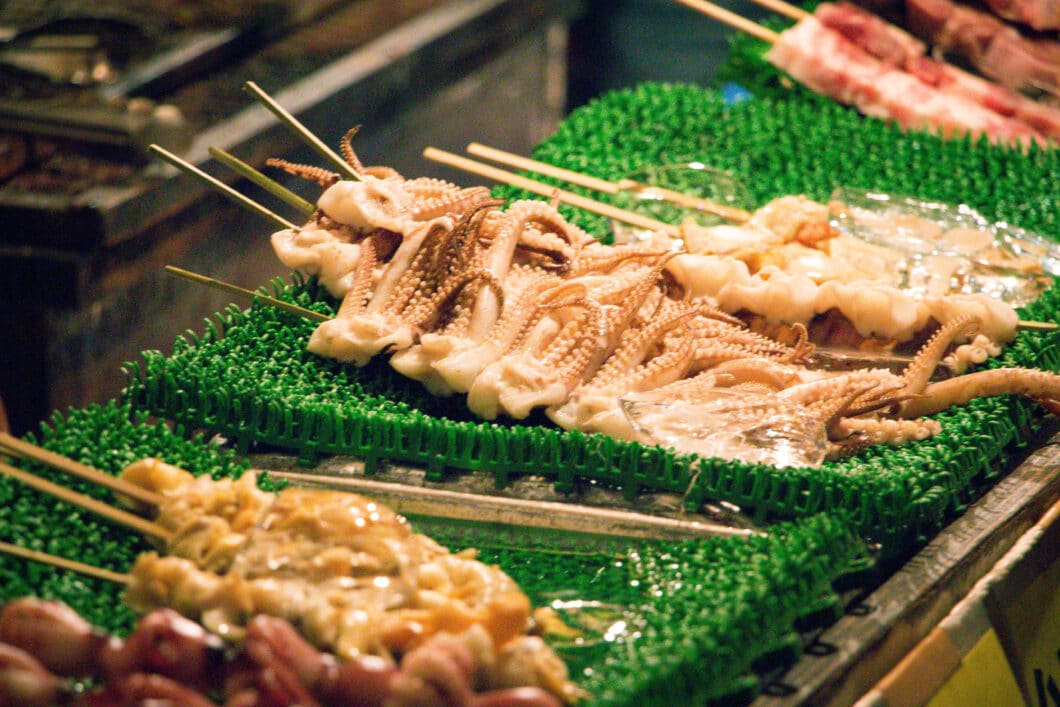 Of course, you don't have to limit yourself to just street food. You can eat in the fancier establishments because you do deserve that treat once in a while. Just be smart about it! Want to eat out? Do so during a lunch service instead of a dinner service. Prices are typically cheaper during this time and you get the same quality food with less expense and hassle on getting a table.
If you happen to stay in a hotel, stock up on the hotel buffet breakfast and look for snacks in the local markets to save money. If you make friends with the locals during your stay, ask them to take you to some of their favorite budget-friendly places to go. Chances are, they'll show you the best back alley bistros, karaoke places, and attractions around that end of the globe.
Thank you, Jeff, for this awesome guest travel post! If you are interested in submitting a guest travel post, please click here to tell me more about your idea. You don't have to be a writer or blogger! I have opened this section up to anyone who wants to share a travel story or travel tips. 🙂
*Thank you to Alpha Car Hire for partnering with me for this post.