Dress (Similar here & here) | Bag | Cardigan | Sandals (Similar) | Necklace (Similar)| Sunglasses (Similar)
There's no greater combination in my wardrobe than a floral dress and a cozy cardigan. It's amazing that this cardigan hasn't disintegrated from all the use it gets, haha. I'm convinced it goes with everything in my closet…especially my favorite floral dresses.
This particular dress has been a favorite transition piece of mine for about 4 years now. The darker hues make it easy to transform into a fall-appropriate outfit. (Click here to see my favorite fall outfit featuring it.)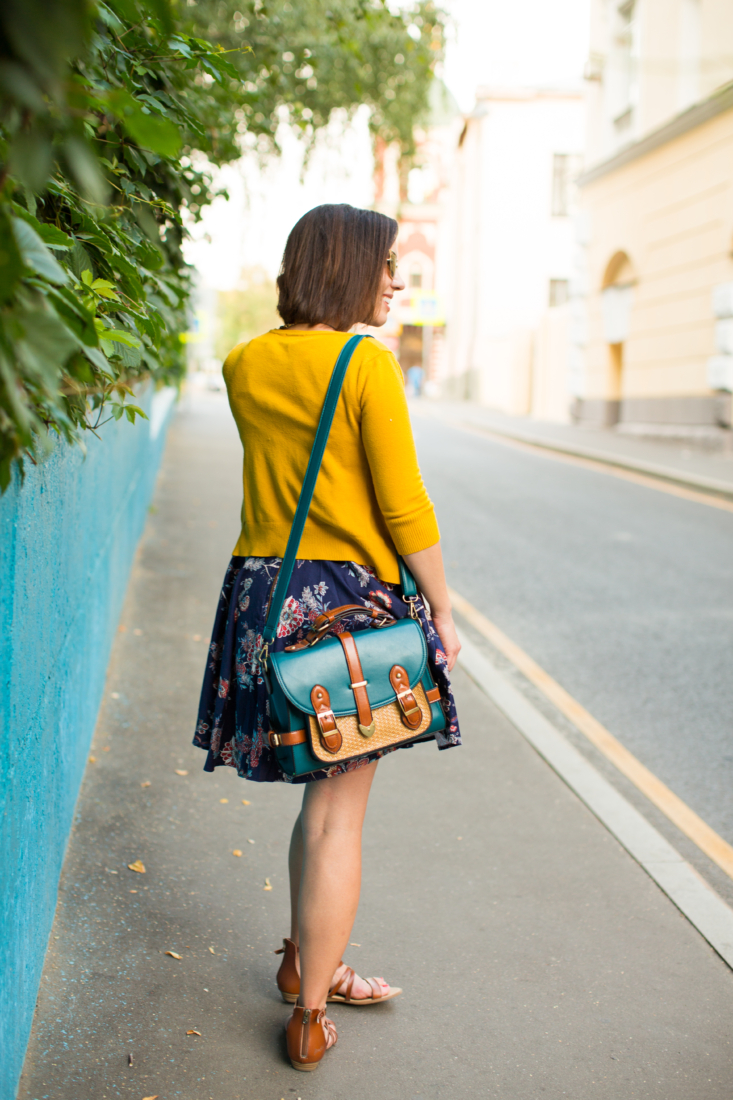 I'd like to think this would be my last outfit post featuring sandals for a while. However, I'm not so sure. I'm back home in Wisconsin for one of my best friend's weddings this week…and it hit 91 degrees Fahrenheit yesterday! Perhaps these sandals will be here to stay for a bit. Good thing I packed them!
And don't worry, just because I recently bought the mustard version of this bag, doesn't mean that this teal one isn't still getting used! I've found that I use them both pretty equally. They're absolutely perfect for this time of year, and I love the crossbody strap for exploring days.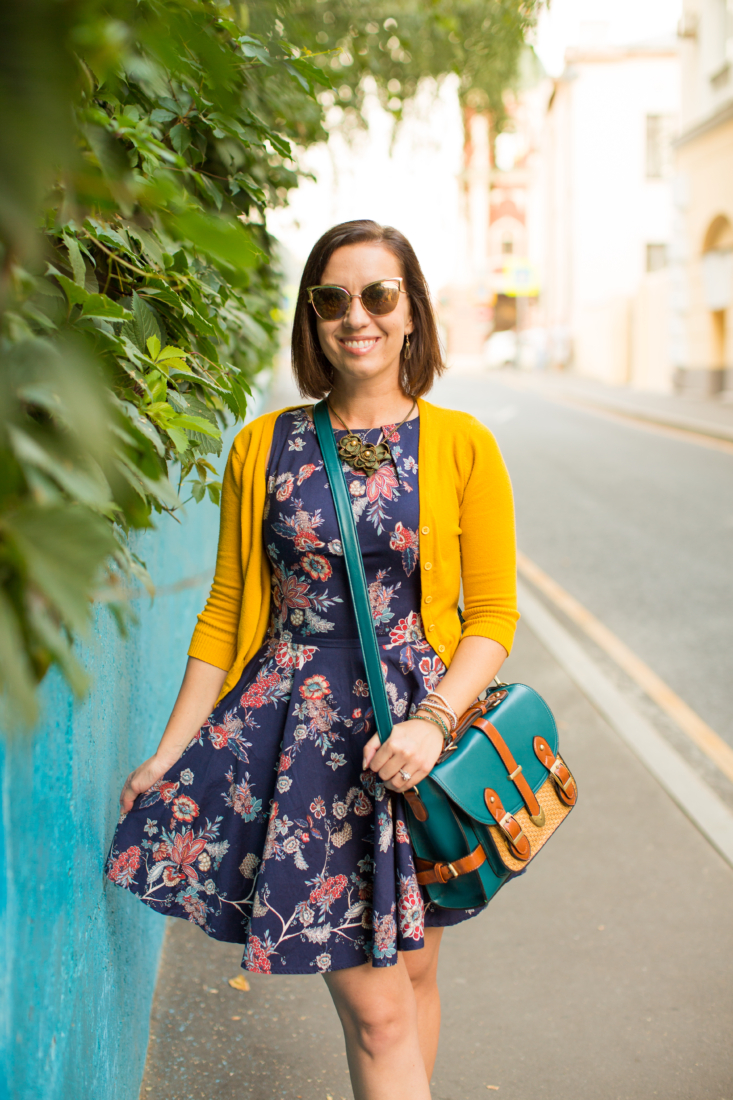 This is the outfit I wore last weekend when we went to explore Bunker-42 in Moscow. (Click here if you missed that post.) I wasn't entirely sure what to expect, other than I knew there was quite a bit of walking involved, and then we were going to visit the restaurant afterward. So, I wanted an outfit that would be comfortable yet appropriate for a dinner setting. This one worked very well!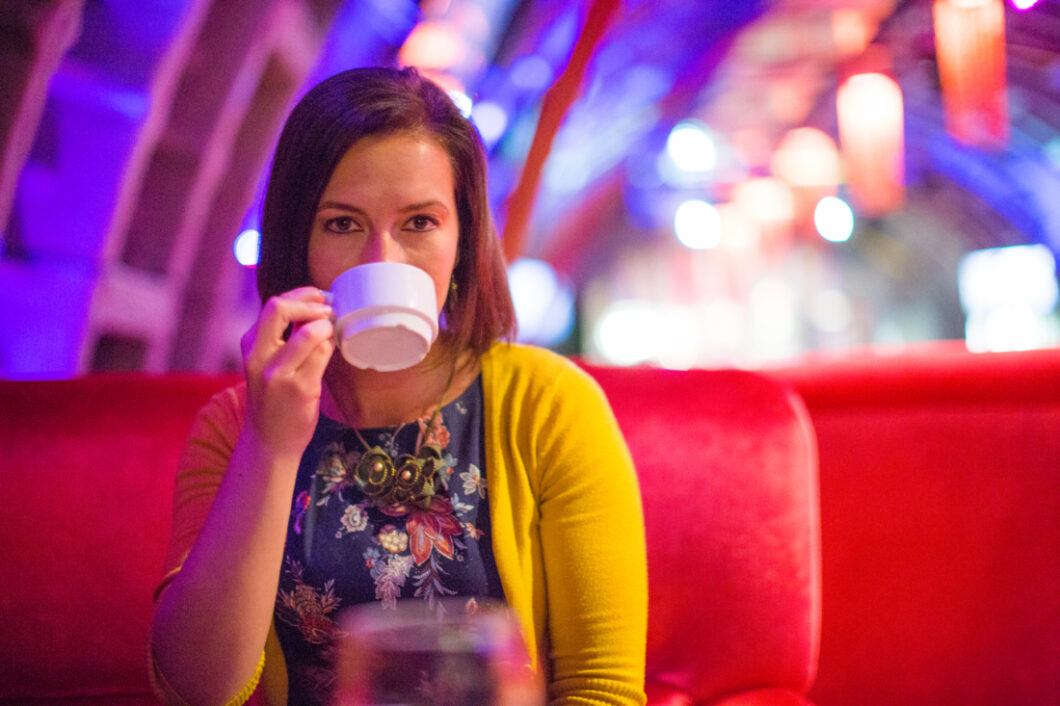 For the rest of this week, I'll be preparing for my best friend's wedding. I have some wonderful guest posters lined up for my next couple posts. I'll be back to Moscow next Tuesday and back to blogging as usual on Wednesday. Thank you for your understanding, everyone!
What's one of your favorite outfit combinations for this time of year? Do you like wearing florals into fall as well? Let me know in the comments!
Where to find it:
Dress: Old (Similar here & here)
Bag: ModCloth
Cardigan: ModCloth
Necklace: Gift (Similar here)
Sandals: Blowfish (Similar)
Sunglasses: Quay (Similar)

*Disclosure: some of these links are affiliate links. Meaning, if you click a link and make a purchase, Have Clothes, Will Travel gets a very small commission at no extra cost to you. Thank you for supporting the brands that make this blog possible! I am also a participant in the Amazon Services LLC Associates Program, an affiliate advertising program designed to provide a means for us to earn fees by linking to Amazon.com and affiliated sites.
*c/o = courtesy of, meaning the company gave me the product to be used on my blog, and I did not pay for it. All opinions are my own, and I am not being compensated for a positive review.