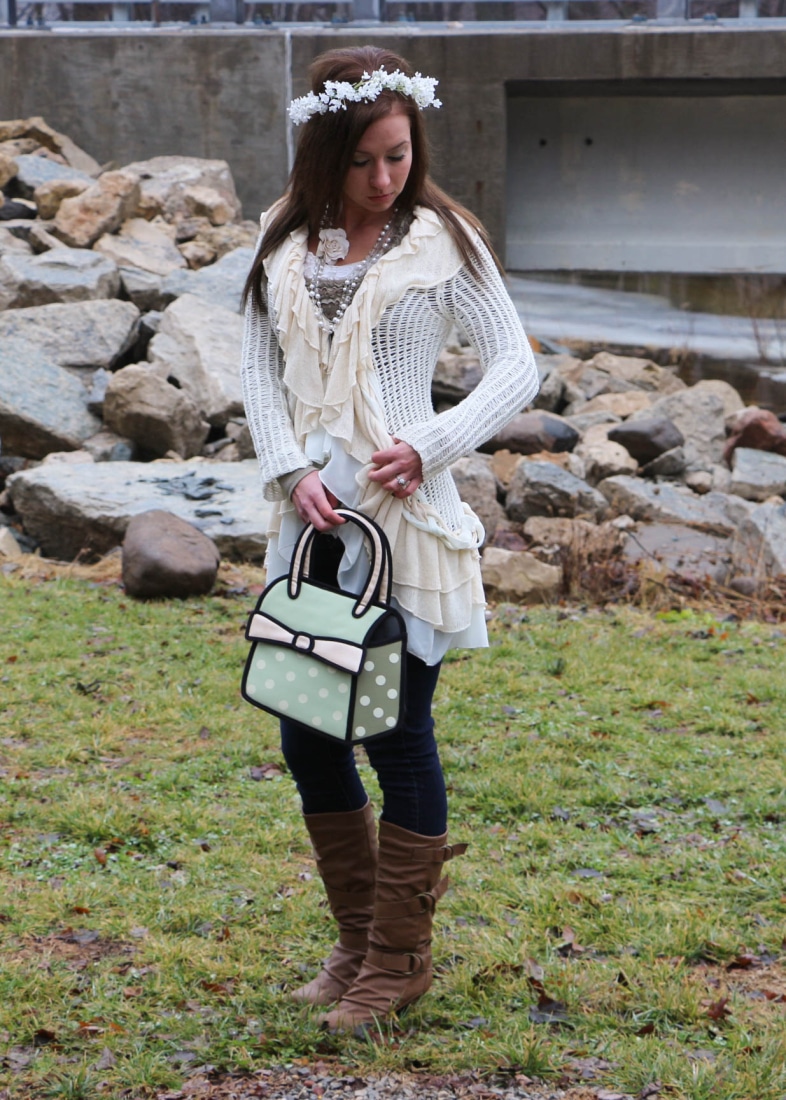 There are so many things in this post I love, I'm having a hard time deciding where to start. From the flower crown to the Jump From Paper bag to my fluffy sweater…it all makes me so happy!
OK, I'll start with the Jump From Paper bag, just because a lot of people don't believe it's actually real when they see pictures. I can assure you it's very real, and it is so awesome! My husband surprised me with it for my birthday. Being that it's a 2D bag, I can't fit a crazy amount of stuff in it. I would say it has slightly more room than a clutch. That's fine with me, though, because it is so unique and the quality is incredible. I still can't believe purses like this exist!
I also love that flower crowns are becoming popular. This is an inexpensive one I picked up at Icing that is very comfortable and fun. I'm eventually going to get a more detailed one from Etsy, but until then, this one goes with plenty of outfits.
I love, love, love how my sweater looks and feels and how long it is. I bought it from the Buckle years ago, and it's still holding up wonderfully. I'm personally not a big fan of the Buckle, but I will admit that they come out with some great sweaters.
This outfit is actually my Christmas Eve outfit. We are having some wacky weather here in Wisconsin. I honestly felt as though I were going to Easter with my family, not Christmas! Oh well, now that the holidays are over, I'm not really missing the snow anyways.
Where to find it:
Purse: Jump From Paper
Click the photos below for the rest of the outfit: