Behind the Scenes of a Flying Dress Photoshoot: My Honest Experience with Exclusive Photos & Videos
Are you curious about the Flying Dress Photoshoots you see all over your Instagram feed? Are you wondering whether they are worth the price, and what exactly the experience all entails?
This post is my honest experience doing a Flying Dress Photoshoot (and video shoot) in Santorini, Greece. I'll be sharing everything you need to know before you book a shoot, how to prepare, what to expect on your shoot, and whether or not I think it is worth the price tag. I will also share behind-the-scenes pics and videos!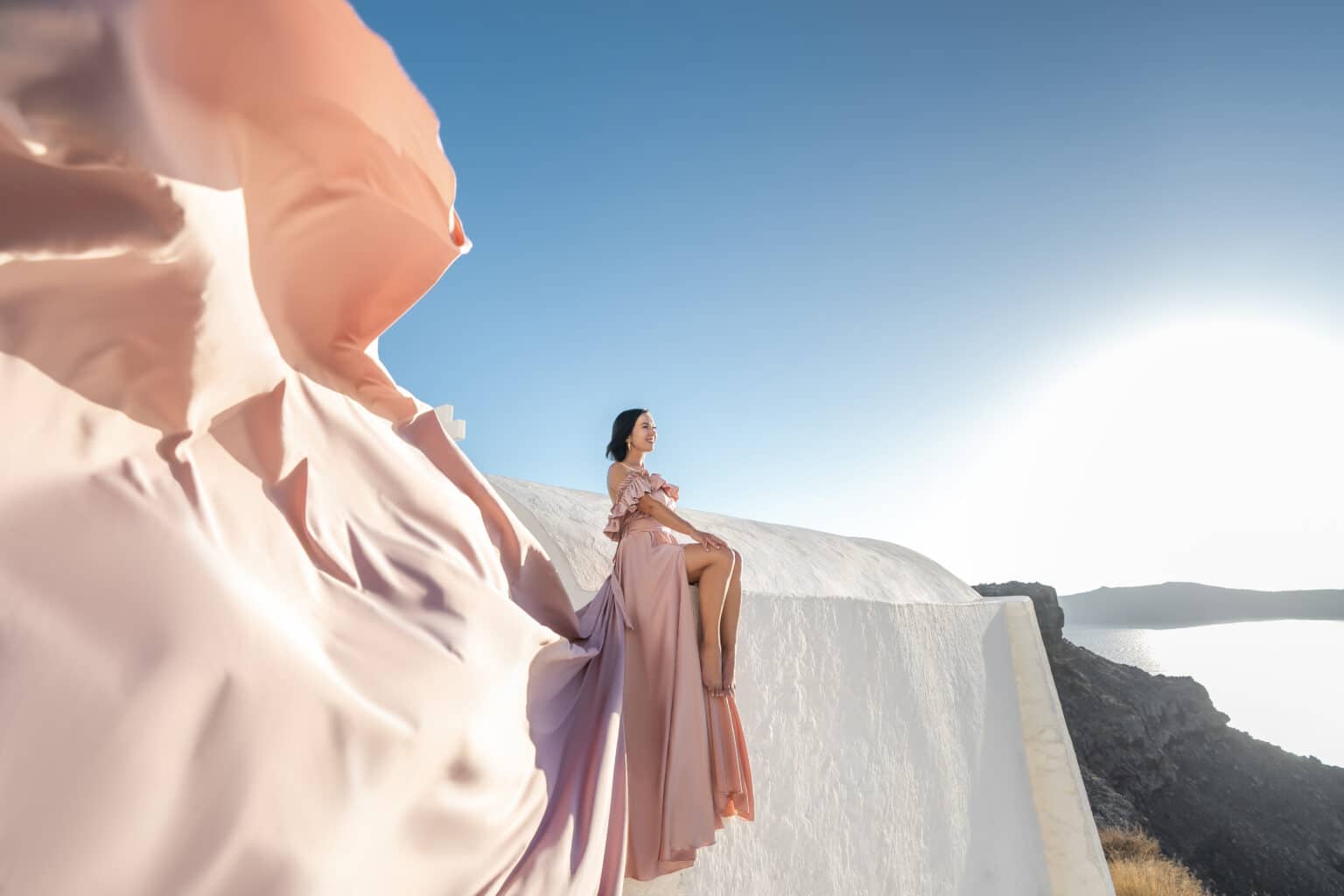 *Disclosure: some of these links are affiliate links. Meaning, if you click a link and make a purchase, Have Clothes, Will Travel gets a very small commission at no extra cost to you. However, I am not affiliated with Flying Dress company, I booked and paid for this shoot myself, and get absolutely nothing if you book a shoot with them.
What is a Flying Dress Photoshoot?
So, this is pretty much exactly as it sounds. It's a photoshoot that involves a dress that looks as though it is "flying"/artfully blowing in the wind. These are typically specially designed dresses that are lightweight and have a long train. They are made of satin or a similar material.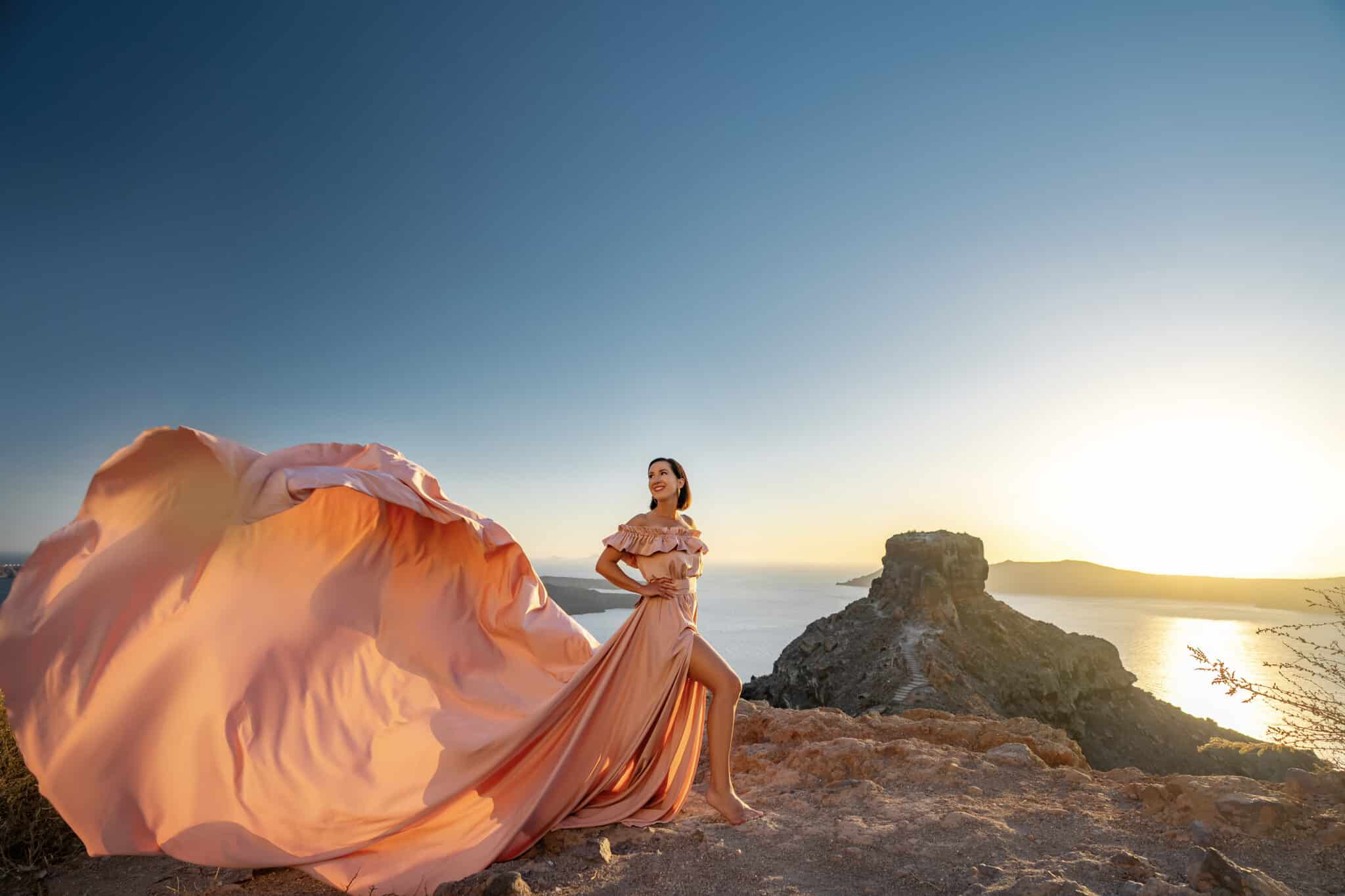 These photoshoots can now be found all over the world in top tourist destinations, but the concept originated in Santorini, Greece by the company Santoniri Dress. They were the OG of this trend.
There are now tons of flying dress companies that offer this experience. I, personally, booked with Flying Dress out of Santorini, because they had wonderful reviews, had the color of the dress I wanted (dusty pink!), and offered a video option. (See below for my Youtube video.)
My Flying Dress YouTube video:
How Does a Flying Dress Photoshoot Work?
Almost every company will provide dresses for you to choose from as part of the cost. So, you are just renting one of these special dresses for the photoshoot. However, if you want your own flying dress, there are loads of different flying dress options you can also buy online, with everything from inexpensive flying dresses on Amazon to custom-made dresses on Etsy.
The way the "flying" effect is created is sometimes with the model walking quickly and throwing the dress herself into the wind, but most of the time, this flying effect is achieved by a photo assistant throwing the dress for the model, and then quickly stepping out of the shot, as the photographer snaps photos. It makes for some surreal photos!
Red dresses and blue dresses are the most popular colors for flying dresses in Santorini, Greece. This is because they really stand out against the white backdrop of the buildings.
How Much Does a Flying Dress Photoshoot Cost?
This is going to vary depending on the company you choose and the package you choose. However, for a rough estimate, expect the base price for a dress rental and photographer, rights to the photos, and assistant to typically be in the neighborhood of $400. At least, these are the prices I was seeing in Santorini.
Note: I recently read an article by the New York Post that made it sound as though all of these photoshoots cost over $1,000! Super clickbaity title, and not at all accurate. You can absolutely spend that much, and I did! But it was with a ton of add-ons to the base price. The average photoshoot will NOT cost this much.
The package I booked with Flying Dress was their Marylin Package, which included a photographer for a 1-hour photoshoot, dress rental, 15 color-corrected photos, and 6 high-end retouched photos. However, I also added transportation to and from my hotel, an assistant (to make the dress "fly"), a videographer, an edited Reel for Instagram, an edited video for YouTube, and rights to the footage. This was a business expense for me as I planned to use this for some brand photos for my website (and to write this post), so I went all out!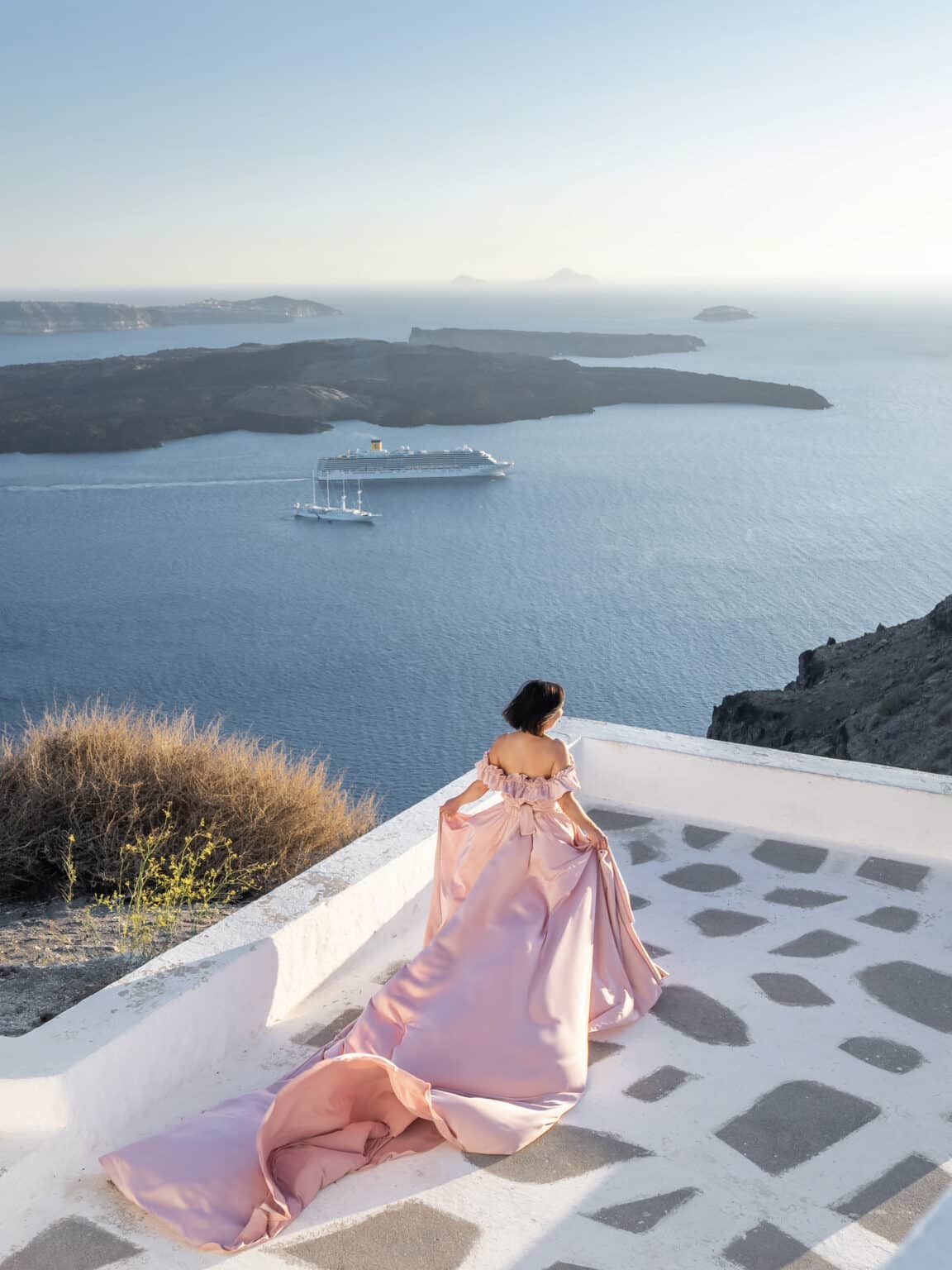 My Experience With a Flying Dress Photoshoot
Now, that we have a good understanding of what one of these photo shoots is and how much it costs, let's dive into my personal experience and whether or not I recommend it.
As I mentioned above, out of all the Flying Dress photo services in Santorini, I chose Flying Dress because of their great reviews, and the dress color they had available. I was also intrigued because they offered a video option (see the video they shot for me below).
My Flying Dress Youtube video
Booking My Photoshoot
I booked my photoshoot online directly on the Flying Dress website. In addition to the different price packages, you also get to choose your dress, the location on Santorini, and the time of day you want to have the photoshoot.
I did my photoshoot in mid-September of 2023.
I opted for their Sunset photoshoot because I like the lighting at the time of day. I then opted for Imerovigli as my location.
Now, if you aren't aware yet, sunset time on Santorini is bananas! It's absolutely beautiful, but anywhere that has a decent view of the sunset is going to be very crowded. Imerovigli is one of the quieter locations to watch the sunset, though. You'll still get beautiful sunset photos, with the blue domes and churches, but you'll be battling far fewer crowds at sunset. (Doing this shoot in Oia at sunset would be impossible!)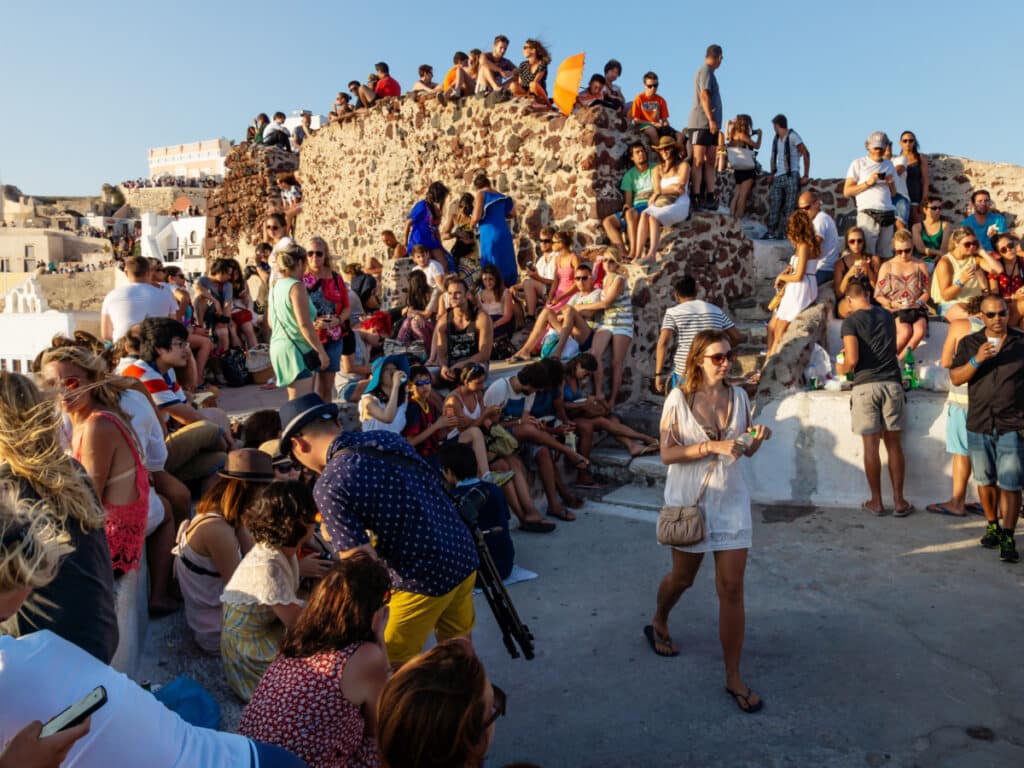 If you are less interested in sunset lighting, doing a morning shoot is a good option to avoid having a crowd around you while you do your shoot. Plus, it will be much cooler! I was literally mopping sweat off myself doing the shoot at sunset, and I can only imagine it would be unbearably hot to do a shoot earlier in the afternoon.
Pro tip: I also recommend booking your photoshoot early in your vacation, so you don't run the risk of having weird tan lines like me! Fortunately, you can't see them in the edited photos at all, but obviously a little hard to cover up in the video. Another reason is if you need to cancel due to weather, you have a chance to rebook.
Payment for my Shoot
For Flying Dress, I also had to make a down payment for my photoshoot before I could reserve my time. I believe it was about 30% of the total cost. The rest of the cost was to be paid in cash on arrival.
However, I do not like carrying that much cash when I'm traveling, plus it's easier for me to track my business expenses using PayPal. I reached out to Flying Dress and asked if paying with PayPal when I arrived was OK, and they were fine with that.
Once I booked, I immediately received a confirmation email, and then a follow-up email from a Flying Dress representative during normal business hours (in Greece). They once again confirmed the shoot and the details.
Then, a few days before the shoot, they sent an email with my photographer's and videographer's information, as well as my driver's number and the exact pickup location by my hotel. They also sent me a nice little fact sheet (below) so I would come prepared to the shoot. Every step of the process was very organized!
What to Know/Bring for Your Shoot
You're also going to want to wear any jewelry that you want in your photos. I only ended up wearing my rings and these earrings, because I completely forgot to think about jewelry! Doh!
My Photoshoot – How It Went
My driver, Nikos, was early and waiting for me and my husband at the pickup location. He was very kind and was very knowledgeable about the photoshoots. He made us very excited about the experience as he explained everything on our drive to the location.
We got to the location way ahead of schedule (which we were happy with, way less anxiety that way!), so we waited at a little outdoor cafe in Imerovigli for a little while until the photographer arrived at our scheduled time.
We then went to a little office where I put my purse and clothing into a locker and my assistant helped me into the dress. She had to help me into the dress, due to its size, and tie the sash just right, so it looked flattering on me, and so I was still able to move and be comfortable.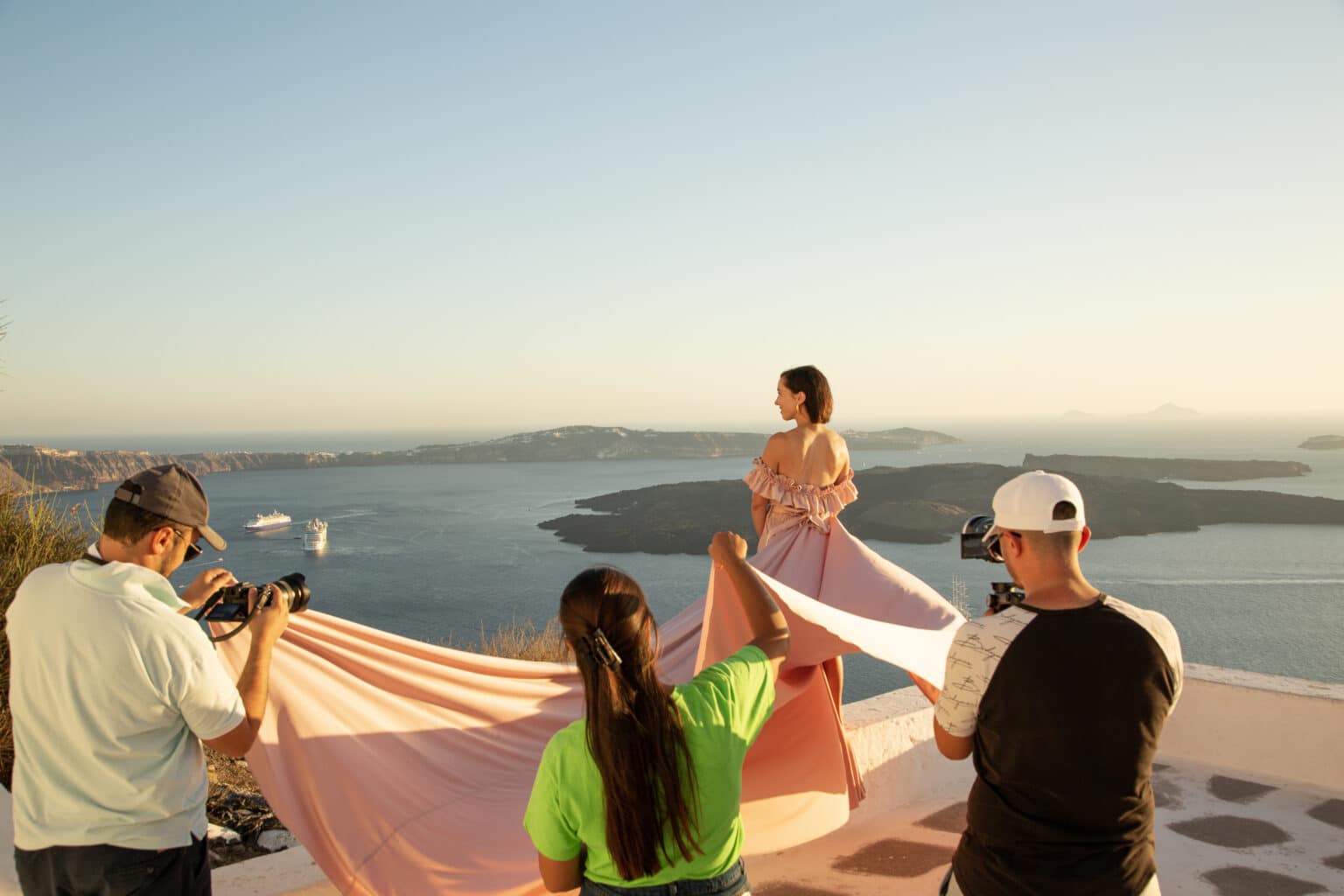 Dimitris was my photographer and George was my videographer, and I am embarrassed to admit this, but I cannot remember my dress assistant's name. (I should have written it down!) They were all phenomenal – especially my assistant! She was the unsung hero of the shoot and made sure I was comfortable in my dress and helped me with getting to and from the different locations, as well as being responsible for making the dress "fly."
The shoot itself took less than an hour and we walked to several different locations in Imerovigli – all of which were stunning.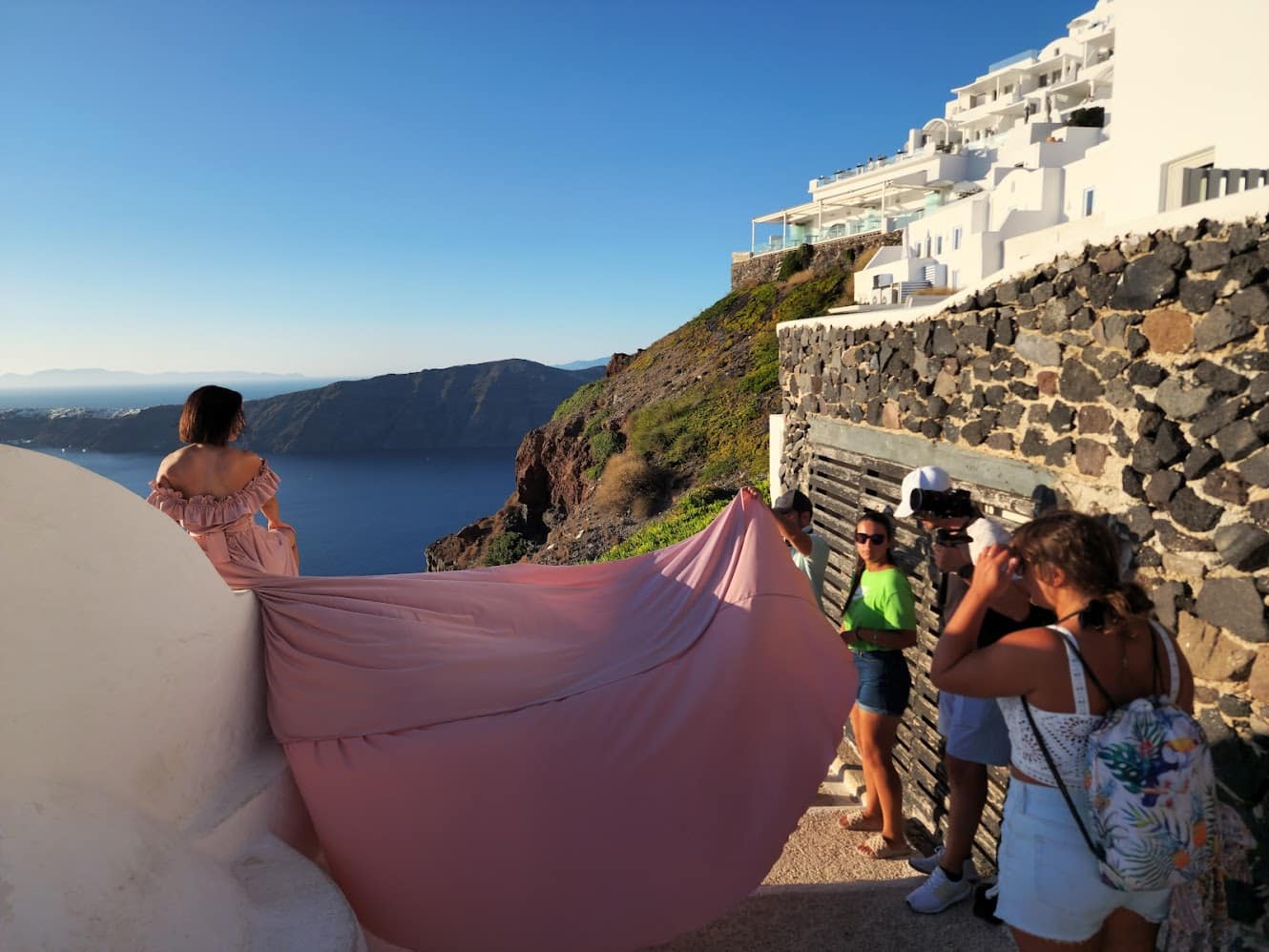 My husband was responsible for the behind-the-scenes photos, Dimitris was taking the actual photos, George was taking video, and my assistant was hanging onto my dress. It felt wild having this whole team following me around and taking photos and videos of me. Is this what celebrities feel like? Haha.
Dimitris was especially great at getting me to relax and helping figure out different poses that I was comfortable with and coordinated enough to do. (He had his work cut out for him, I am super uncoordinated!)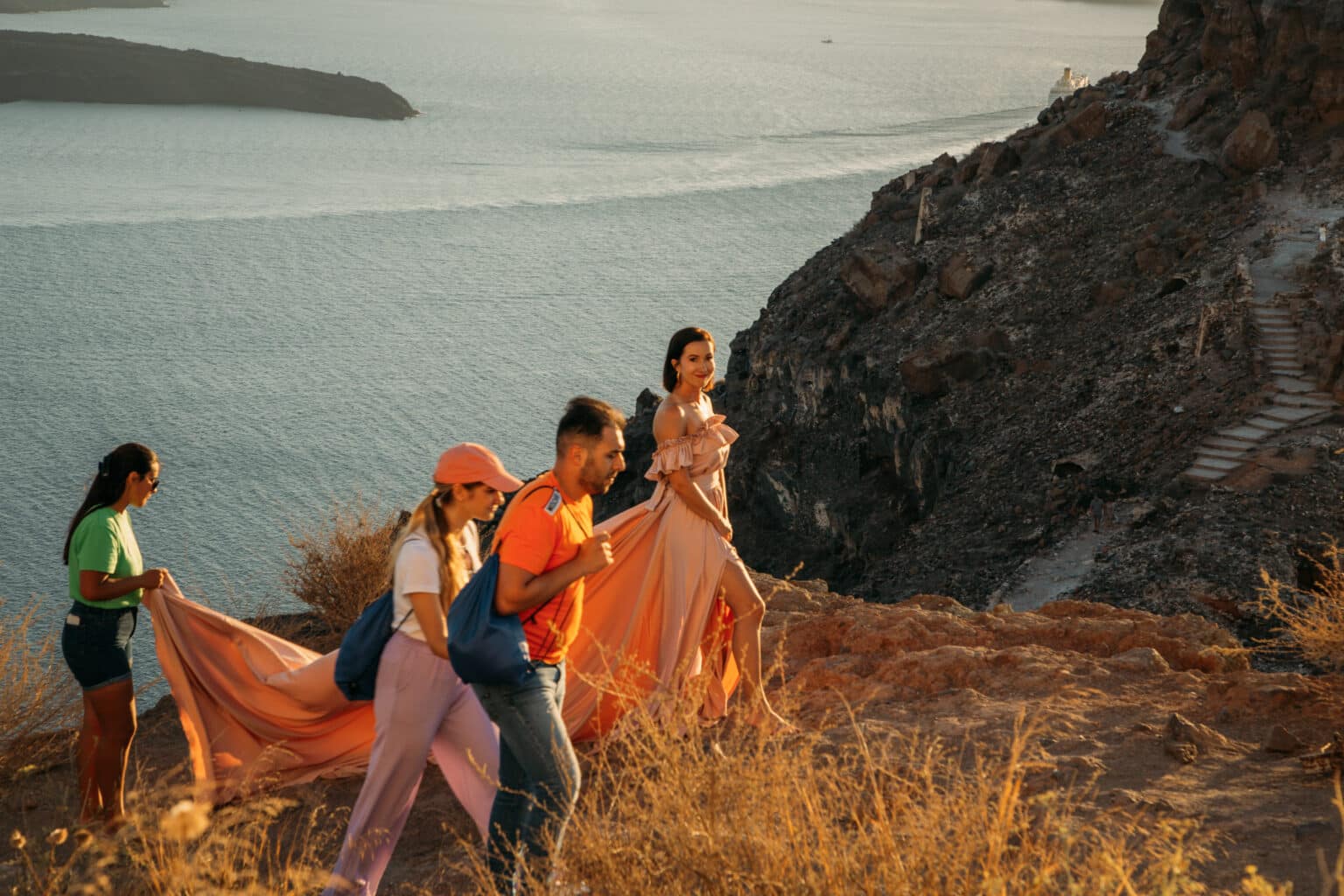 Having this whole team obviously drew in some onlookers too, which made me feel a little awkward. I feel really uncomfortable having people watch me get my photo taken.
However, that feeling didn't last long, as the majority of the people around me were also taking photos of each other, or doing professional shoots too. There were even some stunning wedding photoshoots happening around us.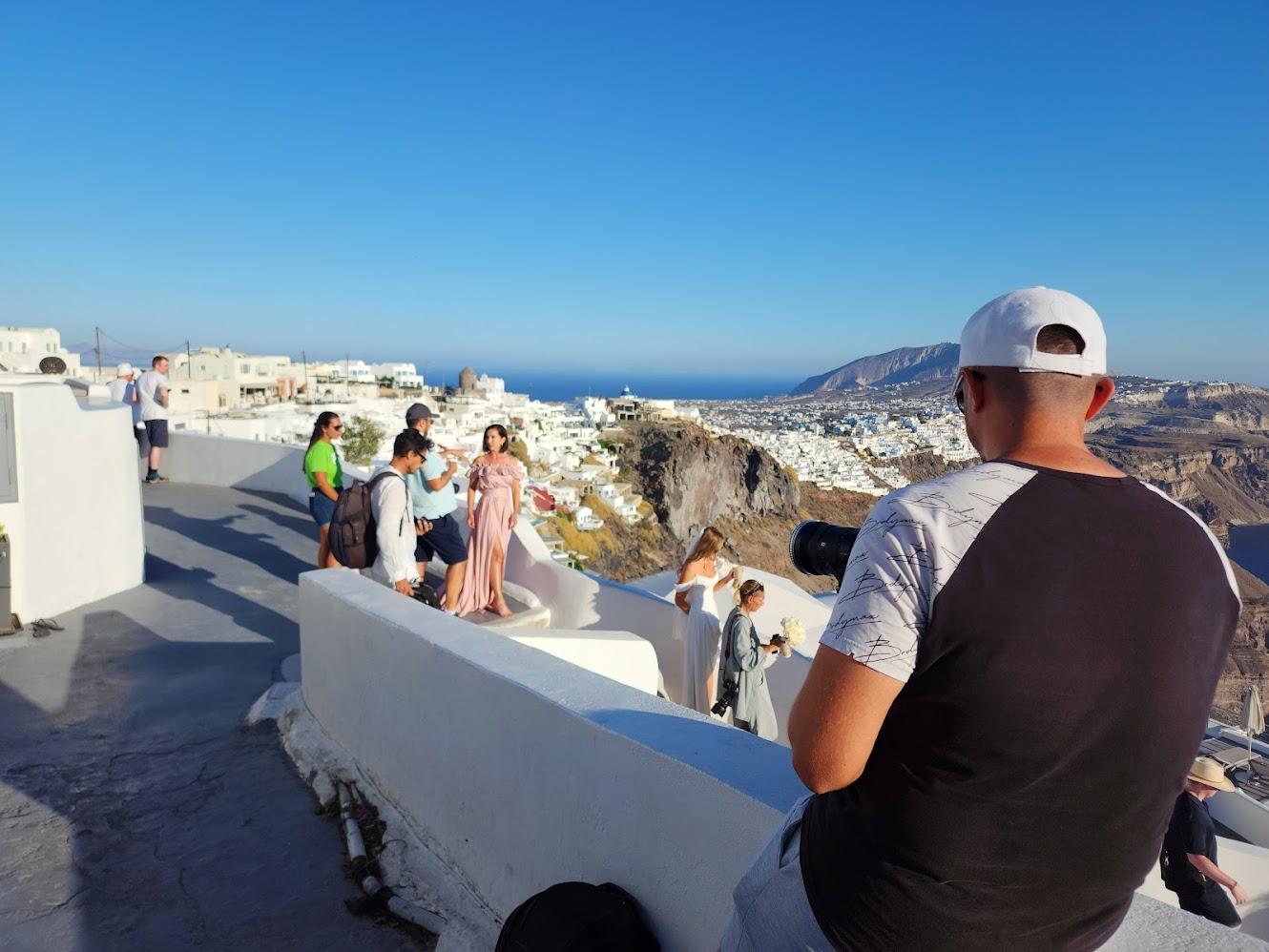 Another benefit of having a photographer for this was, that everyone just instinctively got out of the way to allow Dimitris and George to do their thing. Usually, my husband and I have at least a few people in the background of our photos when we take photos!
Posing for the Flying Dress Photos
For these photoshoots, you are going to be barefoot, and one of the important things to keep in mind when posing is to keep your toes pointed on the leg that is exposed in the slit of the dress. It makes the photos look way better! This was something I struggled with a bit as again, not very coordinated, and I kept stepping on tiny rocks. But overall, I still think it turned out well.
Another important thing to keep in mind is to try to keep your chin up, shoulders back, and your neck elongated when doing your photos.
Of course, your photographer will also guide you and give you different ideas for poses. I didn't come prepared at all in the pose department!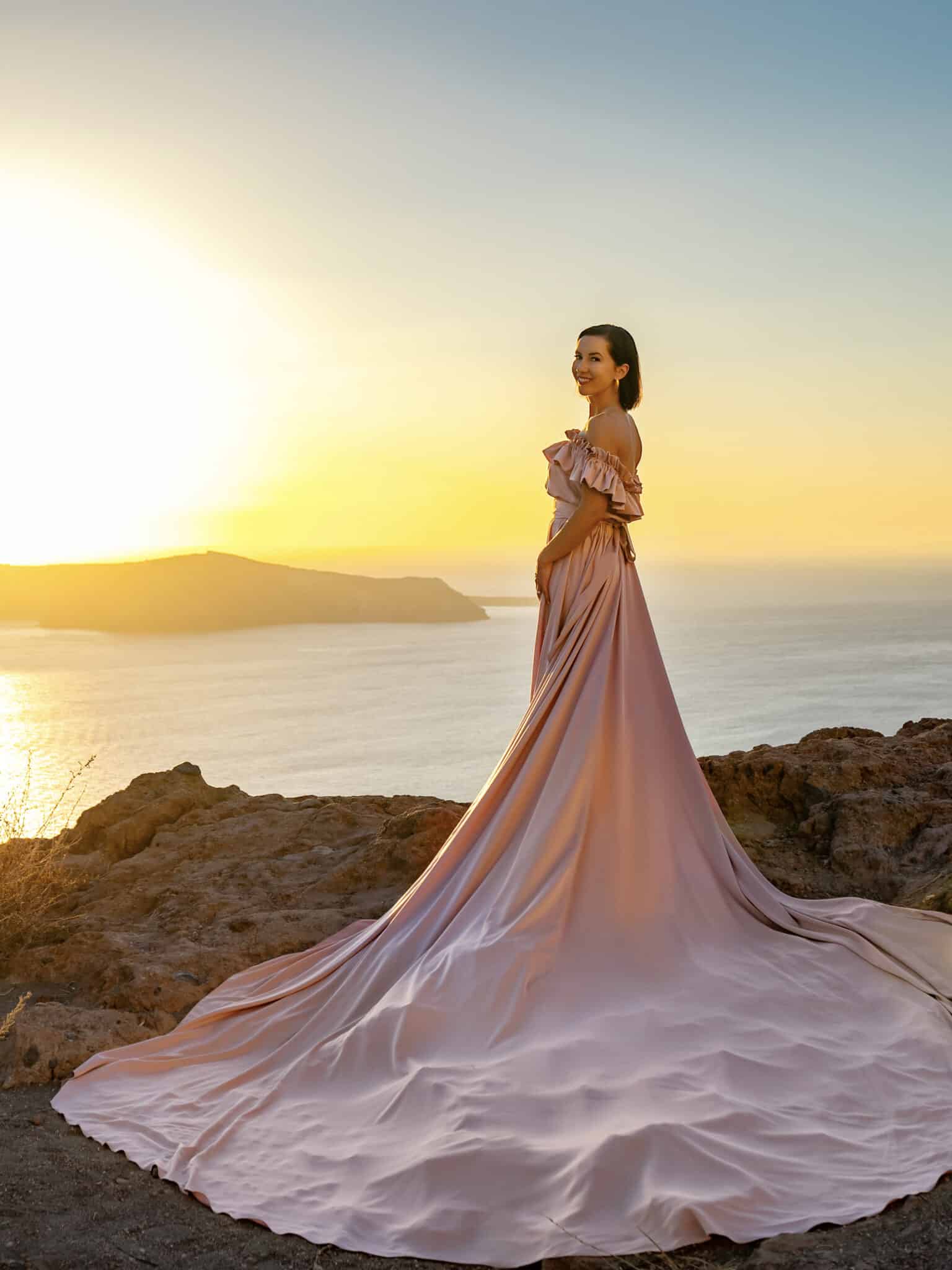 Getting the Final Photos
I got a look at the unedited photos one week after the shoot and then was able to make a selection of which ones I wanted to be retouched. Then, about 3 weeks after that, received my edited photos and edited videos in a Dropbox link. I was very happy with the end results!
Is a Flying Dress Photoshoot Worth It?
When it comes to Instagram experiences and locations, I am normally someone who is really disappointed. (Remember my Cappadocia experience?) I don't enjoy doing things "just for a photo" or having to fight other travelers "to get that perfect shot." I am all about having a relaxed and authentic experience while I am traveling.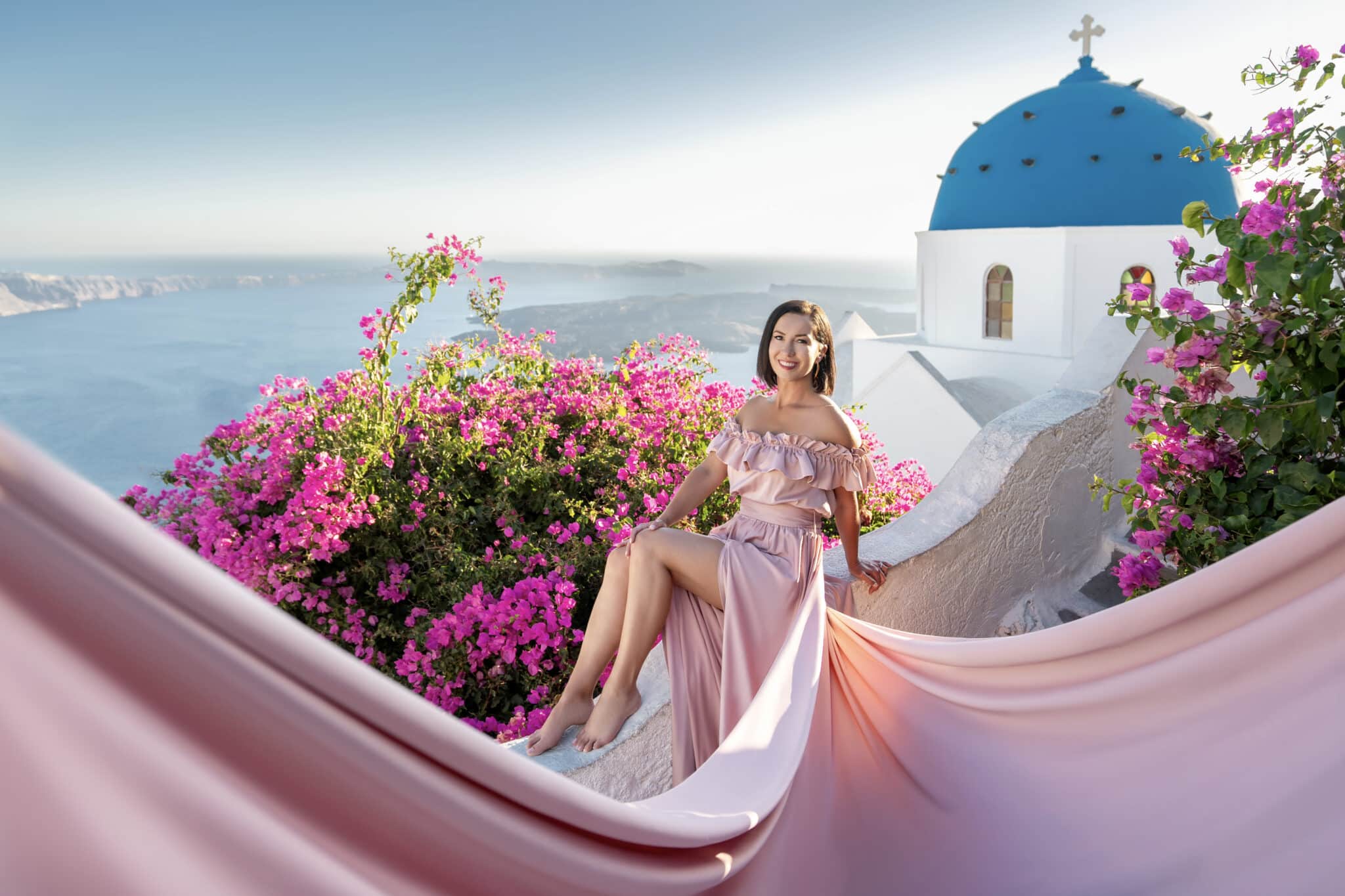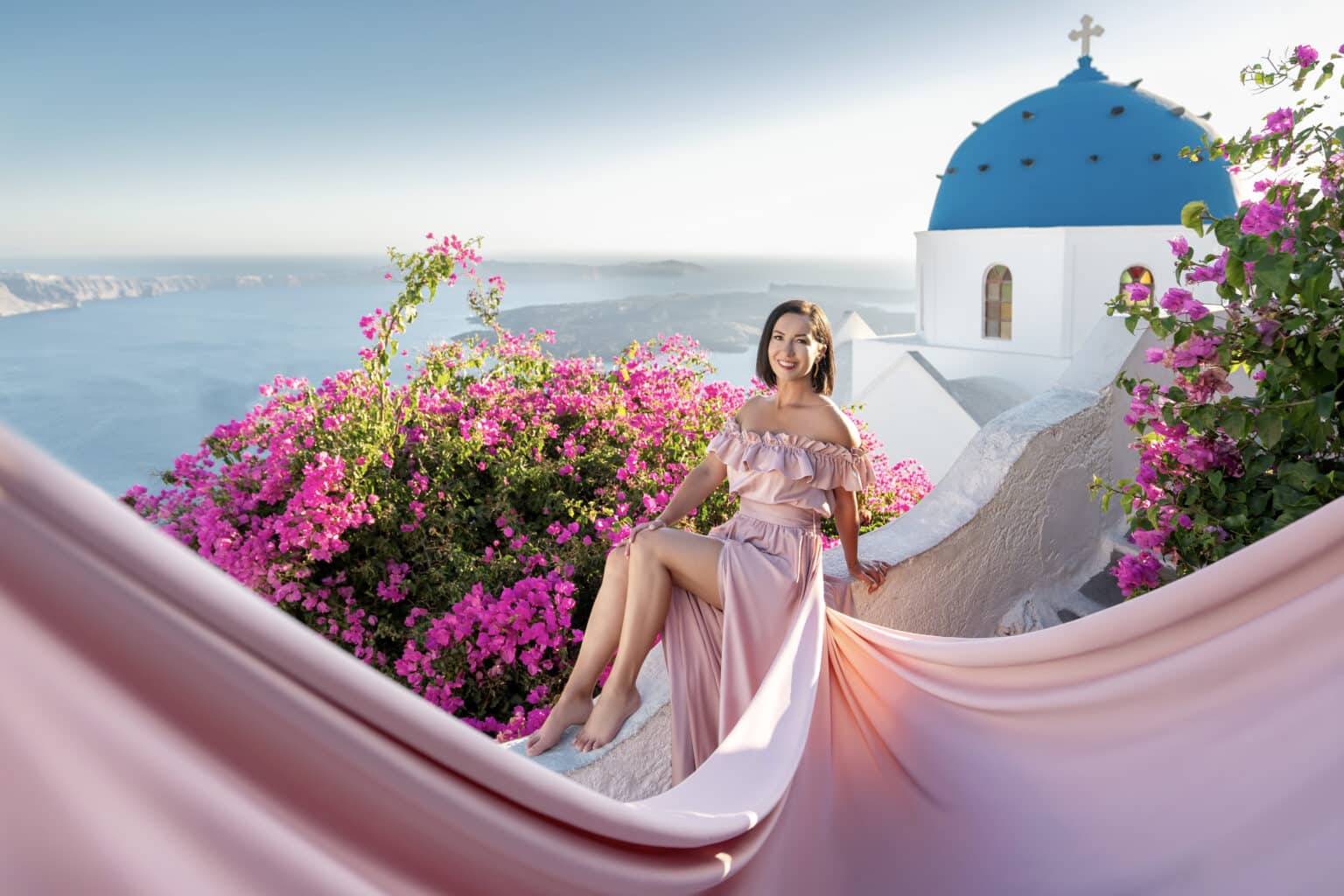 However, this Flying Dress Photoshoot in Santorini really blew me away! While I don't have a future as a model, it was a really fun experience to play dress up with one of these unique dresses and take photos in such an idyllic setting. I truly felt like a princess, and I am so excited to have these photos for my website.
I'm in a lot of different travel groups that like to poo-poo on these shoots, but I say to heck with the naysayers. If this is something you are interested in doing, it is absolutely worth it. It's not a huge time commitment, you'll feel like an honest-to-goodness movie star, you'll have memories that will last you a lifetime, and, at least, with Flying Dress, you'll have a great group of people to make it happen! I loved it!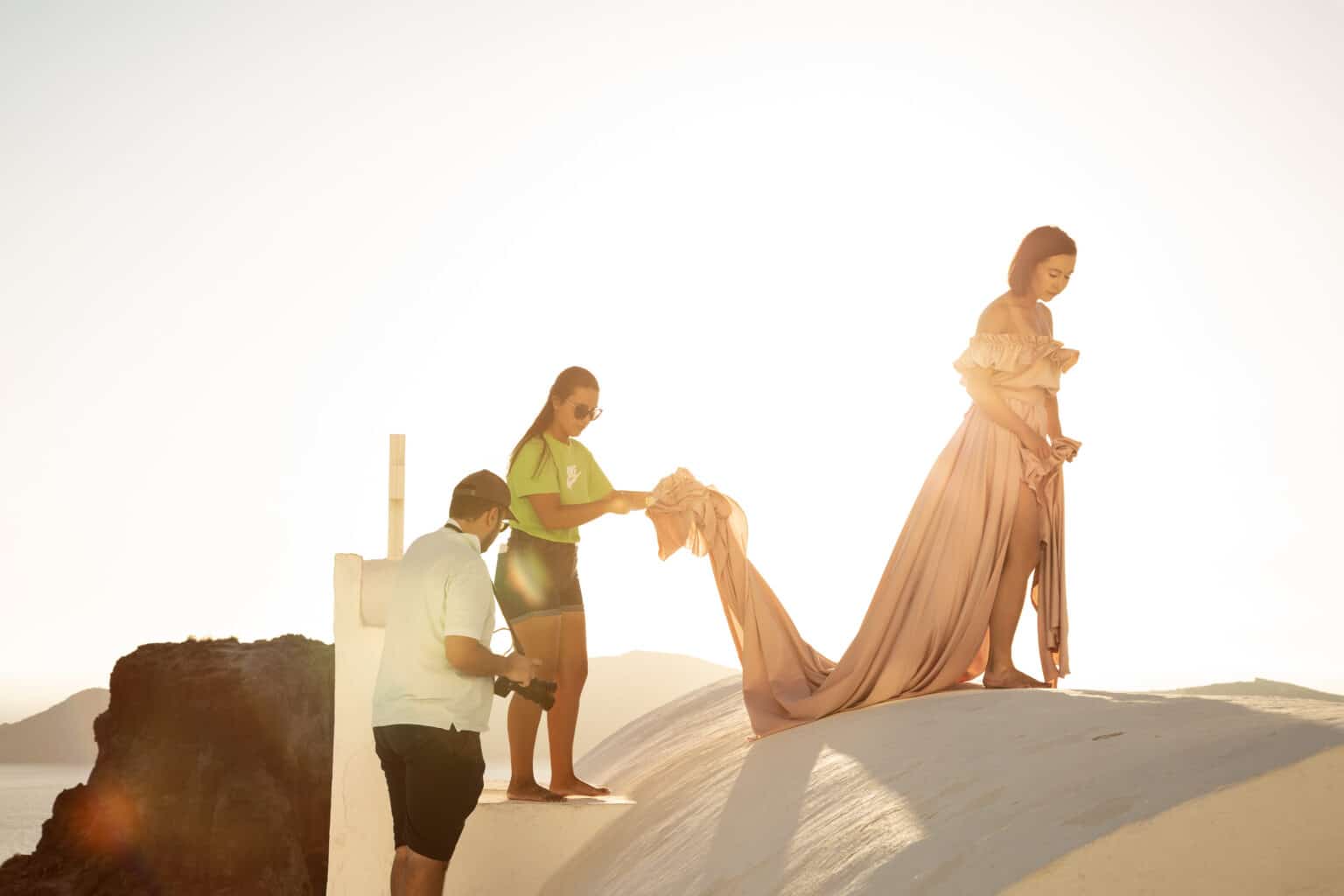 The price is pretty spendy, even if you don't go all out like I did, but I know from experience how much work goes into creating a good photoshoot, and the time it takes to edit photos. I do think this is a fairly priced photoshoot.
I also want to say, don't let anything like age or size discourage you from doing this. I know all of the photos on the websites are of very thin, young, tall models – but these dresses are meant to be flattering on all body types and ANYone can rock one! And if you're concerned about going braless (I was!), pick a dress like mine. This way you can still wear a strapless bra.
Bottom line: You won't regret doing a Flying Dress Photoshoot – especially in a beautiful spot like Santorini. I 100% recommend this experience and am so glad I did one!
More photos of my Flying Dress Photoshoot. Please feel free to click on them to make them full-size.