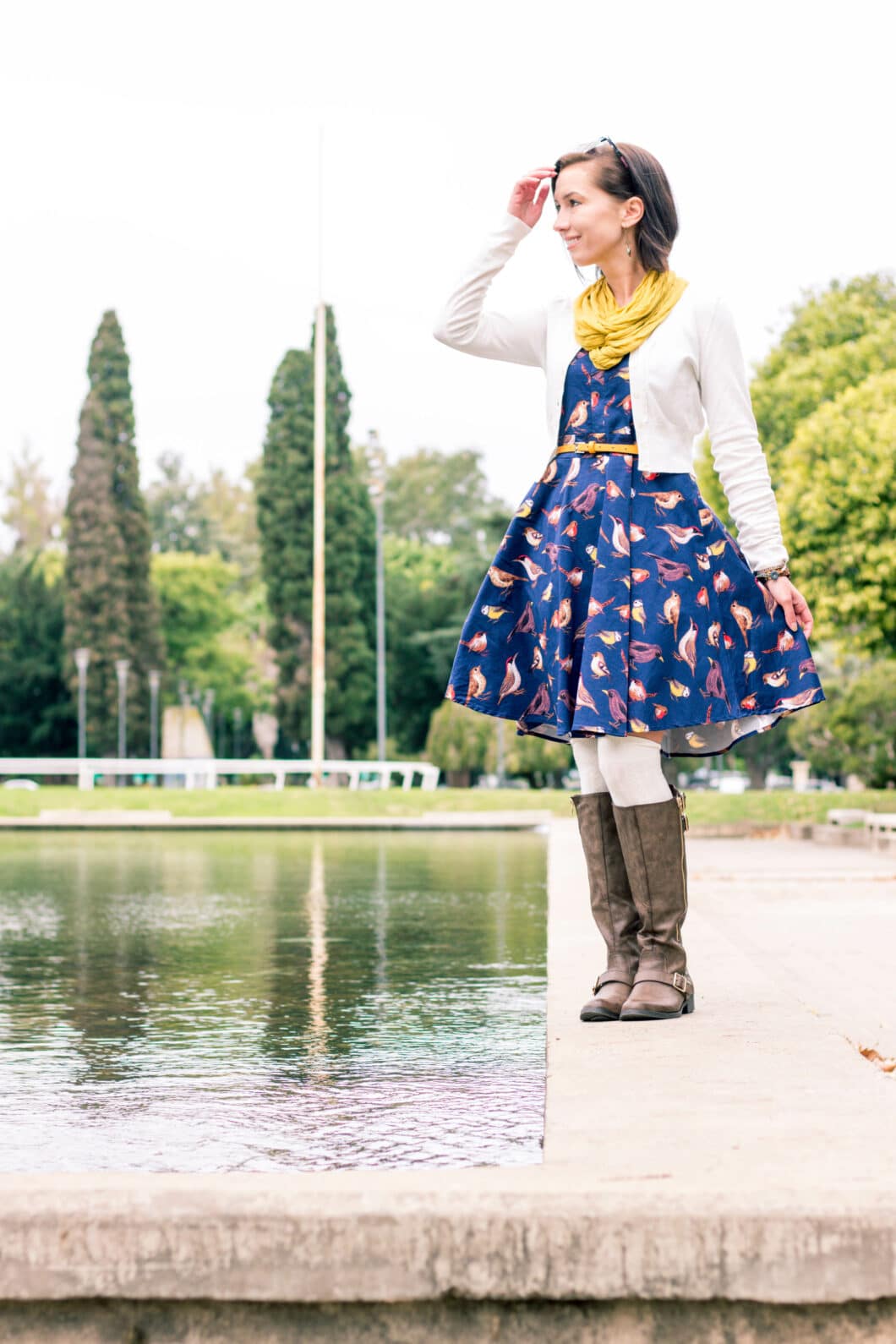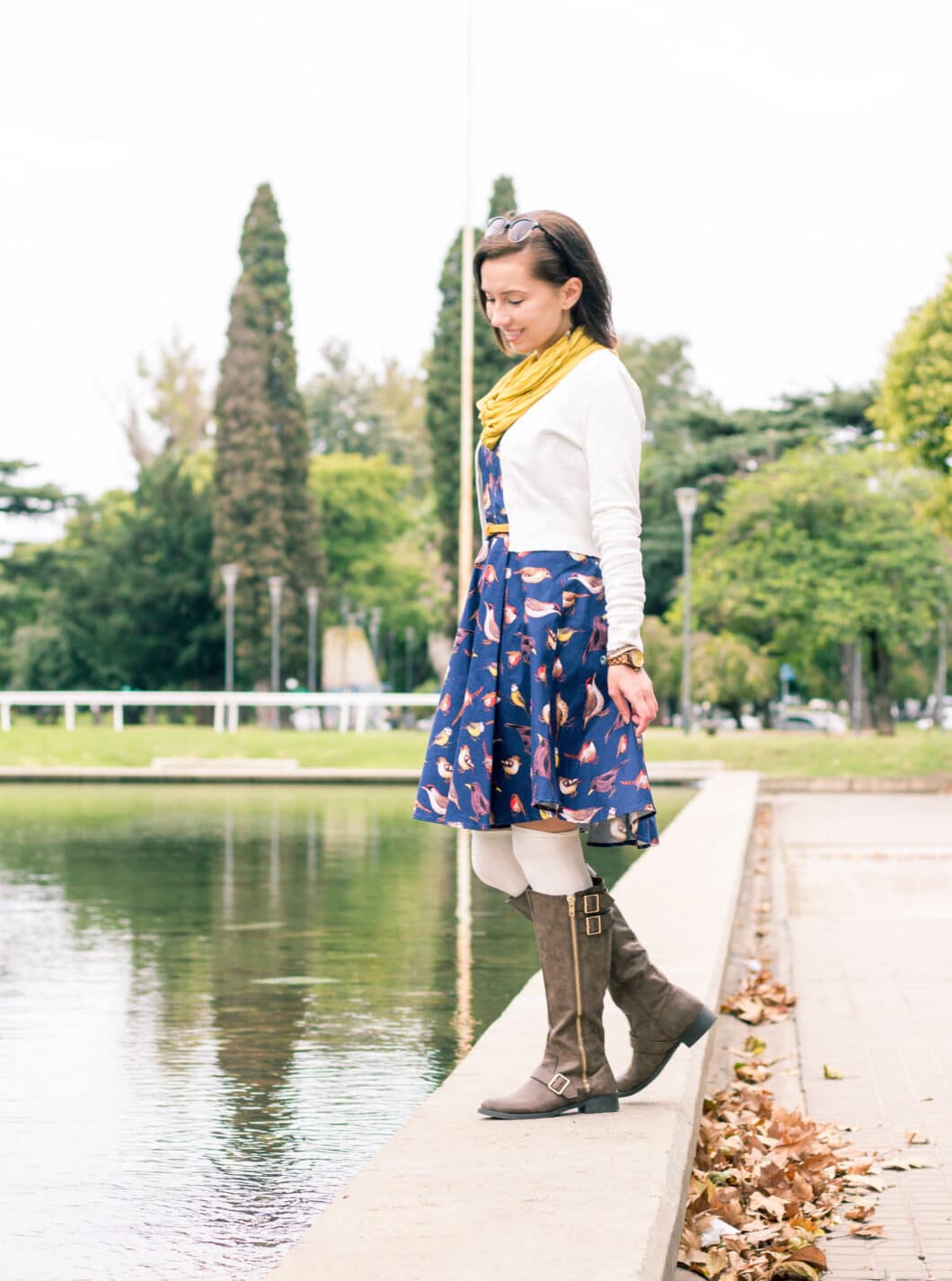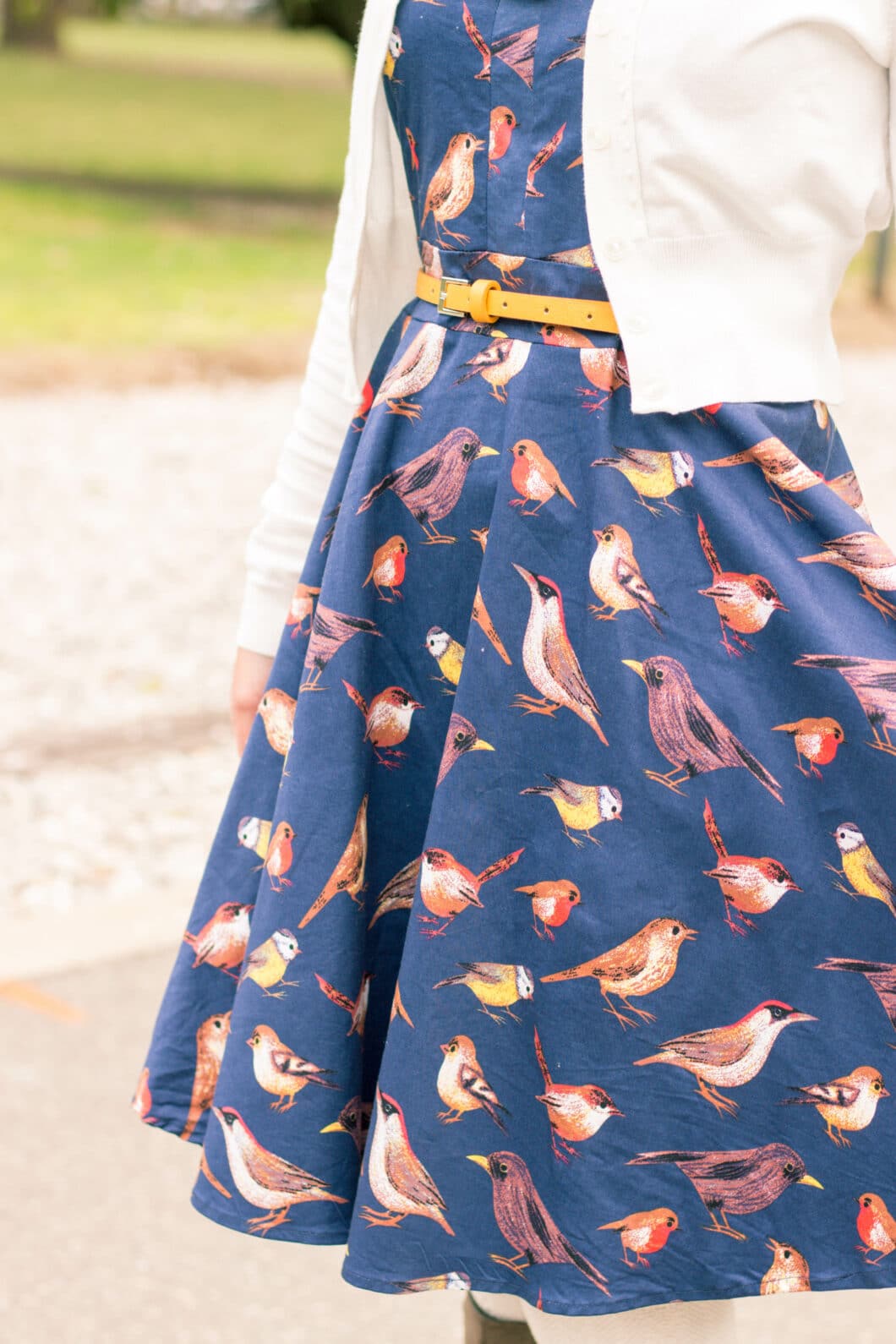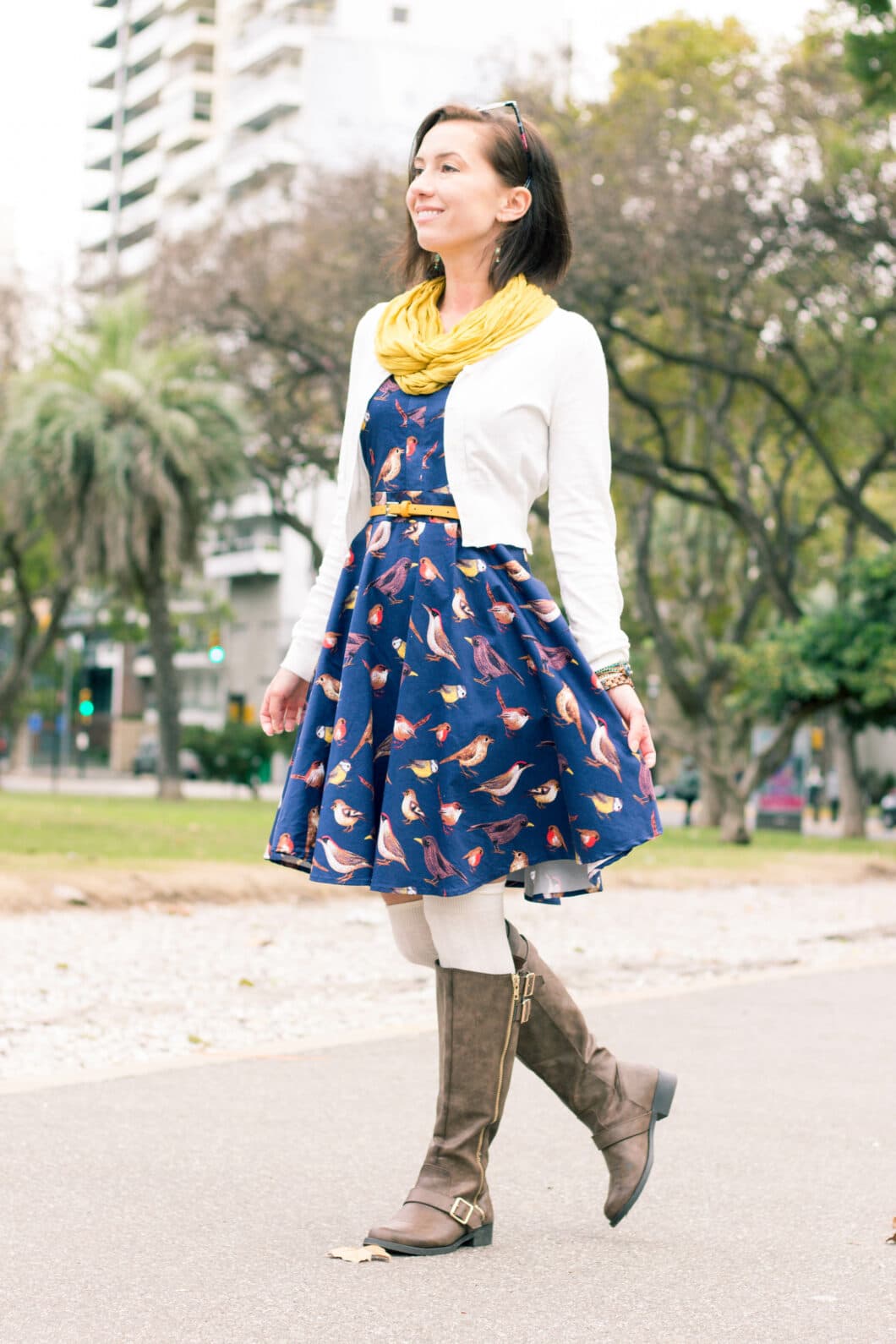 I know, I know, everyone is excited for summer and breaking out their best sundresses and prettiest pastels and planning what to take to the beach. However, all my complaining about missing out on fall 7 months ago has finally caught up with me. Fall has arrived here in Argentina (or at least it did this past weekend)! And I must say, this cold weather is for the birds!
It was a chilly, blustery afternoon when we were taking these photos. Cardigans, scarves and boots were a must! I was honestly freezing without my jacket on, but showing off this cute bird print dress was worth it. I'm not sure if I know what each bird featured on it is, but I believe we have some woodpeckers, wrens and finches, perhaps?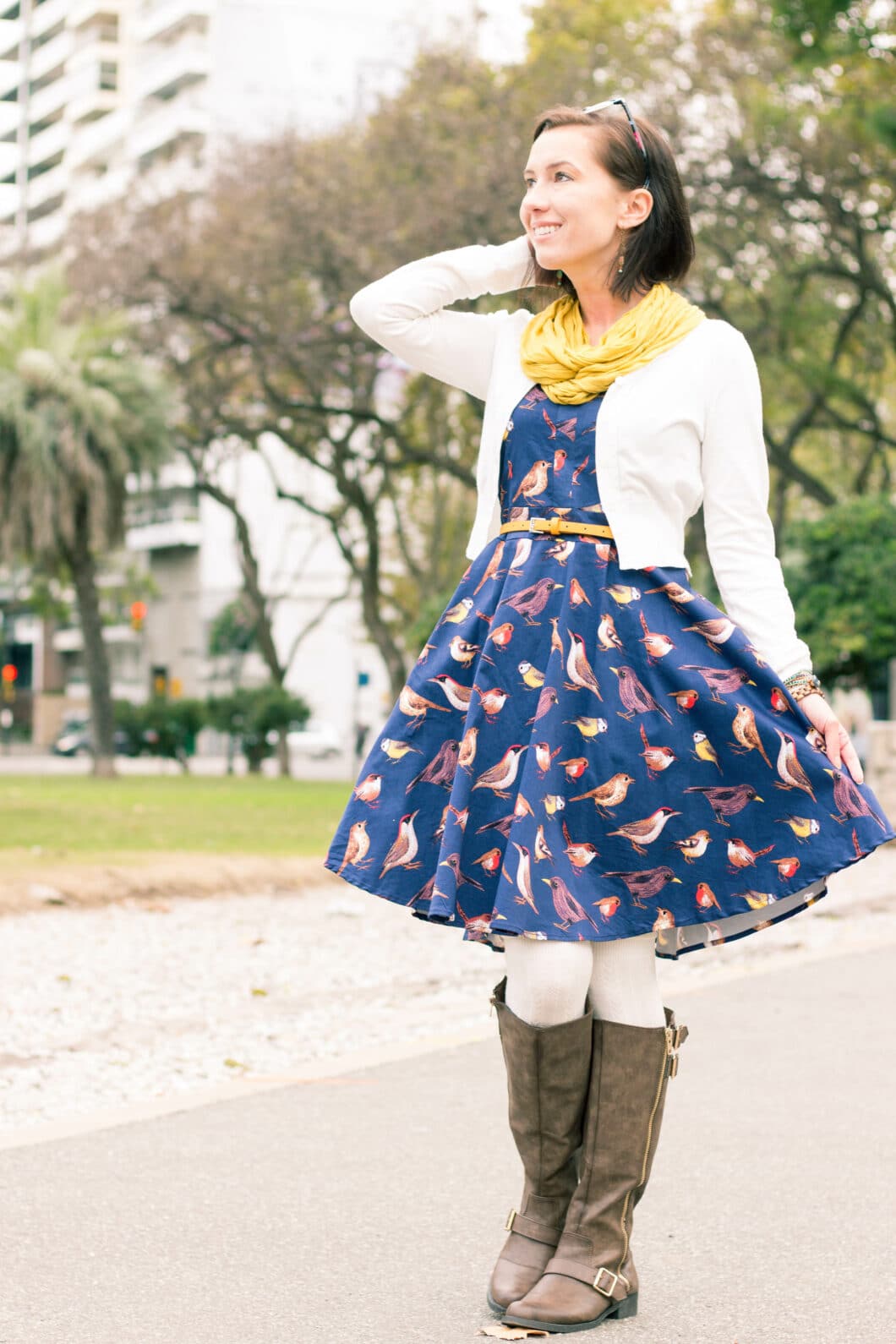 This dress has a super cute neckline on it too! Unfortunately, I was in between on sizes for this dress and ended up going with the larger size…and it is way too big on me. I'm able to hide it with a cardigan, scarf and my belt (my own belt, not included with the dress). However, if I were to wear this dress without all the layers, I would really need to get it taken in. So, pay attention to the sizing chart before ordering!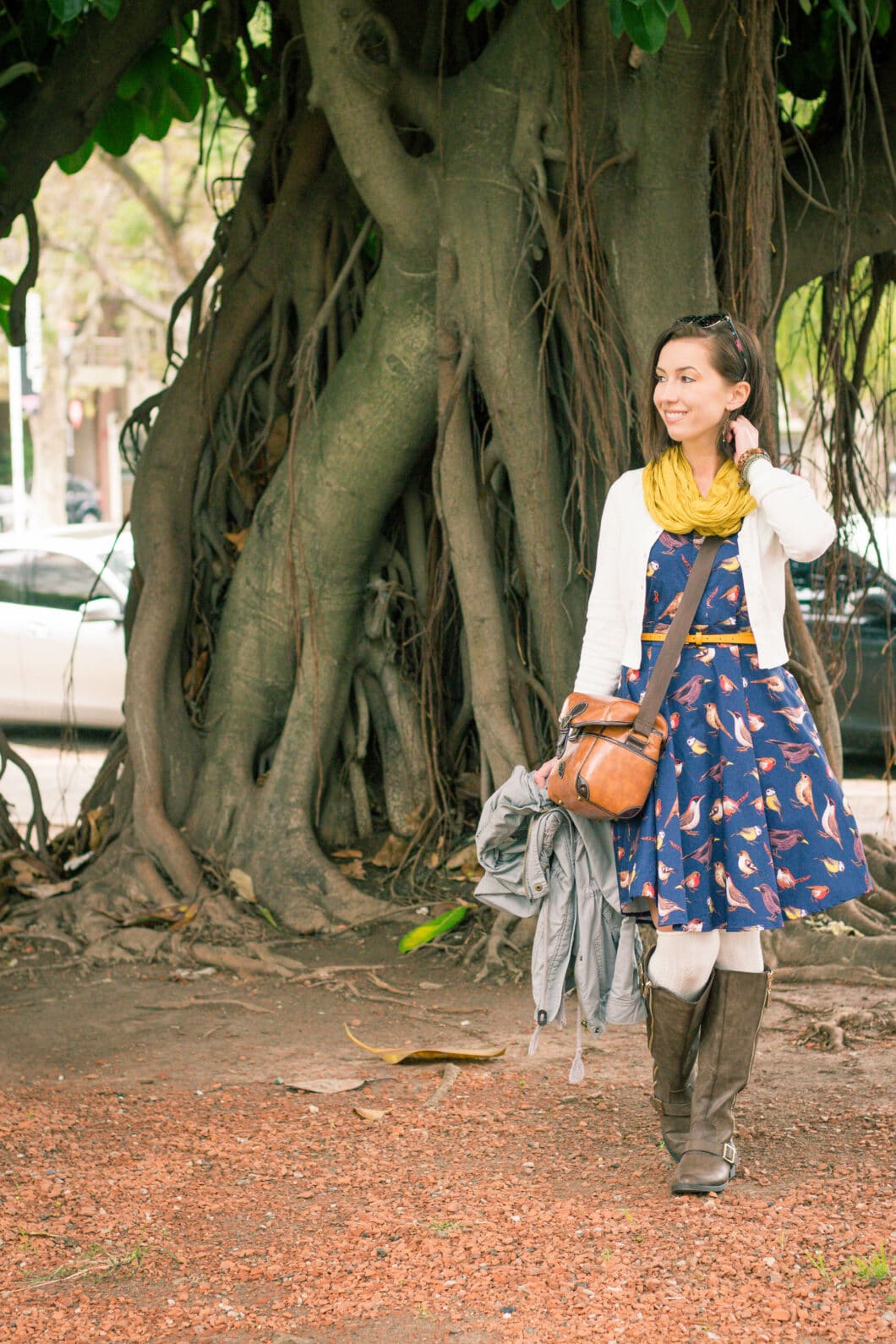 I had worn this dress for a walk to the Paraná River here in Rosario. My husband and I wanted to check out this park for my photos and visit some of the bars and restaurants that are along the river. And we found some really good ones! My favorite was Don Ferro. (If anyone comes to visit me, I'm taking you out to eat there.) It was hilarious too because we waited until 8:30 almost 9 pm before we went to that restaurant, and we were still the only ones there. Haha. (And it's a BIG restaurant.) The locals didn't show up until after 10! (Everyone eats very late in Argentina.) But it was still a great night, with good food and our Spanish is getting slightly better…which makes ordering a bit easier. 😉
How was your weekend? Did you find any good restaurants in your city? And how is the weather in your neck of the woods? Let me know in the comments!
Where to find it:
Dress: c/o* VIPme (Similar dress here)
Cardigan: Review Australia
Scarf: Old (Similar here)
Socks: Old (Similar here)
Boots: Amazon (I just bought them, and they are SO comfy!)
Earrings & Bracelet: c/o* C&A Leather
Watch: c/o* JORD Wood Watches
Sunglasses: Gift from my mom (Similar here)
Camera bag: Amazon
Click to shop below:

Disclosure: some of the links in this post are affiliate links. Meaning, if you click a link and make a purchase, Have Clothes, Will Travel gets a very small commission. Thank you for supporting the brands that make this blog possible!