Getting Creative with Brittney
Meet Brittney! She's this month's Featured Fashionista and a creative force to be reckoned with! Many of you ModCloth-lovers may recognize Brittney from ModCloth's "#fashiontruth" campaign. And she's also the incredibly talented Art Director for Jonesboro-based magazine, "Occasions!"
The ModCloth campaign (that we'll talk more about shortly) is where I had originally been introduced to Brittney and how amazing and creative she is. And through the magic of social media, I felt I came to know Brittney even better. I've been admiring her art and style on Instagram ever since! Her illustrations, adorable outfits and witty captions never fail to brighten my day.
And in the midst of Brittney's bustling art career, she has also just recently launched her own blog, "The Brit Wit Blog." Be sure to check it out by clicking here, after you read her Q&A below!
Q&A with Brittney
Tell me a little about yourself.
Brittney: I love (in no particular order) running, Doctor Who, corgis, creamer with a bit of coffee, unicorns, squirrels, vintage fashion, waffles and glitter. I can rip a regional phone book in half, and I can lick both my elbows…classy, I know. In the past year and a half, I've taken up running, and I've run two half marathons! I'm absolutely terrified of all birds after being attacked as a toddler by a startled scarlet macaw at the Memphis Zoo. And I actually took up running to deal with my bird phobia head on. The park near my house is overrun with geese, and if there's a gang of those meanies near a hill…let's just say I've gotten pretty good at hill sprints! I'm allergic to avocados and mangos and am frequently mistaken for a high-schooler, even though I'm in my early thirties.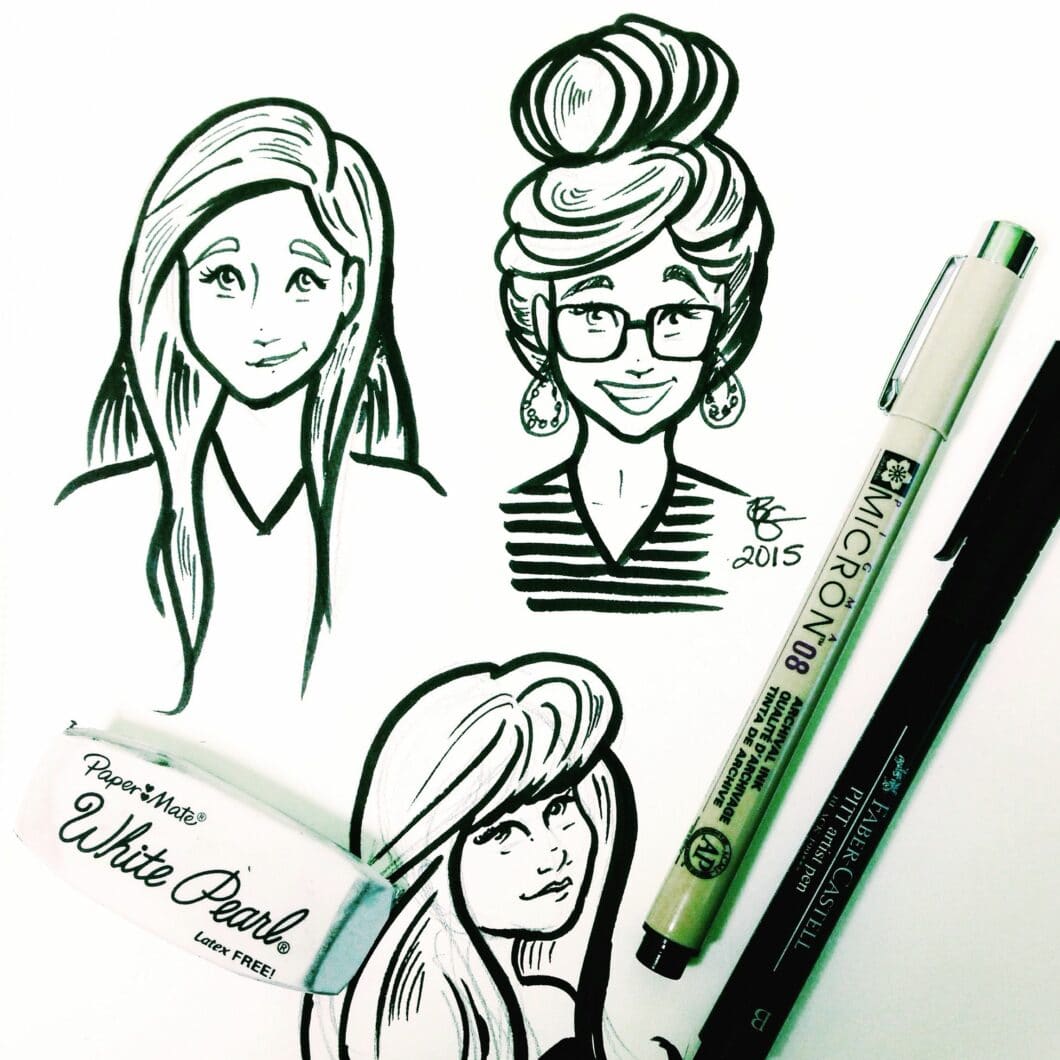 You are always creating the most amazing sketches and illustrations! When did you first become interested in creating art?
Brittney: I've always been interested in art for as long as I could remember. My parents have been big influences and encouragers in my art life. My mom says that it all started when she gave me a crayon at 18 months old! My parents were always buying me art supplies, how-to-draw books, and loads of paper. I remember Mom spending all this time during the summers showing me how to improve my art skills…until about 3rd grade, when she said I surpassed her! It was about that time that a lady at my church saw me drawing during the sermon and encouraged me to enter my artwork in the local fair. I won first place and a considerable amount of prize money on that little pen and ink drawing! It was then that I realized that I could potentially make a living out of doing something I loved!


What does a typical day at the office look like for you as an Art Director?
Brittney: My typical day varies from week to week based on our press deadlines. In the magazine world, you work a month or two ahead of the real world. In fact, by the time you publish this, we'll have already had our traditional Thanksgiving dinner at the office, so we can feature it in our November issue! During most of the month, I walk into the office at 9 in the morning and check my emails. I'll design some ads, send out some ad proofs, come up with ideas for photo shoots, promote some events on our social media pages, maybe answer some phone calls, then go get lunch (often at one of the amazing restaurants downtown). After lunch, I could have some photoshoots to go to, an ad to take photos for, or a planning meeting to attend in addition to staying on top of my ad designs. During press week, (about the 20th-27th) that's when it gets interesting! I make sure to start those days with a run to get me focused and keep me in a happy mood. Once at the office, I'll start laying out the ads and editorial features on the page, often to the "Hamilton" soundtrack. ("Non-Stop" on repeat!) Not many people realize that I lay out an 80-page magazine in pretty much a single day! Once all the pages are ready, I give the printouts to my editor to proof. She then gives the corrections to me the next day, and I send the magazine to press after making those changes! We then start all over for the next month with a clean slate, and we're back to selling ads and planning editorial features! It's a lot of hard work, but it's so much fun!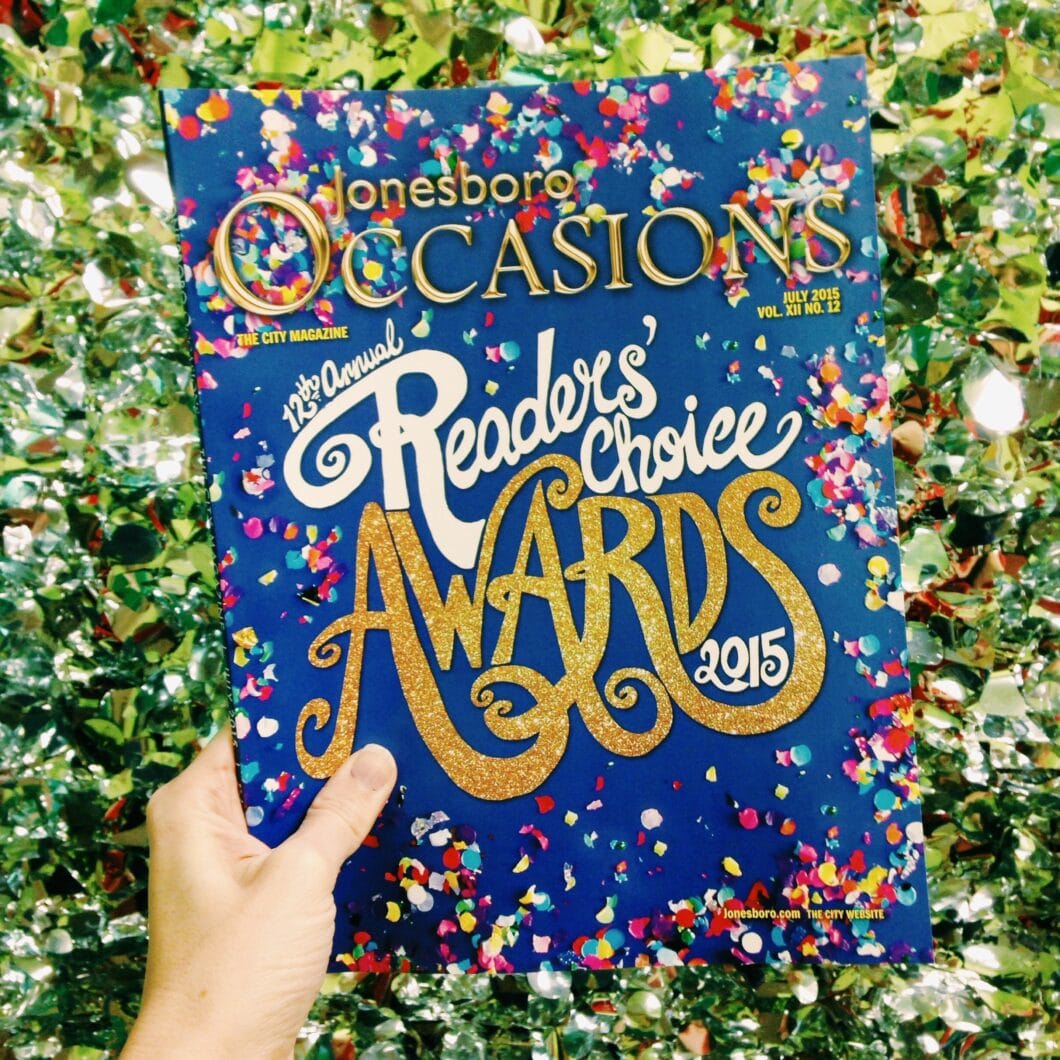 Did you always know you wanted to be an Art Director? Or was that something you discovered as your career was growing?
Brittney: It kind of just happened! I've always loved magazines and thought it would be super cool to be the one who decides on the "look" of a magazine. The movies and television make it seem so glamorous after all! I started my career in publishing, designing pages as part of the yearbook staff in high school. I even illustrated the yearbook cover my senior year! It was then that I met the yearbook advisor at the college I was going to attend the next year. She was so impressed with my work that she offered me a position on her yearbook staff. I designed pages for my college yearbook during my first three years of college, and during my final year, I called Occasions, looking for an internship. My former yearbook advisor was working for Occasions at the time, and she recommended that the Art Director take me on as her intern. I interned during the Fall 2006 semester and started working full time at Occasions as a graphic designer upon graduation. Two years later, I was promoted to Art Director! It's been a fun ride!
In addition to your career as an Art Director, you also do freelance designs and illustrations. Can you tell us a little more about your freelance work?
Brittney: I design logos and promotional graphics for local non-profits and businesses. I've created calling cards for boutiques, logos for dog bakeries, t-shirt designs for teams, invitations for weddings, medal designs for races, and programs for charitable events among other things. I love creating something and then getting to see the look on someone's face as they enjoy my designs I've set free into my community. During my last half marathon, I was amused for quite a few miles as I ran behind a group of women happily sporting t-shirts I had (unbeknownst to them) designed!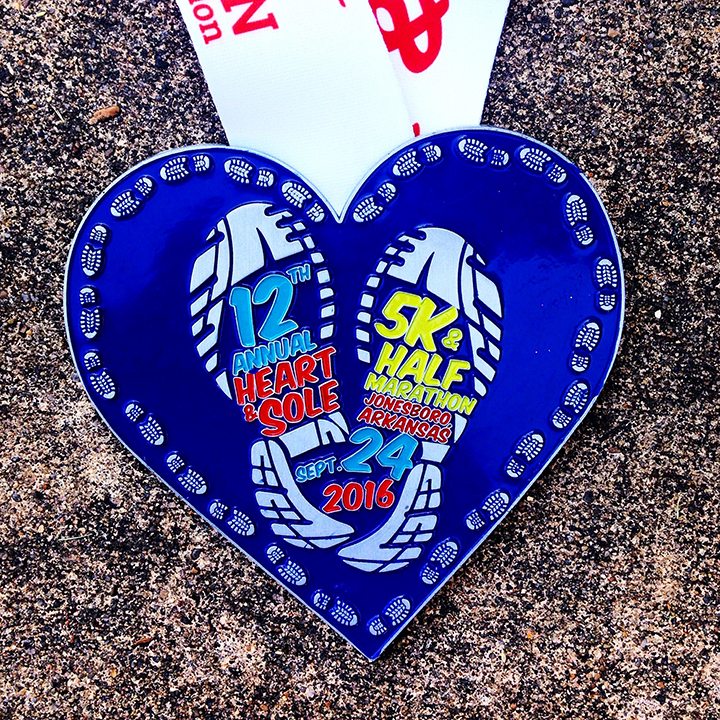 What advice would you give to someone pursuing a career in art?
Brittney: Practice, practice, practice! That's the key. And learn to take criticism well. Just as there's always going to be someone who loves what you're creating, there's always going to be someone who doesn't like it. It's up to you to decide what to take from the criticism and use to your advantage to grow and better your craft. As long as you're making art that you enjoy, it's good art. Keep making good art.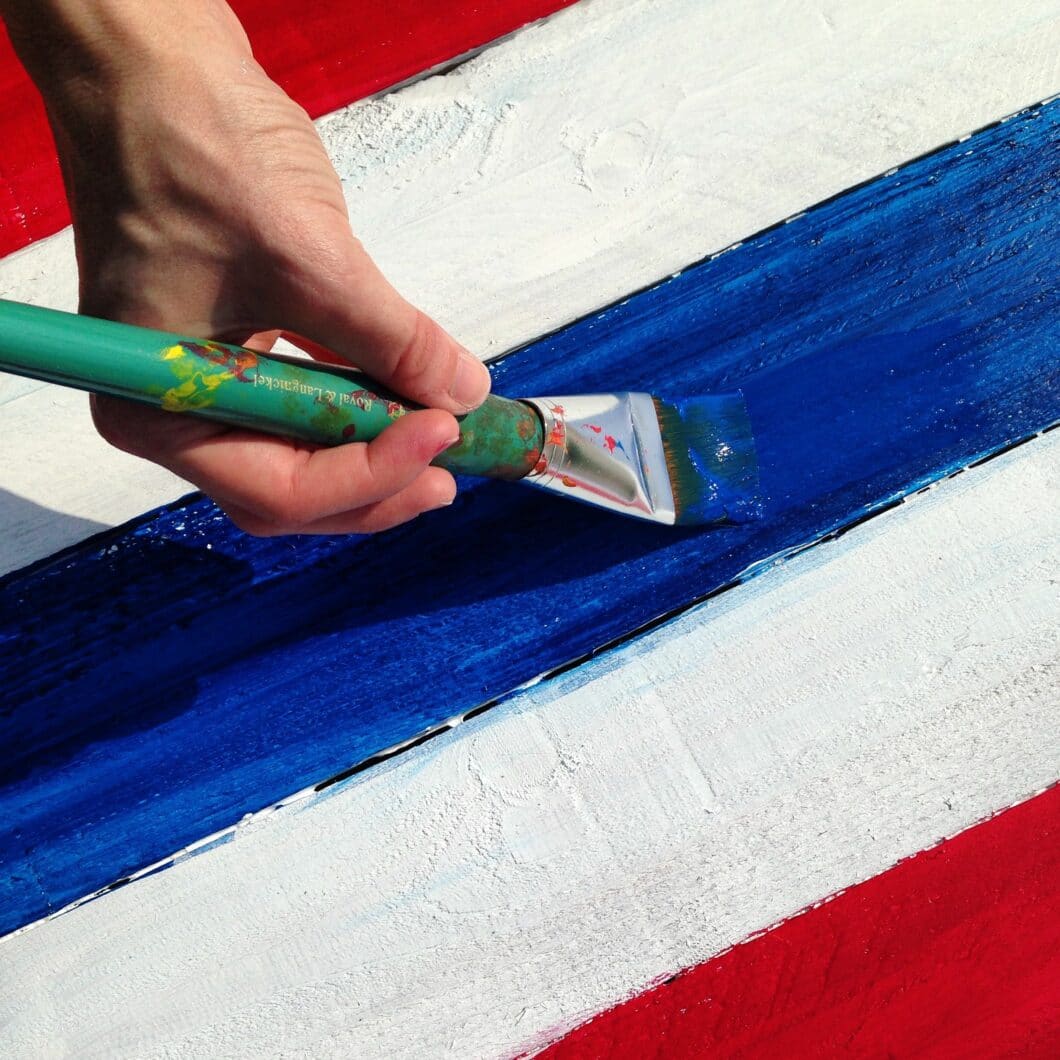 And you recently launched a blog! Congratulations! Can you tell us a little more about it?
Brittney: The Britt Wit Blog is going to be where I share whatever is currently inspiring my art, whether it's a cool pattern on a favorite dress, things I see on my morning run, a tucked away location in my town, or really anything that gives spark to my creations!

I had originally found you and your work when you were featured on ModCloth for your #fashiontruth. That was such an incredible feature! For those who might not be familiar, could you explain briefly what being featured on ModCloth for your #fashiontruth was all about?
Brittney: ModCloth's #fashiontruth campaign was a call for women to be the change that they wanted to see in the fashion industry, a call for a more realistic representation of women in the media. It really resonated with me because I know what it's like to feel left out because of your size. I may not look like it now, but in the early 2000s, I was a size 18, and it was nearly impossible for me to find anything I actually loved wearing. I've always loved fashion, but what I loved to wear wasn't always accessible. I'm glad that retailers like ModCloth are getting better at offering more plus size options today. I wish that had been the case when I needed those sizes! Eventually, I lost weight in college, and I found myself with another problem brought about by today's vanity sizing…size small clothes are often too large for my petite frame. I'm a polar opposite on the size spectrum, but I still feel left out at times. I want every woman to know that she is valued and important and real, no matter her size! ModCloth liked my #fashiontruth and decided to feature me on the site during the 2014 holiday season. I got to curate a collection of items that best represented my personal style, and based on that collection, they sent me photos of three unreleased clothing items they thought I'd like. They asked me to choose one of them to be my namesake item. I ultimately decided on a beautiful sheer blue shirtdress with white hearts printed all over it and the cutest black lace trim. Hearts are kinda my thing! (You can click here to read the full feature.)
Do you still wear the dress named after you? 🙂
Brittney: Not as often as I would like! It's been in storage over the spring and summer, but I can't wait to break out that beautiful long-sleeved dress once more this fall and winter!
Brittney's Outfit
Can you tell us a little about your outfit choice? Is this something you would normally wear?
Brittney: I love clothes with bold, colorful details, and this is totally a typical "all-in-a-day's-work" outfit for me! I'm wearing Modcloth from head-toe in this look. I paired the Podcast Co-Host Top in Midnight with the Stripe It Lucky Skater Skirt in Black & Ivory, because I thought the dark piping looked really cool with the stripes and made the deep blue really pop. Since it's fall, I threw on the Layer It On Tights in Black with the Lickety Split Booties I bought last fall. I topped it all off with the fabulously colorful 2001: A Space Prodigy Necklace by Eclectic Eccentricity and my trusty heart-shaped To Have And To Gold Earrings. I absolutely love the designs by Eclectic Eccentricity! I own two of her quirky and gorgeous necklaces, and of course I want more! They're perfect for a geeky fashionista like yours truly!

Does your career influence your fashion choices? And if yes, how so?
Brittney: I work in a creative environment, so I feel free to express myself in my clothing choices. If I'm happy with the outfit I've created, I'm more likely to be happier with the designs I create. It's like my outfit is telling me, "Girl, you styled this dress so well today! You've got this design thing down! No worries!" I also like to theme-dress to fit events I'm attending as much as possible. If it's press day, I will for sure have on my color wheel necklace, ampersand bracelet and quotation mark earrings for good press day vibes! Bonus good luck points for dressing in a CMYK palette.

What would you say your go-to style is?
Brittney: My style is colorful and comfortable! Everything I buy has to pass what I've deemed "The Nap Test." If I can't take a nap in it, I don't buy it…even if I don't actually take naps! Seriously, though, I love mixing and matching textures, eras and patterns. I'm just as likely to wear a trendy chiffon maxi dress with a vintage denim jacket as I am to wear a striped tee shirt with a floral skirt. I'm usually wearing skirts or dresses, and I own more pairs of running shorts than jeans!

I have a hunch, but what would you say your favorite clothing store is?
Brittney: Oh, you know me, girl! I'm gonna have to say ModCloth! I can always chat in to get a perfect fit, and they offer so many unique, stylish pieces for ladies of all sizes and styles! I'm especially thrilled that they're offering more extra small options lately! And they're awesome about supporting independent designers and artists. I feel it's important to support companies that support artists!

Where can we find the outfit pictured above?
Brittney: Good news, you can still get everything except the booties and the earrings on Modcloth!
Thank you so much, Brittney! It was wonderful getting to know you better! Be sure to check out Brittney's website by clicking here. And you can follow her on all the social media accounts listed below!
*Instagram
*Pinterest
*Twitter