This isn't the first time any of these vintage-inspired items have been featured on my blog…but it's the first time I ever put them all together for one great, big vintage-inspired/retro look! Haha.
And if this setting looks familiar, it's the same beach where my beach look from last week was featured…they were both worn on the same day, actually. I wore the dress for traveling and the suit to jump in the ocean with. And I put my high-waisted Judy Blue shorts on over the top to go grab some food…and to really put the icing on the vintage-inspired cake. Haha.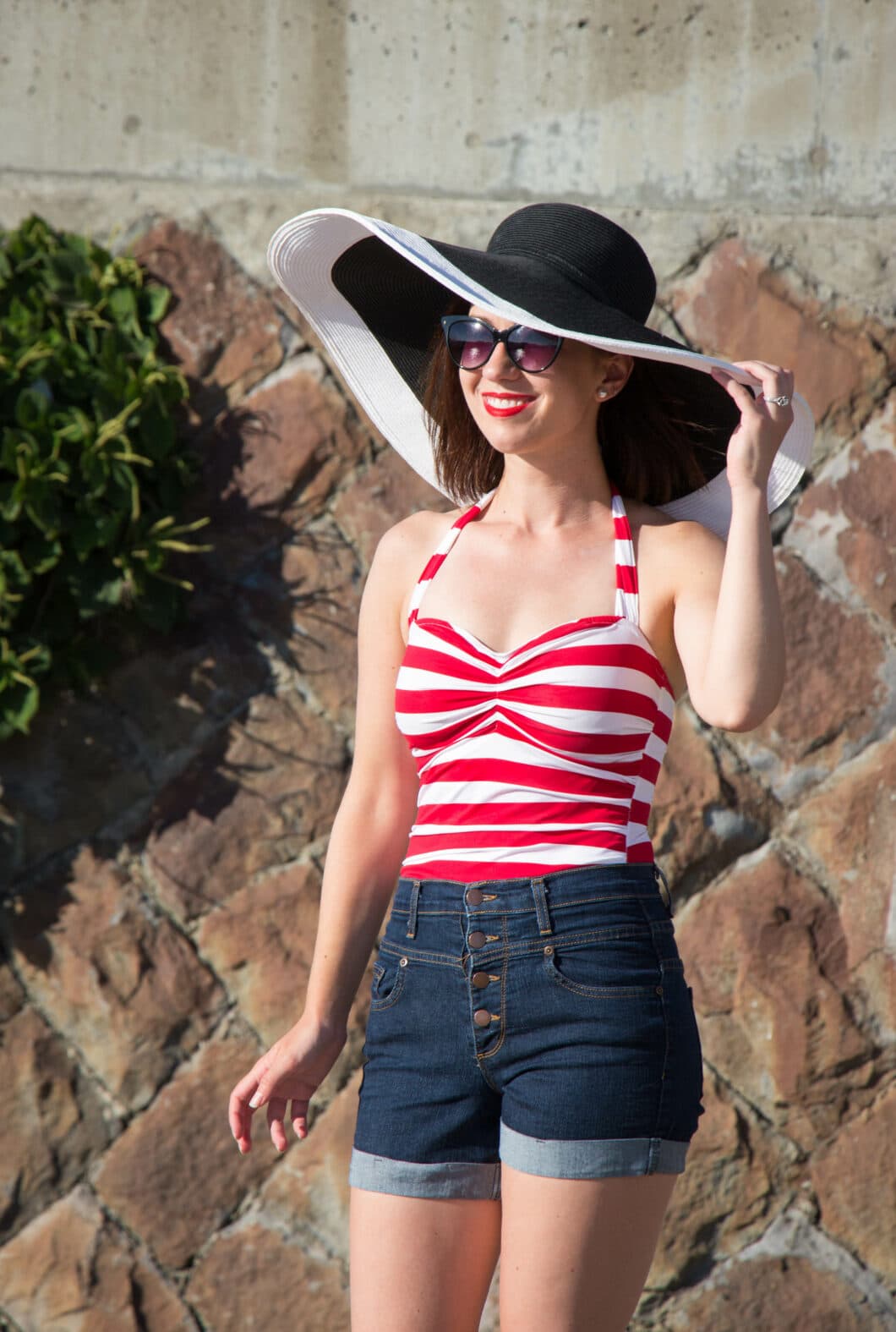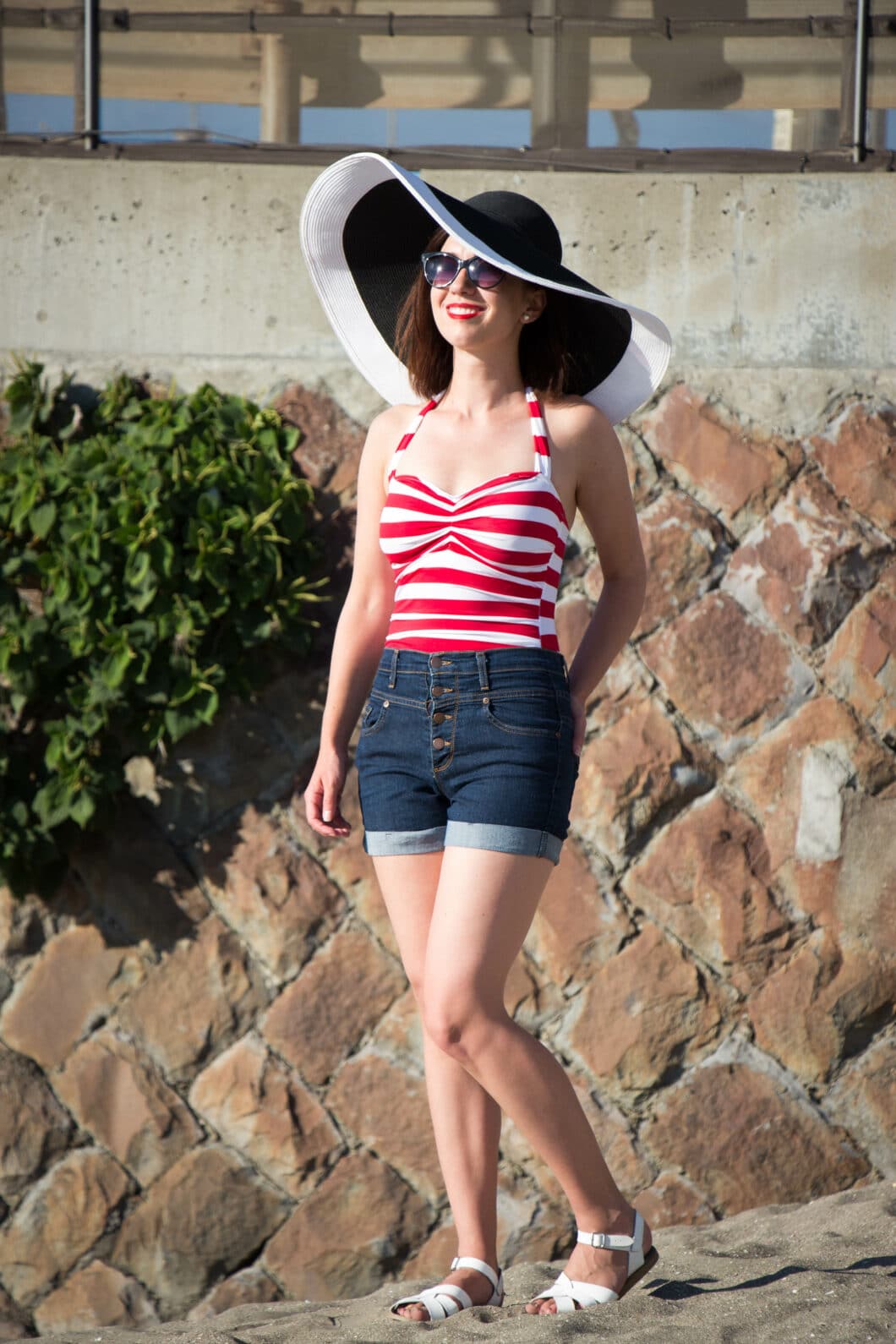 I've already been over how much I love these shorts and the hat and the sandals. So, I'll revisit my love for Esther Williams swimsuits, since it's been a while! These suits are amazing! I currently own two…but I really need more.
They are all either one-piece or high-waisted..which is perfect for me. I've never loved wearing bikinis, but I feel so gosh darn glamorous wearing high-waisted and one-piece suits from Esther Williams! I also love that they keep my bum covered, and stay put… so I'm not constantly picking wedgies in public. I know my shorts cover up the butt part of the suit in these photos, but if you want proof, you can check out my post featuring just this suit from last summer by clicking here.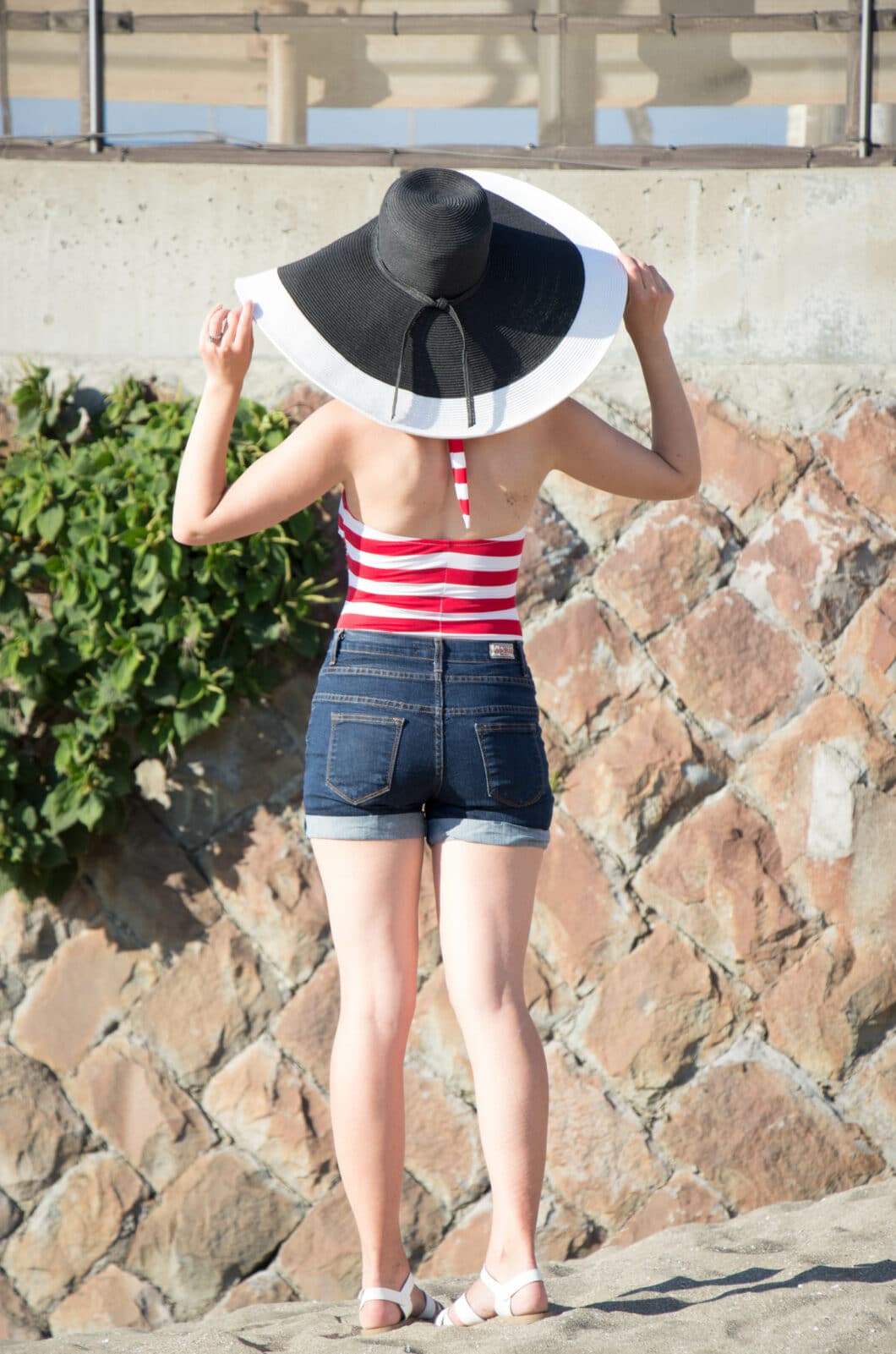 I do have a warning about these suits, though. They do not have an underwire and don't offer a ton of support up top. I'm not particularly busty, so it's not a problem for me (but I probably won't be jumping up and down while wearing it, haha). So, if you are a bit on the busty side, they may not be the most comfortable option. And they do come in a wide variety of sizes (from a size 4-26). But it's vintage sizing. So, size up! I'm typically around a size 4 or 6, but I'm a size 8 in Esther Williams suits – just an FYI.
Does anyone else like vintage inspired outfits? What about Esther Williams swimwear? Let me know in the comments!
Where to find it:
Swimsuit: Esther Williams
Hat: Unique Vintage
Shorts: Judy Blue
Sunglasses: c/o* Polette
Sandals: Salt Water Sandals
Lipstick: Stila Stay All Day Liquid Lipstick
Also, check out the amazing illustration Pattysaurus was inspired to create from this post! Isn't she talented?!
*c/o = courtesy of, meaning the company gave me the product to be used on my blog, and I did not pay for it. All opinions are my own, and I am not being compensated for a positive review.