Gingham Shirtdress for the Beach
Dress c/o* | Sandals | Sunglasses (similar)
Boy oh boy was I fortunate last week! While it was snowing and cold in Wisconsin, I was in Myrtle Beach with my family. While it wasn't beach weather the entire time we were there, we did still get to soak up some sun for a couple days. (There are a couple bonus photos at the end of the post of my nephew's first time playing in the ocean!)
This gingham dress was absolutely perfect for the occasion and weather. The fabric is very breathable and smooth. So, I was able to plop myself in the sand and easily brush off afterwards. It was great for the warm, breezy weather too. This dress is just long enough that I didn't have to worry about any Marilyn moments!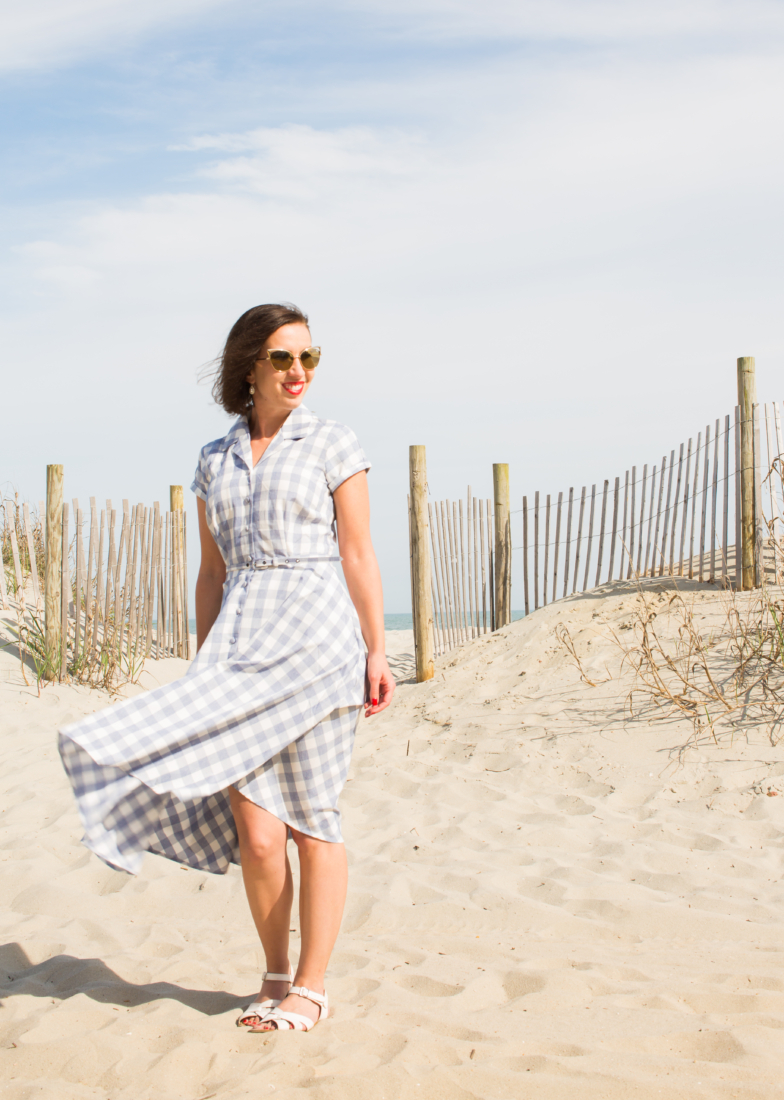 And believe it or not, this is actually the first time I've ever worn a gingham dress. It was one of those patterns that I never really warmed up to (that and plaid). But I've been trying to come out of my little, style bubble.
So, I was very excited when my friends over at Unique Vintage sent me this dress, as I don't think I would've actually have bought it for myself. However, I can already see I'll be wearing it all summer long! I wore it three days straight on vacation and only stopped wearing it because I spilled dip on myself. Haha. (Don't worry OxiClean and the washing machine saved the day once I got home!)
Oh, and best of all, this dress has pockets! I love having pockets that I can throw my room key, cellphone, chapstick, etc. in when I'm on a trip. It's also a great place to stuff my hands when the wind picks up!
I also wore my yellow cardigan with it if I got a little chilled at night. I'm seriously going to wear this cardigan to death one of these days…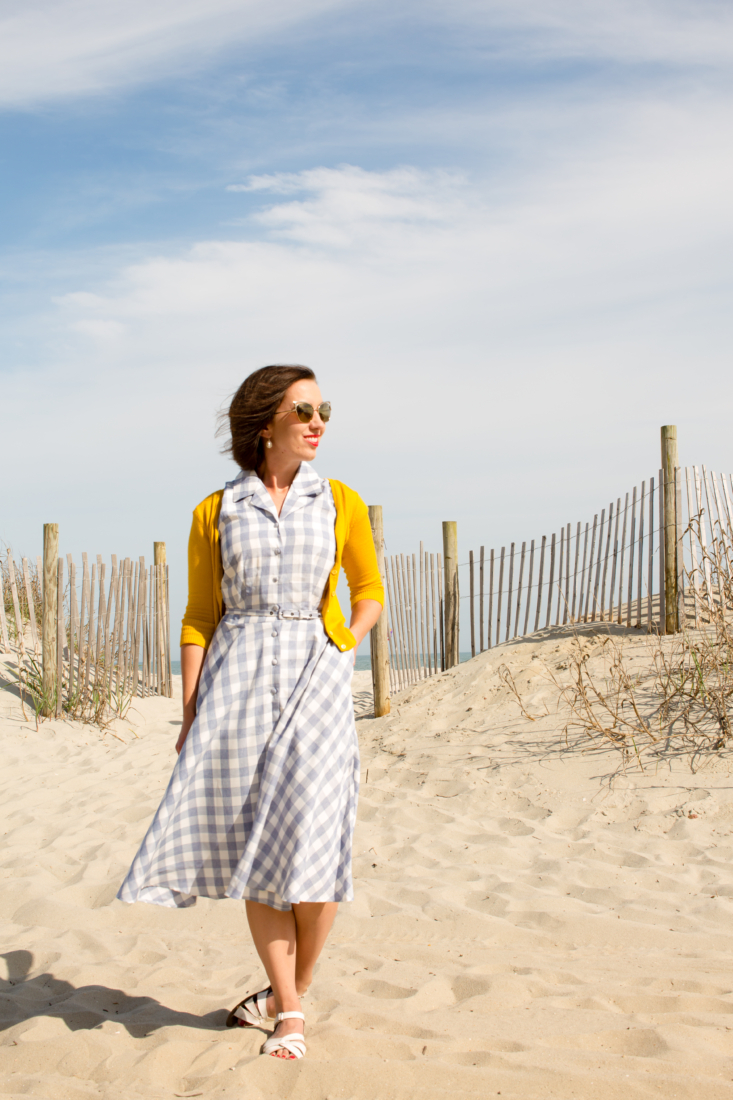 Are you a fan of gingham? Or did it take you a little while to warm up to this print too? Let me know in the comments!
Where to find it:
Dress: c/o* Unique Vintage
Sandals: Salt Water Sandals
Sunglasses: Quay (similar)
Cardigan: ModCloth

*I wanted to show off how cute my nephew is too! This was his first time playing in the ocean, and he was just too darn adorable! I loved the shorts my sister-in-law bought for him too.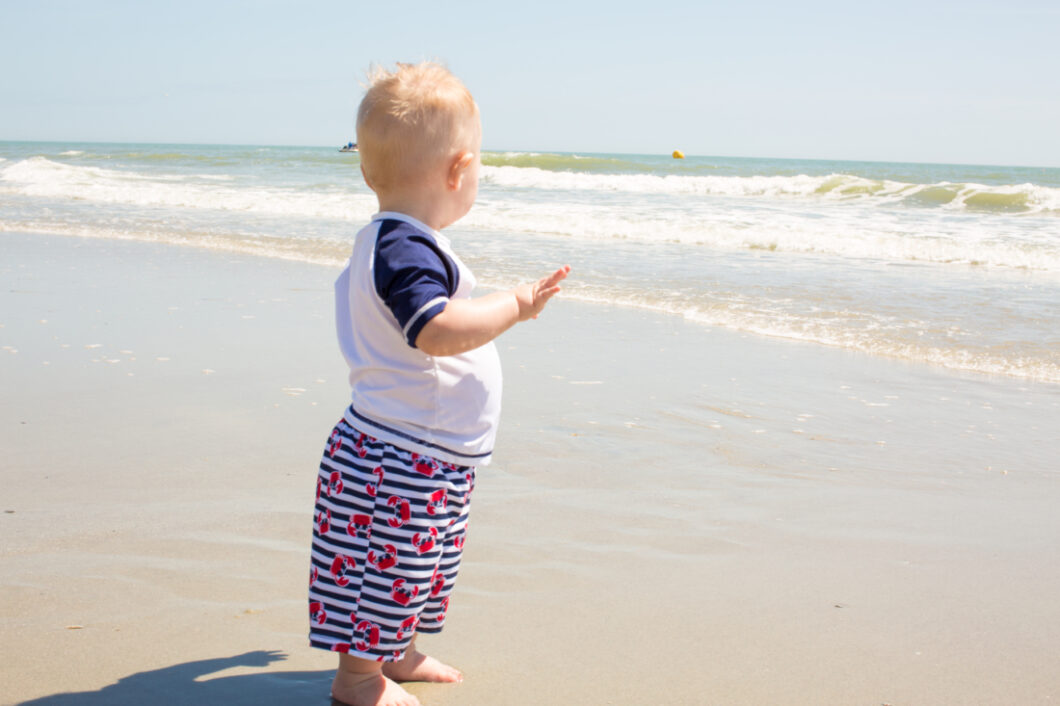 *Disclosure: some of these links are affiliate links. Meaning, if you click a link and make a purchase, Have Clothes, Will Travel gets a very small commission at no extra cost to you. Thank you for supporting the brands that make this blog possible! I am also a participant in the Amazon Services LLC Associates Program, an affiliate advertising program designed to provide a means for us to earn fees by linking to Amazon.com and affiliated sites.
*c/o = courtesy of, meaning the company gave me the product to be used on my blog, and I did not pay for it. All opinions are my own, and I am not being compensated for a positive review.