Hello Kitty Obsessed Outfit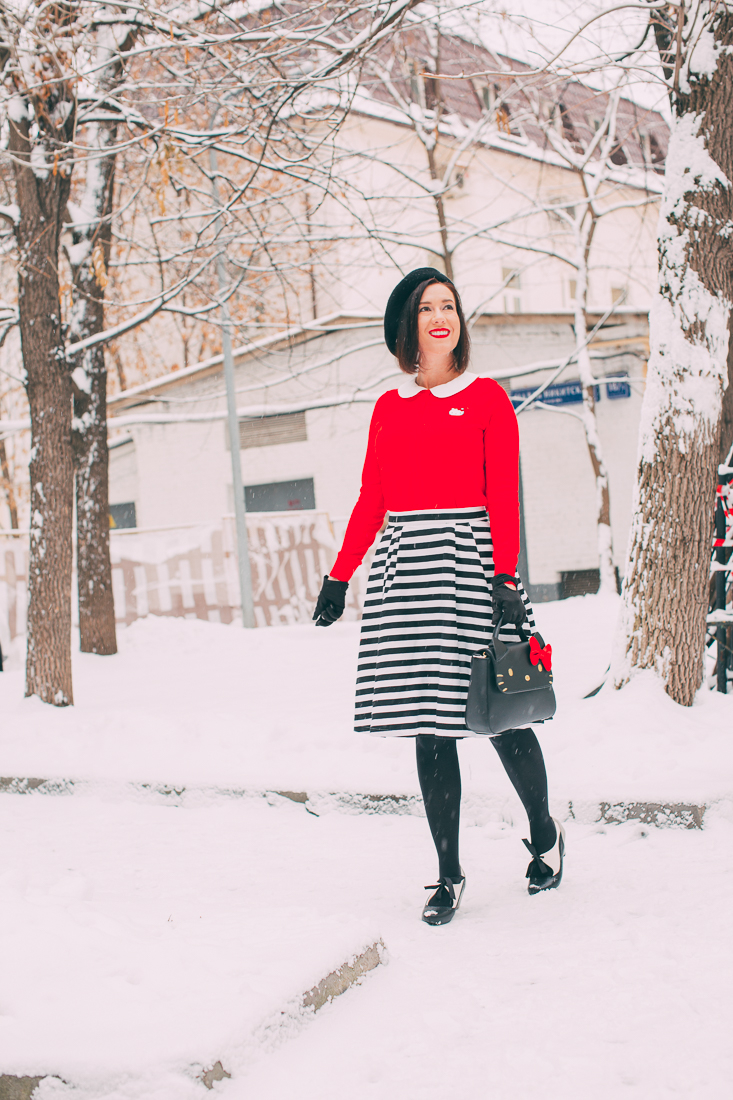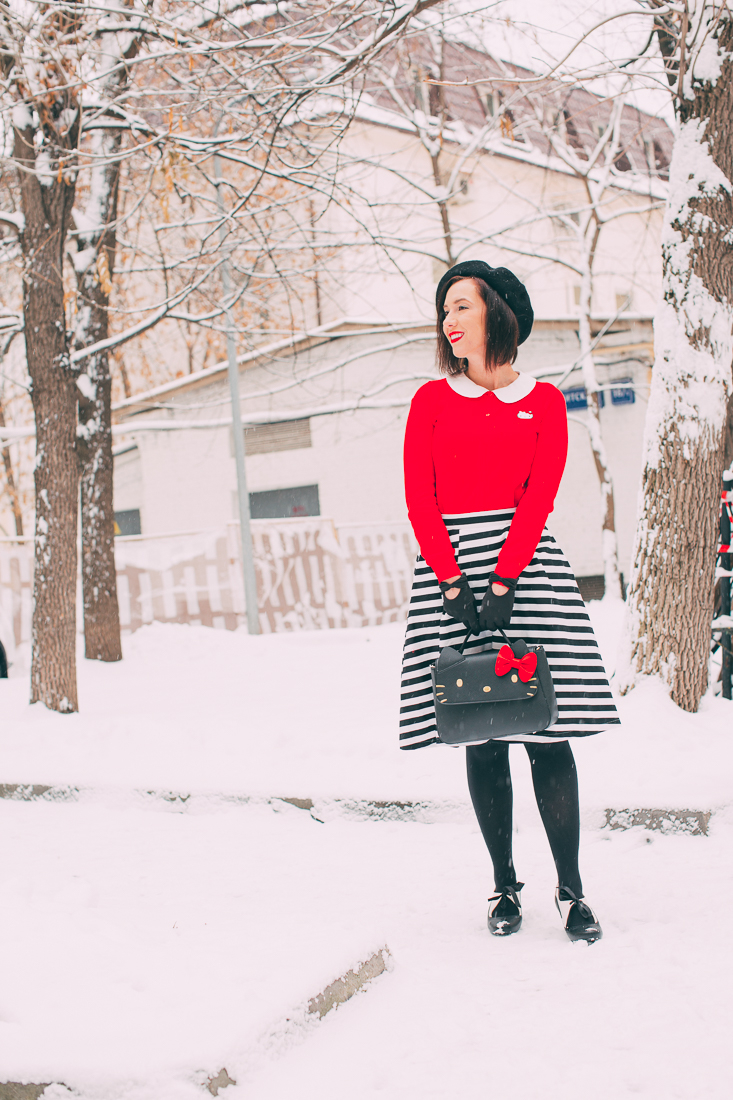 Cardigan c/o* | Beret c/o* (Similar here) | Bag c/o* | Heels c/o* (& here) | Skirt (Similar here) | Gloves (Similar)
My family and friends have known this for a really long time, but there is a big secret that I have not yet shared on my blog…I have to confess to you all…I'm a Hello Kitty addict.
I have every Hello Kitty-themed thing you can imagine – a bathrobe, blankets, pillow cases, jewelry, PJs, pens, notebooks, makeup cases…the list goes on. Until recently, though, I never had much for Hello Kitty clothing (besides PJs and a couple T-shirts). That all changed, though, when ModCloth and Hello Kitty teamed up for an amazing collaboration for Hello Kitty's birthday last month!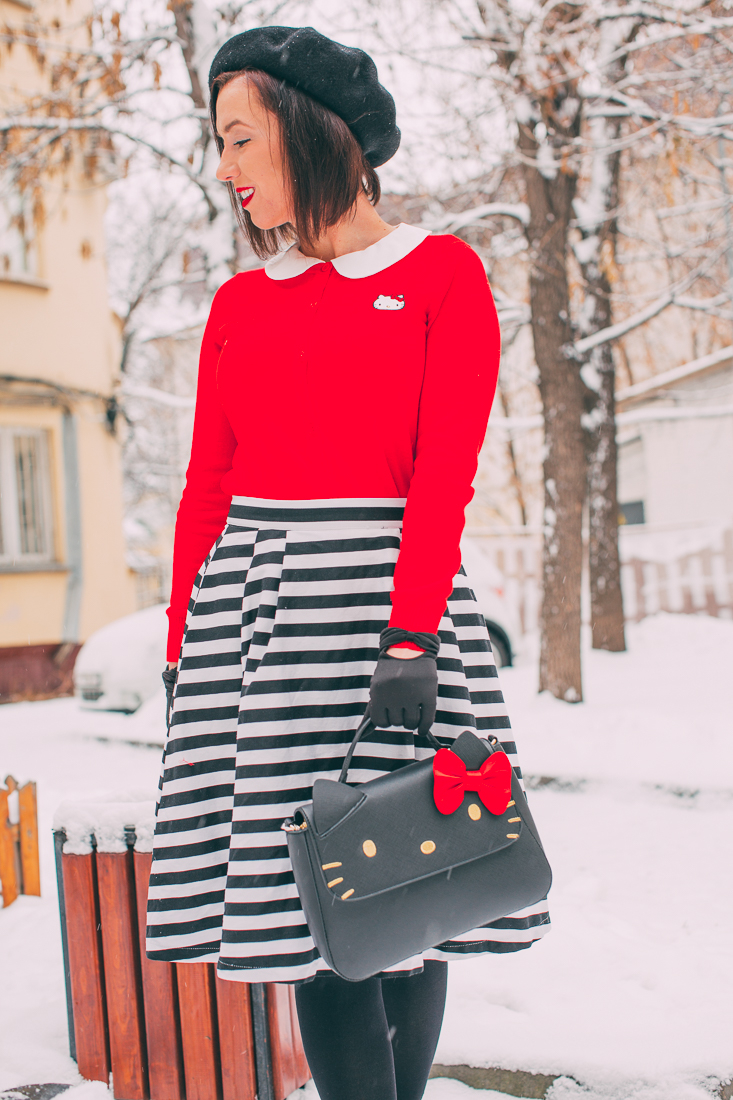 Let's just say I ordered almost all of the Hello Kitty things on ModCloth's website! Haha. I was so darn excited. And it seems I was not the only one who was excited, because, unfortunately, many of these pieces sold out almost immediately. There are a few items left, though. And if you see something you like that's out of stock, be sure to click the size you want and the "I need it" button. ModCloth will notify you once it's back in stock, and if they get enough "I need it" clicks, they'll likely restock it!
For this first Hello Kitty-themed outfit post (oh yes, there will be more than one), I'm featuring this adorable red cardigan with a detachable Peter Pan collar. You can never go wrong with a little red at this time of year! There does appear to be hope that this cardigan will be restocked too! (So, click that "I need it" button!) Unfortunately, this exact purse is gone for good, but there is a very similar Hello Kitty backpack still in stock!
I wore this outfit to my new Friday night tradition of meeting my husband for a snack and mulled wine at a little Irish pub we love. It's been a great way to end the week!
And I had actually snapped these photos in the little courtyard by our apartment complex before I headed out. It has been snowing like crazy lately, and it is making everything look like it came straight out of a fairytale. Needless to say, though, if the neighbors weren't already thinking I was a weirdo, they're convinced of it now! While everyone was in snow gear walking their dogs (or outside smoking – SO many people in Moscow smoke), I was twirling around in Hello Kitty attire taking photos of myself like a complete lunatic. Haha. Oh well!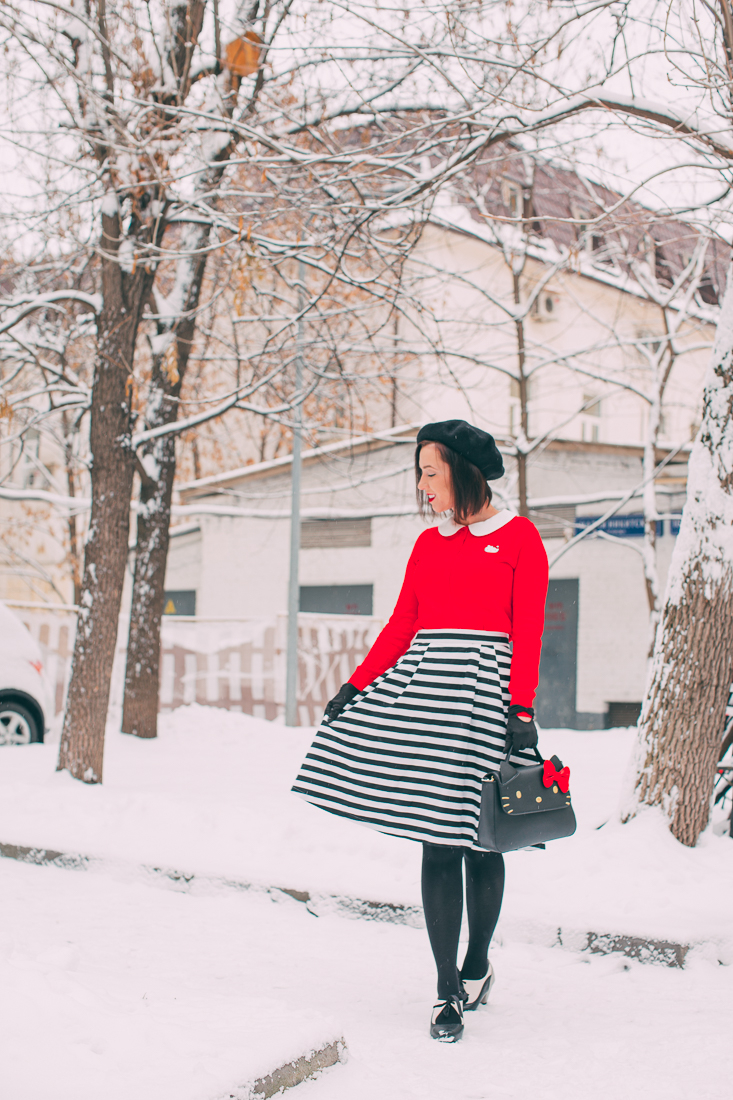 Are there any other Hello Kitty fans out there? Or is it just me? Let me know in the comments!
Where to find it:
Cardigan: c/o* ModCloth
Bag: c/o* ModCloth
Beret: c/o* ModCloth (Similar here)
Gloves: c/o* Unique Vintage (Similar here, here & here)
Skirt: ModCloth (Similar here)
Heels: c/o* ModCloth (Also available here)
Tights: Old (Similar here)

*Disclosure: some of these links are affiliate links. Meaning, if you click a link and make a purchase, Have Clothes, Will Travel gets a very small commission at no extra cost to you. Thank you for supporting the brands that make this blog possible! I am also a participant in the Amazon Services LLC Associates Program, an affiliate advertising program designed to provide a means for us to earn fees by linking to Amazon.com and affiliated sites.
*c/o = courtesy of, meaning the company gave me the product to be used on my blog, and I did not pay for it. All opinions are my own, and I am not being compensated for a positive review.