The Perfect Dress for the Holidays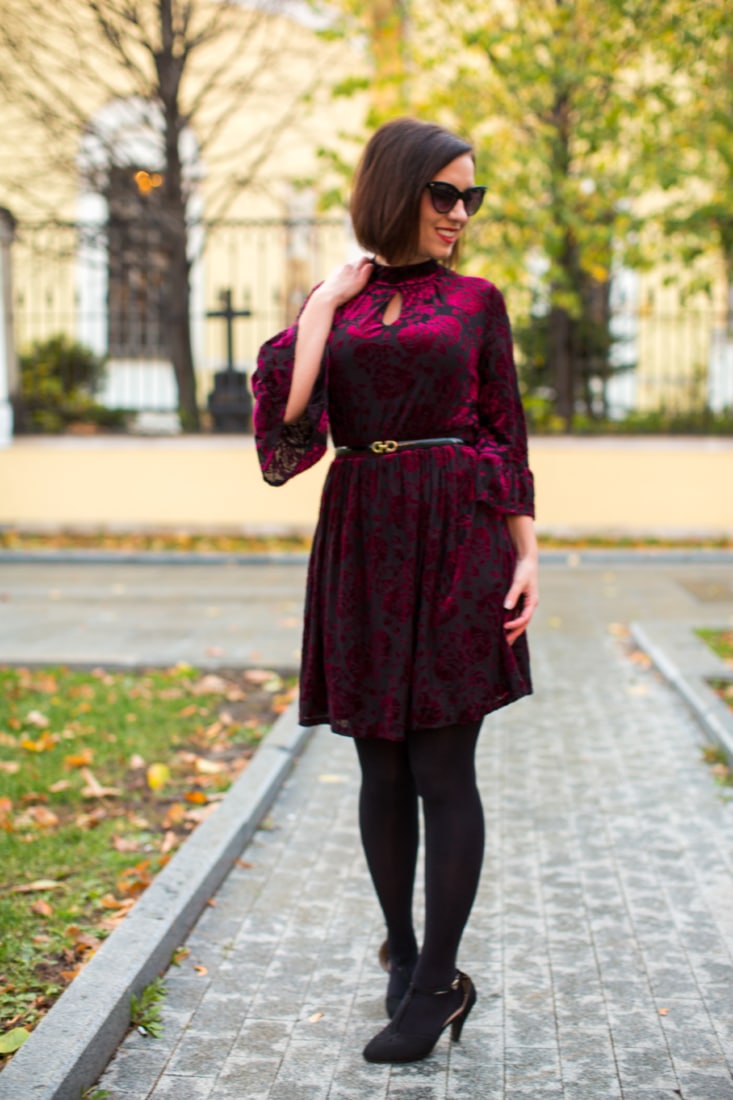 Dress c/o* | Heels | Tights | Sunglasses (similar) | Belt | Lipstick
Oh yes, now that we're in the month of November, it's completely acceptable to start talking about the holidays! I'm usually a bit of a Grinch when it comes to this time of year. But I think being back in a cold climate, complete with snow and real Christmas trees has helped to thaw my cold heart regarding Christmastime. I'm ready to play some Christmas tunes, decorate the apartment, watch Christmas Vacation and sip hot cocoa!
I'm also excited to wear some fun holiday outfits this year! And I've found the perfect dress for the holidays! This dress will work great for holiday parties, and I had actually ordered it specifically to wear to the ballet performance of The Nutcracker here in Moscow at the historic Bolshoi Theater. The Nutcracker ballet actually originated in Russia and was first performed in St. Petersburg in 1892. It is a performance of great pride here in Russia! I am beyond excited to be going!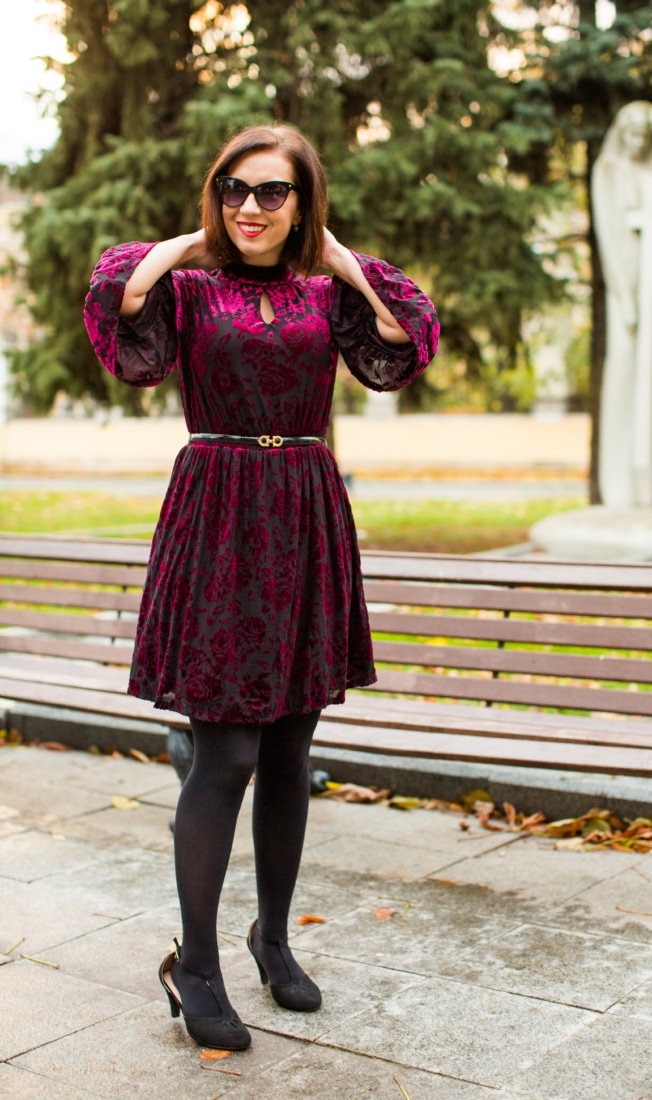 Christmas will be especially long this year. We'll be back in the US for Christmas celebrations on Dec. 25…and then back in Moscow Dec. 29. So, we'll get to celebrate Christmas here as well! Russia recognizes the Orthodox Christmas which is on Jan. 8. So, it'll be a nice long celebration this year! Plenty of opportunities to use my new dress.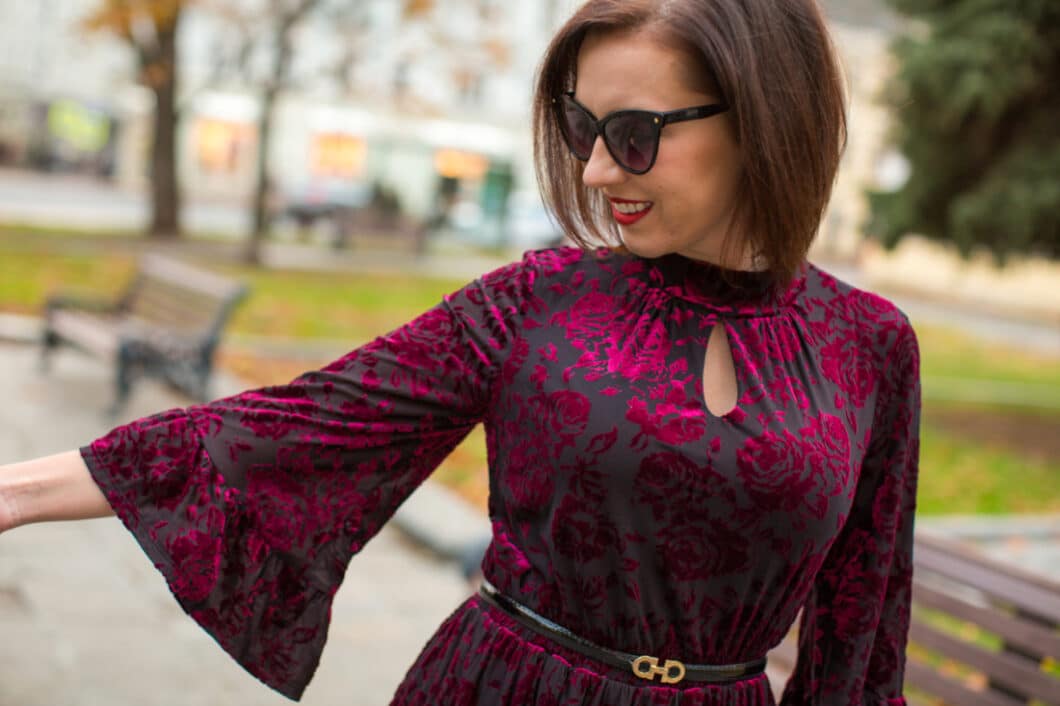 The sleeves and neckline of this dress were what caught my attention initially. But I just love the velvet material and color as well! It also has a stretchy waist…so it's nice and comfortable to wear for a long period of time.
Some of the reviews regarding this dress said it ran large. However, I found it to be true to size. I think some people were struggling with how baggy it looked through the waist. However, this wasn't anything a nice belt couldn't fix, in my opinion. I don't believe I would've been able to squeeze into this dress had I sized down. The fit is perfect in my opinion! I can't wait to wear it again.
Quick note for my regular readers, as this post publishes I'll be on my way to Cappadocia! I have some lovely guest posters lined up for Monday and Wednesday and then I'll be business as usual on Friday. If you'd like to follow my adventures in Turkey live, you can watch my InstaStories or Snapchat!
Is anyone else getting excited for the holidays? Or is it still too early to start thinking about them? Let me know in the comments!
Where to find it:
Dress: c/o* ModCloth
Sunglasses: Old (Similar here)
Heels: Amazon
Belt: Amazon
Tights: Amazon (similar)
Lipstick: Stay All Day® Liquid Lipstick in Beso Shimmer

Links à la Mode, December 6th, 2018
*Disclosure: some of these links are affiliate links. Meaning, if you click a link and make a purchase, Have Clothes, Will Travel gets a very small commission at no extra cost to you. Thank you for supporting the brands that make this blog possible! I am also a participant in the Amazon Services LLC Associates Program, an affiliate advertising program designed to provide a means for us to earn fees by linking to Amazon.com and affiliated sites.
*c/o = courtesy of, meaning the company gave me the product to be used on my blog, and I did not pay for it. All opinions are my own, and I am not being compensated for a positive review.