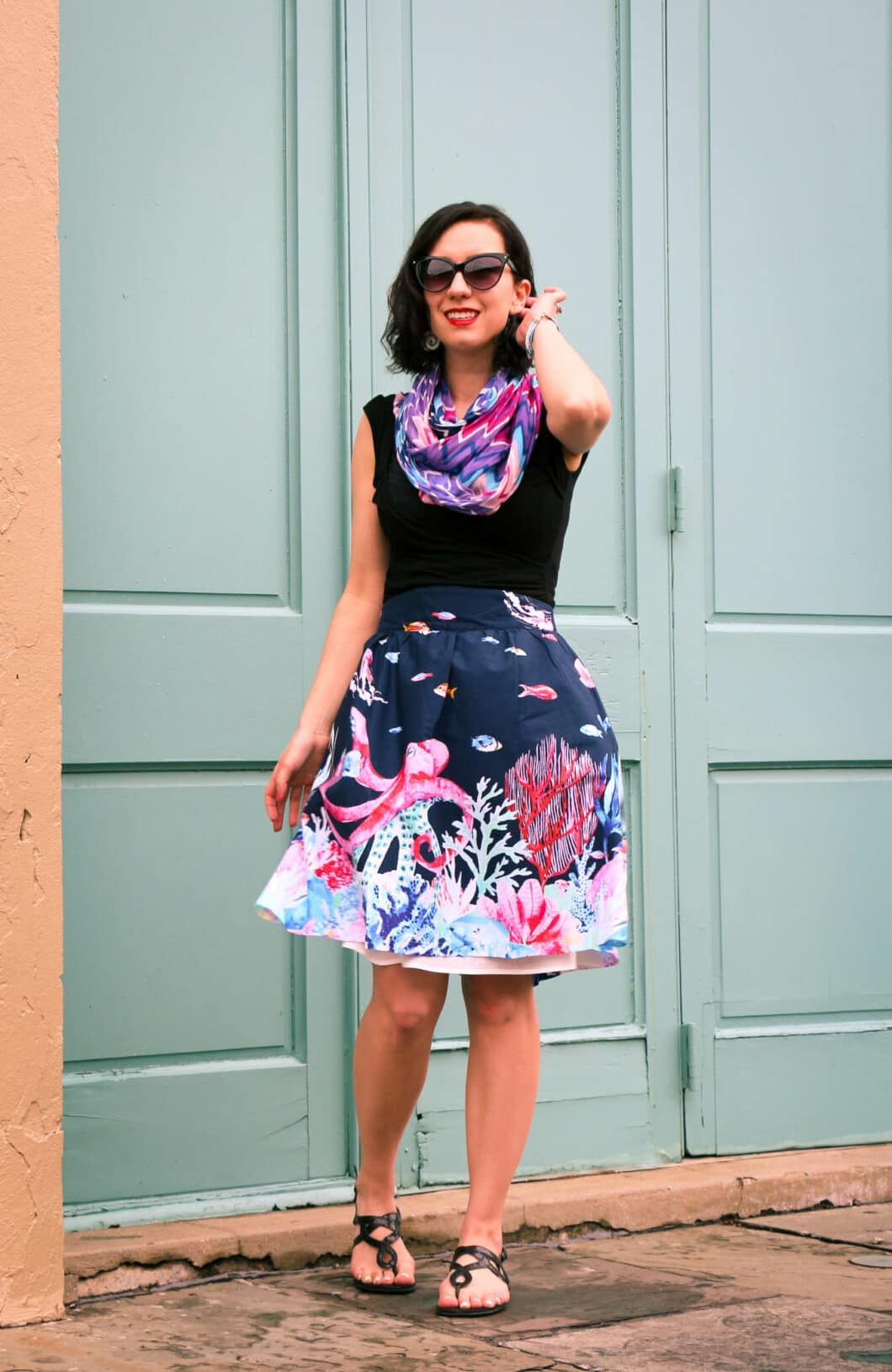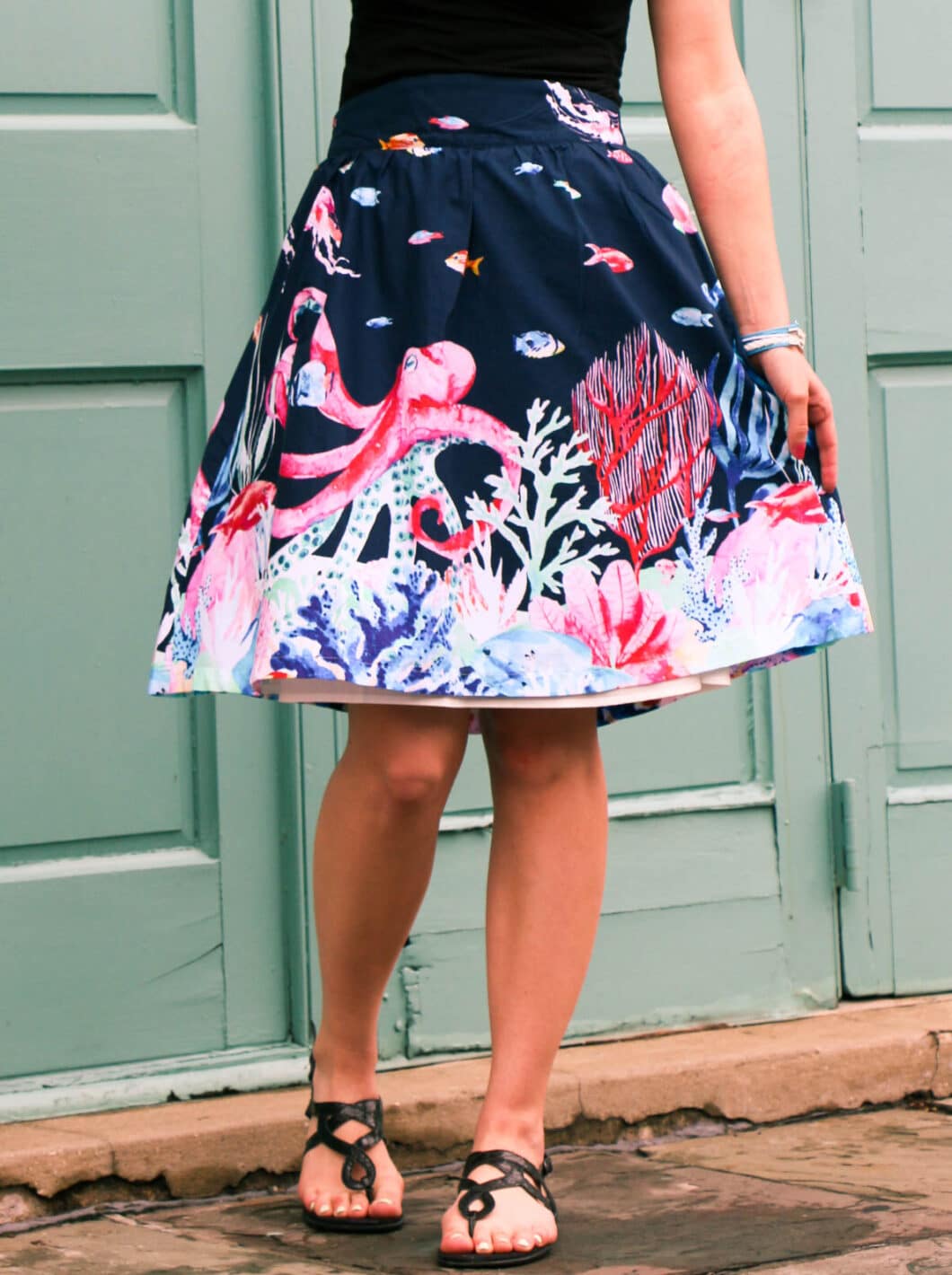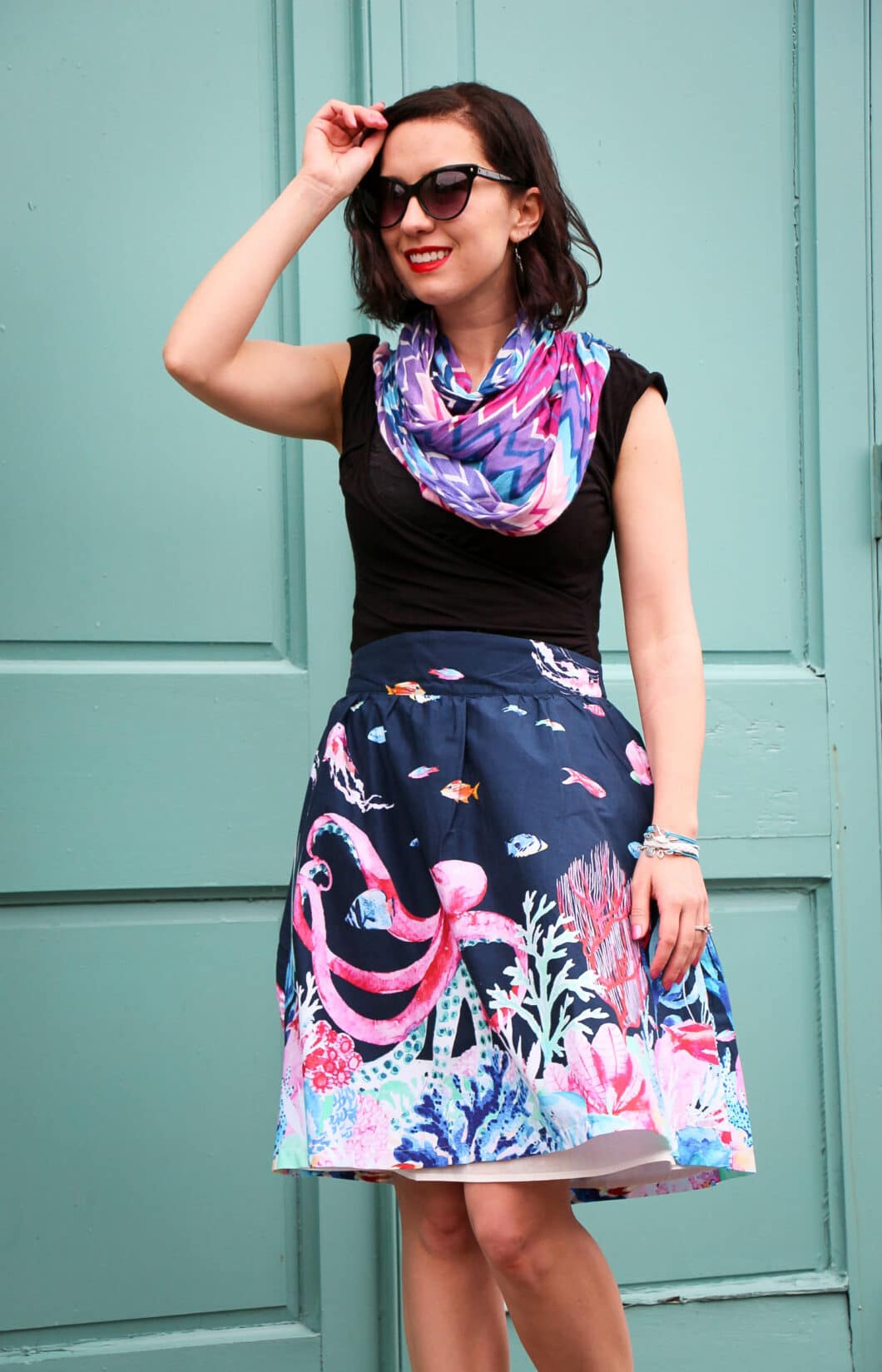 Click to shop the look:

My self-control, that I was bragging about in my previous wishlist post, has completely gone to heck. Does this skirt look familiar? Haha, yeah, it's the ModCloth one from my spring wishlist that I wanted but swore to myself I wasn't going to buy. (Because I certainly have quite the collection of skirts already.) After I ordered it (in a moment of weakness), I even told myself I was going to just try it on and then return it.
But low-and-behold, I tried it on… and I couldn't bring myself to take it off. It is so comfortable! And how fun are all the colors? AND it has an octopus on it! I really love my octopus clothing (click here for more on that). Even my husband, who no longer comments on my outfits (I think he is officially numb to them, haha), told me he really loved this skirt on me, and the colors were fun. So, that was all the encouragement I needed to keep this beauty!
I had envisioned wearing it with a white top and white shoes. However, the white shoes I had also ordered from ModCloth never arrived (shipping mixup – I would not recommend paying for ModCloth's ASAP shipping, definitely not worth it…but I certainly didn't need the shoes either). However, I was pleasantly surprised by how well it went with black too. It's versatile – yep, that's a good reason to keep it too! (Plus, I have a scarf and seashell earrings that match it! Soooo many reasons to keep this skirt)
This skirt was perfect for a day of exploring on our trip to New Orleans. It was super windy the day I wore this, but this skirt was just long enough that I didn't have to worry about any Marilyn moments. It also holds its shape quite well, which I wasn't expecting when I ordered it. But the wind also meant that I had to keep my hand near my hair, so I wasn't continually eating it! That's why all these photos I'm basically doing the same pose – sorry! I'll be wearing this skirt again, though, I promise! 🙂
Has anyone else had any moments of weakness with their online shopping? If so, what did you buy? (And if not, good job!!)
Where to find it:
Skirt: ModCloth
Top: ModCloth (similar)
Scarf: Forever 21 (Old. Similar here.)
Sandals: Old (Similar here)
Sunglasses: c/o* Polette
Bracelet & Earrings: Gift from my husband & his aunts! 🙂
LipSense Lip Color: c/o* The Dusty Vixen in Blue Red
*c/o = courtesy of, meaning the company gave me the product to be used on my blog, and I did not pay for it. All opinions are my own, and I am not being compensated for a positive review.