Jen from "Dressing With Class"
Meet Jen! She's this month's Featured Fashionista and the lovely lady who created the blog, "Dressing With Class."
I was hooked on Jen's fun sense of style when I saw a photo of her in ModCloth's Style Gallery where she was wearing a Marvel Comics skirt! (I'm a huge Marvel fan.) That's when I knew this was a blogger I was going to really like. And Jen and I do have very similar taste in Marvel comics heroes/villains, but I'll let her tell you a little more about that.
However, before I let you read more about Jen and Dressing With Class, I also want to point out two really awesome things about Jen. First, she will be the first blogger that I will have met in the real world! We're actually going to be getting together when I am in Boston later this week. How cool is that? Second she's holding a really awesome giveaway at the end of this post! I wish I could enter! Be sure to check it out.
Now, I will stop babbling, and let you learn more about Jen and her wonderful blog!
Q&A With Jen
Tell me a little about yourself.
Jen: I am 31 years old, and I live with my husband Dave in a small apartment just outside of Boston. Although I grew up on Long Island NY, I totally fell in love with the city while attending college at Boston University and knew it was the place for me! We don't have kids (yet), and no pets either – even though we both love dogs. Once we move to an apartment/house that allows pets, we hope to get a corgi!
I'm an elementary music teacher, which I think is one of the best jobs ever! I teach general music, chorus, and orchestra. My primary instrument is the viola – I have performed in many concert halls including New York's Lincoln Center and Boston's Symphony Hall, but I never found performing to be as rewarding as teaching. It's a good thing too, because I no longer have to practice 5+ hours a day! In addition to teaching the kiddos at school, I teach private viola, violin, piano, and flute instrumental lessons in the afternoon after work. I feel so lucky to have a job that I look forward to!
Most of my hobbies are creative. I love to make handmade greeting cards, and I design rubber stamps for a company called Altenew. It's so amazing to be a part of the process from sketch to finished product. I also paint with watercolors, and of course fashion is usually my subject of choice! I even illustrated a book teaching kids how to draw skater clothes, called Skater Chic Style. In addition to painting, I love to sew and make jewelry.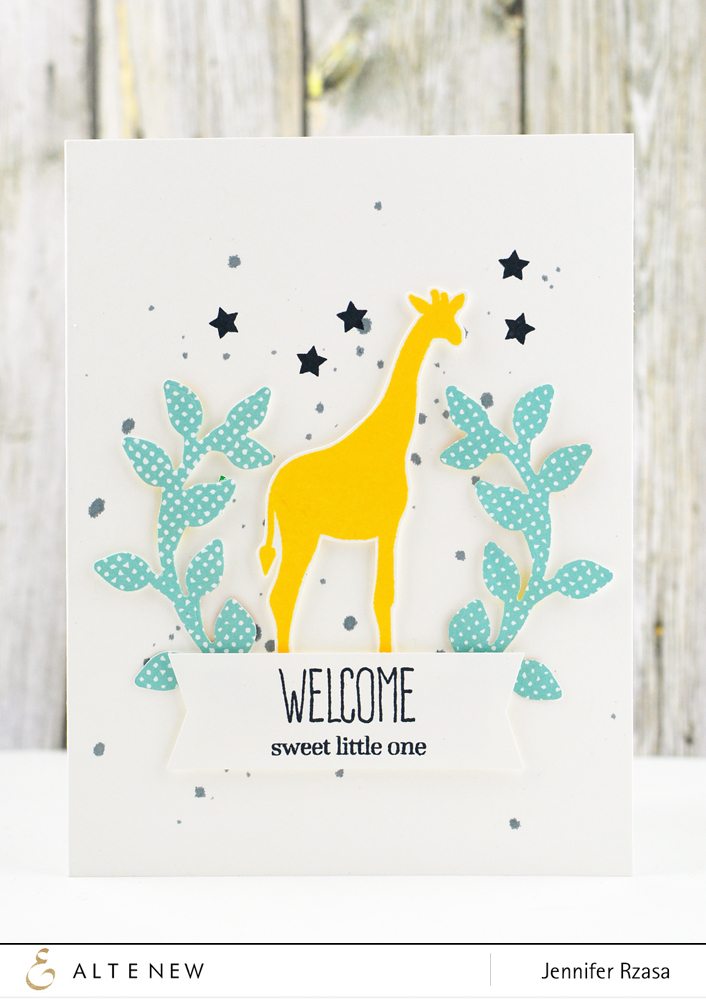 If you have been to my blog before, you may have figured out that I am a huge dork! I love playing video games- my favorite has to be the Castlevania series, but I'm also a sucker for Portal (possibly the best game ever) and anything Super Mario Bros. I attend PAX (a video game convention) and New York Comic Con every year, and my husband and I always cosplay. If you are unfamiliar with that term, it stands for "costume play," and it's when you wear a costume to represent a specific character. So much fun!
How would you describe your blog, "Dressing With Class?"
Jen: Dressing With Class is a style blog that I started in January this year. My blog is fairly new, so I'm still tweaking things here and there. I try to post three times each week- two style posts and one wish list post. I LOVE the wish lists because I get to fantasize about all of the lovely things I would want to wear. Sometimes I end up purchasing things from my list, but since I don't allow myself a large clothing budget, a lot of the items never make it to my closet. I'm jealous of the girls I see online who spend hundreds of dollars each month on clothing!
Speaking of budget, don't expect to find many high-end pieces on Dressing With Class. I would say that 90% of the things I own come from typical mall and similar stores, 5% from thrift stores, and maaaaaybe 5% fancy stores. Proof that style doesn't have to cost a lot of money!
What was the inspiration for the clever name – "Dressing With Class?"
Jen: When I started my blog, I wanted to make sure that I had a clear focus. I didn't want it to be something like "Stuff Jen Wears" (lol! actually that doesn't sound so bad….), so I started thinking about what I have and have not seen on style blogs that I follow. As a teacher, it can sometimes be challenging to find exciting yet appropriate clothing to wear to work, so I knew this would be my theme. I adore cheesy puns, so "Dressing with Class" just kinda happened!
What made you decide to start a blog?
Jen: Well, it was my New Year's Resolution to clean my closet, so I downloaded an app to help me stay organized. As I was clearing things out and delving into the deepest corners of the closet, I discovered many articles of clothing that I had forgotten about! Has that ever happened to you? I wanted to challenge myself to be more creative with my outfits- to mix things up instead of wearing the same things over and over again. I figured that a style blog would help keep me accountable!
Plus, I love following other style blogs out there (especially yours, Lindsey!), and I was already taking photos of my outfits for ModCloth's Style Gallery. It didn't seem like much of a stretch to start blogging! I was familiar with the blogging platform because I have a papercrafting blog, Our Change of Art, and a blog for school.
What do you hope the future holds for Dressing With Class?
Jen: I hope that I can inspire women to have fun with their clothes. I am absolutely not an expert, but I believe I can share things that would be helpful to others. I think that clothing should make you smile, and I know from experience that a good outfit can help you through a bad day.
Personally, I would love to get better at writing posts. I'm not much of a storyteller, and my posts are mostly photos. I don't necessarily want to force myself to write more, but I'd love to improve what I have. It would also be amazing to collaborate with other bloggers, and maybe some of my favorite clothing brands!
If readers seem to be interested in my handmade clothing/jewelry, don't be surprised if I throw in a few DIY posts in the future too 🙂
How would you describe your personal style?
"Comfortable dressy with a retro twist." Does that even make sense? Haha. I wear dresses and skirts almost every day- not only do I find them more comfortable than pants, but I am self-conscious when it comes to my lower half, and dresses cover up that area nicely 🙂 I also love to feel girly. My husband always jokes around and says "you are not the same woman I married!" (That sounds bad, I promise he means it in a positive way!). When we met in college, my typical outfit was baggy jeans and an over-sized Metallica t-shirt….or baggy jeans and an over-sized Nine Inch Nails t-shirt….or baggy jeans and an over-sized Tool t-shirt – you get the idea! Not sure how, but after we got married I magically transformed into a lady. 🙂
Which clothing store could you absolutely not live without?
Jen: Macy's! I can totally rock the juniors section, coupons in hand. My mom is a Macy's-aholic too, so I'm sure I got it from her. However, sometimes it's hard to find clothes that are small enough to fit yet don't make me look like I'm 15. I've found that online retailers such as ModCloth and eShakti are the perfect solution! I adore the retro styles and fun patterns.
How has your career as an elementary school teacher influenced your style?
Jen: As I mentioned earlier, I have to be careful with what I wear to work. We don't have an official dress code, but I am always mindful of hemlines and necklines. Other than that, I just wear what I like! It's always funny because most teachers have their own uniform- usually black dress pants and a simple top. Every day. No accessories, and nothing too extreme. I certainly understand why they dress like that – we have to be at work early in the morning (7:30 or earlier), and coming up with an outfit takes time! The app I use (Stylebook) has definitely helped me plan my outfits in advance.
The students' reactions to what I wear is always hilarious. I teach first through fifth grade, and see almost 500 kids a week. I can guarantee that I get at least a few comments on my outfits every day! The younger students love when I wear quirkier clothes, such as my airplane print dress, dinosaur necklace, or even simply colorful tights. The older students respond more to my "cool chick" clothes, with dark colors, high boots, or leather accents.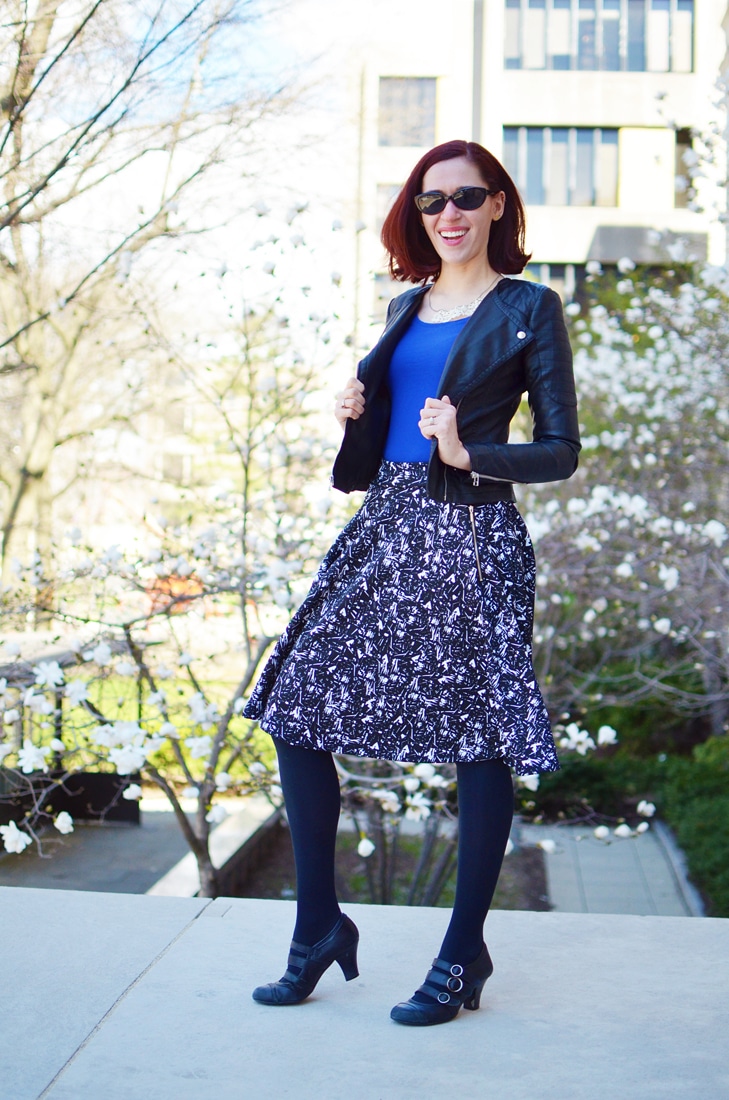 What is your favorite outfit to wear to work?
Jen: I'd say my favorite is my Emily and Fin apple print dress! Whenever I put it on in the morning as I'm getting ready for work, I chuckle to myself because teachers are always represented by apples. (note: I have never received an apple from a student!) It seems appropriate then to wear an apple dress, right? I also love my pencil shaving purse (same reason as above), so when you put them together you get the perfect teacher look!
If you had to pick, what would you say your favorite post has been so far and why?
Jen: My favorite post is titled "The Snowiest Year." It's my favorite because you can't help but laugh at the ridiculous amount of snow we got in Boston this year. It's a shame I took those photos mid-season…they don't even accurately represent all of the snow that was on the ground by the end of February! Our total snowfall for the season was somewhere around 110 inches, and most of the city's snow got dumped in unused parking lots- they didn't melt completely until only a few weeks ago! Crazy!
My other favorite post is my first post, and that's because it was so scary to hit that "publish" button. It was the start of my journey, and I'm so glad I had the courage to do it!
In addition to your cute outfits, your posts will also mention neat things to see and do in Boston. What's your favorite attraction in Boston? And what would you say the best place is to eat?
Jen: I think for this question, a list is best, since I certainly cannot just pick one 🙂
Skateboarding on Memorial Drive – they close the road every Sunday during the warm months and it's a great place to go with family or friends
Boston Common/Public Gardens – gorgeous any time of year, and close to my favorite coffee shop – Thinking Cup
Newbury Street shopping – 'nuff said.
Flour Bakery – specifically the vanilla cream filled doughnuts, but anything there is incredible.
The Hawthorne – amazing bar. It's in Kenmore Square, hidden near the entrance to Hotel Commonwealth. Get the pretzels with spicy bourbon mustard!
Chinatown – great food overall! My favorites include Gourmet Dumpling House, Q (hot pot), and the little egg puff lady. If you are from Boston, hopefully you know what I mean!
Tasty Burger – Ahh! Best cheap burger ever. It's like the most amazing fast food you could ever eat. Light years beyond Five Guys, Shake Shack, and other similar burger joints.
Russell House Tavern – I've never eaten anything there that I didn't like!
I could go on and on…email me if you want any more recommendations! 🙂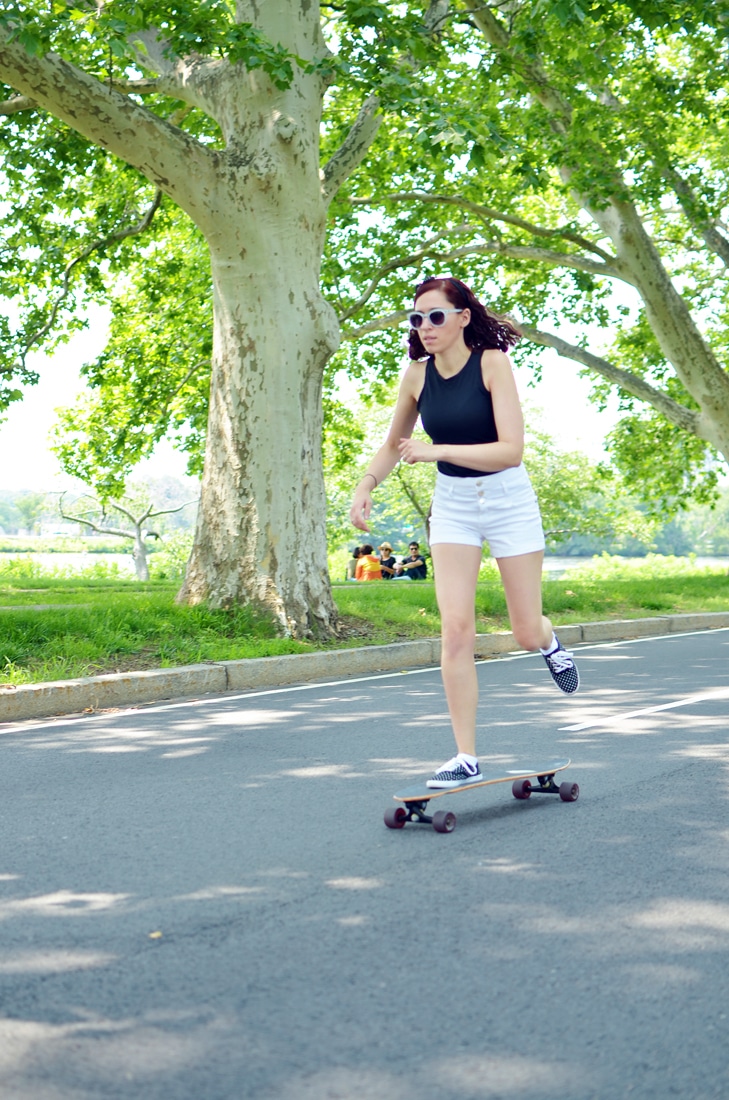 From being an avid reader of your blog, I've also gathered you're a fellow Marvel fan. So, I have to ask….who is your favorite Marvel superhero (or villain) and why?

Jen: This is a tough question, and honestly, it changes! I've read comics, watched the Marvel movies, and enjoyed the cartoons from the 90s, and each offers a slightly different spin on the characters. But if I had to pick one villain, I'm going with Magneto. He's had a tough life, so you kind of feel bad for the guy. Plus, he's totally awesome, and has unique mutant abilities. When it comes to the movies, I adore Wolverine, Captain America, and the Winter Soldier.
A lot of the jewelry in your posts is very unique and made by you! I love this. How do you come up with the ideas for your jewelry, and how do you usually make your pieces?
Jen: I love making jewelry because it's amazing to get to wear something that you created yourself. Sometimes, I'll make a simple necklace: purchase a charm and attach it to a chain. Done! This takes about 5 minutes. I have even made jewelry to match an outfit in the morning as I'm about to head out the door for work, hehe.
Other times, I will create jewelry that takes a bit more time. I love using shrink plastic (Shrinky Dinks!) and colorful beads. I have also made some cool beads and pendants out of polymer clay.
What advice do you have for someone looking to start their own blog?
Jen: Just be yourself! It's easy to get worried about what people will think, and I know I've been guilty of that in the past! Don't compare yourself to others out there, and don't expect yourself to have the blog you always wanted from the beginning. It's definitely a learning process, and your blog is likely to evolve. My blog is only 7 months old, and I feel like I have already come a long way since that first post.
Any final thoughts you would like to add?
Jen: I want to give a HUGE thank you to Lindsey for inviting me to be her Featured Fashionista this month! It certainly is an honor, and I cannot tell you how excited I was to read her email!
To express my gratitude, I'd love to give away an 8.5″x11″ print of one of my watercolor paintings to a Have Clothes, Will Travel reader! This one is inspired by Ana Locking's Winter 2010 shoe collection.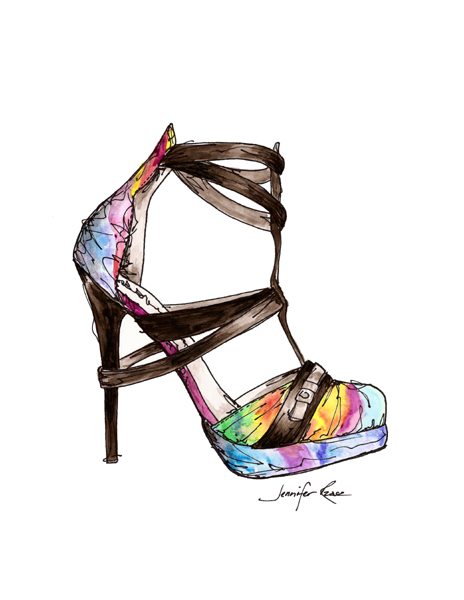 Lindsey here now. This is awesome! Thank you so much, Jen! For this giveaway, to enter, visit Jen's blog and leave a comment on the post in the instructions! Once you have done that, you can enter up to 3 more times by following the instructions on the social media prompts. This one will be slightly different than my previous giveaway, because the "leave a comment" entry will be mandatory – this is because I really want you guys to see how awesome Jen's blog is! If you don't feel like entering the contest right now, you can still check out Jen's blog by clicking here and you can also follow her on Instagram, by clicking here.. Or follow the instructions below to enter!