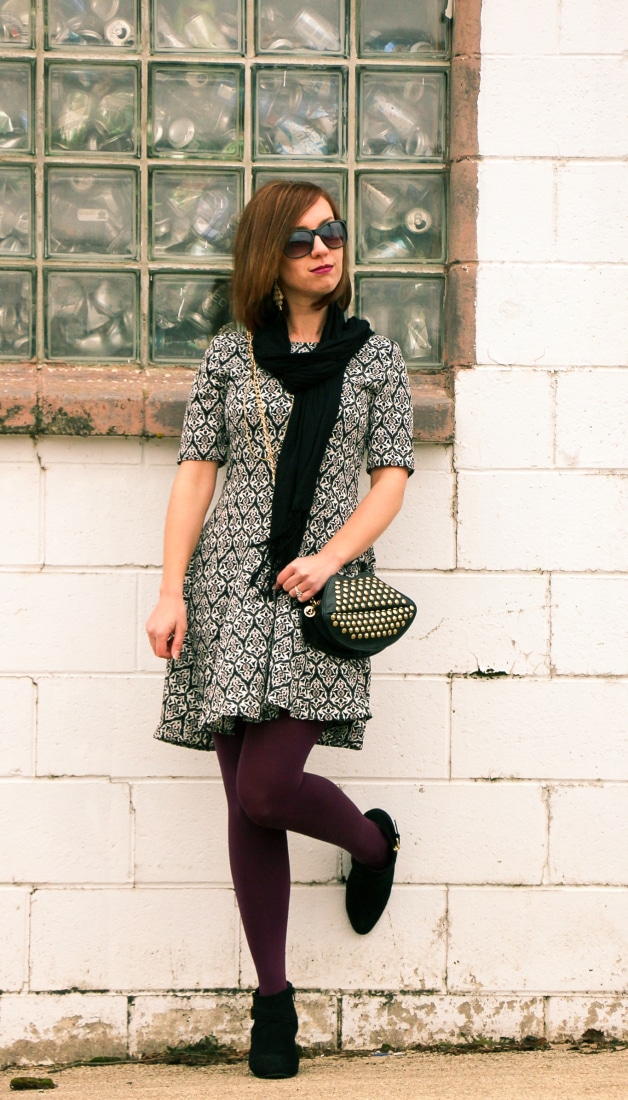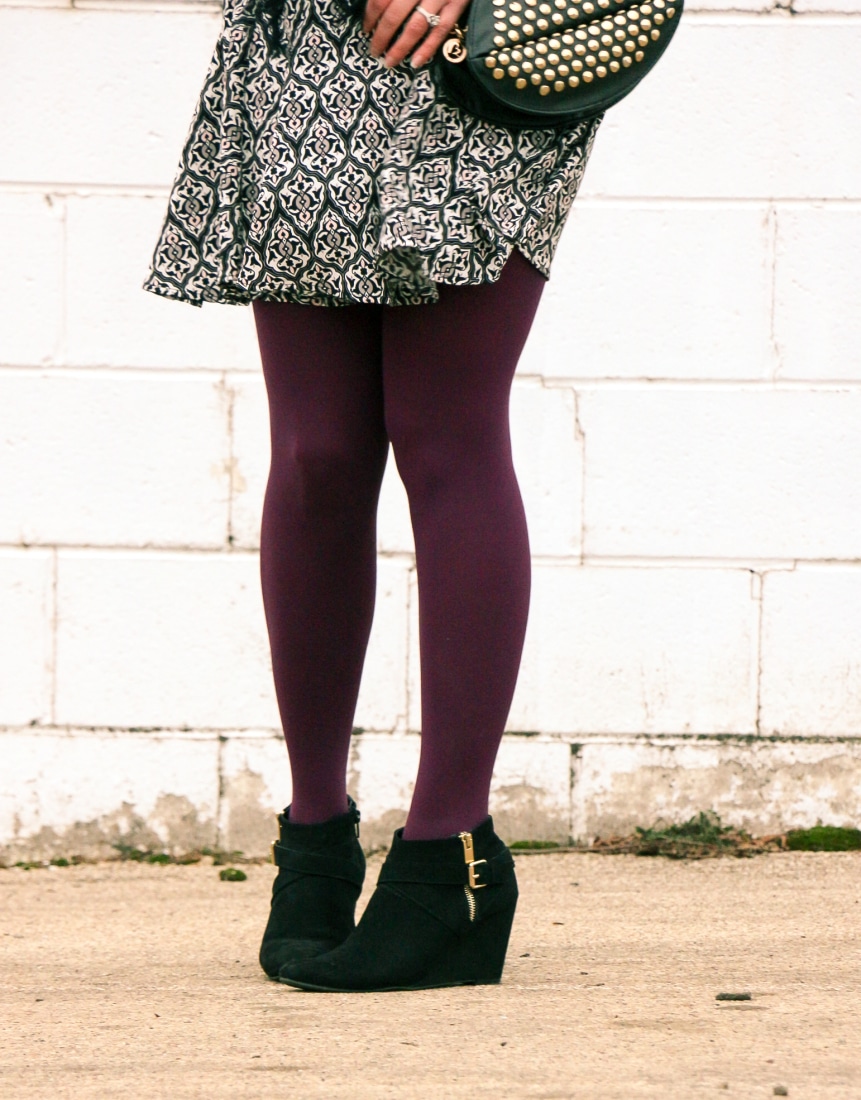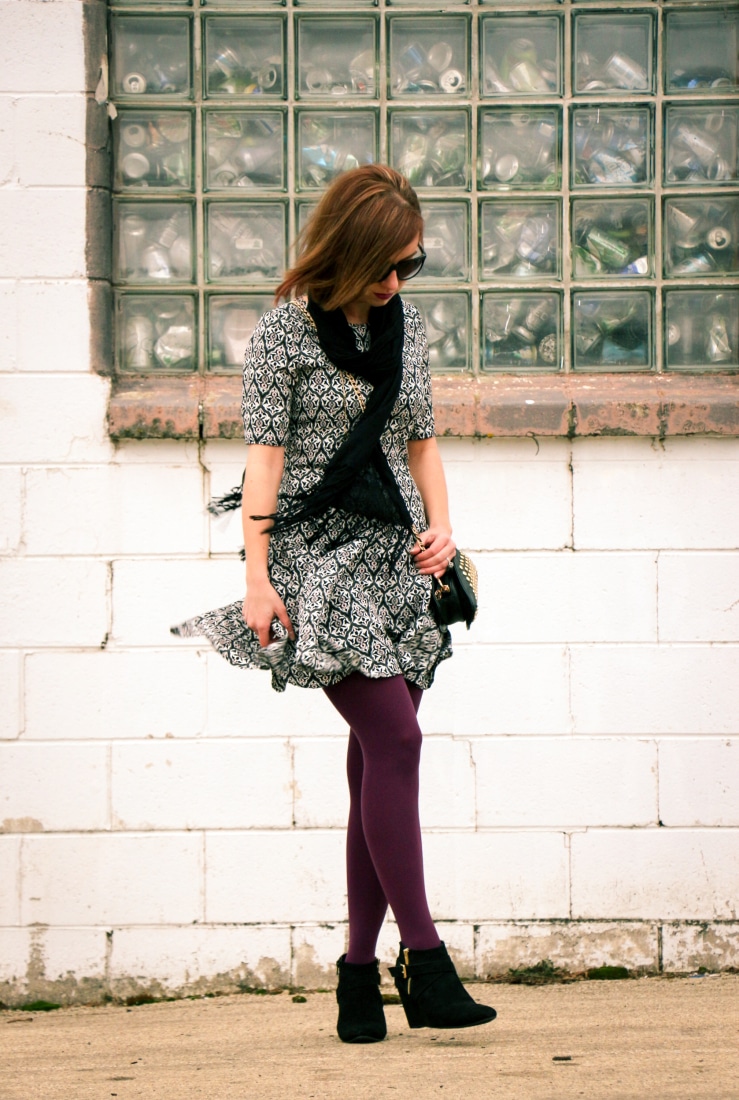 Shop the look:

Battling the wind has not been something I have had to do in a long time..or battling any weather in general, I suppose. I've been rather spoiled. But there are some outfits I think work well when the weather isn't exactly perfect. And this old H&M dress is just one of those such pieces.
I love the way this dress moves. Believe it or not, I wasn't even trying to twirl in any of these photos…the dress and the wind were doing all the work for me. And given the number of times this dress has shown up on my blog in the past 6 months (here & here, too), I think it's safe to say it's one of my favorites.
Pairing it with purple tights and purple lipstick wasn't something I had initially planned to do. Haha. But my black tights were in the wash, and I'll take any chance I can get to wear purple lipstick! I don't mind the extra pop of color, though. I don't know if I'll ever wear the black tights with this outfit again, actually.
On a side note, I have no idea why there are cans stacked up in this building in the windows. Haha. Or if I was trespassing or not when I took the photos (whoops!). These were taken when I was visiting my brother-in-law and sister-in-law in a super tiny town of about 200 people in Northeastern Wisconsin. 🙂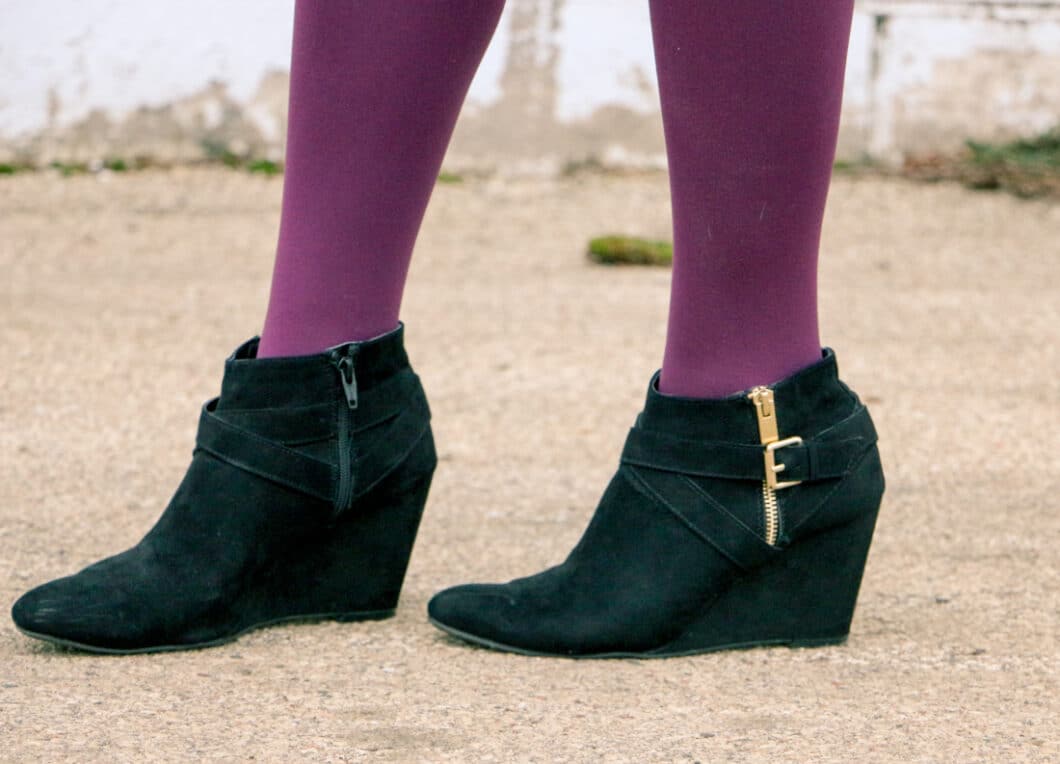 Also, I swear I do own shoes other than these black booties I have been wearing nonstop. I also own a whole ton of purses, other than my studded lips purse…but the majority of my shoes and purses are currently in boxes after this last move to Wisconsin. And with the holidays this past week, I had no opportunities to dig through the boxes. But that's ok, I love these booties and this purse oh so much (in case you couldn't tell)! I'll get some more variety in my posts eventually – I promise!
Do you have any favorite windy day outfits? And how was everyone's holiday events last week? Let me know in the comments!
Where to find it:
Dress: H&M (similar)
Tights: ModCloth (similar)
Booties: Target
Scarf: Express (similar)
Lip Color: Stila Stay All Day Vinyl Lip Gloss in Fuchsia
Purse: c/o* DealSale (Also available here)
*c/o = courtesy of, meaning the company gave me the product to be used on my blog, and I did not pay for it. All opinions are my own, and I am not being compensated for a positive review.