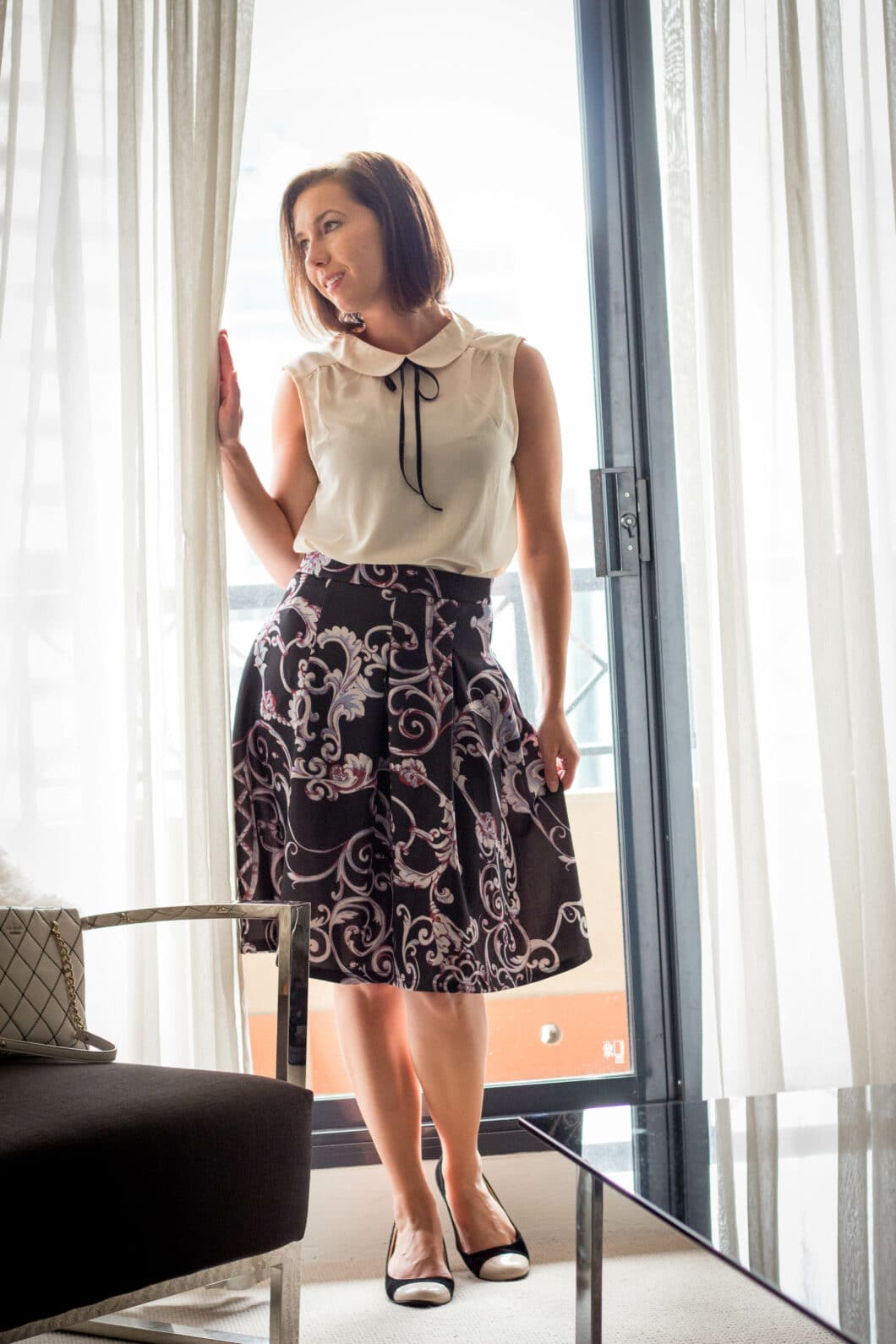 Oofta! This past month has certainly been an interesting one. Our move to Argentina has proved to be our most challenging one yet. Not that that is a bad thing. It just means there are new things to learn and adapt to. We've also traveled to a total of 3 continents in less than a month, haha. And, unfortunately, while I'm learning and adapting and traveling, creating brand spanking new blog material in Argentina has not been happening as quickly as I would like. But as I continue to be told in Argentina, "you just have to roll with it." However, I swear I've set aside time this weekend to put together a fun outfit post featuring my new city!
Until then, please enjoy one more post photographed in Australia. I had an inkling this move was going to take some extra time to adjust to, so, I set aside a bunch of posts just in case! This was one I photographed in our apartment in Sydney. It was fun to try an indoor shoot for a change!
I had really wanted to show off this blouse one more time. I have quite the collection of skirts, and this blouse goes with just about all of them! It's super easy to just throw a cardigan on over it too for a splash of color.
And this skirt was one I borrowed from the folks at Lilee Yamanto in Brisbane, but I've linked to some similar options, below, for my non-Aussie friends!
I'll be shooting a new outfit post this weekend in Rosario that I will share next week + my trip to Hobbiton (in New Zealand) + one more outfit from when I was in the US for my nephew's baptism. So, stay tuned for next week – I'm jumping all over the place! Haha.
How's everyone else's week going? Do you sometimes plan more things than you can accomplish? How do you cope? And do you make backup plans just in case? Let me know in the comments!
Where to find it:
Skirt: c/o* Lilee Yamanto (Similar here, here & here)
Blouse: ModCloth
Wedges: Old (Similar here)
Purse: Kate Spade
Disclosure: some of the links in this post are affiliate links. Meaning, if you click a link and make a purchase, Have Clothes, Will Travel gets a very small commission. Thank you for supporting the brands that make this blog possible!
*c/o = courtesy of, meaning the company gave me the product to be used on my blog, and I did not pay for it. All opinions are my own, and I am not being compensated for a positive review.