Karina Margaret Dress Review – Worn in Summer & Winter
I own two Margaret Dresses from Karina Dresses. One is the Margaret Dress in Passport Print, and the other is the Margaret Dress in Sharp Sketch.
Now that I've had a chance to wear my Margaret dresses by Karina Dresses in both winter and summer, I'm going to do a thorough review of this style of dress in today's post. I'll be reviewing the fit, the quality and my overall opinion of this particular style of dress.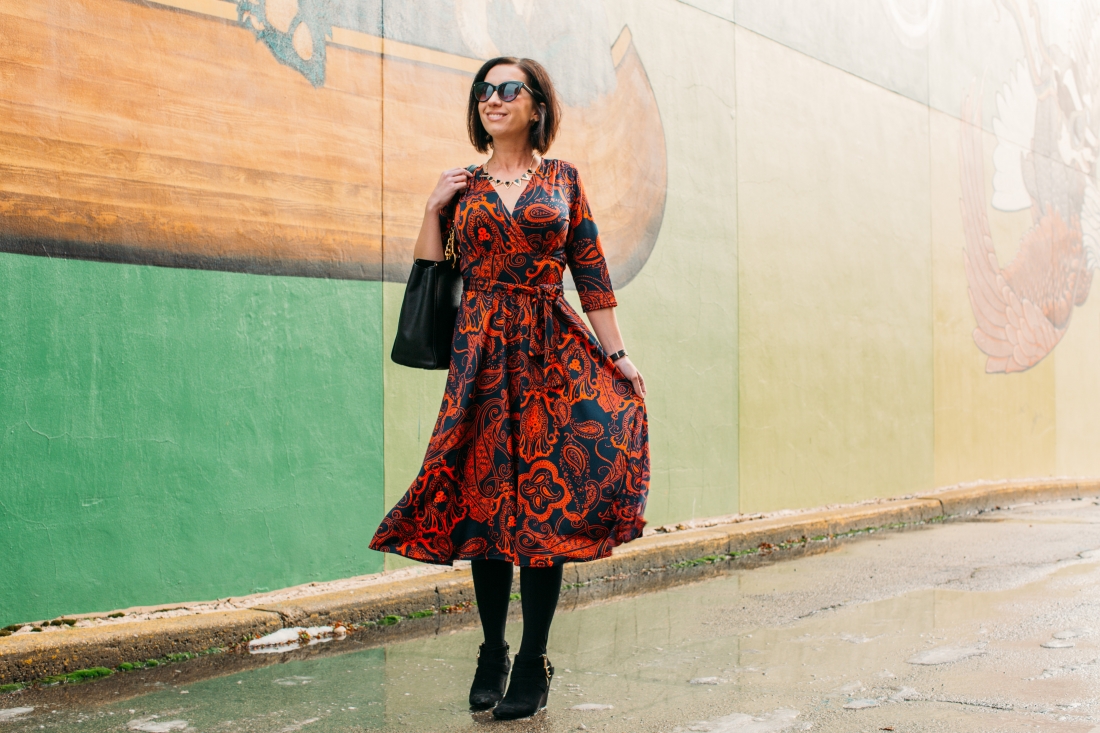 If you've been following my blog for the last couple of years, you may be getting to the point where you are sick of hearing about Karina Dresses. (Sorry – not sorry!) I'm a really big fan of this company and their dresses.
I also want to be completely honest – Karina Dresses does sponsor some of my Instagram posts. However, the blog posts that I do about them are 100% because I love this company and want to share them with you guys! (They aren't paying me for these – although, I do make a small commission if you purchase anything via the links in this post.)
If you're new to my blog, I want to give you a little background on Karina Dresses….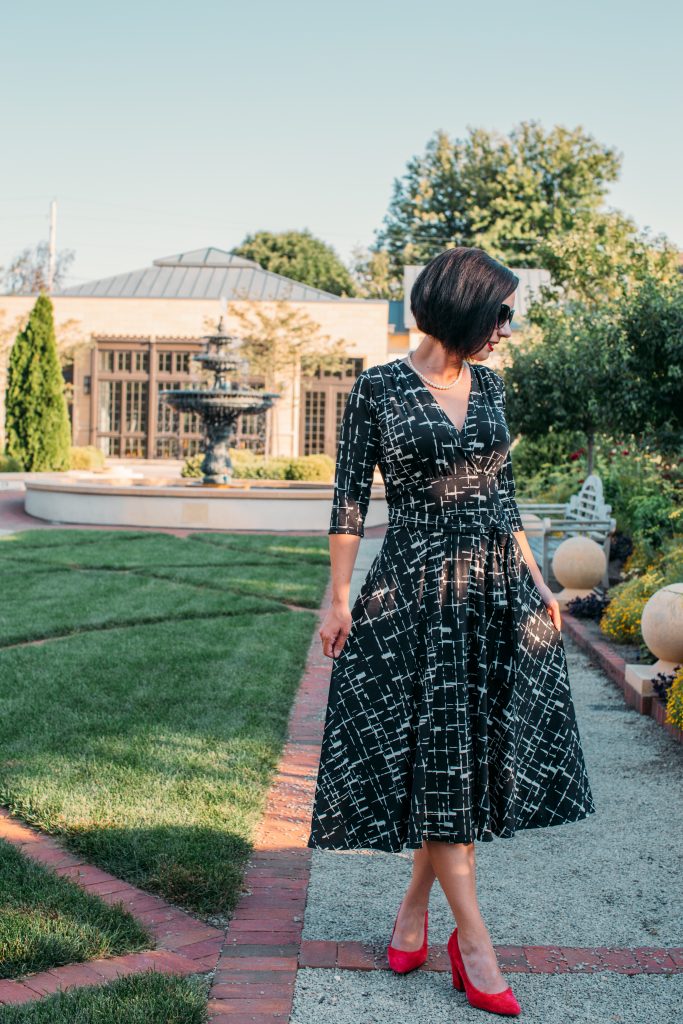 Karina Dresses is a small US-based dress company that specializes in making dresses that are comfortable and can easily go from day to night. They are also very size-inclusive and their dresses range in size from XS-4X. I also love that their dresses are all made in the US. The best part, though, is that their dresses do NOT wrinkle!
If you would like to read my full review of Karina Dresses in general, click here.
The Margaret Dress Review
The Margaret Dress comes in a variety of prints and also comes in both short and 3/4 length sleeves. It features a cross-over V neck bodice, a waistband that lies just below the bustline, an attached sash and a midi length skirt that falls to mid-calf. (This style of dress does NOT have pockets.)
The Fit
I am wearing the Margaret dress in a size S/M.
I had initially been a little concerned about how this dress fits through the bust area, as it's lower cut than I normally wear. I do have to be a little careful with this dress, as it can slip a little. (It's a little looser fitting through the bust than other Karina Dresses I own.) I have also paired it with a cami for when I want to be extra modest.
With it not being AS tight through the bust as some of my Karina Dresses, though, I don't feel this dress comes across as making me look "too busty"… as some of the dresses do. The prints also do help soften the silhouette, so this dress doesn't call too much attention to this area. (Again, I bring this up because I get questions and comments about that a lot.)
I also LOVE the length of this dress. Midi lengths are my jam! The rest of my Karina dresses are knee-length!
This dress also twirls really well. (This is also a bonus in my book!) Check it out in motion in the video below!
This is my FAVORITE fit out of all my Karina Dresses. I love how flattering and comfortable it is. I also love the length.
Check it out on a variety of different body shapes and heights, here.
The Quality
I have had the dress pictured above (in Passport Print) since December 2019 and started wearing it immediately after it arrived in the mail. I've worn and washed it about… oh gosh, probably close to 20 times now, at least. It still looks brand new.
The dress below (in Sharp Sketch), I have only had it for a month now. I've worn and washed it a few times already, and it's great. I'll update this post if anything changes!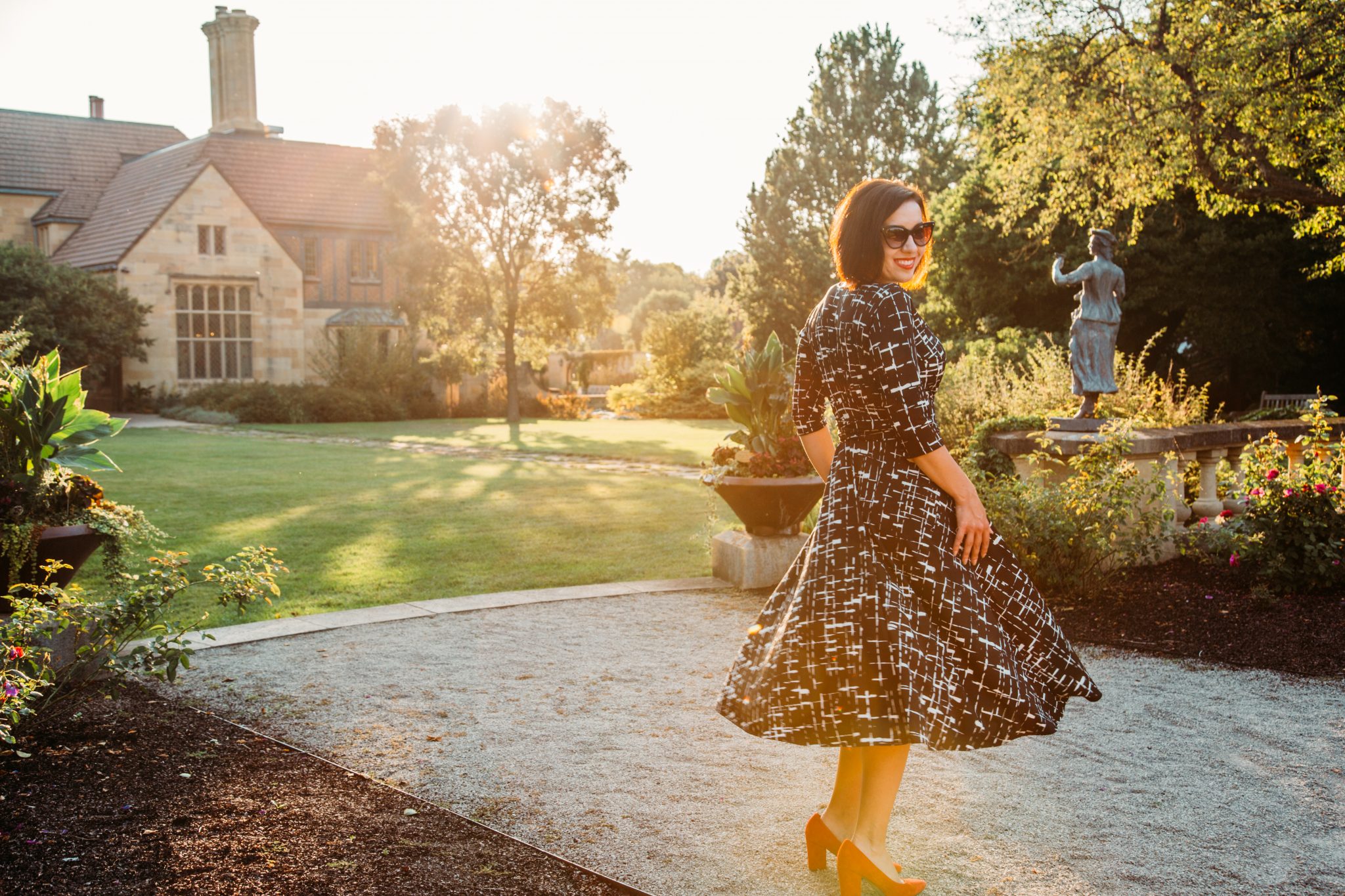 As is the case with all the dresses from Karina Dresses, the Margaret dress is made with a wrinkle-free micro-fiber that is incredibly breathable and comfortable. It also is absolutely wrinkle-free. Another bonus, these dresses do not collect cat hair or lint! I LOVE that.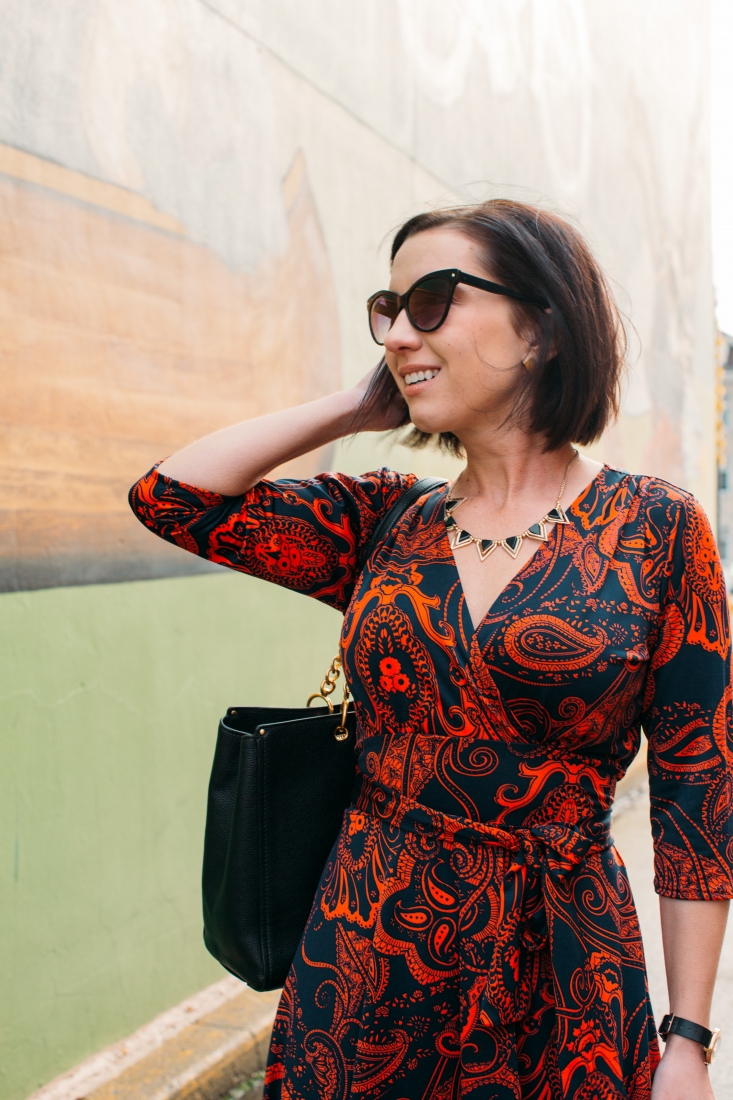 Any Negatives About The Margaret Dress?
If I'm getting really picky the only thing I don't love about this dress is that I'm resituating the attached sash quite a bit throughout the day. It likes to do what it wants – as do most attached belts! Really not a big deal but I want to share everything about the dress so you make the best purchase decision.
It also can get a little staticky when worn in the winter with tights or leggings – I've noticed it will stick to them a little. This is a question that's also come up, and I wanted to answer it.
Overall Opinion of The Margaret Dress
I love how comfortable and flattering the Margaret dress is. I can easily pair it with tights and booties in the winter…or heels and flats in the summer. This dress would make a great "work dress" in my opinion.
I adore this dress as I do all of my Karina Dresses. They haven't disappointed me yet!
Have you ever tried the Margaret Dress by Karina Dresses? Let me know in the comments!
Where to find it:
Dress: Karina Dresses
Red Pumps: Bella Vita
Booties: Old (Similar here)
Sunglasses: Polette
Tote: Tory Burch
*Disclosure: some of these links are affiliate links. Meaning, if you click a link and make a purchase, Have Clothes, Will Travel gets a very small commission at no extra cost to you. Thank you for supporting the brands that make this blog possible! I am also a participant in the Amazon Services LLC Associates Program, an affiliate advertising program designed to provide a means for us to earn fees by linking to Amazon.com and affiliated sites.